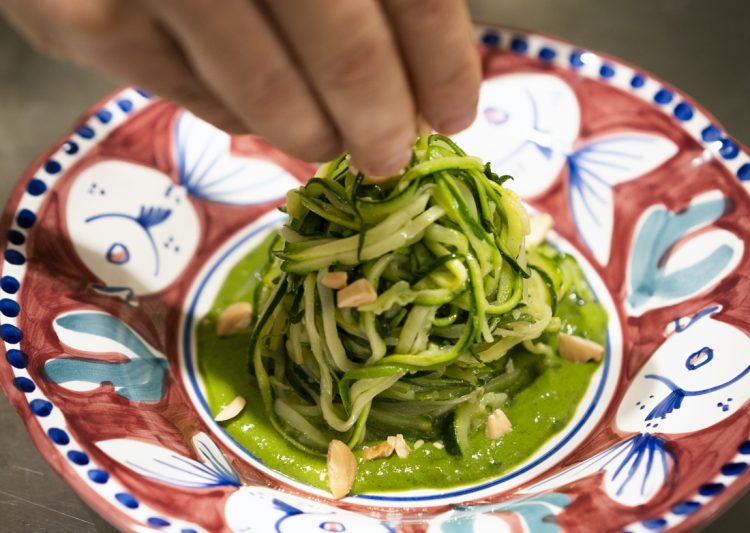 Today we look at a spectacular recipe from Dolce Vitality at Le Sireneuse Journal, that looks like spaghetti, but without the dreaded 'carbocide' effects. This is in fact a spaghetti made from courgettes, and is a just as much a feast for the eyes as it is for the palate with its bright green pesto-coated courgette threads which are served twirled into a conical heap on the plate.
This dish is gloriously low in calories and has a delightfully creamy texture die to its exquisite pesto sauce. This recipe should serve two.
Ingredients
700g (1 lb 9 oz) zucchini
30g (1 oz) almonds
100g (3.5 oz) basil – 4 or 5 big bunches
4 tablespoons extra virgin olive oil
Method
Wash the zucchini well, dry them and keep them aside. Toast the almonds for 5 minutes in an oven at 180°C (350°F), then set aside to cool. Strip the basil leaves from their stalks and toss them in boiling water for two minutes, then drain them and throw them immediately into ice-cold water. Put the basil leaves and three-quarters of the almonds into a blender with a thin slice of garlic, adding the olive oil slowly until you achieve the consistency of a thick paste. Cut the other almonds into slivers to use as a garnish.
Now turn your attention to the zucchini. If you have a mandolin, insert the corrugated blade and use it to cut the vegetables length ways into long threads the diameter of thick spaghetti (otherwise you will need a sharp knife and a lot of patience – and will end up with 'spaghetti' that are square rather than round in cross-section). Heat a little olive oil in a pan and toss the zucchini strips in it for a minute or so. Then add the pesto, toss once more to coat and amalgamate, and serve on a plate twirled with a fork in the shape of a cylinder or upturned cone, topped with the toasted almond slivers.