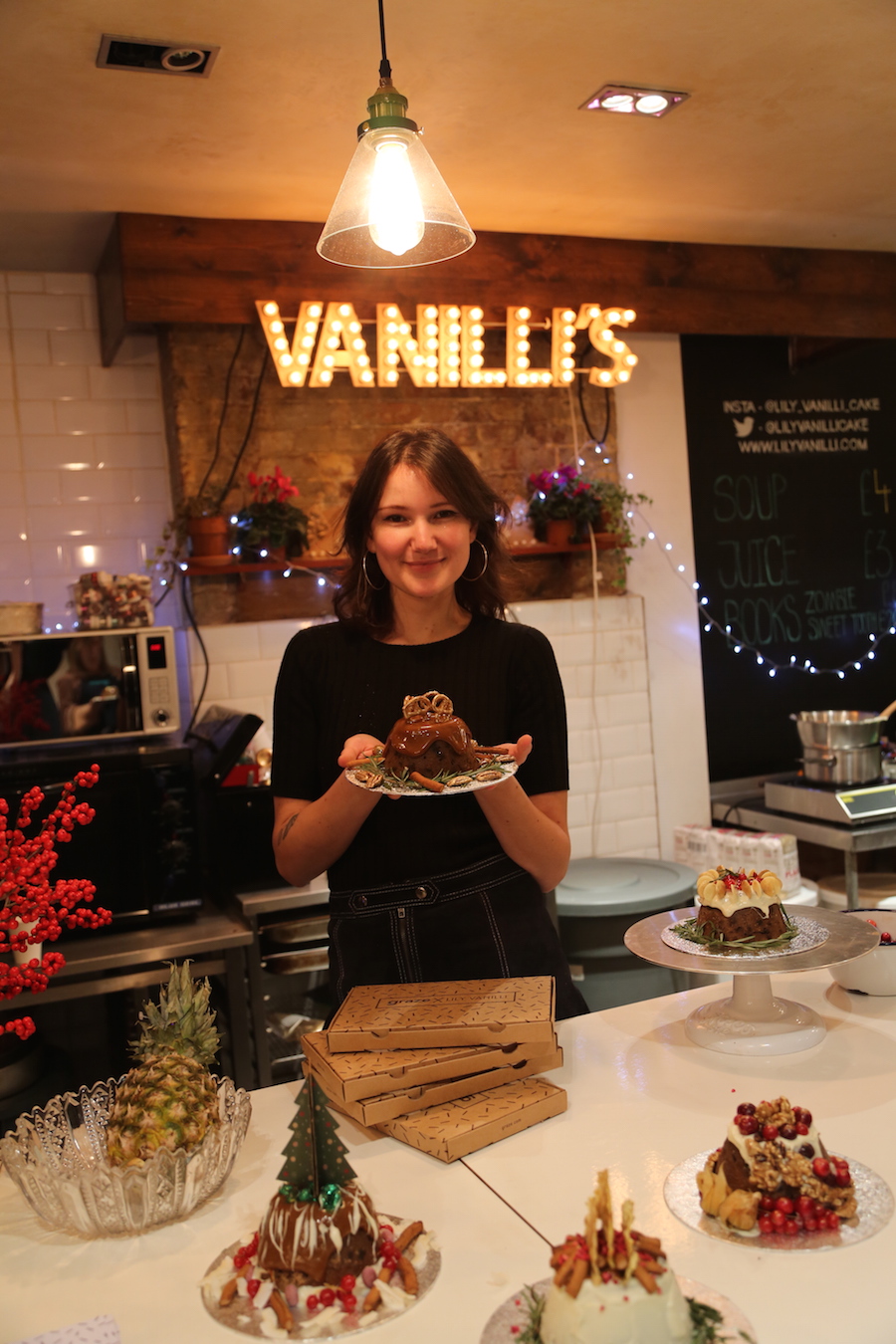 I have been a huge fan of Lily Vanilli for a while now, after discovering her beautiful cakes on Instagram. I was incredibly excited to meet her and most important of all, try her delectable looking cakes at the graze X Lily Vanilli event, where she gave a master class on cake decorating. Let me tell you, I was not disappointed!
The event consisted of Lily showing us how she carefully ices and decorates her whimsical signature cakes and the new Champagne Christmas pudding by graze. The key is to ice it once and let it set in the fridge to create a foundation for the next layer. This creates the delicious look of thick butter cream, before the creativity of wreathing the cake begins. I was amazed to discover that Lily does all her decorating freehandedly and never uses food colouring. She creates the icing by adding colourful foods such as raspberry to make it pink or Matcha powder to make it green. Her trusted signature adornments of fresh herbs, glitter covered fruit and edible flowers, also never fail to impress.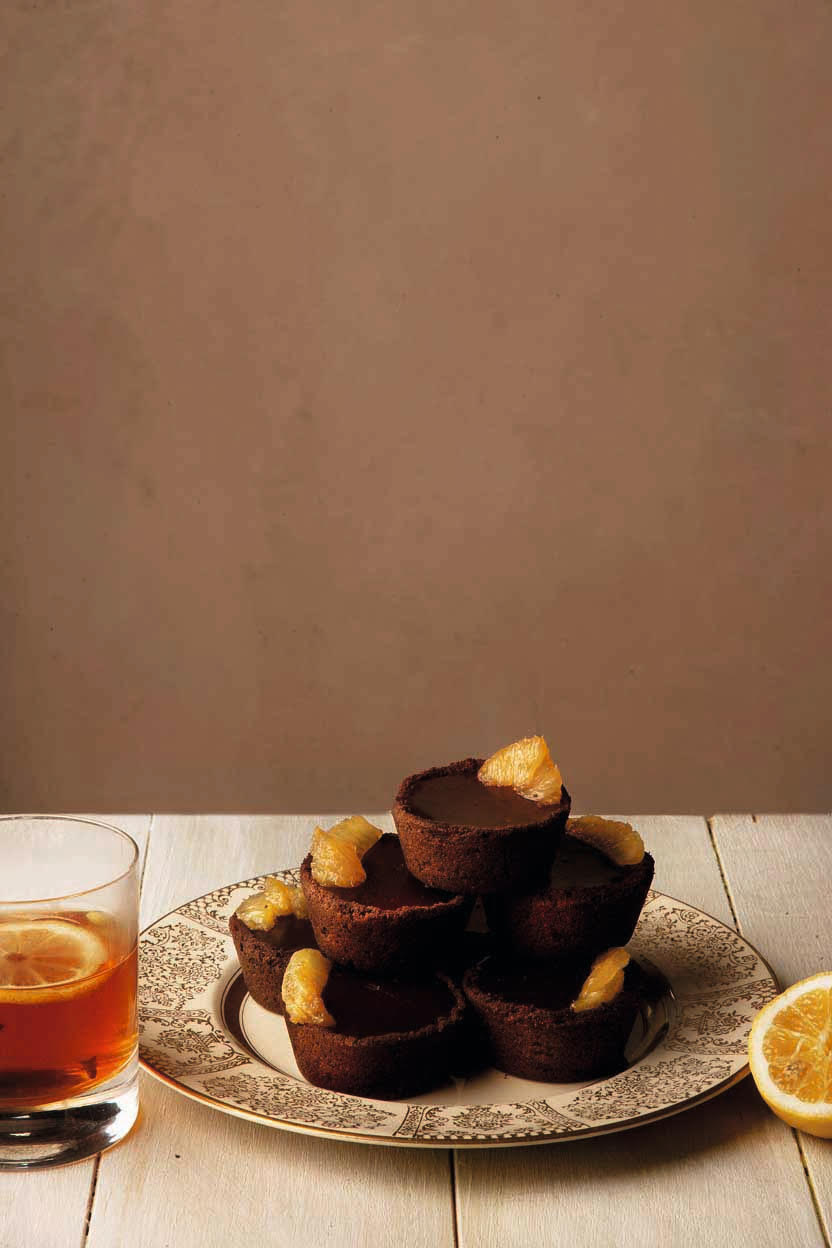 Festive Hot Toddy Tarts
Preparation Time 15 minutes
Cooking Time 10 minutes
Ingredients:
130g unsalted butter
130g caster sugar
150g plain flour, sifted
50g cocoa powder, sifted
Pinch of sea salt (optional)
Drop of vanilla extract (optional)
1 batch of Caramelised Lemon Slices
For the filling
125ml double cream
200g dark chocolate (minimum 70% cocoa solids), broken into small pieces
50g burnt butter (melt the butter in a small heavy-bottomed pan for 2 minutes, or until a dark tan colour, then remove from the heat and cool completely)
75ml Laphroaig or any other whisky you like
Pinch of sea salt
Six 9cm/3½ inch mini tart tins, greased
Method:
Cream together the butter and sugar until evenly mixed – approximately 1 minute. Add the flour, cocoa powder, salt and vanilla if using. Beat until everything just comes together in a big crumbly mess.
Press the crumbs tightly on to the base and up the sides of your prepared tart tins and refrigerate for 30 minutes. Line, weight down with baking beans and blind bake on a baking tray for 15 minutes. Remove the beans and use the back of a teaspoon to smooth out the pastry. Return to the oven for another 10 minutes, or until crisp. Remove and place on a wire rack to cool completely.
Preheat the oven to 180˚C fan assisted/gas mark 6.
To make the filling, heat the cream in a heavy-bottomed pan until it's starting to simmer and light steam is coming off it. Remove from the heat and add the chocolate, leave to melt for 1 minute, then stir until fully melted and combined. Whisk in the burnt butter, whisky and salt until evenly incorporated. Allow to cool, then pour into the baked and cooled tart cases.
Dot all over with the caramelised lemon slices and put into the fridge for 20 minutes to set. Serve right away, or leave them in the fridge and bring to room temperature for 45 minutes before serving.
Caramelised Lemon Slices
3 lemons, topped and tailed and peel cut away
100g caster sugar
With a sharp knife carefully cut out the segments of the lemons just inside the membrane (skin of the segment). Put them on a plate and set aside.
Squeeze the juice from the pulpy leftover chunk in the centre of the lemon into a glass and reserve.
Place the sugar in a heavy-bottomed pan over a medium heat. Avoid stirring the sugar while it heats up, but shake the pan from time to time to prevent it sticking. The sugar will melt and caramelise quite quickly after about 5–6 minutes, so watch it carefully. As soon as the sugar is fully melted and a dark amber colour, remove the pan from the heat and stir in the reserved lemon juice to stop it cooking. Let it cool completely before adding the lemon segments and stirring to combine.
Enjoy!
Follow Lily Vanilli on Twitter: @lilyvanillicake
Follow Lily Vanilli on Instagram:  @lily_vanilli_cake
Lily Jones (aka) Vanilli is a baker and cake designer based in East London.
She is the author of two recipe books and co-founder of the YBF Awards. She has a bakery on London's Columbia Road and consults for bakeries and brands around the world.
Follow graze on Twitter: @grazedotcom
Follow graze on Instagram: @grazedotcom