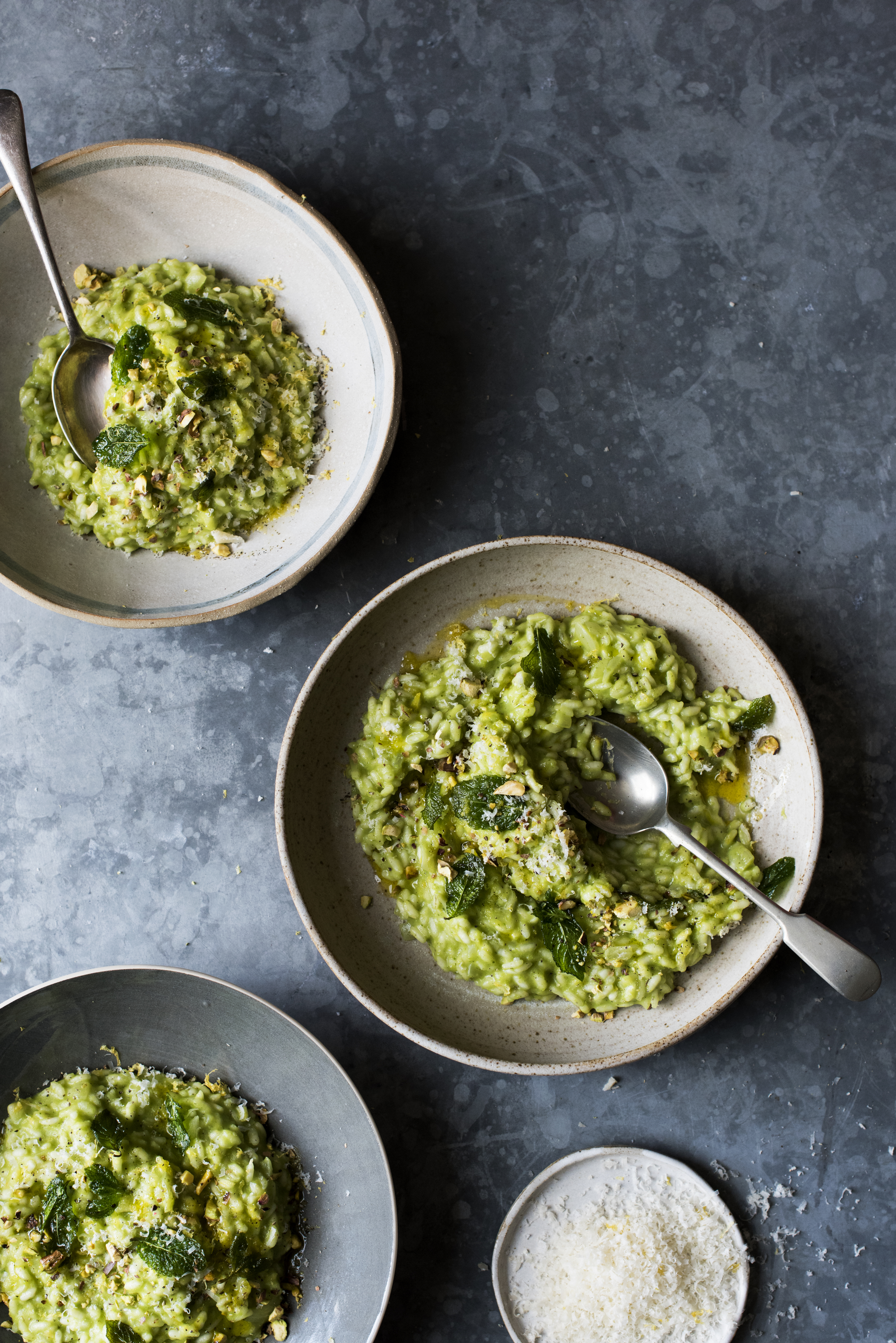 Preparation Time 10 minutes
Cooking Time 20 – 25 minutes
Serves 4 – 6
Ingredients
:
generous knob of butter
1 large white onion – finely diced
2 cloves of garlic – minced
sprinkle of sea salt flakes
several turns of freshly ground black pepper
350g Alborio rice
1 glass of white wine (around 175mls)
2.5 pint vegetable stock
150g fresh peas
200g fresh spinach
200g edamame
several glugs of  soy sauce
drizzle of sesame seed oil
Method: 
Begin by melting the butter in a large pan over a medium heat, add diced onion, garlic and seasoning and allow to cook over a medium to low heat for 5-7 minutes until the onions are soft and translucent. Next, add in the rice, stir thoroughly coating the rice in the butter and cook for a minute or two. Continue to stir to avoid the rice sticking then add the white wine. Allow the wine to cook off over a medium heat for 3-4 minutes stirring if necessary. Next begin to add the stock, a glug or so at a time and continue to stir. Repeat until all the stock has been used up. Once the rice is almost cooked after around 12-15 minutes, add in the peas and spinach and allow to continue to cook for 2-3 minutes.
In a frying pan add the soy sauce and sesame seed oil and cook over a high heat for a minute or so then add in the edamame (still in their pods) and fry over a high heat, charring the skins of the edamame.
Just before serving the risotto add in an extra knob of butter, check for seasoning then sprinkle over the edamame and serve. I like to add several turns of pink peppercorns.
Follow Anna Barnett on Twitter: @AnnaBarnettCook
Follow Anna Barnett on Instagram:  @AnnaBarnettCooks