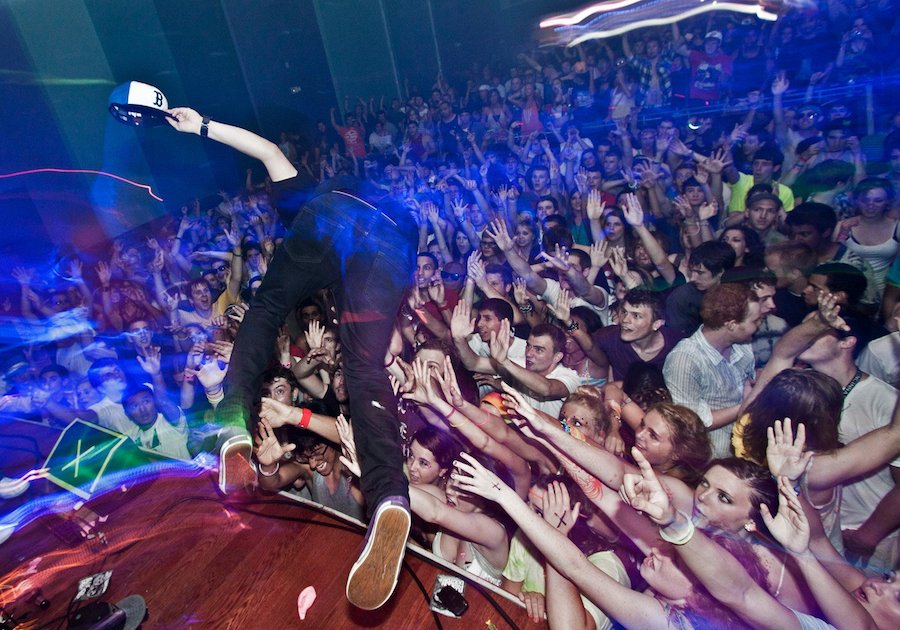 Electric Ballroom has played host to some pretty gritty and glorious nights over the years and has without doubt earned its title as one of the best underground venues in North London.
However, Borgore's gig last Thursday night was a different experience altogether. It was a night that I will truly never forget. I felt as though I had been transported back to the 90s before commercialism whitewashed everything. A time when rave culture reigned supreme and lines were significantly blurred, anything and everything went.
Borgore drew in a wild crowd; girls dressed in just bras and hot pants, brandishing neon glow sticks in both hands. Boys glistened with sweat, glow paint streaked across their flushed cheeks and bare chests. It was utter anarchy.
Debauchery on an immense scale ensued, the room was thick with smoke from people brandishing 'funky cigarettes'. A group of particularly riotous boys drank from plastic cups and hurled the remains over the crowd around them and no one seemed to mind at all.
DJ Ookay kept the crowd thoroughly entertained, especially when he played Flux Pavilion's classic 'I Can't Stop'. Suddenly, Ookay shouted "Where my twerkers at?" before dropping Ace Hood's monster hit 'Bugatti'. A bolt of electricity seemed to run through the crowd, hands flailed in the air, heads rocked back and forth and for a moment, everyone seemed to lose their minds.
DJ Ookay exited the stage after a fantastic set to screams of gratitude from the crowd. Before he left, he bellowed: "If you are excited for Borgore, make some fucking noise!"
The crowd responded by chanting, "BORGORE, BORGORE, BORGORE!"
The man of the hour took to the stage and the screams from the crowd were deafening. Borgore was accompanied by two blonde pole dancers, dressed in nothing but gold embellished bikinis. They quickly took to their positions on the poles and performed like pros to the delight of the crowd.
Positioned in front of some impressive DJ decks, that were made entirely of bright lights, Borgore put on a phenomenally chaotic show. He played track-after-track of his signature hip-hop infused electronic dance tracks and the crowd couldn't get enough.
A kaleidoscopic array of lights flooded the venue, illuminating the ecstatic faces of the crowd. The bassline was deep, dark and hypnotic and each time it dropped, a new found energy ripped through the crowd as hundreds of hot, sweaty bodies reveled in it.
Borgore played his filthy and infectious track 'ice-cream' and a red head that stood next to me responded by sucking her index finger suggestively, her eyes locked on the stage.
A highlight was Borgore's ferocious track 'Wild Out' featuring Wacka Flocka Flame, which almost brought the house down when it was played. It was a euphoric moment with hundreds of bodies being thrown around, seemingly without a care in the world.
Not to sound too tedious but we seem to live in a materialistic and technology driven world where people care more about what they look like or are too distracted by their phones to have a good time.
This is what was ultimately so memorable about Borgore's night at the Electric Ballroom, it was raw, rare and uninhibited. It celebrated youth culture at its very best, it celebrated fun and freedom and I could not get enough.