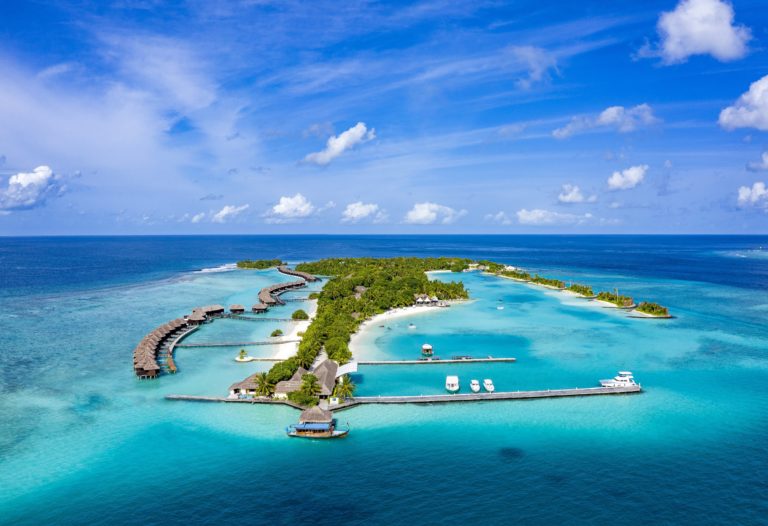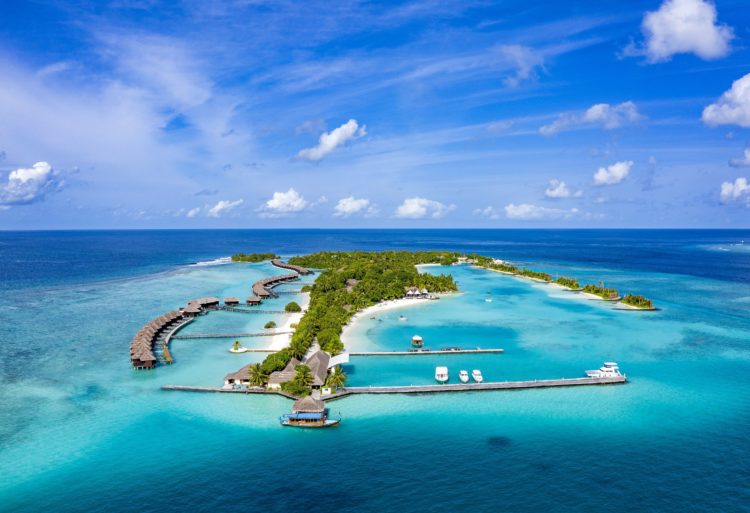 Packing for a luxury trip like the Maldives means that everything needs to be considered for a good stay. From the airline you choose to fly with, to the transfers and resort you opt for, everything must work seamlessly. It is a desired destination for honeymooners looking for a romantic getaway and has quickly become a content creators dream.
From stretches of sandy isolated beaches to clear blue waters, the Maldives and its incomprehensible beauty and unmatchable natural simplicity is an accolade to travellers alike. This postcard perfect dream destination is for many, a once in a lifetime experience.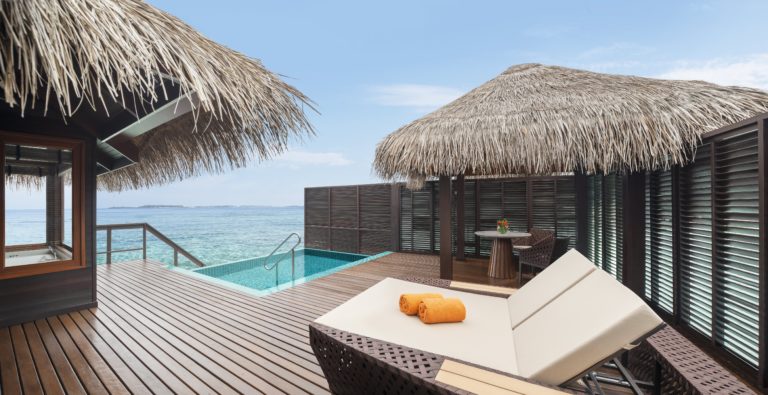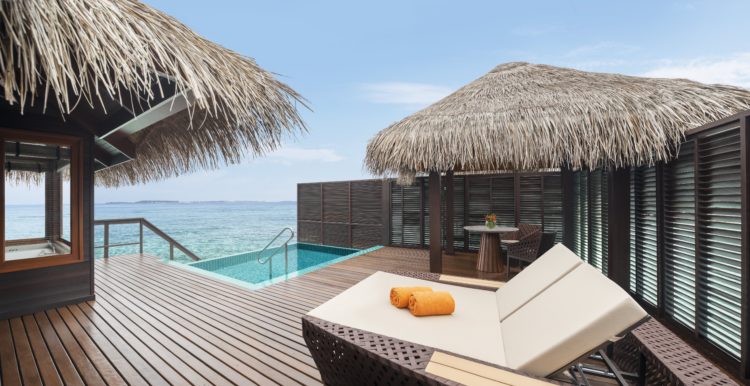 Conceived on the nearby island of Furanafushi, a short 15 minute speed boat ride from Malé, The Sheraton Full Moon Resort and Spa is a five-star resort which fully occupies the island and wows guests as soon as you arrive. Powdery white sands and perfectly poised palms are the backdrop for this tropical destination.
A trip like this requires a few considerations, especially when you want to relax, but still take in the beauty of the place and capture those enviable travel moments that make your holiday just that more special. For those who like to document their travels, should opt to take with them a sturdy case suitable for holding all their technology.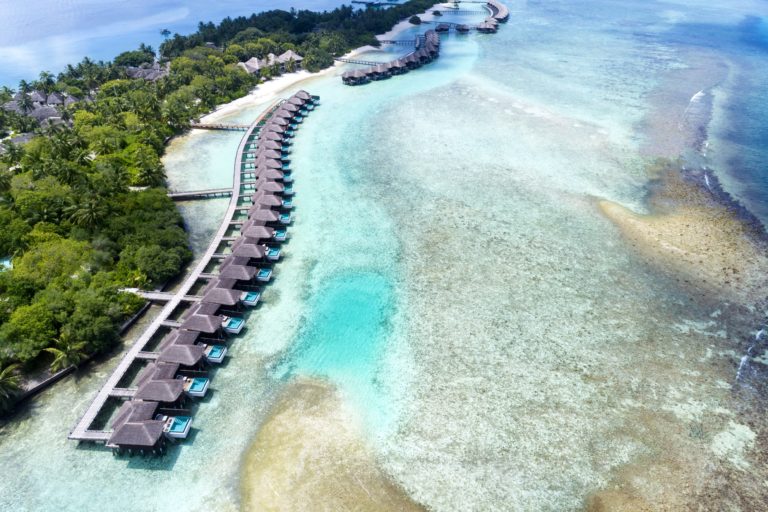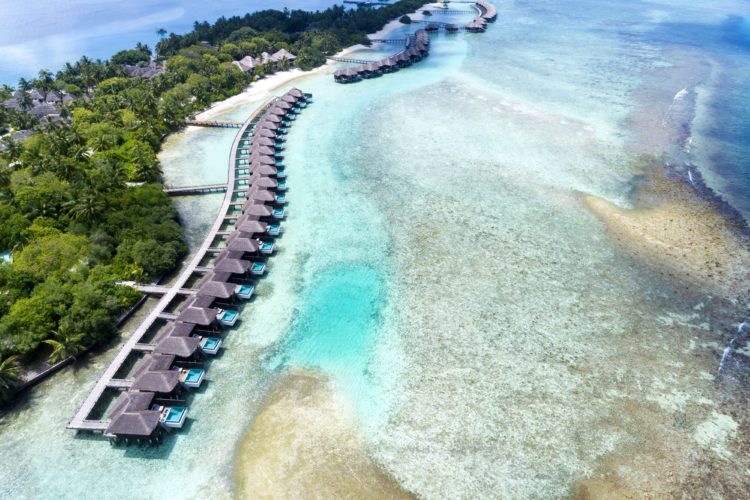 Keep it in the cabin with the Briggs and Riley International Carry-On Spinner, a functional case that makes packing your electronics a breeze. Additional features also include a handy USB port and hinged front pocket, so that storing and removing your laptop has never been easier. With your technology packed and a 10-hour flight to Malé underway, your worries dissipate and thoughts turn immediately to how you are going to spend your time wisely on the island.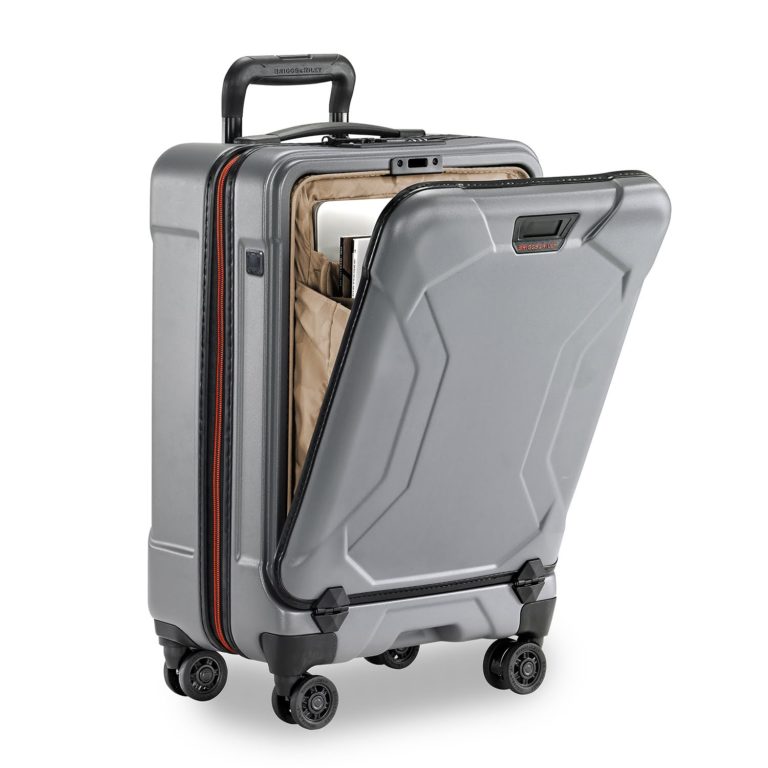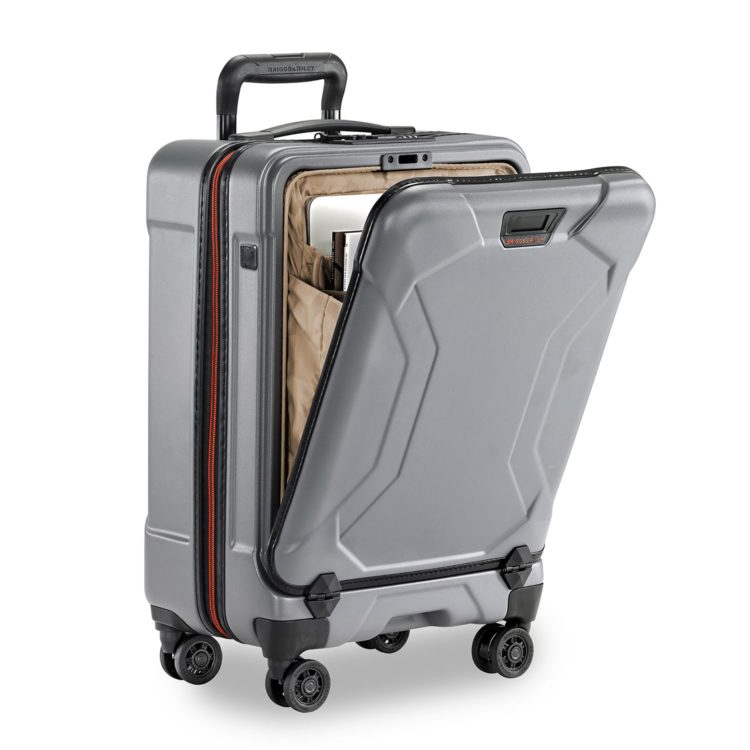 Arriving at the resort by boat, there is an instant warm welcome from the concierge team at the main reception. Stepping onto the jetee you are greeted with smiles and fresh juices to sample. This luxury resort offers 176 guest rooms designed to blend into the surrounding turquoise waters, white sandy beaches and lush vegetation. Although there are many rooms available on the island, it never feels overcrowded. The resort also boasts three outdoor tropical fresh water pools, catering for all guests and is the perfect destination for honeymooners, families with young children or teens and solo travellers.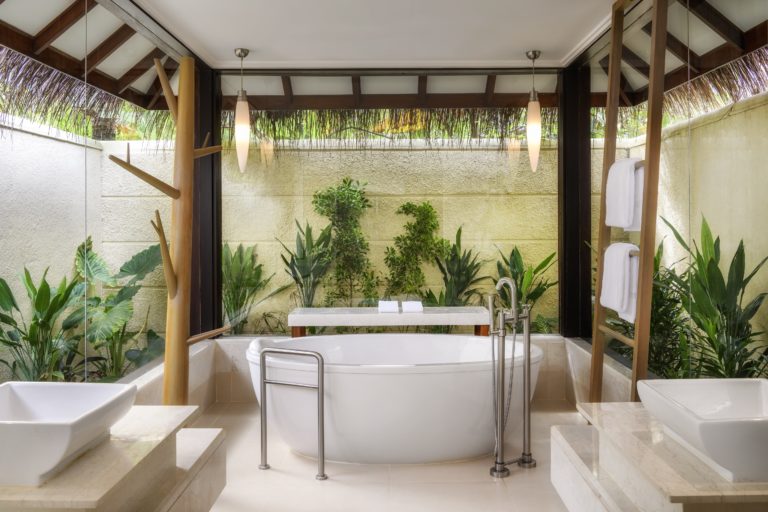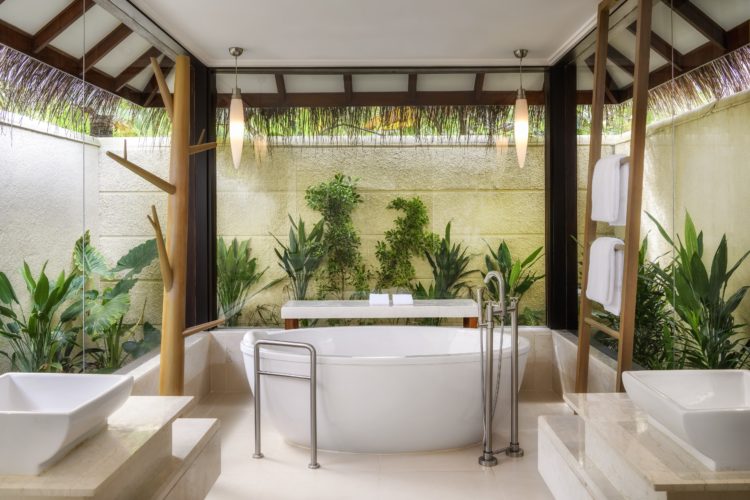 There is little to complain about at this resort, however the only disappointing factor to consider is quite often Maldivian getaways tend to sell you this sense of complete seclusion, where you can look out for miles at expansive ocean and see nothing else. Unfortunately, those looking to experience that level of isolation may be left with a bitter taste in their mouth. Simple considerations like the distant but still visible view from one side of the island of Malé and the high rise buildings which home the locals must be noted.
With 10 different luxury room categories including the restyled Deluxe Cottages, Cottage Water Bungalows and Water Bungalows with pools, there is a different ambiance in each of the room types. For the ultimate Instagram worthy experience, the Sheraton's famous water bungalows are perfect for those wanting to be as close to the water as possible.
If opting for one of the Deluxe Cottages, expect a more cosy and private experience, with highlights including the outdoor bathroom for the perfect natural shower experience and the cottages high ceilings, creating a sense of space and grandeur. Don't worry about not being located on the water, the cottages provide easy access to the beach and the lagoon in minutes.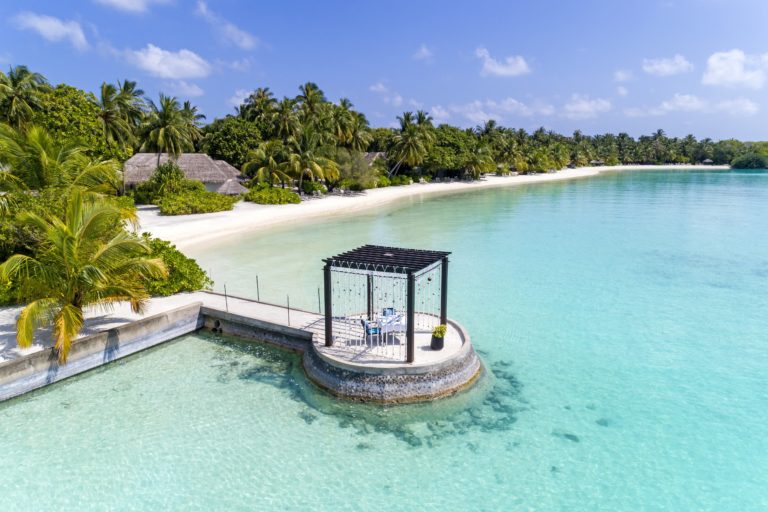 The Sheraton, which describes itself as a family resort that captivates all your senses, has struck lucky in their pursuit for sustainability. Sustainability has been a buzzword within the travel industry, with many hotels and resorts looking to enhance the hospitality experience, all whilst doing their bit to make more conscious choices.
Eco-friendly changes like the use of biodegradable paper straws and the water bottling plant initiative have been put in place to reduce landfill waste by 45% by 2025. On islands as beautiful as those in the Maldives, this reduction in plastic consumption will see great effects on the overall Maldivian landscape, both on land and underwater.
You can indeed marvel at the concept that Sheraton Full Moon Resort has managed to unite luxury and sustainability together without compromising on the intimate island experience. As new innovations bring about change, there is a clear motivation to pursue the best possible options in favour of the environment. Self-sustainability has been at the forefront of General Manager Emilio Fortini's mind.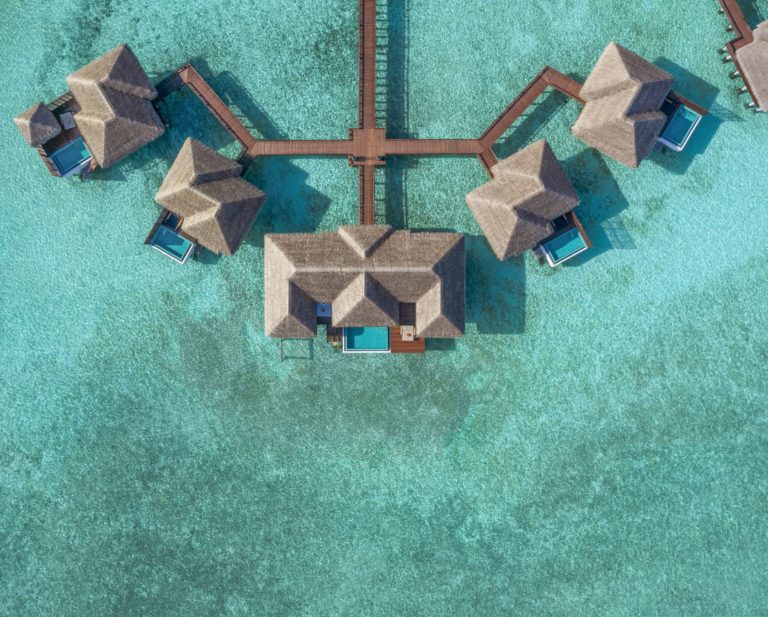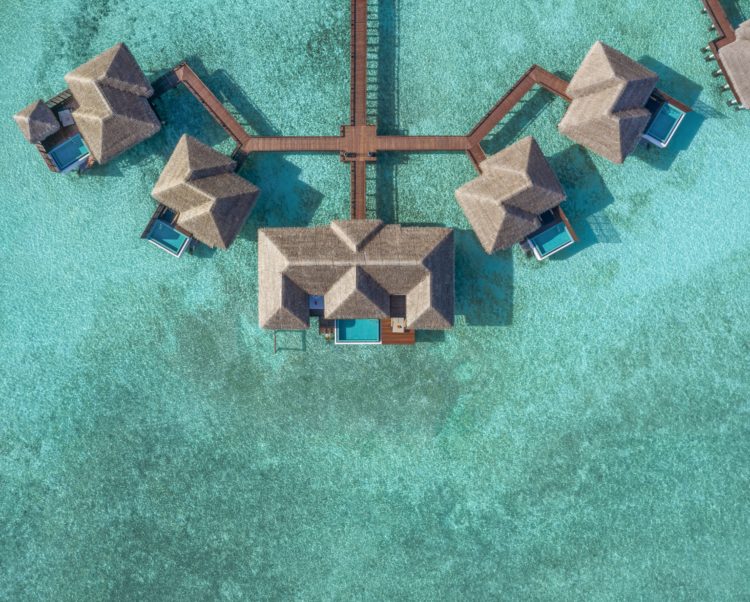 The island's water bottling plant initiative can be named as just one initiative which is shaping the future of hospitality. This project has eliminated the need to transport water from the mainland. Using reverse osmosis technology, this eco-friendly initiative has been implemented in order to supply the island with fresh drinking water which is mineralised, chilled and bottled in reusable glass containers.
The advanced technology was put in place to utilise high pressure to clean and purify seawater by driving it through an eco-friendly water filtration system. This has been a process which has aided the company's goal to reduce landfill waste by 45% and responsibly source its top 10 product purchase categories by 2025.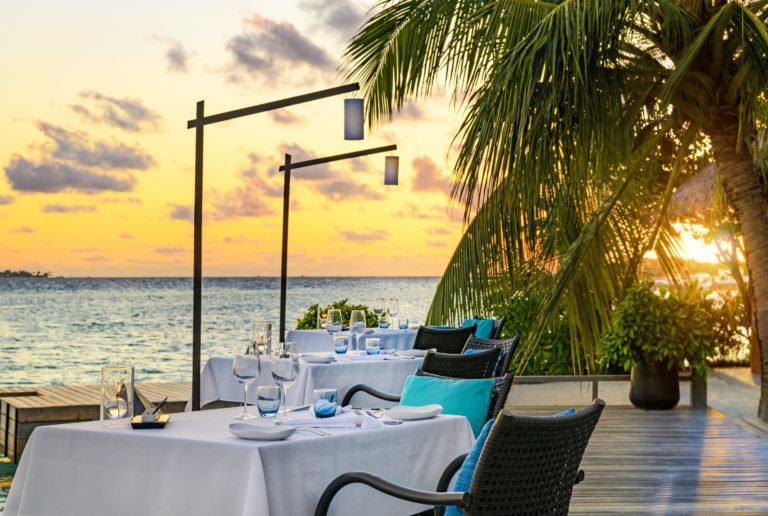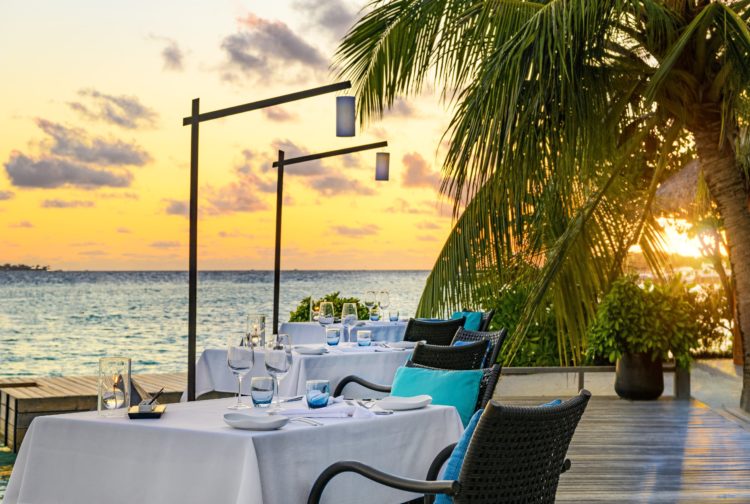 Where to dine:
With no need to worry about whether your trip ticks your ethical values, you can take time to put your attention on one of the most important factors of a good resort, the dining experience. Offering seven bars and restaurants in total, guests are suitably taken care of, from alfresco Maldivian feasts to rich Thai cuisine.
During the day the Anchorage Bar forms one of the newest and largest renovations on the island. This relaxed beach bar located near the main swimming pools and shark feeding area is ideal for those looking for light bites in the day and by night sipping on one of the resort's signature cocktails, whilst enjoying music from the live local bands.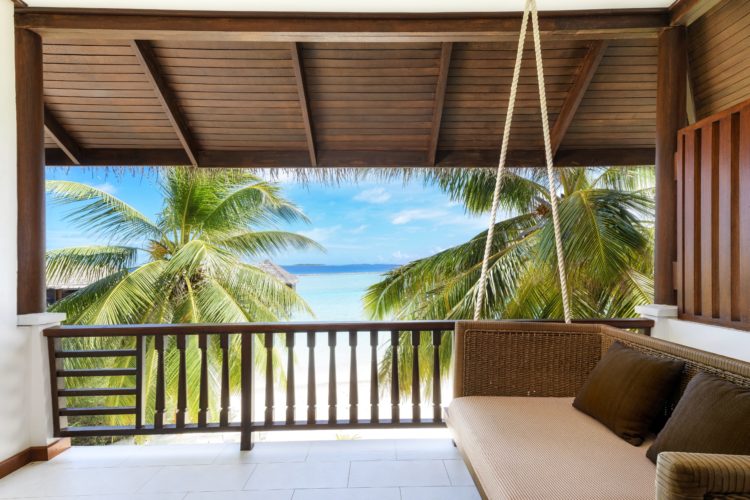 For those seeking to experience flavours from across the Indian ocean, guests can sample dishes at Masala Hut, where a traditional mix of North and South Indian cuisine is served within a charming high-ceiling thatched roof pavilion.
Kakuni Hut is perfectly positioned on the white sands of Kakuni beach and is an idyllic setting for a chilled Mexican lunch. Popular for its fish tacos and its playful cocktails, you can dine here in a matter of minutes from stepping away from your sun lounger.
Dining at the Sheraton Full Moon Resort's many restaurants is a pleasurable pastime, where guests are encouraged to take relaxing long lunches and leisurely evening meals.
For those who love their seafood, and in particular take pleasure in selecting the fish they wish to eat, Sea Salt is a must. Being one of the quieter restaurants on the island, this fine dining seafood restaurant offers an elegant experience with views of the beach and the sound of small waves lapping at the shoreline. Watch as chefs prepare your meal to order at the main cooking station all whilst enjoying a perfectly paired glass of wine.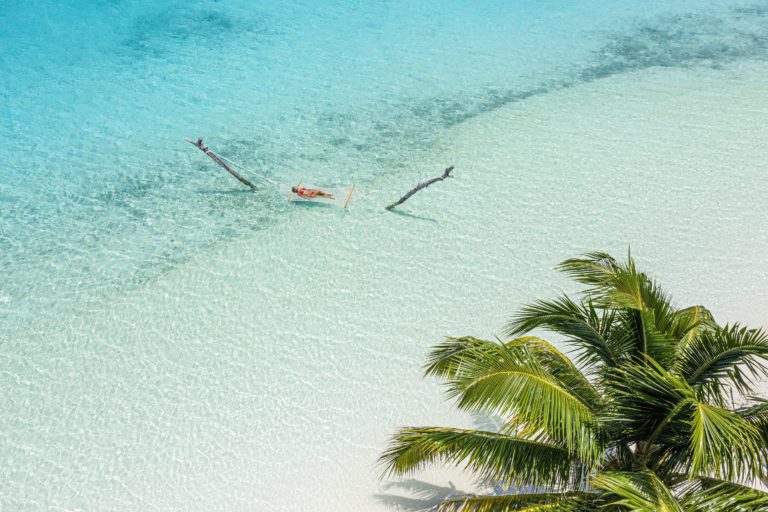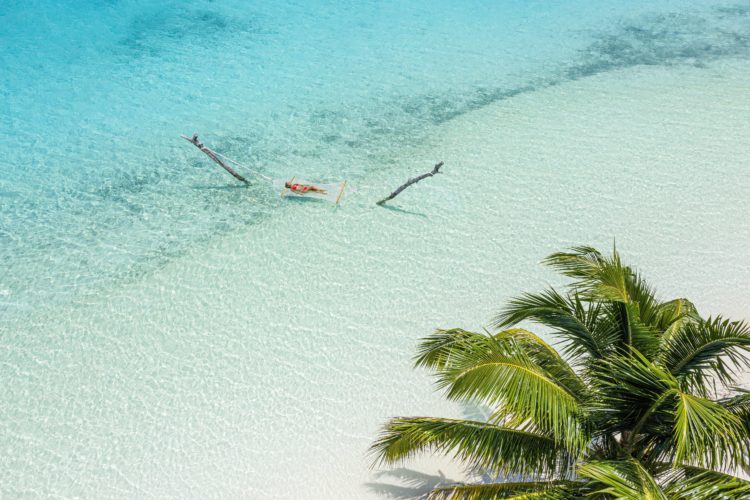 Things to do:
There are so many ways to immerse yourself in the Maldivian culture, from traditional flower crown making to private beach yoga, those of all abilities can fill their day with activities. For those looking to splash out, can opt for a private dining experience in the shores of the Indian Ocean. Submerge yourself (from waist height) in the water and tuck into locally caught fish and lobster, all whilst continually being topped up with glasses of cold champagne.
Another highlight of a trip to the Sheraton Maldives Resort has to be the sunset dolphin cruise which can be arranged at the concierge for guests to experience. Board a private boat and watch as dolphins race alongside and perform from the water.
From jet skiing, water skiing and parasailing to name a few, there is something for everyone. Those who enjoy more tame water sports can simply float around the lagoon and snorkel to spot fish and coral.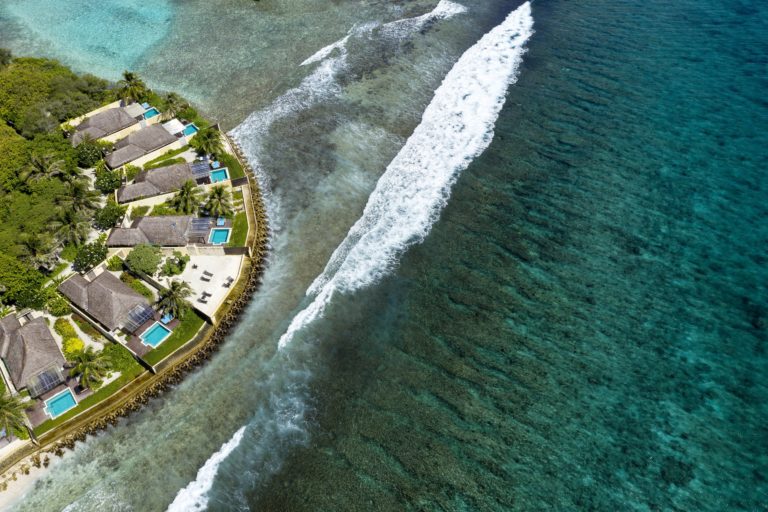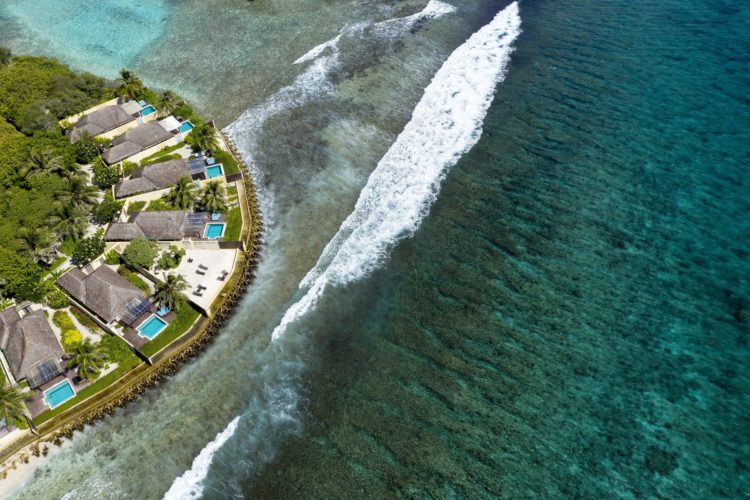 Whilst the Maldives seems to instinctively promise clear blue skies and hot sunny days, there is very little that can be done for any sudden changes in the weather. When the humidity hits and turns to monsoon, there is little to do except dine and visit wellness facilities like the gym and spa. If you don't mind embracing the rain then water sports are the answer to your prayers.
For optimum relaxation, head to the Shine Spa which is accessed by walking along a long wooden bridge to its own remote island. Experience traditional Maldivian massage techniques with the 50-minute Signature Shine Massage.
Using healing touch and ancient rituals, guests are first seated to have their feet scrubbed and washed. Once laying on the massage table in your private room, you are warmed with stones and then each part of your body is massaged to your preference. The experience ends with the gentle application of silk honey with an indulgent facial massage that brings harmony to your body and soul.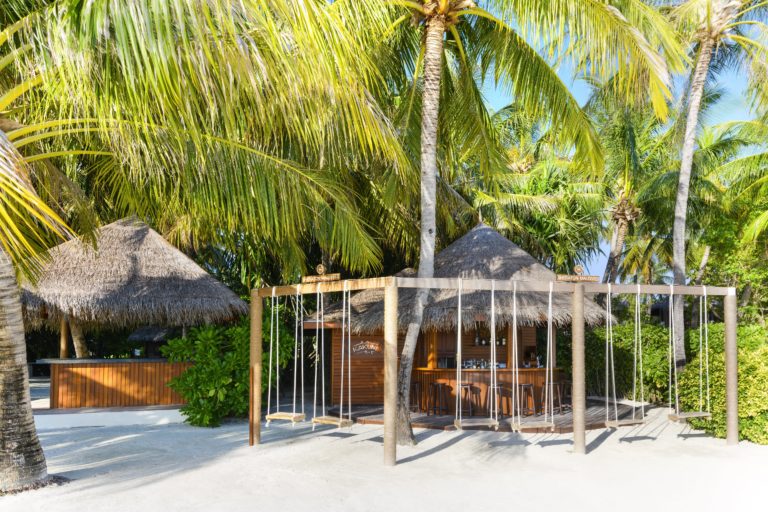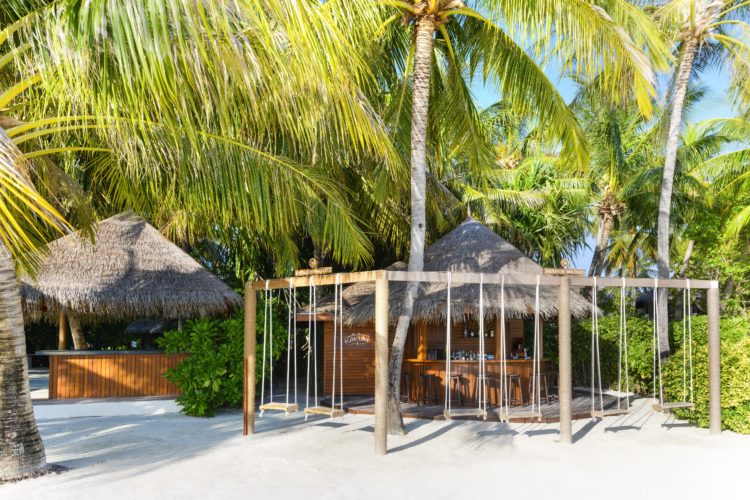 If an island enclave is what you are in need of, then a Maldives getaway has the power to ticks all those boxes and more. So why not turn your new experiences into lasting memories at the Sheraton Maldives Resort.
Nightly rates at Sheraton Maldives Full Moon Resort & Spa: start from £315 per night based on 2 people sharing a Deluxe Garden View King Room on a B&B basis.
+960 664 2010