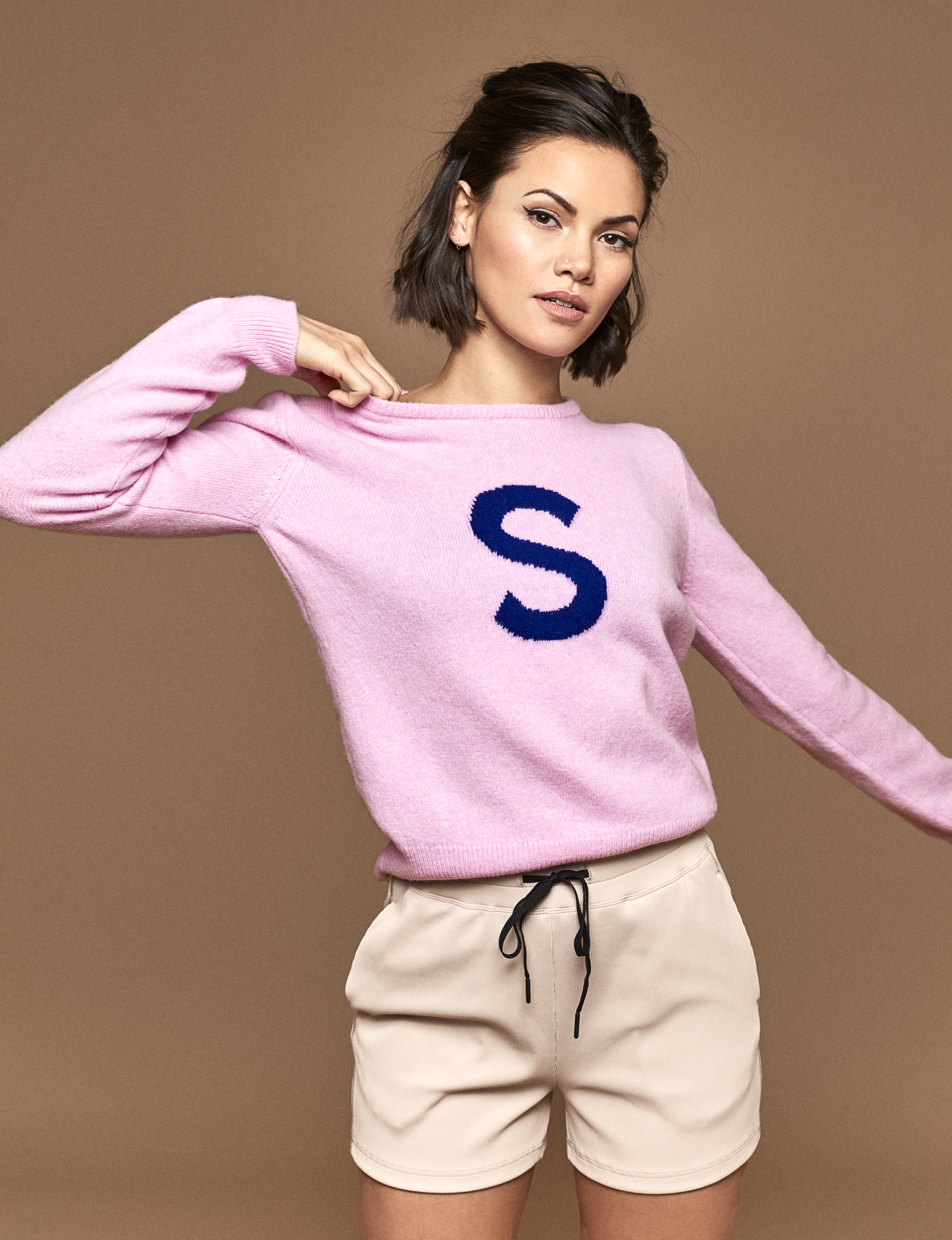 Jumper : Hades
Shorts: Filippa K
Sinead Harnett's soulful vocals caught the attention of the Godfather of Grime, Wiley, Sinead's life would never be the same again. She has over 1.2 million monthly listeners on Spotify and has collaborated with Snakehips, Disclosure and Rudimental. With the release of her eponymous debut album this year, the future is looking bright for this songbird…
Before entering the studio, I could hear Sinead at the front door; loud, bubbly and bursting with enthusiasm. As she took her first step into the studio, her endearing brown eyes frantically met with all the eyes already in the room; she didn't know who to introduce herself to first.
The petite singer appeared even smaller in person, wearing an oversized roll neck knit jumper. The long sleeves of the red slouchy jumper were rolled up a little at the wrists revealing two tiny matching tattoos on her thumbs. Sinead tucked her hair behind her ear before she introduced herself, she squeezed her arms around me and sweetly said, "Hey, I'm Sinead!".
The singer, who has over 1.2 million monthly listeners on Spotify, carried her infectious, bright white smile around the studio all day. And why not when you have so much to smile about?
Sinead was studying when she was contacted by recording artist and producer, Wiley. "Wiley saw a clip of mine online, and he contacted me to say he'd love for me to feature on an EP he was doing, and back then I was like 'what's an EP?'" she laughed, reminiscently.
She added, "And why is the Godfather of grime contacting me? Back then, I didn't know anything about the music industry, but I knew that if someone like Wiley was contacting you, then it was pretty much a big deal."
She continued, "Wiley asked me to go to Jamaica to record a sound with him, but I was twenty-one, and my graduation was approaching… I couldn't just go to Jamaica!" she exclaimed with laughter. "So I asked him to send it to me instead. I wrote it, and it was playing on Radio 1Xtra before we'd even met."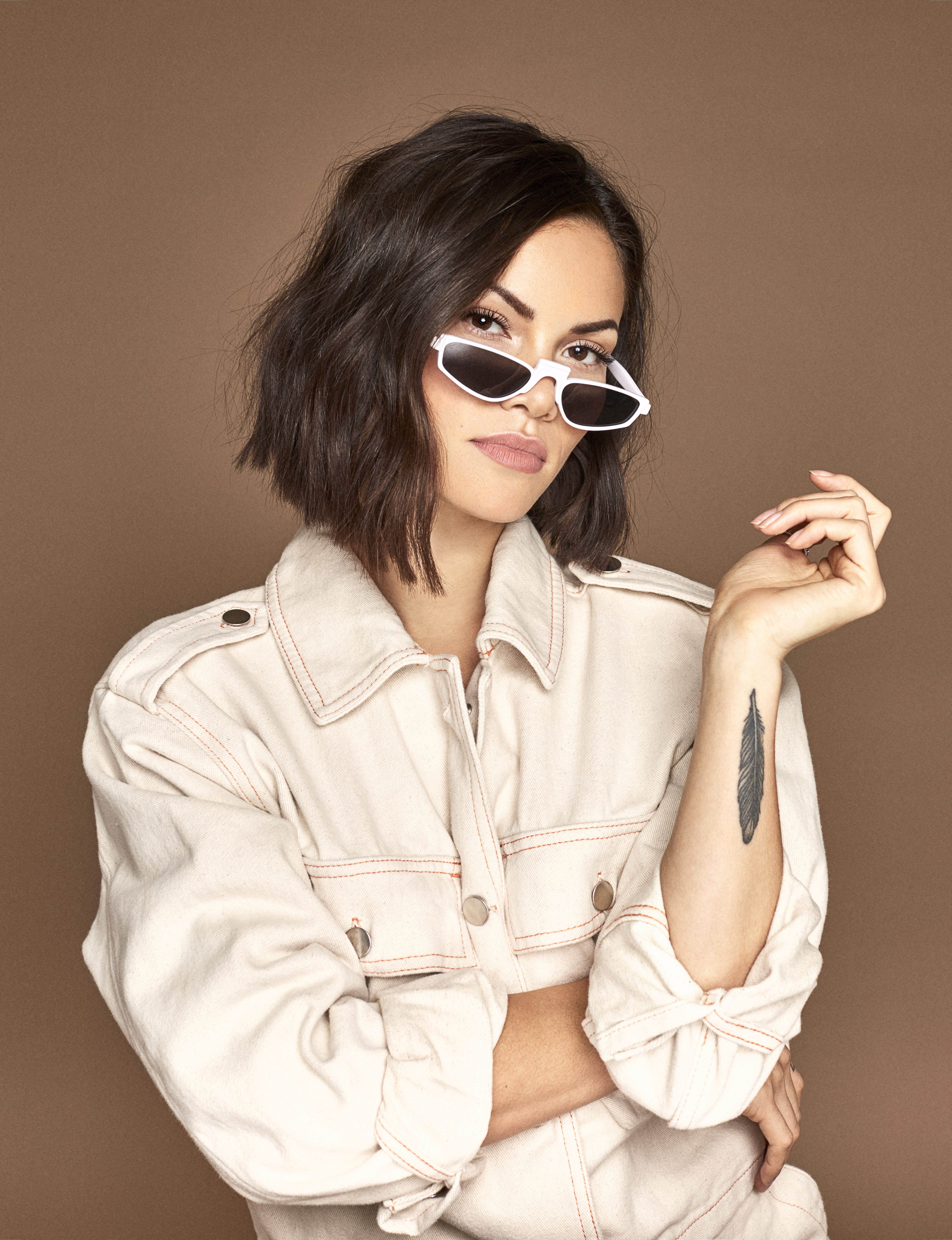 White Denim jacket: Wood Wood
Sunglasses: PrettyLittleThing
Immediately upon graduation, Sinead acquired a manager who turned a career in music into reality. She soon found herself featuring on Disclosure's first album, and shortly after, also featured on three tracks from Rudimental's UK number one album, 'Home' – the title track, 'Hide' and 'Baby'.
Sinead declared, "My first experiences of being on the radio were my collaborations with Wiley, Disclosure, and Rudimental, which was obviously unbelievable. But the door to a career in music only opened because of my collaboration with Wiley. It all happened so fast, I didn't have time to look back. I just thought 'whoa I'm already on the radio, but who am I? Who am I on my own?'"
In 2016 Sinead joined RINSE, a London based label and radio station. It is with RINSE that Sinead released her EP 'If You Let Me' in August 2016 and "it was the beginning of me taking ownership of my music. I needed to fall back in love with music, and feel confident as a writer of my work again," Sinead admitted.
"Music is oversaturated. The traffic is mad; people are still only just discovering my music now. In October the video views for 'If You Let Me' were on 5 million, and then by December it was on 6 million," she said.
Towards the end of last year, Sinead released a mixtape with RINSE called Chapter One. "The mixtape felt raw. Some were me playing the piano, and some were quite hip-hoppy. It felt like a mixtape to me, so that's what I released it as."
"I feel like pretty much every year since music became (luckily enough) my reality, I have thought 'ah maybe it'll be this year I'll record and release my first album'. This has gone on for about four years…" she chuckled.
She continued, "But now I feel like I know who I am, and I think it has also become acknowledged and understood by other people, so now it just feels right. The album is meant to be finished this year, and for the first time I feel like it actually will be."
With a big grin, Sinead stated, "For my first album, I want listeners to feel like they can press play and listen from beginning to end. I don't want something that sounds like the same song over and over again, but I want listeners to feel like they're in one world the whole way through."
Sinead was meant to study psychology at university, but life rarely ever goes to plan. At the last minute, she impulsively followed her heart instead.
She revealed, "I come from a half Thai and half Irish background, so traditionally, my mum would have liked me to have done something more 'academic' because it is considered to be a more 'solid' career. I was obsessed with writing and performing, and if I could do it in any way possible, I just had to."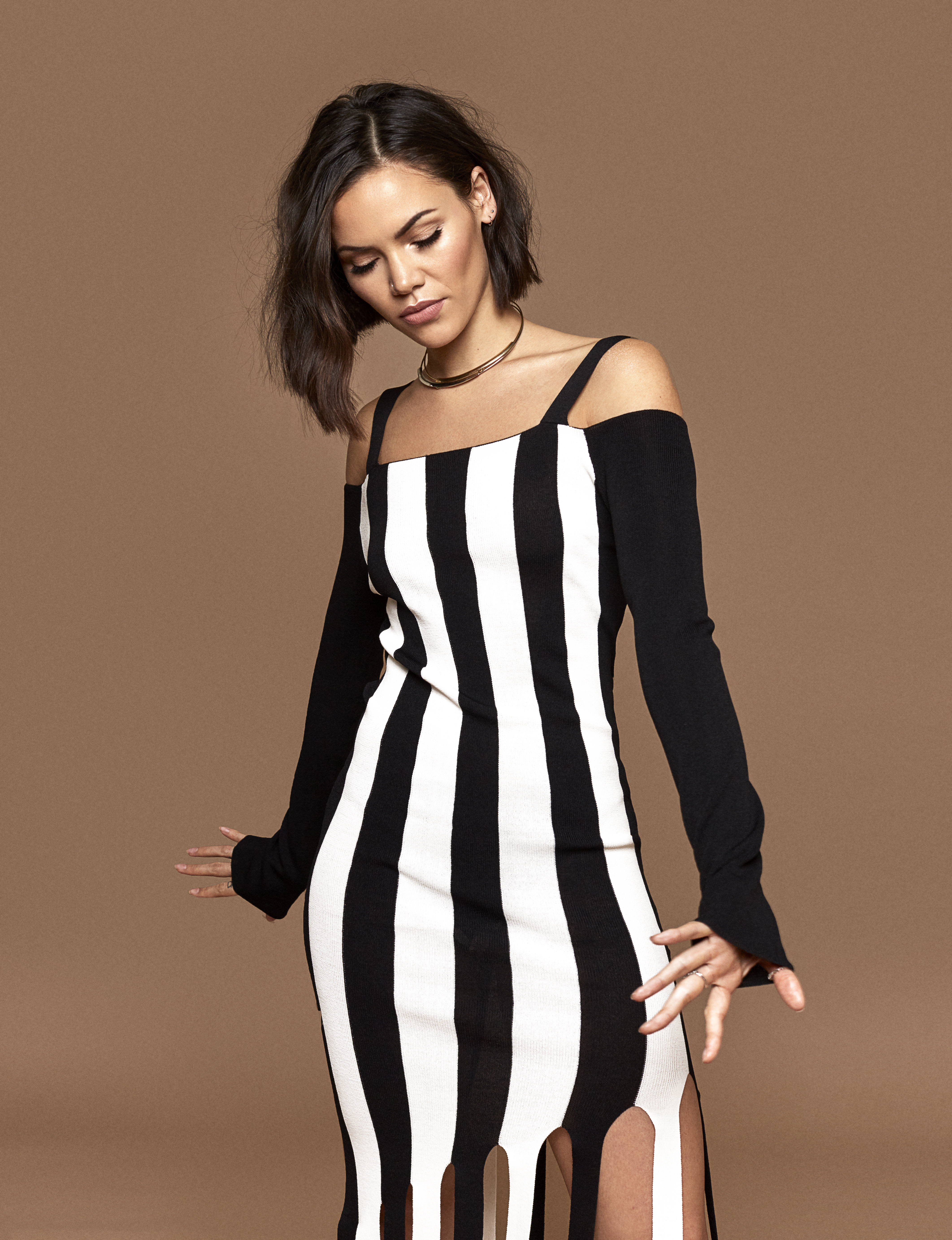 Dress: Topshop
Necklace: ASOS
"Acting was a last minute decision," Sinead added. "I envisaged myself being stuck at a desk all day every day if I were to study psychology as planned. Although there was a lot of theory in my acting degree, I just got to prance around all day," she said, laughing.
Sinead turned suddenly, looked me dead in the eye and said, "You know how they say if you visualise it, it will happen? I saw it and dreamt of it, but I didn't believe that it would ever happen. Music was just a hobby for me, and that's all I thought it would be. So, adapting to the reality was challenging. I was no longer doing it solely because I loved it… I was consciously aware that people were judging my music."
Towards the end of last year, Sinead made her mark in America. "We went to see Spotify, and their statistics are crazy!" she revealed.
"You can see who your audience is, how old they are, where they're listening to you from. After seeing the stats and where I was being played the most we tailored my tours to it. New York, LA, and London were my top three, and I wasn't going to argue about playing in any of those locations was I?" she laughed.
"American fans are so vocal!" Sinead said excitedly. "They sing along to every word,it's just so crazy to think I'm an ordinary girl from North London… like, what?!" she screamed.
She continued, "I love getting on a plane and going anywhere. The minute I get on a plane my mind just expands. London is so busy constantly, especially with social media, you're in a bubble. So when I go away, I just like to exhale a bit and thank the universe that my job allows me to see different parts of the world."
What is the highlight of Sinead's career so far? "Waking up one day and just feeling like 'I've got it', feeling like other people 'get me too'… Of being understood. Bit cheesy?" she laughed.
She said sincerely, "No matter how much success might come your way, if you're still confused about who you are as an artist then what is the point?"
Photographer
Sarah Brown
Stylist
Koulla Sergi
 Make Up Artist
Jessica Hunte using YSL
Hair Stylist
Kris Barnes