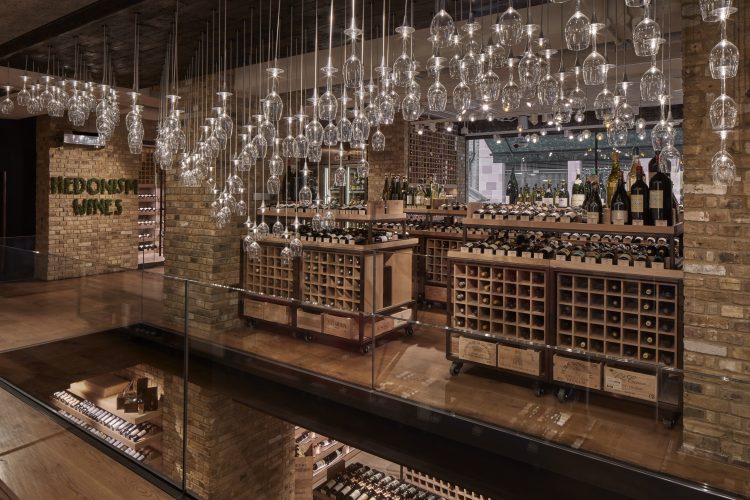 First there was Hedonism, then there was Hide. At the time of its opening in 2012 the Hedonism concept was a much-needed breath of fresh air to London's wine and spirits scene in and around the salubrious streets of West 1. Before Hedonism a trip to the wine merchant to pick up a nice bottle to bring to a dinner party was an unspeakable ordeal. It felt more akin to voluntarily locking yourself in medieval stocks in the town square and allowing a horde of stuffy wine merchants to pelt you with rancid vegetables and abuse about your shameful ignorance.
This experience was a reality I experienced first-hand a couple of years ago when I accompanied a friend of mine into a deeply pretentious little wine shop by Borough Market. He asked the manager if he might be able to point him in the direction of a decent little Burgundy for around the fifteen to twenty mark whilst gazing to the upper echelons of the shop's shelves. The manager beckoned him closer and gave the following response, dripping in Parisian disdain; 'oui, you go out of ze door, you turn left and you go to Lond-is (sic)'. Hedonism exorcised these demons, and in their place offered a dynamic, approachable and multi-faceted service.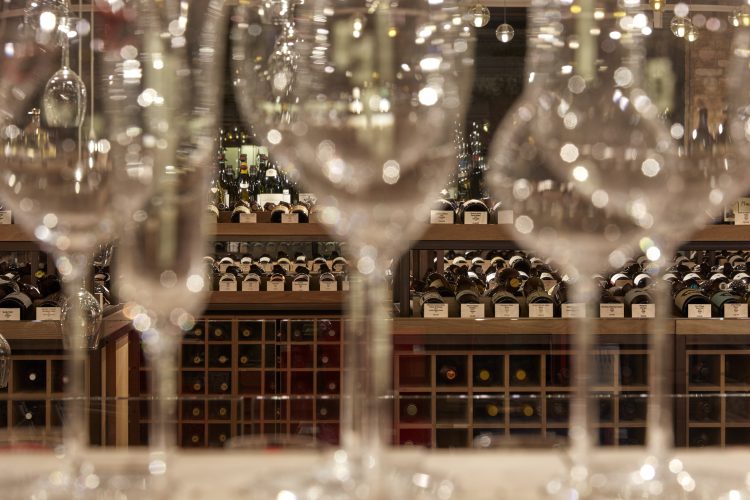 I caught Tatiana Fokina, the CEO of both Hedonism and Hide, on the hop for a quick early afternoon coffee. "After we opened Hedonism it quickly became what we had hoped it would become", Tatiana explained as she sipped at her mid-pm pick me up espresso, "I think there's very little doubt that it's now one of the finest wine and spirits stores in the world. It became a Mecca for people who are passionate about those things."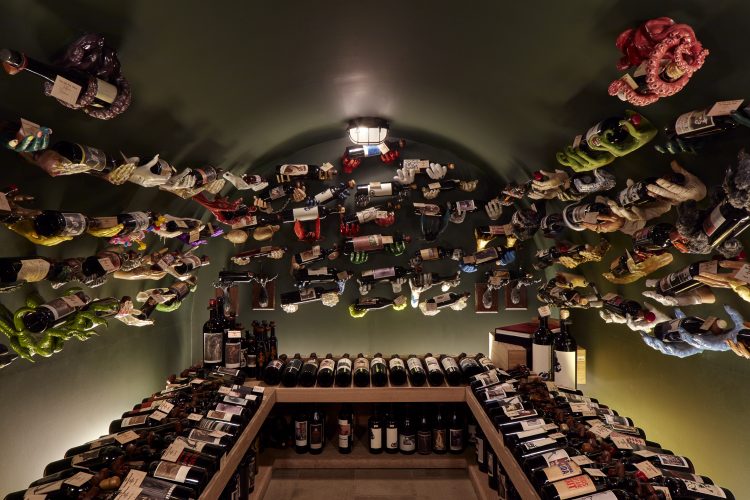 Hedonism certainly arrived with a bang, it's a huge two floor heaven for those who enjoy dabbling in a bit of a quaff and a gorge from time to time. The store's interior decoration is far from the dusty, fusty unwelcoming wine merchants of times gone by, the kind who would show you the door if they didn't like the sound of your budget. It's an adventurous, open architecture, sleek Bacchant temple.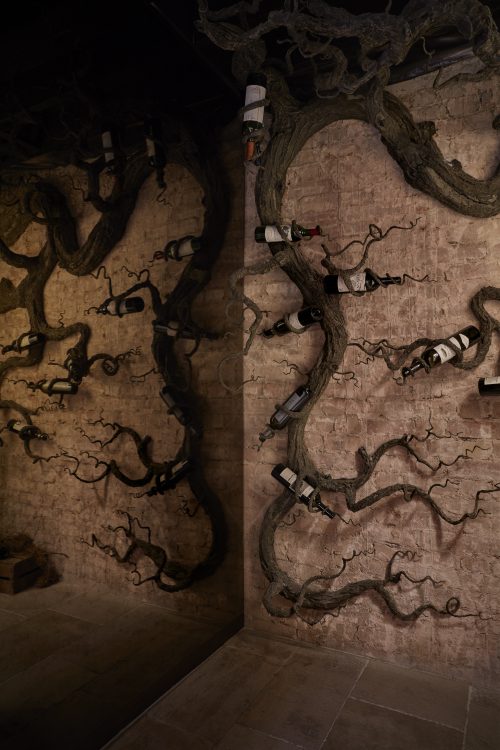 I asked Tatiana if the remarkable reputation that Hedonism has earned itself fair and square can't be packaged up and franchised, perhaps a Hedonism NYC or even a daring Hedonism Dubai, but her answer was that the strength of the brand was in its unique London location. "It's very much a global business but with just our one outlet. We're keen to keep it that way and modern-day logistics means we can easily service our global client base. We ship to New York every day and to Hong Kong every day. We really want to keep the concept undiluted."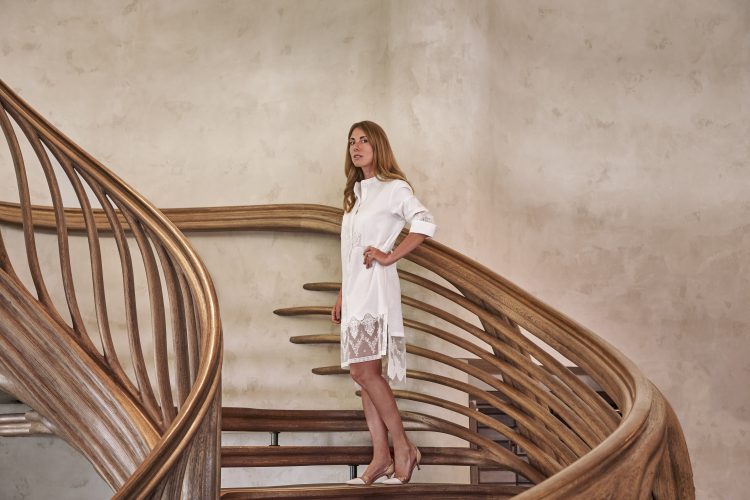 The strength of Hedonism isn't just its treasure trove of extraordinarily rare wine and spirits, it is rather the breadth of its offering. "Hedonism can be a great place for someone who's making the jump from shopping for a good bottle of wine at the supermarket and is now looking for something a little bit more special", Tatiana comments. "We often see students who come in and see something they really want and then come back once they've started work to treat themselves to that bottle they fell in love with." Hedonism is also jammed to the rafters with bottles of breath-taking rareness and their corresponding breath-taking price tags – but the bottom line is that there is something for everyone.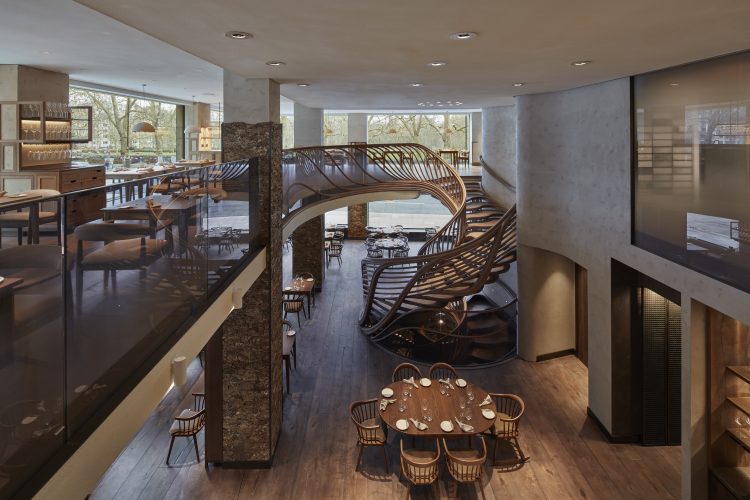 "Once we had got over all of the teething problems with Hedonism, around a year and a half after we opened, we started thinking 'okay what's next', and for us venturing into the neighbouring restaurant industry was a logical step because of course great wine and great food go hand in hand", and thus Hide was born.
"We decided we really wanted to create a fun, playful experience which really celebrated food and wine together, where wine wasn't just an afterthought" Tatiana explained. Hide's wine menu taps into Hedonism's Aladdin's cave meaning that the full selection totals around 10,000 wines.
Hide was to merge the tremendous creative flare of Michelin star awarded chef Ollie Dabbous with the business acumen of Tatiana Fokina and combine these two in a whopping 174 cover venue on Piccadilly to become arguably London's most talked about opening for a decade. The gossip before Hide opened its doors in April 2018 was cacophonous, everyone wanted to see how a venue of this size could be tamed.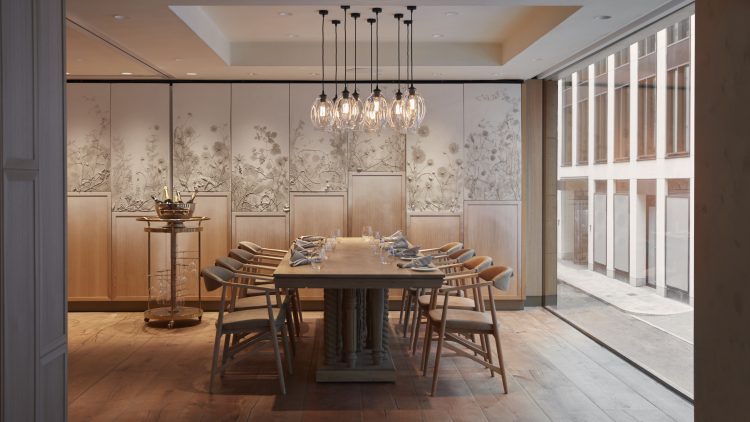 Tatiana explained to me that with Hide, they really wanted to avoid the 'sorry, the waiting list is three months long' curse, which plagues many would-otherwise-be-enthusiastic London diners. "One of the great virtues of having such a big venue is that we don't have to turn people away", Hide can be everything – a long awaited anniversary treat, or a spontaneous late night stop off for a post-theatre bite to eat.
Tatiana's dream was to create a both a London gastronomic stalwart, somewhere that regulars could return to over and over again and have the same exemplary experience each time, but also an exciting culinary destination. "I wanted people to answer the question 'I'm only in London for one day and I'm very interested in food and wine, where should I go?' with the response – Hide".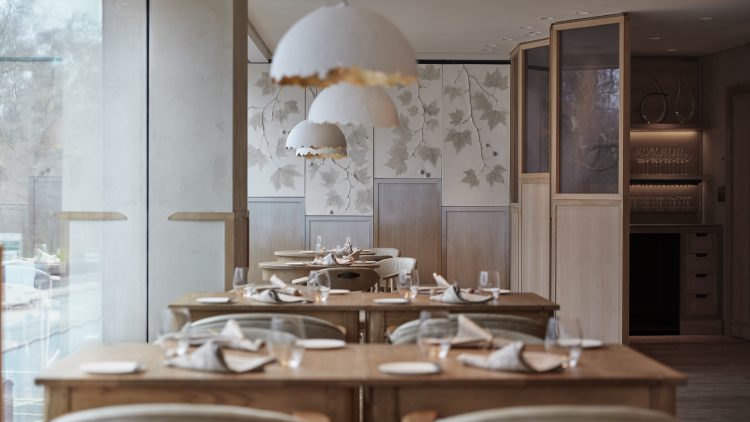 Hide is a venue which, despite its illustrious post code, doesn't take itself too seriously. The restaurant is split into a dining triptych, with a relaxed 'eating at home' ethos on the ground floor, a fine dining destination on the top floor, and a well-considered bar with some private dining rooms on the floor beneath. These sections of the restaurant are split into the eponymous 'Above' 'Ground' and 'Below', to keep things simple.
I asked about the future of Hide and Tatiana considered long and hard before responding, "I hope that in ten years' time Hide will become a bit of an institution, similar to what Hedonism has become." She added "it is about a luxury experience, but its about affordable luxury. At Hedonism you have access to the incredible staff who are all so knowledgeable and you can spend just ten pounds because our bottles start at that price point. At Hide you can come in the morning for a coffee and a wonderful croissant and spend about the same amount, and you can sit and soak up the ambience, the view of Green Park and enjoy the amazing service."
3-7 Davies St, Mayfair, London W1K 3LD, hedonism.co.uk
85 Piccadilly, Mayfair, London W1J 7NB, www.hide.co.uk/