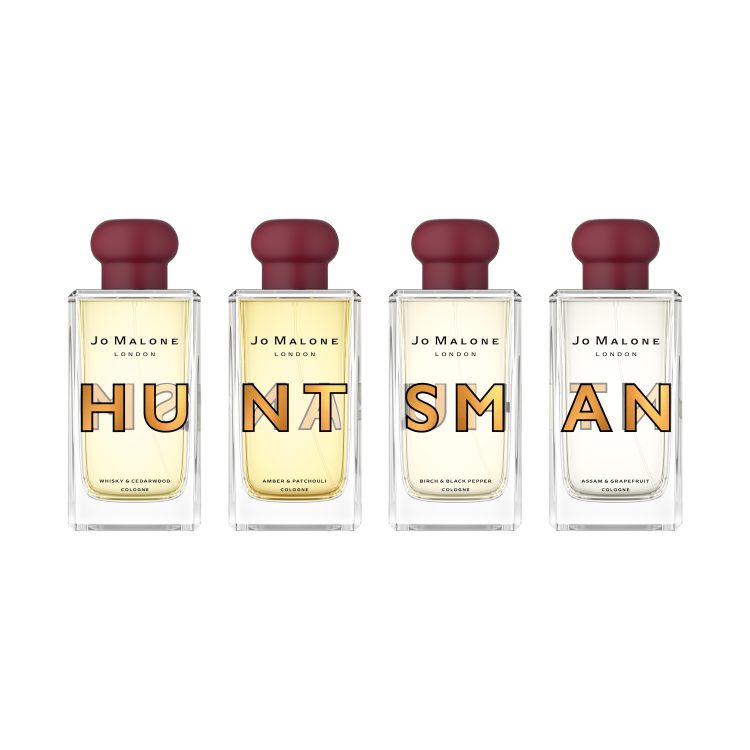 Introducing a great British collaboration between Jo Malone London and Huntsman Savile Row.
The collection is made up for four sharply dressed scents tailored for the modern man. For laidback days, wild nights and everything in between. All are dressed in the classic suave design with the Huntsman's gold typography.
The Scents
AMBER & PATCHOULI COLOGNE
Decadent evenings, wrapped up in the sensuality of amber. A heady pairing of a legendary ingredients with deep, characterful patchouli. A scent with a supple, suede-like finish. It is seductive and is a sharply-dressed part of this collaboration with Huntsman Savile Row.
ASSAM & GRAPEFRUIT COLOGNE
The lively, full-bodied aroma of a cup of tea in the morning. A citrus burst of grapefruit and a black tea note of Assam. The herbal scent of maté, infused with spicy cardamom and the warmth of patchouli.
BIRCH & BLACKPEPPER COLOGNE
Britain today; it has rebellious roots in punk, yet with an enduring respect for tradition. The cool spiciness of black pepper and cardamom, juxtaposed with smoky birch and an accord of magnetic ink. This is a scent of subtle contrasts.
WHISKY & CEDARWOOD COLOGNE
Footsteps after dark on waxy wooden floors. This is an enigmatic nightcap. Fine whisky, edged with spicy pimento, finished with warm cedar wood. A fragrance for the small hours, it is daring and intriguing.
The new collection is available at Jomalone.co.uk, Selected Jo Malone boutiques and Huntsman, Savile Row.
All colognes priced at £120 for 100ml