We all know that The Dorchester is a national treasure, since it first opened its doors to society's elite in 1931, it has redefined luxury and hospitality for generations. However, it has played a special place in my own heart since I was a little girl and would be taken for afternoon tea on special occasions by my great aunt and grandmother.
In a rapidly evolving world, The Dorchester has always been a reliable source of comfort and magic, a place which never lets you down, where perfect just happens effortlessly time and time again.
So it is now more than ever, when almost everything we have come to know has changed overnight and normality has been redefined that I crave that comfort and magic more than ever before.
Luckily, The Dorchester has the answer, bringing a little luxury into our homes with The Dorchester at Home Series.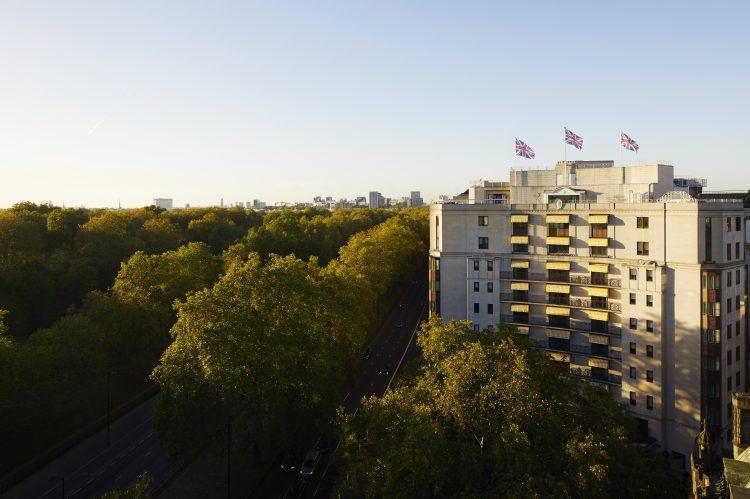 The Dorchester has managed to fit over 80 years of extraordinary service and culinary expertise into a hamper and is delivering it straight to your door.
For decades, The Dorchester has turned Afternoon Tea into a fine art and this at home offering is equally as spectacular. Presented in a beautiful wicker hamper with black leather straps, unwrap The Dorchester emblazoned film to reveal glorious quintessentially British treats.
Start with a selection of delicate homemade finger sandwiches on artisan bread, including; organic free-range egg mayonnaise and English asparagus with micro parsley on malted grain bread, baby cucumber, cream cheese and chives on white bread and oak-soaked salmon with heritage radish, lemon balm, Buddha lemon mayonnaise on caraway bread.
Followed with warm raisin and plain scones from The Dorchester bakery, served with the iconic in-house strawberry jam, The Dorchester Rose jam and Cornish clotted cream.
Enjoy glazed Chelsea Buns studded with raisins whilst you sip on a generous selection of teas served in a black and gilt wooden box courtesy of the East India Tea Company.
Enjoy a selection of The Dorchester's beautifully presented world-famous pastries. There is a brown butter financier with layers of Tahitian vanilla, white chocolate and apricot, a bergamot flavoured 60% grand cru dark chocolate mousse and bergamot custard and a delicate verbena cake glazed in vanilla sugar. Accompany your pastry selection with the bottle of Veuve Cliquot Yellow Label Brut NV.
The series will launch to coincide with the start of Chelsea Flower Show's virtual show on Monday 18 May 2020, with a Chelsea Flower Show inspired Afternoon Tea available for delivery in London.
100% of proceeds from sales of the teas between 18 to 23 May 2020 will go to the Royal Horticultural Society, the UK's leading gardening charity whose aim is to enrich everyone's lives through plants and make the UK a greener more beautiful place.
If you can't go to The Dorchester yet, bring the magic of The Dorchester to you.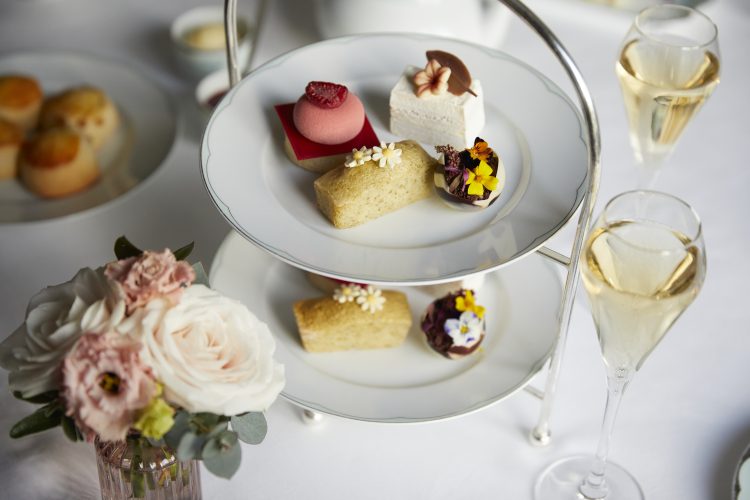 The Traditional Afternoon Tea Hamper is available for delivery from Monday 1 June 2020 for a minimum of two people, priced at £50 per person or £60 per person including a 375ml bottle of Veuve Cliquot Yellow Label Brut NV.
53 Park Lane, Mayfair, London, W1K 1QA