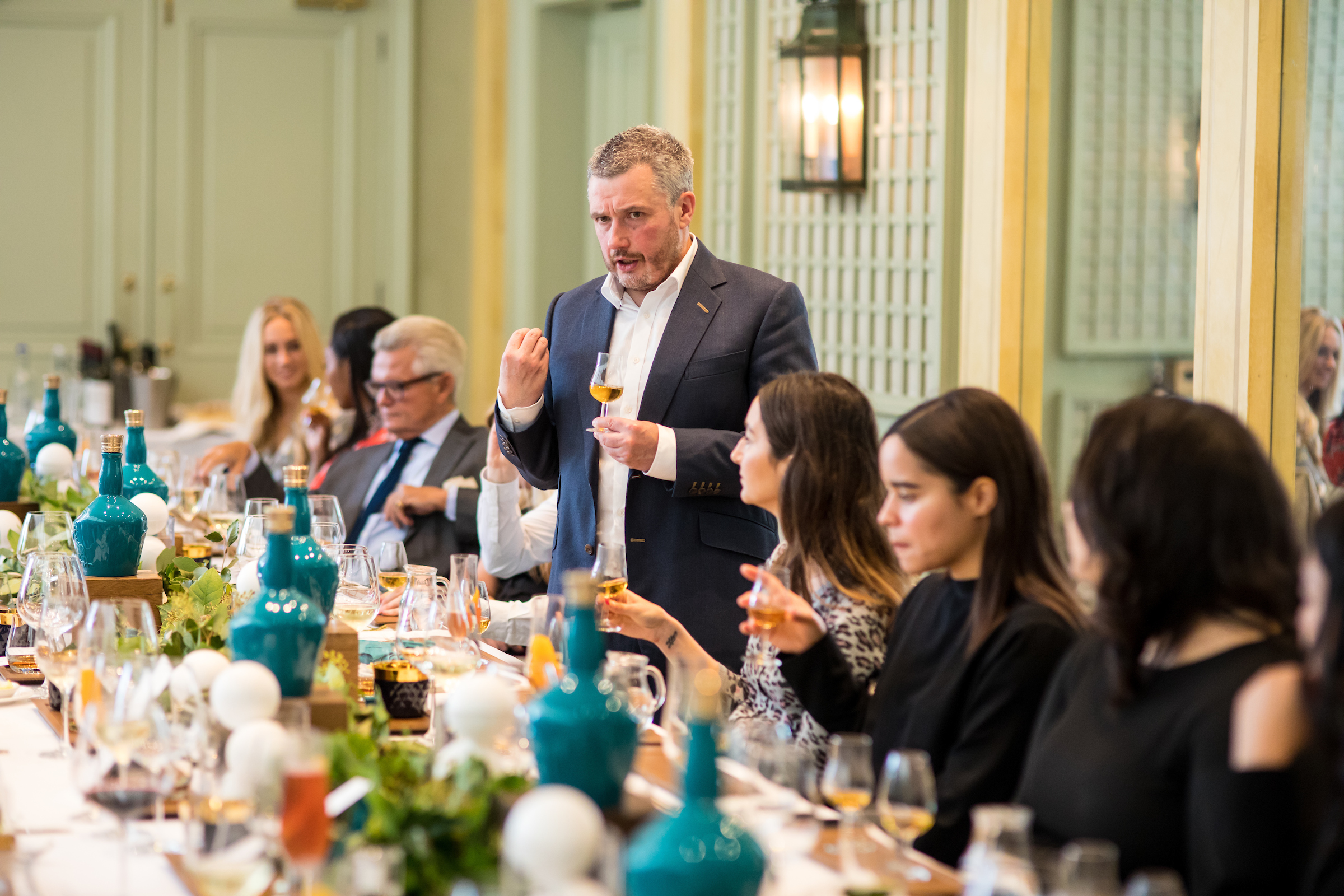 Sandy Hyslop speaking at the Royal Salute Polo Edition launch, Hurlingham Club, London.
When it comes to whisky, there is not much that Sandy Hyslop can't tell you. He revealed: "When you close your eyes and take your first sip of the Royal Salute Polo Edition, the first thought that enters you mind is of an absolutely fabulous sunny day, sitting on the grass. It's your day off; you have nowhere to go. It's just one of those drinks that are just lovely to drink during the day: really sweet, fantastically citrusy and very luscious indeed."
Now the Master Blender responsible for one the world's most luxurious blended whiskies, Sandy's knowledge and passion for the spirit spans decades.
He said: "I started in the whisky business back in 1983, in the sample room of a small company on the East Coast of Scotland. Very quickly I was able to identify different flavours and when they set up blind taste tests for me I was able to do them with ease."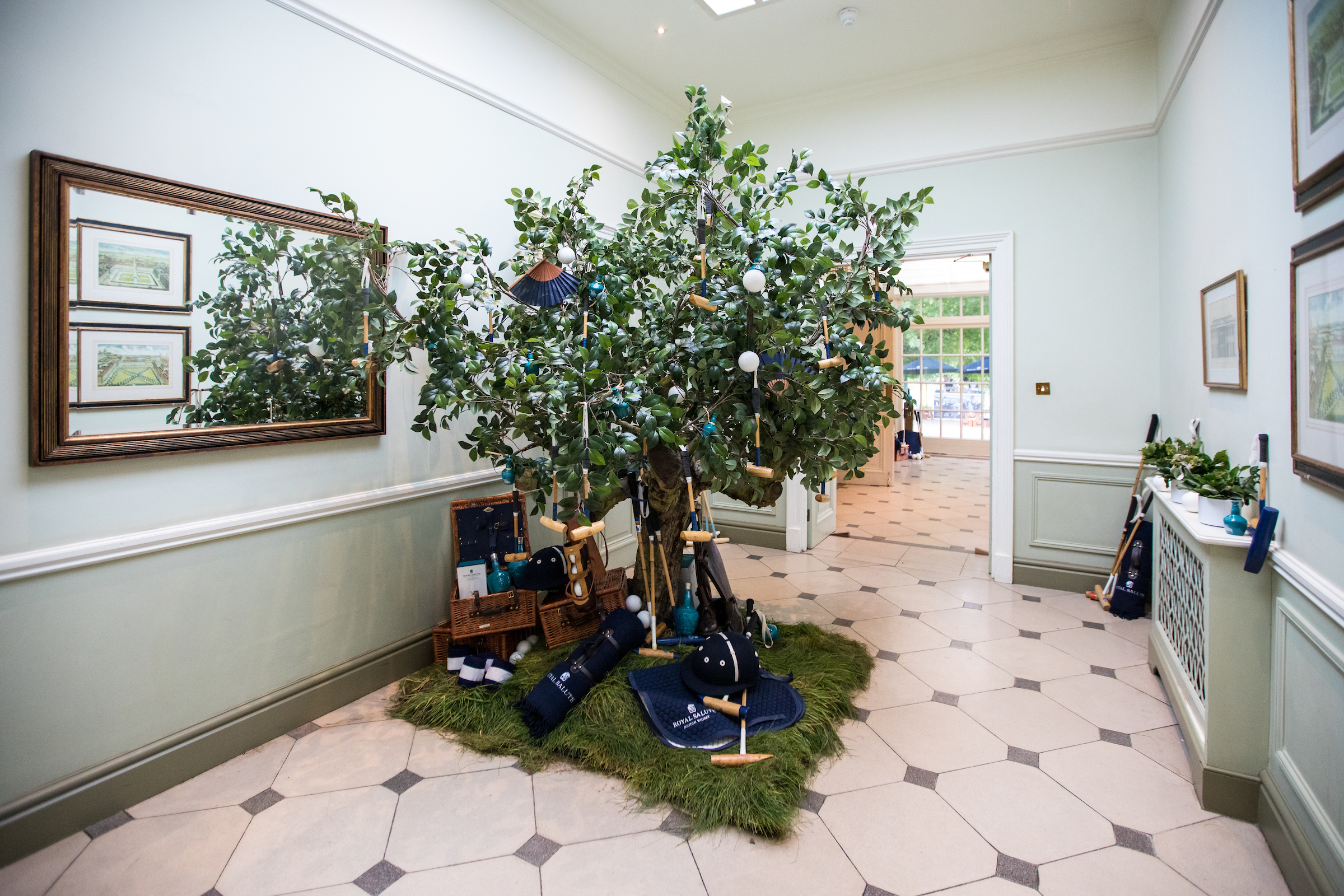 Through his first position in that tiny sample room, Sandy got the chance to take tours of several distilleries, but one stuck in his head particularly.
He enthused nostalgically: "At the end of the tour, the distillery manager gave me the Cooler's Dram, from a magnificent first-world sherry cask and it was just amazing. I remember tasting it and it being so full of flavour. The taste took an absolute age to dissipate on my palate."
The Polo Edition has a fantastic story behind it, and the whisky has a rather poetic link to the sport; both have very long and illustrious lineage. Polo has rules that have been set for over a century and it's a sport that has a real dignity to it. Similarly to this very day, Royal Salute follows the exact same process that it is has done for centuries; it is a refined, traditional and respectful process that takes time, love and attention.
Sandy explained passionately: "We start where most other whiskies are finishing, most other companies don't even have a 21-year-old expression but ours goes all the way up to 38, 40-years-old."
He continued, speaking like a proud parent: "We're dealing with super-luxury whisky and we've been doing this at Royal Salute since 1953. We are experts at blending super-aged blended whisky. We're laying down stock every year for at least 21 years in the future to make sure that we can preserve the continuity and the quality of this blend. Every single drop of whisky in a bottle of Royal Salute is at least 21-years-old."
Now when some people think of a whisky blender, they picture a man sat in a sample room making new whisky and developing ideas. This, however, is not at all the case. Sandy's job starts on the very day that the whisky is distilled.
He said: "Myself and my team travel to Speyside every single week to assess all the new distillate that's been made at the distillery, and that's before it's even gone into casks. We're assessing it, grading it and allocating it to cask."
As I quickly came to appreciate, a blender like Sandy works at the two extremities of the whisky making process. They set the standards for the distillery and the casks and then maturation takes place after that. In the case of the rather special Royal Salute Polo Edition, this attention to detail had to be nothing short of meticulous.
Sandy said: "I drew samples from all over the warehouse. I brought in over 200 samples of whisky, set them up in the sample room and then started working with the flavours, making up combinations and mixing them together, and that would be the same way that the blends were made 100 years ago; we're not doing anything different to how it would have been done back then – we bring the samples in, make up the blend in miniature and then start bringing the casks in to make the full-sized blend."
He continued: "For Royal Salute, every single individual cask is nosed by myself and my team before it is emptied. We make sure that everything is absolutely perfect before it's blended together. There are no chances taken whatsoever. It's old fashioned, it's time consuming, but it works."
Another common misconception lays in how much a whisky blender actually drinks. To put this in perspective, Sandy revealed: "I nose over 5000 samples each and every month, but I probably only taste about ten. I think that shows just how much more important your nose is than your palate when you're assessing, building and making whiskies like the Royal Salute Polo Edition."
He added: "For this, we drew samples from all over our warehouse in Scotland and then built up the blend in miniature. I'd say that 90% of that formulation and pilot blending was all done by the nose."
When it comes to actually drinking whisky, a correct or incorrect way does not exist. It is all down to personal preference and experimentation.
Sandy explained: "When we taste it professionally we always add about as much water to the sample to bring it down to around 20% volume. That way we can fully evaluate all the flavours and pick out all the different nuances in the whisky. For Royal Salute I'm looking for fruity, citrus flavours, but when it comes to personal drinking you just drink it the way you want to, everyone has their own individual taste – you have to experiment with different ways until you find your ultimate way to drink Scotch whisky."
The Royal Salute family of whiskies are rich, fruity and intense; they have an abundance of flavour, they are incredibly well blended and they are matured in really good quality casks.
Sandy reflected: "My job is to make sure you get that distillate character and cask influence in harmony. I don't want too much cask influence, I want it to be in balance, something that's really sophisticated, sweet and with really nice flavours coming through."
He continued: "When we were developing it we wanted something that would have the depth of flavour that Royal Salute has but rather than the classic Royal Salute's big, fruity pear & orchard fruit flavours, I wanted the Polo Edition to be something that was more delicate, that had some sort of citrus flavour to it".
As Sandy spoke with such passion, I was really beginning to yearn for a dram of Royal Salute myself and, when I admitted this, he erupted into a warm laughter. Continuing, he described how Polo Edition made him feel.
He enthused: "Particularly for me, on the nose Polo Edition has real ripe honeydew melon; you know when you cut open a melon and it has that really sweet, syrupy flavour and then there's a little hint of blackcurrant jam in there. It's really lifted and citrusy compared the deep, fruity notes of the 21-year-old. It's something that's really versatile and can be mixed lots of different ways. Upon tasting, it has really subtle notes of clementine oranges, and sweet marmalade. It just absolutely engulfs the mouth with these lovely citrus fruit flavours."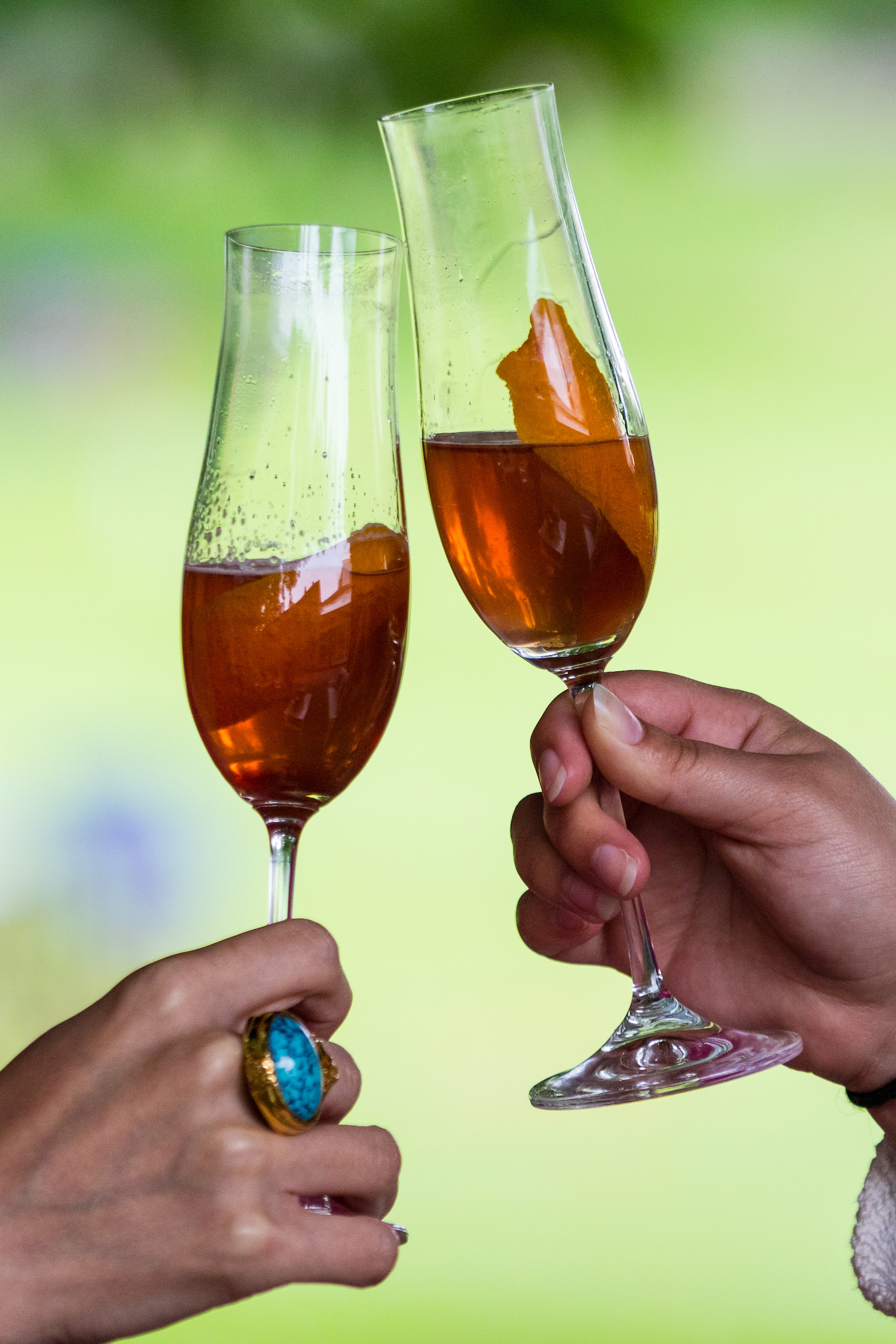 The most wonderful thing, though, is the length of flavour. When you drink Royal Salute Polo Edition it takes ages for the smooth, subtle flavours to subside on the palate and, although you don't realise it at first, it takes you a lot longer to drink.
Sandy said knowingly: "You're not reaching back for the glass…drinking this whisky is a real experience."
Much like the whisky he produces, Sandy Hyslop has fantastic depth of character, and the stories and inspirations that he shared with me made made it so clear just how much passion he possesses.
He revealed: "My fondest whisky memory is of Strathisla, the single malt that lies at the heart of Royal Salute. I absolutely love going to Strathisla, it is absolutely beautiful and it makes magnificent whisky. I love walking down past the distillery room and I know if the distillery is running right because I get that – you know when bananas are really ripe and you walk into a room and get that sickly sweet banana scent and you think 'I probably need to do something about those bananas!' – that's the smell. I love it, I know that Strathisla is running perfectly and it's making the spirit exactly the way I want it."
With that special distillery at its heart, Royal Salute brings people together, and creates memories that will stay with you forever. It is not only a luxurious whisky but rather, it is a celebration of all that makes whisky what it is today. It is a celebration of an illustrious past and an ode to people like Sandy that have preserved the traditions of one of the finest libations on the planet. And for that Sandy, we will be forever grateful.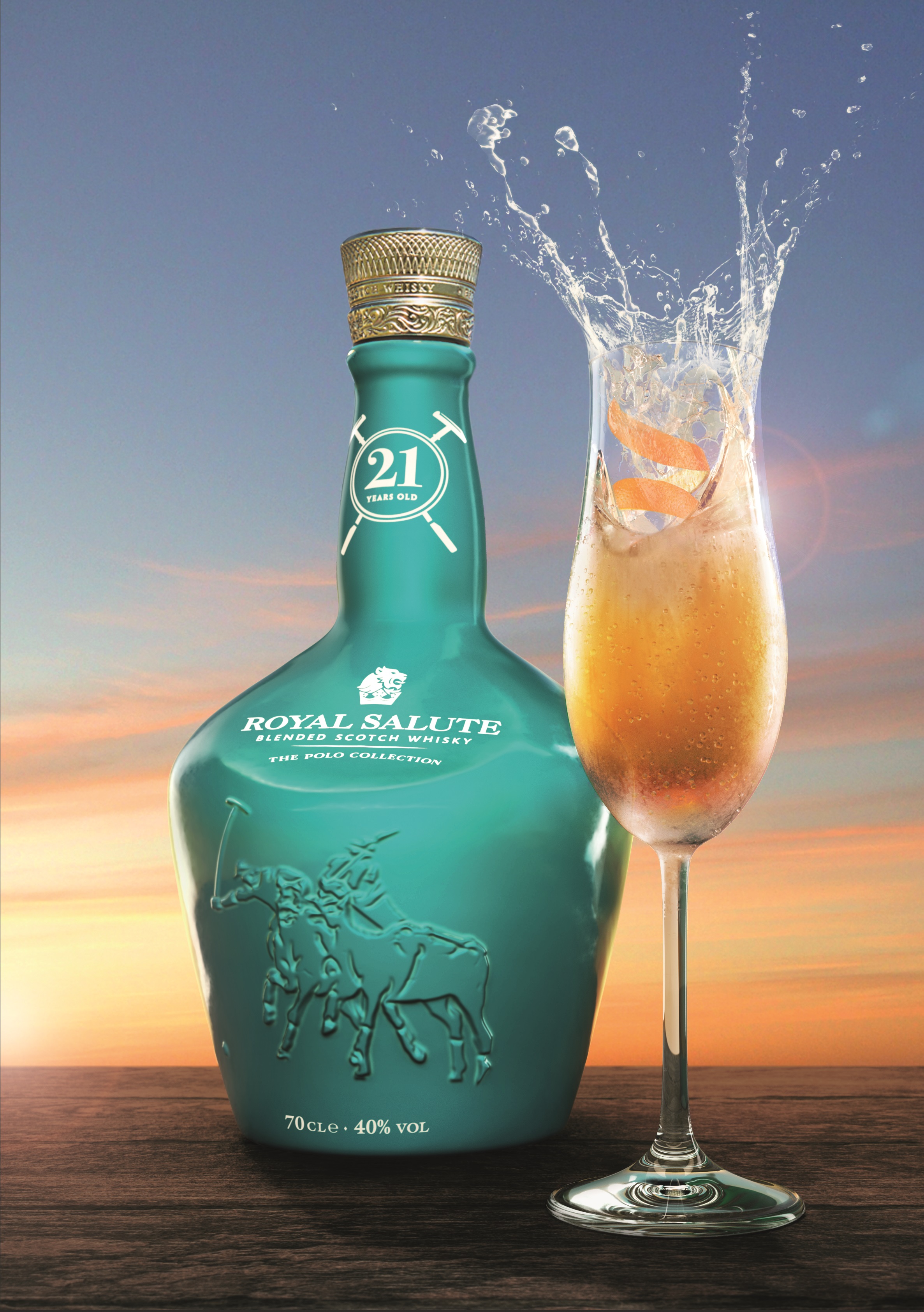 Royal Salute 21 Year Old World Polo Edition 2017 (70cl) is available for £150 worldwide.
Follow Royal Salute on Instagram: @royalsalute