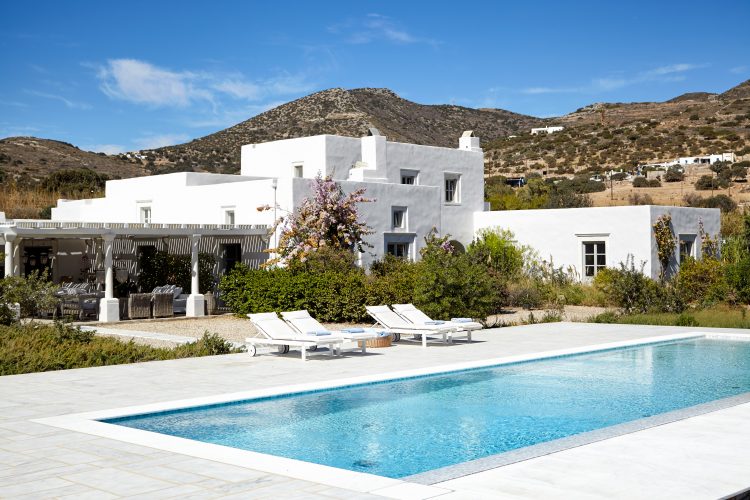 Mykonos provides everything an island should; isolated stretches of beach, clear waters and historique monuments that still stand on Mykonian settlements. Despite being named as one of the windiest of the Greek islands, I am lucky to arrive at a particularly calm time. The landscape seems only brushed gently by the winds coming from the Aegean sea.
Although the small island of Mykonos may not be the first place that comes to mind when you think of a wild party scene, it has rightfully earned itself a reputation for being an emerging scene of shoreside bars and restaurants, that come dusk, turn into a covetable place to dance under the stars. It's now notorious nightlife has attracted DJ's, party goers and people from around the world who want to celebrate at sunset.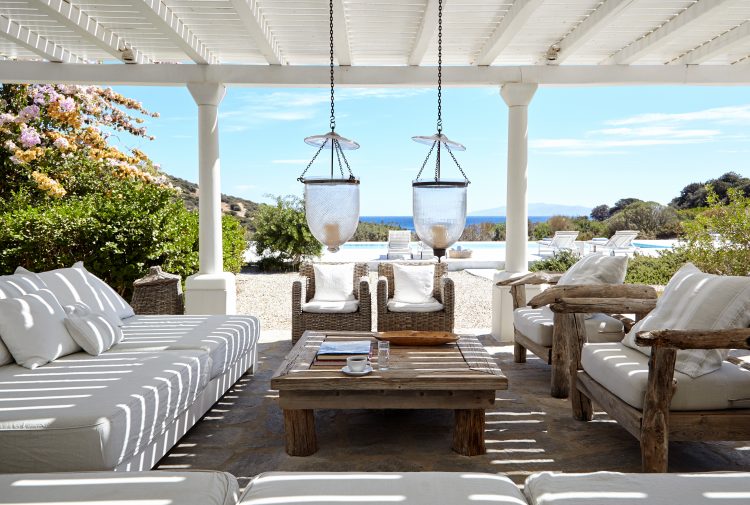 Mykonos is most certainly a place to come with a large group of family or friends. The large scale villas that sit atop the hillside are reason enough to get your nearest and dearest together for a holiday on the island.
A travel operator taking the Meditaranian rental property market by storm is The Greek Villas. With a substantial portfolio of some of the best luxury properties in Mykonos and the surrounding Greek islands, they have quickly become a market leading service that brings the best in luxury to you. With 25 destinations to choose from and over 350 villas and vacation rentals to stay in, its home away from home vibe allows you to become fully immersed in your holiday.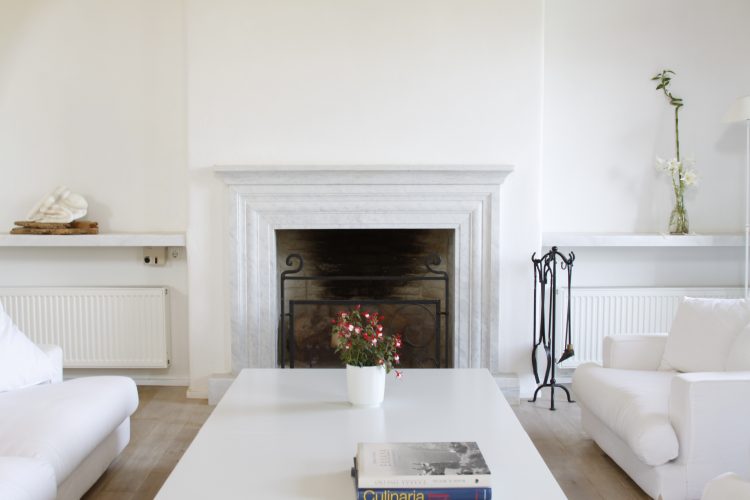 Organising a trip with The Greek Villas, you will be met with an authentic property portfolio to choose from, bespoke packages and the feeling of being able to enjoy a carefree holiday that has been completely taken care of. Depending on your preferences, you can create a customised holiday experience that offers privacy, elegance and breathtaking views among many other things.
Villa Lopez in Mykonos is utterly spectacular from the moment you arrive on the grounds. The six-bedroom villa is situated on a rocky outcrop, with panoramic views of the nearby coastline. The villa's exquisite location means guests can enjoy raised views across a multitude of Greek islands, including Donoussa, Naxos, Paros, Antiparos and Ios.
Arriving at Villa Lopez in the South of the island, I am immediately escorted to my own buggy. That's right, the property is so expansive that a buggy is necessary to cart my cases to my separately accessed room. With each room having its own private entrance, it allows guests to experience a hotel feature in a villa property.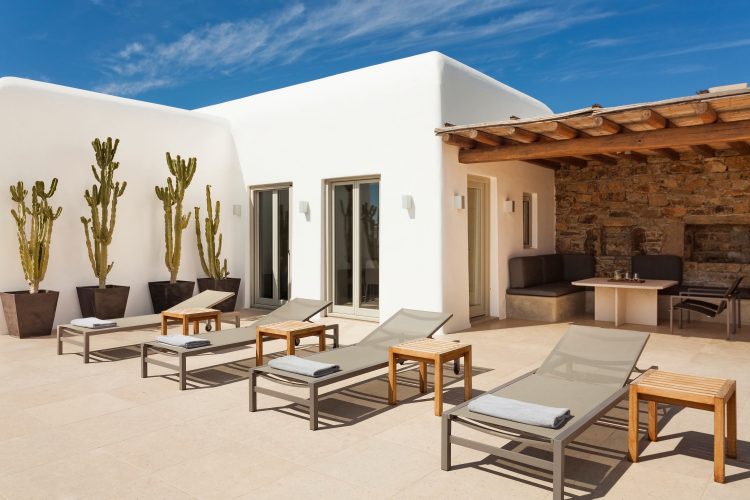 Each of the six rooms are spacious and their unique floor plans make choosing a room difficult. All have breathtaking views from the bedroom and adjoining bathroom and plenty of amenities to satisfy your needs in your room. Whilst staying here, there is also the option of a selection of spa treatments, facials, exercise classes and yoga offerings as The Greek Villas are able to create a customised package perfectly suited to any group. Those wishing to unwind are facilitated with a choice of wellness treatments.
If those amenities don't satisfy you enough, you will be pleased to know that the villa is also complete with a helipad for the jetsetters, a cosy fire pit area for couples and a playhouse which is perfect for families with children.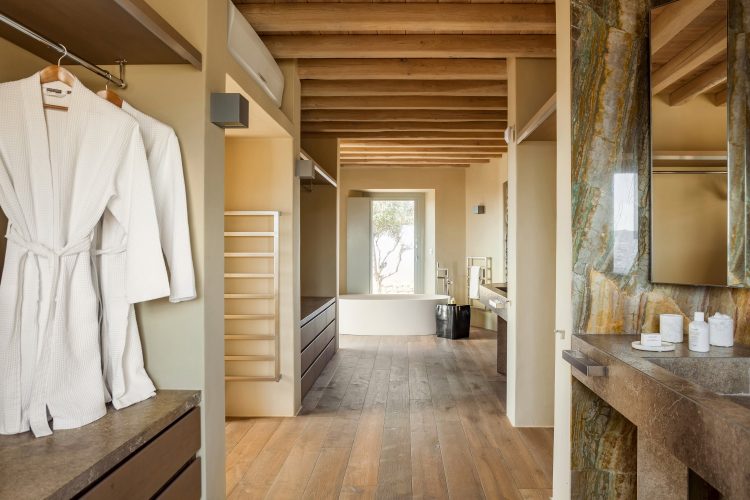 The villa's classic exterior is made up of two beautifully contrasting materials, with part of the building showcasing visible orange brick and the other the traditional Mykonian white walls. At night, gaze in awe as the villa transforms into an enchanted cliff top location as lights illuminate the grounds.
Authentic Mykonos can be celebrated best at Scorpios, a chic restaurant and bar with some of the best sunset views. This restaurant and bar is extremely popular with tourists so be sure to book if you wish to dine. Those wanting to take in the sunset should make sure to arrive in good time to secure a spot on the terraced steps or beach chairs. Perhaps it is the combination of smooth rosé wine and subliminal beats from the outdoor DJ that enchants this site. Watching the sunset is most mesmerising from this point on the island.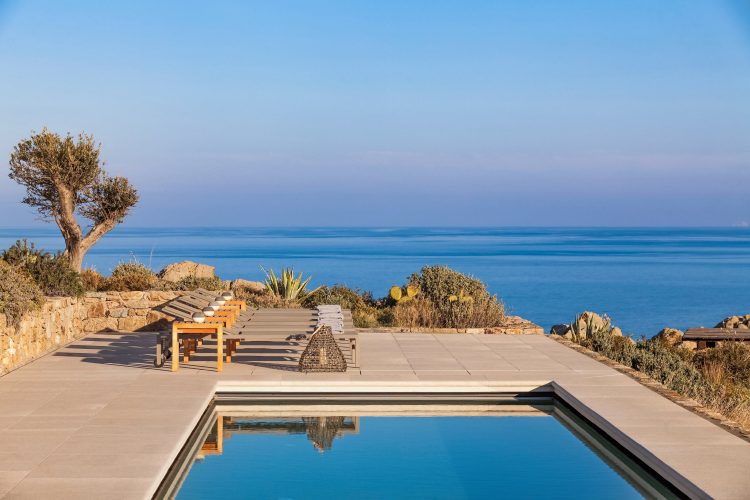 Leaving Villa Lopez is bittersweet, however with a new villa to make our way to, it is met with anticipation of just how the next location can surpass the first property. A boat across to the island of Paros and a scenic drive from the port leads us to Villa Senna, a secluded five bedroom sugar cube mansion that sits surrounded by greenery. Just a small meander to the waters edge takes you to Tripiti, a private cove that provides a view of super yachts moored along the coastline.
The heart of the villa and central hub for entertaining, faces the swimming pool and offers views out to sea. This part of the villa complex is easily my favourite. Perhaps because it is close enough to the kitchen that I can smell the spanakopitas being cooked ready for lunch.
There is little to disturb you, except the occasional hello from the friendly housekeeping and resident staff that take care of you during your stay. This generous estate maximises privacy, and the interiors of each room are spacious and classically minimalist so you can unwind alone. Each room is white and soft beige toned and offers a calming feeling to the property. The decor blends both classic and modern aspects with the French country furnishings that soften up the structure of Greek interior design. There are so many hidden gems tucked in this property like the courtyard spaces that sit around the property and the secret L-Shaped pool visible from one of the land facing bedrooms.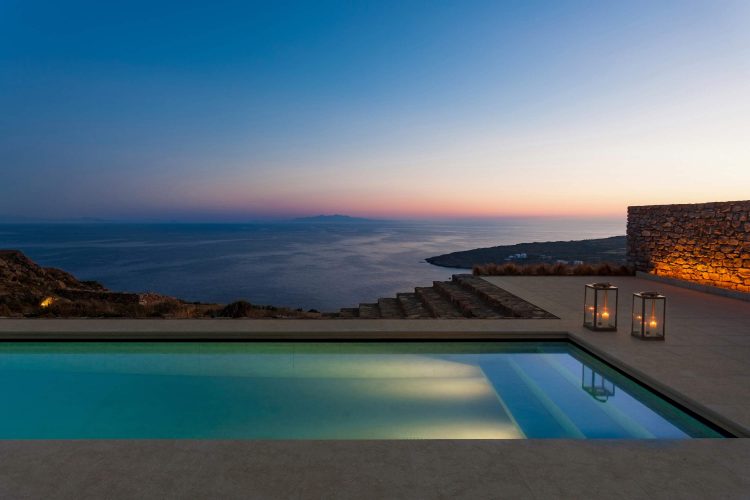 Travelling with your family or with a large group of friends? Either way, guests have the luxury of bringing wellness through the door, rejuvenating the body, mind and spirit all in the comforts of the villa all whilst being taken care of by local private chef's who are able to create meals suited specifically to your dietary needs and desires.
For those keen enough to leave the relaxing villa complex can enjoy a day of island hopping. It has never been easier with the regular ferry connection between Paros and Athens' ports. The ferry stops to each of the connecting islands and lasts from four to six hours depending on the speed of the ferry. So if you are looking to take in the sights from the nearby islands and experience the history of the surrounding islands, this is an easy way to do so. A spot that comes recommended is the archaeological site of Delos, a dense stretch of stone structures and temples, dedicated to the gods. Situated just an hour's ferry from Paros, the island of Delos is one of the most richly historical ancient Greek sites.
If you are an avid explorer, you will be pleased to know that Paros is connected with many other islands of the Cyclades including Santorini, Naxos, Syros and during the summer is also linked with the Heraklion port in Crete.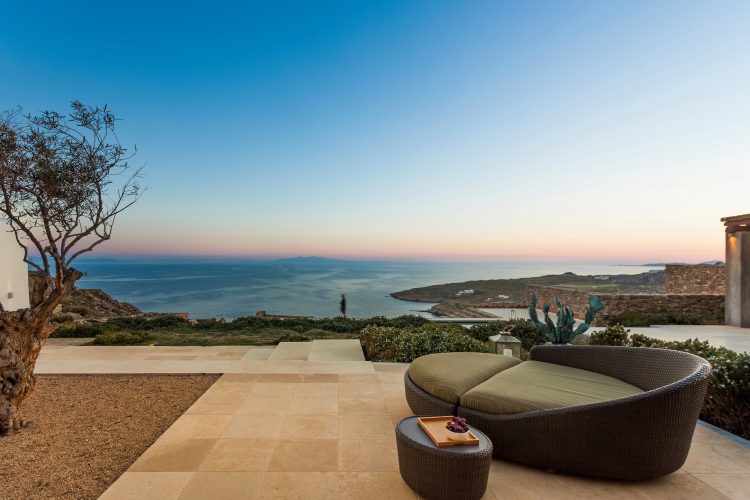 Fancying a change of scenery? Then there are lots of pretty pockets homing excellent culinary delights. If you are looking to explore and dine elsewhere during your stay, Mouragio Restaurant serves honest Greek food in the most rustic setting. It would be a crime not to order their crispy Calamari and stuffed vine leaves.
As we set our sights on future travel, either this summer or looking to next, there is a sense of freedom again to soak in the simple pleasures. Co-Founder of The Greek Villas, Vasilis Pandis says that "Our aim is to deliver the very best experiences to our guests making them feel safe and at home during their holiday. 'The Private Hotel' offering goes above and beyond to make guests feel relaxed and looked after 24 hours a day. We hope this new service along with our Lloyd's of London travel and health insurance package will give guests a chance to entirely switch off and return home a new person with memories to last a lifetime."
As we emerge from this unsettling and uncertain time in travel, guests who wish to visit the Meditaranian may well be looking for isolated remote escapes, hoping to avoid crowds, keeping hygiene, health and wellness to the front of their priorities. From 11-bedroom properties with direct beach access to 3-bedroom charming hilltop wellness retreats, The Greek Villas offers the perfect answer to a remote getaway with all the comforts and luxuries of a private hotel.
There is no doubt that Mykonos and its surrounding islands are worthy of all being explored, for they uncover different facets to the Greek culture. Let the Mykonian winds take you on your next adventure.
Starting rates for Villa Senna from €3,060 and Villa Lopez from €3,300 per night.