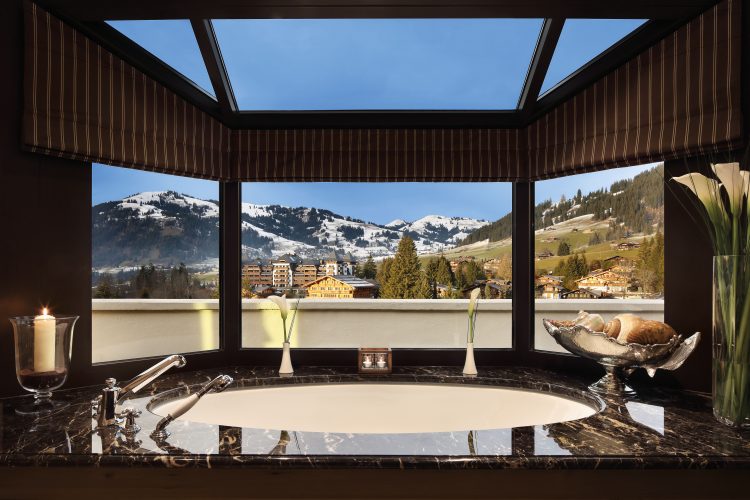 Overlooking the stylishly charming, chalet-style architecture of Gstaad, Gstaad Palace casts an impressive silhouette against the backdrop of the beautiful Swiss alps.
Walk through the entrance, and the hotel's other-worldly opulence is clear, if not inescapable. Corridors are lined with exquisite pieces of jewellery and fashion – think a one-off Rolex or a diamond-clad Graff necklace. 
You won't progress far before receiving an incredibly warm welcome from the exceptionally friendly staff – owner and manager, Andrea Scherz, places a particular emphasis on hospitality, something that his family has instilled over three generations of ownership. And It shows.   
Gstaad Palace offers 90 rooms and suites of various shapes and sizes, including the staggeringly impressive 240sqm penthouse. You'll find each room to be classily understated yet lavishly appointed – a picture of alpine elegance. You can expect your suite to have its own private steam room, a colossal bathroom that's equipped with a generous portion of the Molton Brown collection, and perhaps most excitingly, breathtaking views of the stunning swiss alps. 
Make your way down to the impressively equipped 1,800sqm spa, and you can enjoy those picturesque views from the outdoor jacuzzi or heated pool. The spa, which was built using materials from the local mountains, such as stone from the blue lake, also offers an impressive private spa for two, where you can relax, have treatments and enjoy an enormous stone bath. Also not to be missed is the signature Hamam experience – a two-hour sequence of treatments through six rooms that amounts to pure relaxation. 
Once you're sufficiently relaxed, you can make your way to one of the hotels five restaurants. The legendary Saturday night 'buffet' – a modest term – on 'La Grande Terrasse' is a particular highlight – lashings of lobster, fine cuts of steak, fresh sushi all of impeccable quality.
Andrea Scherz wants his hotel to be a place for celebration and relaxation, and that's exactly what Gstaad Palace achieves.

Palacestrasse 28, CH-3780 Gstaad 
Gstaadpalace.ch
@Gstaadpalace