Situated in the North Malé Atoll, less than an hour's boat ride from Malé, is a trio of revolutionary resorts that are set to redefine luxury and accessibility in the Maldives. There is a Capella resort which is scheduled to open in 2023, and will join the already thriving resorts of Patina and The Ritz-Carlton Maldives, Fari Islands.
Once complete, this thrilling new concept will encourage guests to move freely amongst the resorts and explore the plethora of opulent boutiques and many outstanding restaurants.
The Ritz-Carlton Maldives, Fari Islands has already established itself as one of the most exciting new resorts in the Maldives with spectacular villas, outstanding gastronomy and the most beautiful spa in the world.
Here is our curated itinerary for a perfect day spent at The Ritz-Carlton Maldives, Fari Islands…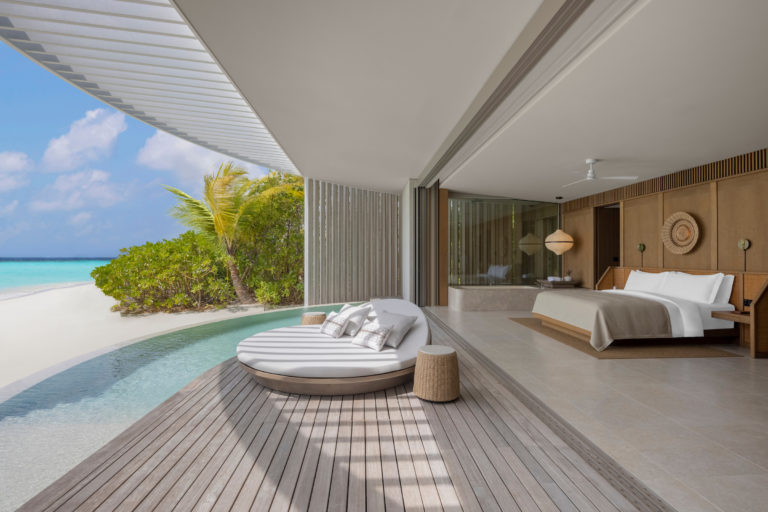 6.30am – Wake Up in a Sunset Beach Pool Villa
Forget the standard Maldivian water villa, The Ritz-Carlton Maldives, Fari Islands has redefined luxury accommodation. The Sunset Beach Pool Villa's can accommodate three adults or two adults and two young children.
The Ritz-Carlton Maldives, Fari Islands has mastered the art of indoor and outdoor living with this oceanfront property, complete with panoramic views of the magnificent palm trees that sway gently in the warm breeze overhead and the aquamarine waves as they roll onto the golden brown sugary sand of the beach.
It flows naturally from the inside out with a sun soaked integrated deck with a curved infinity pool and direct access to the beach.
In the vast villa there is a sumptuous king-sized bed dressed in Frette linens facing the ocean, there is no better sight to wake up to each morning. Cribs and rollaway beds can be supplied upon request.
There are opulent full marble bathrooms with vast double vanity sinks stocked with luxurious Bamford amenities and everything you could possibly need, from wooden hairbrushes to hairdryers. There is also a separate rainforest shower and an oversized soaking tub. Expect to arrive back in the evening to a perfectly run bath courtesy of your dedicated Aris Meeha island butler, already waiting for you.
You are truly spoilt for entertainment, with strong complimentary wi-fi and a wall-mounted 65-inch flat-screened LCD TV with streaming services and satellite TV channels. There is also a BOSE audio speaker to provide indoor and outdoor entertainment.
There is even a well-stocked complimentary pantry which is replenished daily and filled with luxurious treats, from truffle crisps and salted nuts to fruit juices and chocolate. As well as the pantry you will receive innovative sweet surprises in your villa every day.
You also have complimentary use of bicycles to explore the island at leisure and a complimentary pressing service on the day you arrive, to ensure you are looking and feeling your best.
The Ritz-Carlton Maldives, Fari Islands has made it their mission to put a smile on your face at every opportunity throughout your stay.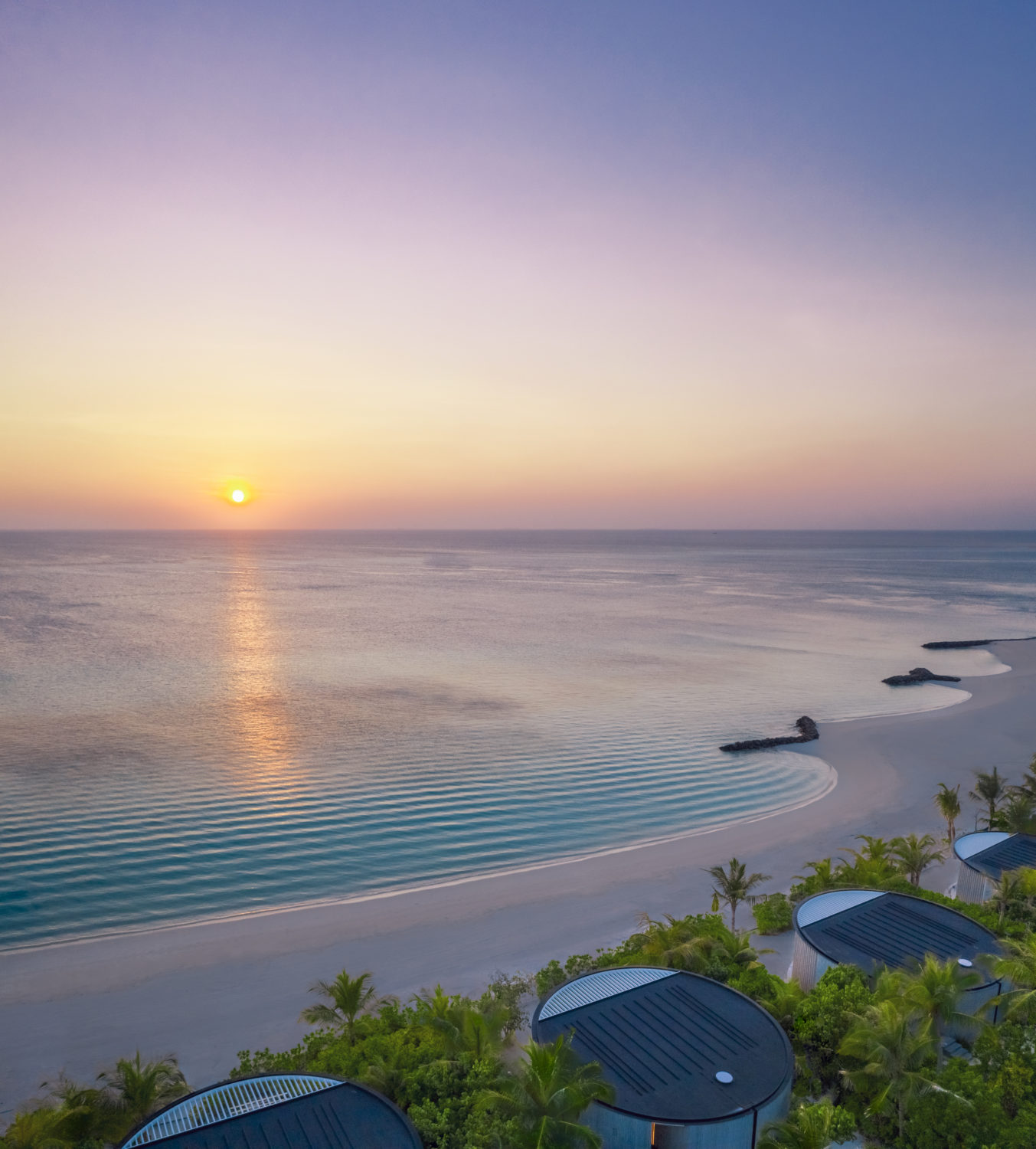 7am – Vinyasa Yoga on the Beach
Greet the sunrise on the beautiful golden sand beach with Vinyasa, a fluid, graceful practice of yoga. It harmoniously combines movement with breath.
It flows like water, gracefully sequencing one posture into the next, allowing you to build strength, agility and inner focus. The perfect antidote after a long flight.
9am – Turtle Snorkelling
There is a wealth of adventures to be had on land or out to sea. A variety of adrenaline-fueled watersports, kayaking, snorkeling, volleyball and a game of tennis on the courts are all on offer. Fari Marina Village is a luxury shopping destination with globally renowned designers, fine dining and arts, culture and local craft workshops.
The Ritz-Carlton Maldives, Fari Islands also has a world-class Dive Center which is the epicenter for the water-based activities, remarkable excursions and a spectacular Marine Biology program. Each of the marine-related pursuits has been verified by the resident Marine Biologist to ensure this fragile environment remains protected for generations to come.
You can enjoy a series of crafted experiences in a number of conservation projects in partnership with Jean-Michel Cousteau's Ambassadors of the Environment program.
One of the best ways to enjoy the abundance of sea life that surround the island is by snorkeling. Out to sea you can see dolphins as well as swim with majestic turtles, dolphins and blacktip sharks.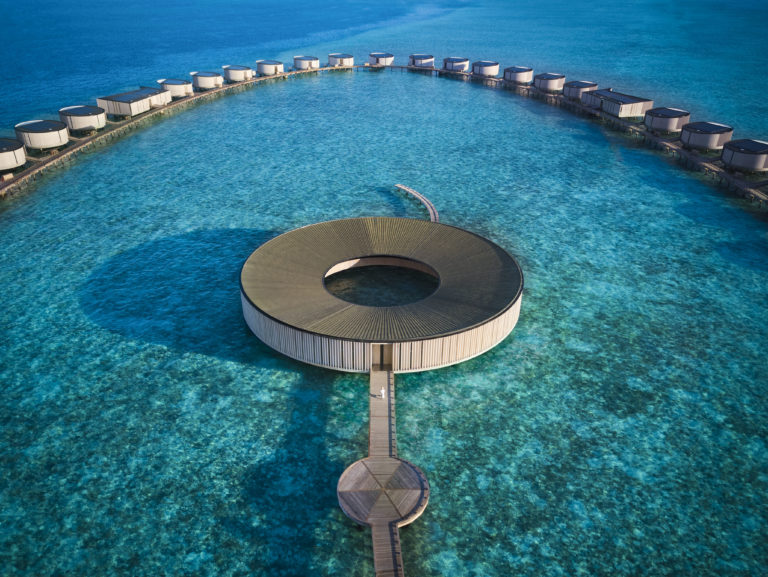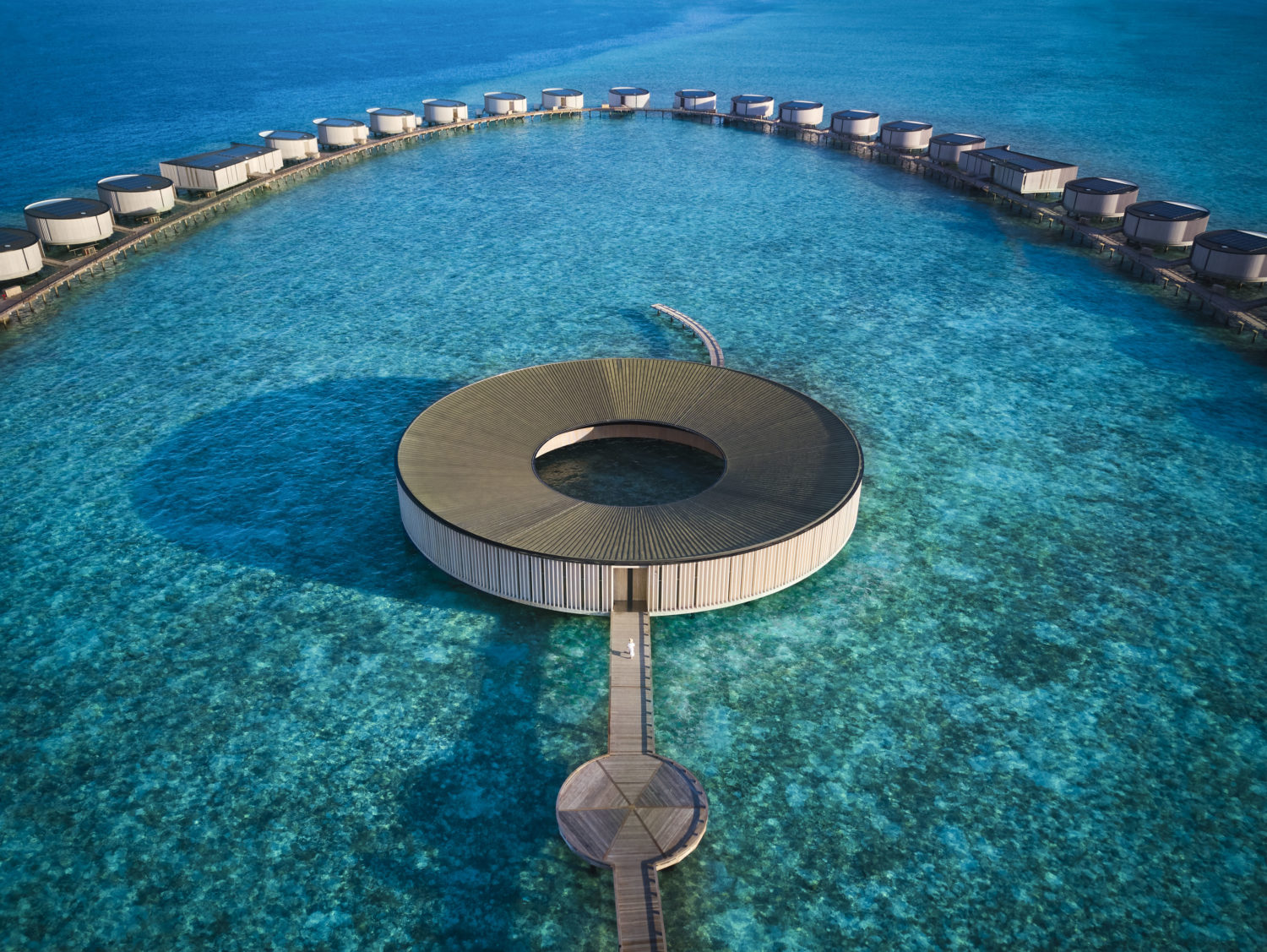 1pm – Bamford Wellness Facial at The Ritz-Carlton Spa
The Ritz-Carlton Maldives, Fari Islands Spa is the beating heart of the island and is without doubt one of the most beautiful spas in the world.
This halo-shaped wonder floats above the glittering turquoise lagoon and is an ode to the energy of the earth. It has nine luxurious treatment rooms and their names are inspired and aligned with the ancient philosophy of Yin and Yang energies.
There is also a vast spa suite with its own relaxation lounge as well as a salon and a boutique.
Feel the flow of the ocean as your therapist takes you on a healing journey through time and nature's wonders. There are massages inspired by the island and traditional therapies, using organic products for your skin by Bamford.
There are a trio of facials on offer, The Resurface Organic Facial, Rejuvenating Organic Facial and Detoxifying Organic Facial. The Resurface is a delight and is perfect for damaged or uneven skin. This radiance-boosting facial uses a powerful fruit acid elixir and exfoliating mask to smoothen your skin.
3pm – Bamford Signature Journey
This decadent treatment was designed exclusively for The Ritz-Carlton Maldives, Fari Islands and may be the best wellness experience of your life.
This 150-minute healing journey starts with a soothing foot bath and selecting your signature scent. You then experience a full body scrub and relax in the steam room and shower.
The Bamford Signature Journey combines Japanese Shiatsu and Swedish motions to release tension and balance meridians, followed by wave-like massages to the ocean's rhythm.
This is followed by a face and Indian head massage and finished with a long soak in a bubble bath enriched with oils and accompanied by a flute of chilled champagne and chocolate covered strawberries.
If you are really lucky, Ida will be your therapist. She will go above and beyond to ensure you are comfortable and leave feeling more relaxed than you've ever felt in your life.
8pm – Lobster and Champagne Under the Stars
After a morning of ocean adventures and an afternoon of pampering, sink your toes in the sand and listen to the sound of the ocean whilst you enjoy a decadent feast of lobster and champagne under the stars.
Fari Islands North, Male 20013, Maldives