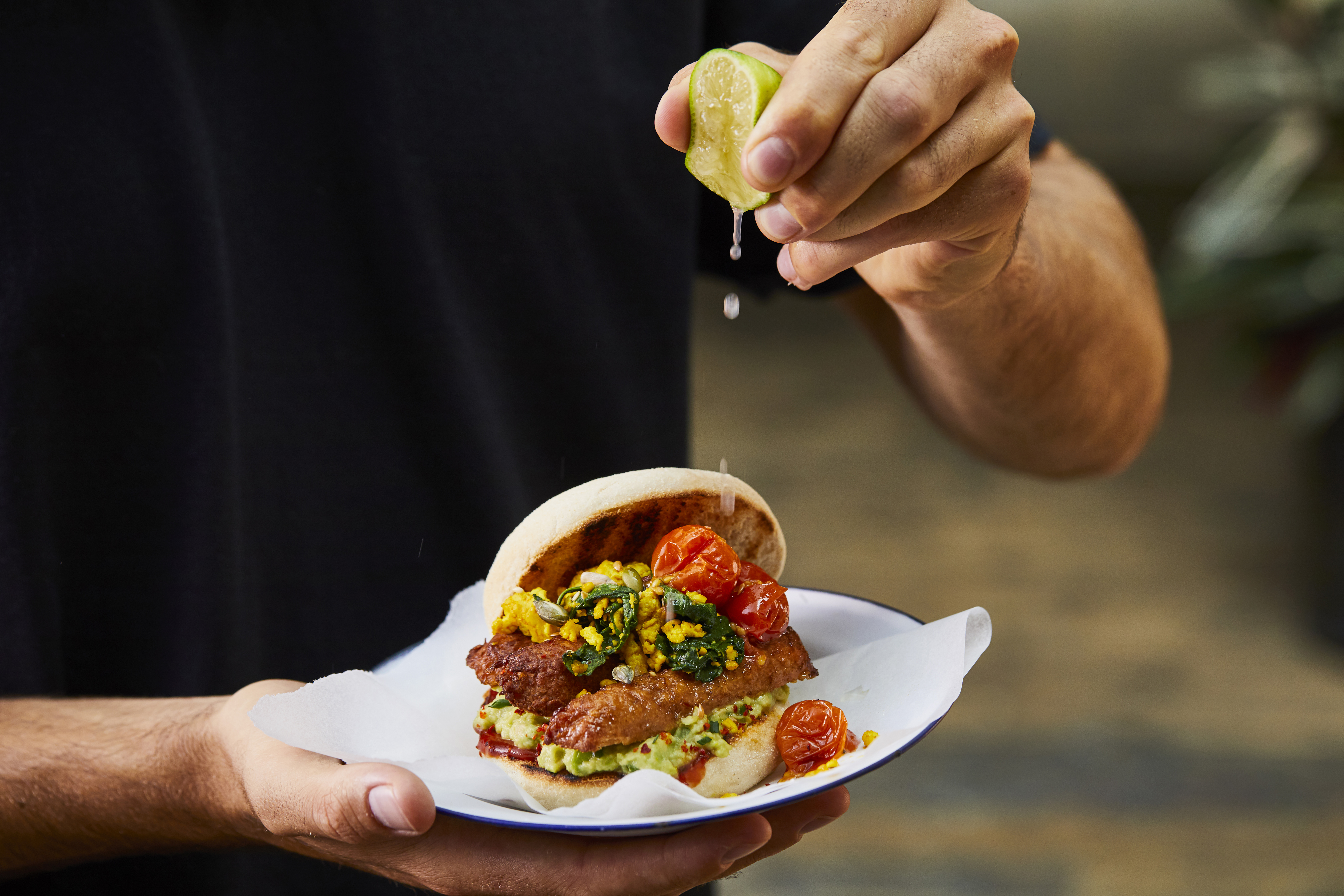 Gaz Oakley's passion for cooking led him to leave school at just 16-years-old to work in the kitchen of a local Cardiff Hotel, before becoming restless to express his creativity in fine-dining. After becoming exhausted by the long hours of working in a kitchen, Gaz went in a completely different direction as a salesman. The lack of creativity in the role eventually led him back to his love of food where he could express himself once more. This was the start of the Avant-Garde Vegan, where Gaz has a combined following of nearly 800,000 followers on YouTube and Instagram and was able to quit his day job. He has since worked with Ben & Jerry's, Harvey Nichols and most recently Wagamama.
The Avant-Garde Vegan has created the ultimate vegan breakfast using Linda McCartney's vegetarian sausages.
Serves 4
Ingredients
4 Linda McCartney's Vegetarian Sausages
2 tbsp Vegetable oil, for baking or frying
4 Toasted Muffins
20 Cherry Tomatoes (5 per muffin)
Pinch of Sea Salt & Cracked Black Pepper
Mixed Seeds
Ketchup
Scrambled Tofu
1 tbsp Vegetable Oil
280g Block of Firm Tofu, drained.
1 tsp Ground Turmeric
1/4 tsp Cayenne Pepper
1/4 cup Almond Milk
Handful of Fresh Baby Spinach
Pinch of Sea Salt & Cracked Black Pepper
Smashed Avocado
2 Very Ripe Avocados, Peeled & De-stoned.
Juice of Half a Lime
Pinch of Sea Salt & Cracked Black Pepper
1 tbsp Chopped Fresh Chives
1/4 tsp Dried Chilli Flakes (optional)
Method
Pre-heat your oven to 180 degrees & line a baking tray with greaseproof paper. Place the sausages onto the tray & bake for 25 minutes.

While the sausages are baking, move on to the smashed avocado. Add the avocados to a bowl, and give them a mash. Then stir in the rest of the ingredients, taste for seasoning and set aside until you're ready to serve.

After 15 minutes of cooking the sausages, remove the tray from the oven. Place the tomatoes on the tray & sprinkle over a pinch of seasoning. Place the tray back into the oven for the last 10 minutes of cooking.

For the scrambled tofu, pre-heat a large non-stick frying pan over a medium heat, and add the coconut oil. When the pan is hot, simply crumble the tofu using your hands into the frying pan. Add the turmeric, cayenne & seasoning and allow it to cook for 3-4 minutes, stirring now and then.

Once the tofu has a little colour, add the milk. Turn the heat down and let it cook for 2-3 minutes. It should really start to resemble scrambled eggs at this point. Turn up the heat and quickly add the spinach, stirring for 1 minute or until the spinach has wilted. Turn off the heat and set it aside until you're ready to serve.

Cut the cooked sausages in half lengthways before serving, then build your muffin. Garnish with a sprinkling of seeds & a squirt of ketchup.