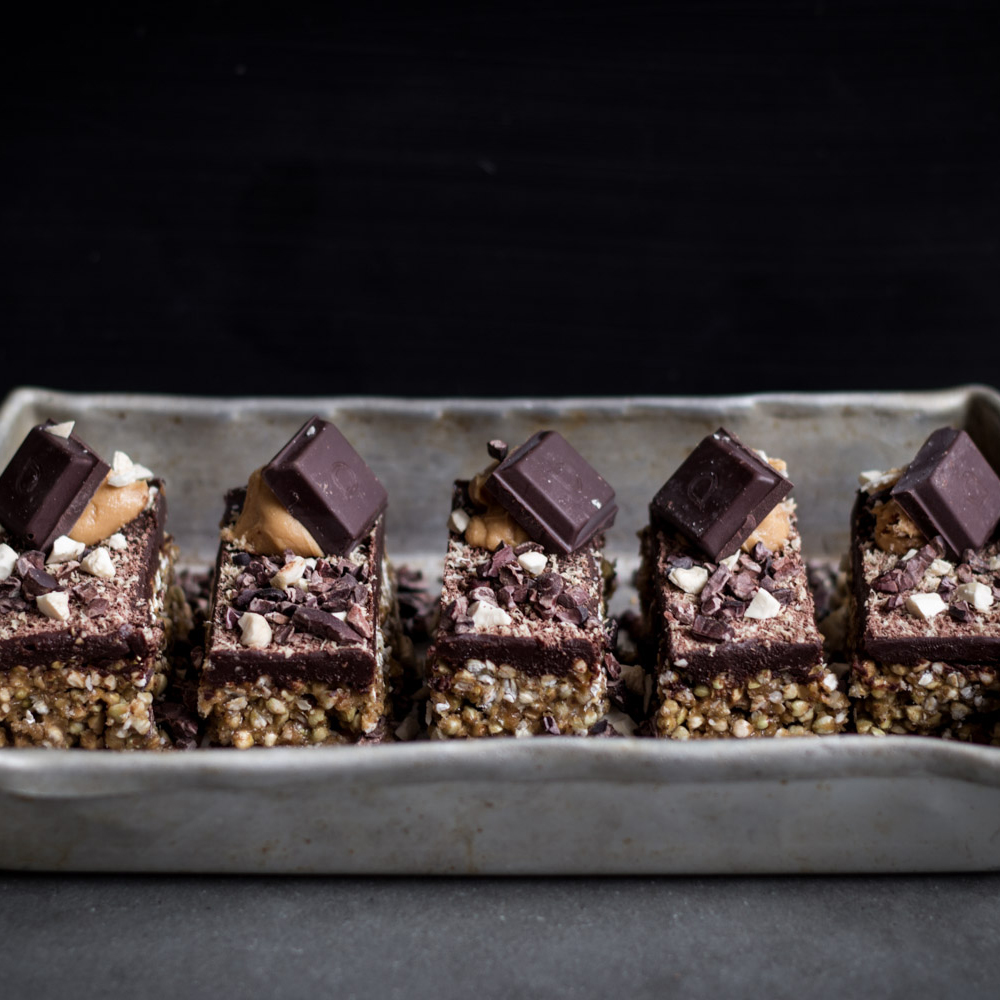 Ingredients:
Base:
½ cup pecans
½ cup Really Raw Cashews
1 cup Shredded Coconut
5 dates
¼ tsp salt
1 heaped tbsp peanut butter
Blend nuts and coconut first until broken down. Add dates, salt and peanut butter and blend until combined and starting to stick together. Press into a slice pan and place in the freezer while you make the next layer.
Caramel buckwheat layer:
⅓ cup peanut butter
3 tbsp Coconut Oil
1 tbsp of mesquite powder
⅓ cup Coconut Nectar
2 cups Caramalised Buckinis
Add the peanut butter, coconut oil, mesquite powder and coconut nectar in a medium-sized saucepan over low heat and stir until melted and mixed together. Pour in the buckinis and mix well.
Poor over the base layer, and place back in the freezer to set while you make the topping.
Chocolate topping:
½ cup raw cacao butter
2 tbsp Coconut Oil
¼ cup Cacao Powder
2 tbsp Coconut Nectar
Combine all ingredients in a saucepan over low heat and stir until smooth and well combined. Pour over the top of the frozen slice. Place back in the freezer until the top layer is set.
Additional toppings (all optional):
Nut butter
85% Dark Chocolate squares
Raw Cacao Nibs
Roughly chopped raw peanuts or Cashews
Once the slice is set, cut down the middle, and then slice into bars. Place a teaspoon of nut butter on top of each one, with a square of chocolate pressed gently on top. Sprinkle with raw cacao and crushed nuts.