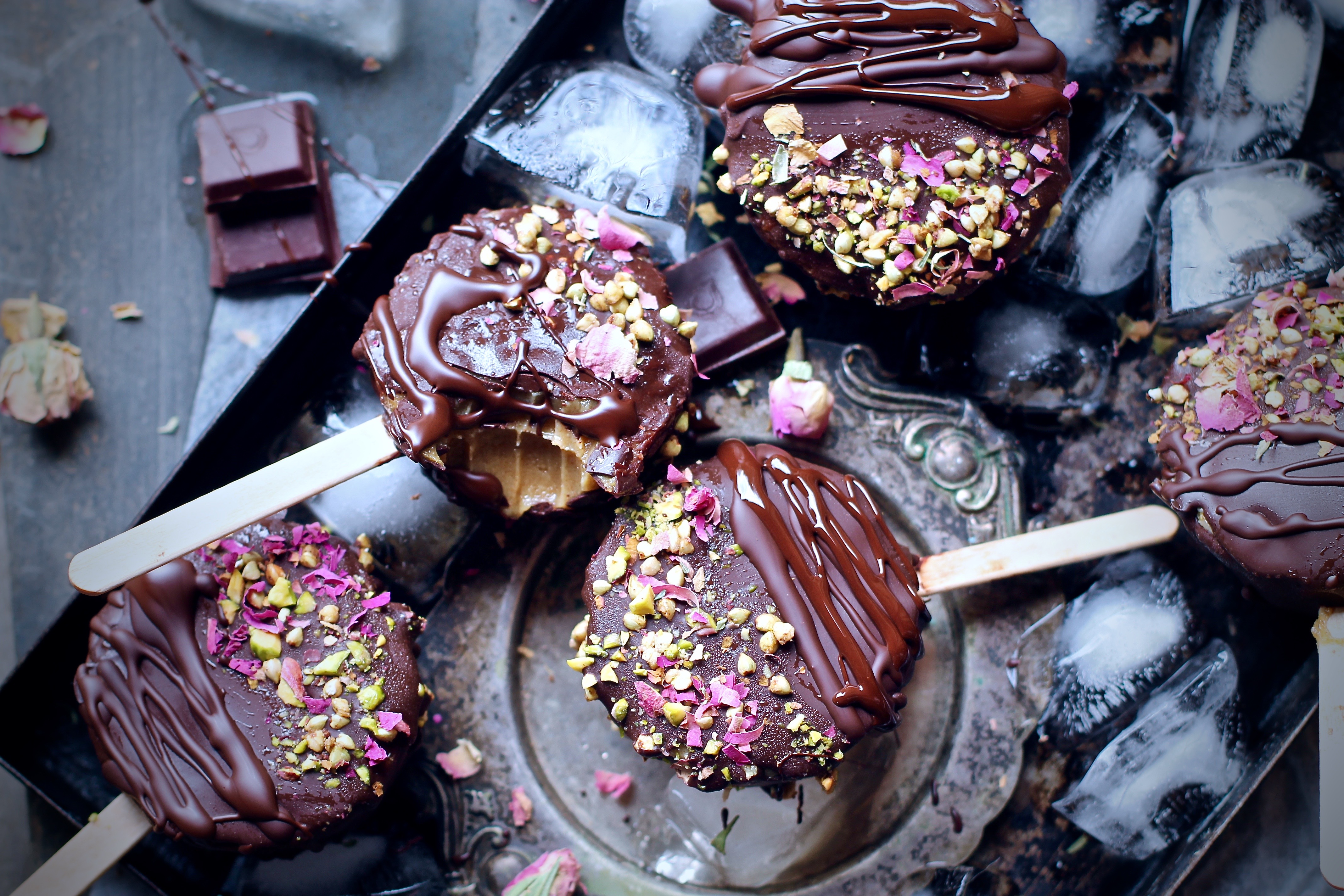 Ice cream is comfort food, and salted caramel and peanut butter ice cream may just be the pinnacle of comfort. This recipe delivers the complete package – comforting, with decadent ice cream, no fuss simplicity and ingredients that are as wholesome as they come.
Serves 4
Ingredients:
Salted Caramel & Peanut Butter Pops:
¾ cup Medjool dates
½ cup Cashews, soaked for 4 hours
2 Tbsp natural peanut butter
2 Tbsp Coconut Nectar
1 ½ Tbsp Coconut Oil
1 ripe banana
2 Tbsp coconut milk
½ tsp Himalayan rock salt
Chocolate coating
60g Dark Chocolate
1 Tbsp Coconut Oil
Crunch dip
¼ cup Caramelised Buckinis Clusters
1 Tbsp pistachio nuts, crushed
1 tsp edible rose petals, chopped roughly
Method:
For the pops:
Drain cashews and rinse well
Place all ingredients in a high-speed blender. Start to blend on slow until combined and increase the speed to high, blending until very smooth (around 2 minutes), scrapping down the sides of the blender half way through, if needed.
Pour the mix into 4 round silicone 'mini cheesecake' moulds. Set in the freezer for 4 hours.
Once firm, remove pops from the moulds and insert a popsicle stick into each. Set back in the freezer while you melt the chocolate.
Chocolate crunch coating:
Grate the dark chocolate and place in a heat-proof bowl with the coconut oil
Place bowl over a pot of steaming water, and allow to melt. *To keep the chocolate raw, use a thermometer and keep the temperature below 45 degrees Celsius. Once liquid, remove from heat and allow to cool for 5 minutes.
In the meantime, mix the crunch topping together until uniform.
Once chocolate has cooled slightly, use a rubber spatula to coat the pops in the melted chocolate. Once covered, sprinkle the pops with the crunch topping, and set onto baking paper.
Repeat with the remaining pops. Store your pops in an airtight container in the fridge, and eat at your delight (they do not require any defrosting time).