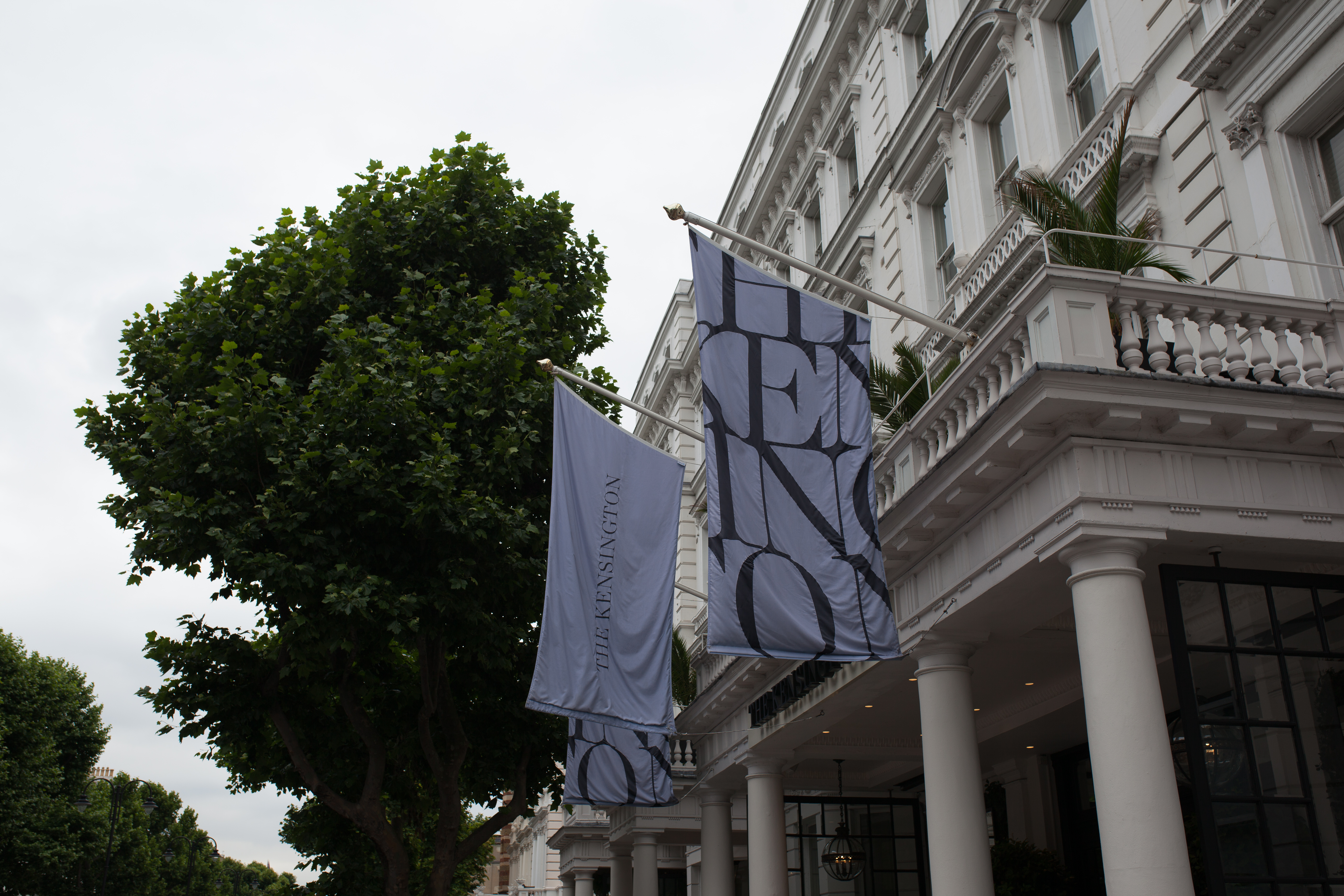 Comprising three interconnecting drawing rooms and enchanting details such as fireplaces, a hidden whisky bar and a carefully curated library, Town House at The Kensington serves as a completely unique venue, blending classic heritage with modern style to provide an intimate space for dinners, drinks and events beyond.
Part of the Doyle Collection, whose other luxury offerings include The Marylebone, The Bloomsbury, The Dupont Circle (Washington DC) and The Westbury (Dublin), Town House is presented in a soft, pastel colour scheme that encourages guests to relax. The resulting atmosphere is perfect for everything from their sold-out afternoon teas to our length, wine paired dinner: open for breakfast, dinner and everything in between – and with its uncomplicated yet effective menus, Town House provides something for everyone.
Though, of course, if that does quite satisfy your desire to the extraordinary, one may step into the adjoining bar that couldn't be more different, offering 1920s style prohibition luxury: think low lights, dark green and blue velvet upholstery and impressive brass-top bars. Oh, and an insane collection of fine spirits and wines. The Kensington boasts that K Bar has a "dazzling cocktail list, fusing tradition and innovation". From tasting their super-special Barrel-Aged Negroni beforehand, I can happily confirm this claim.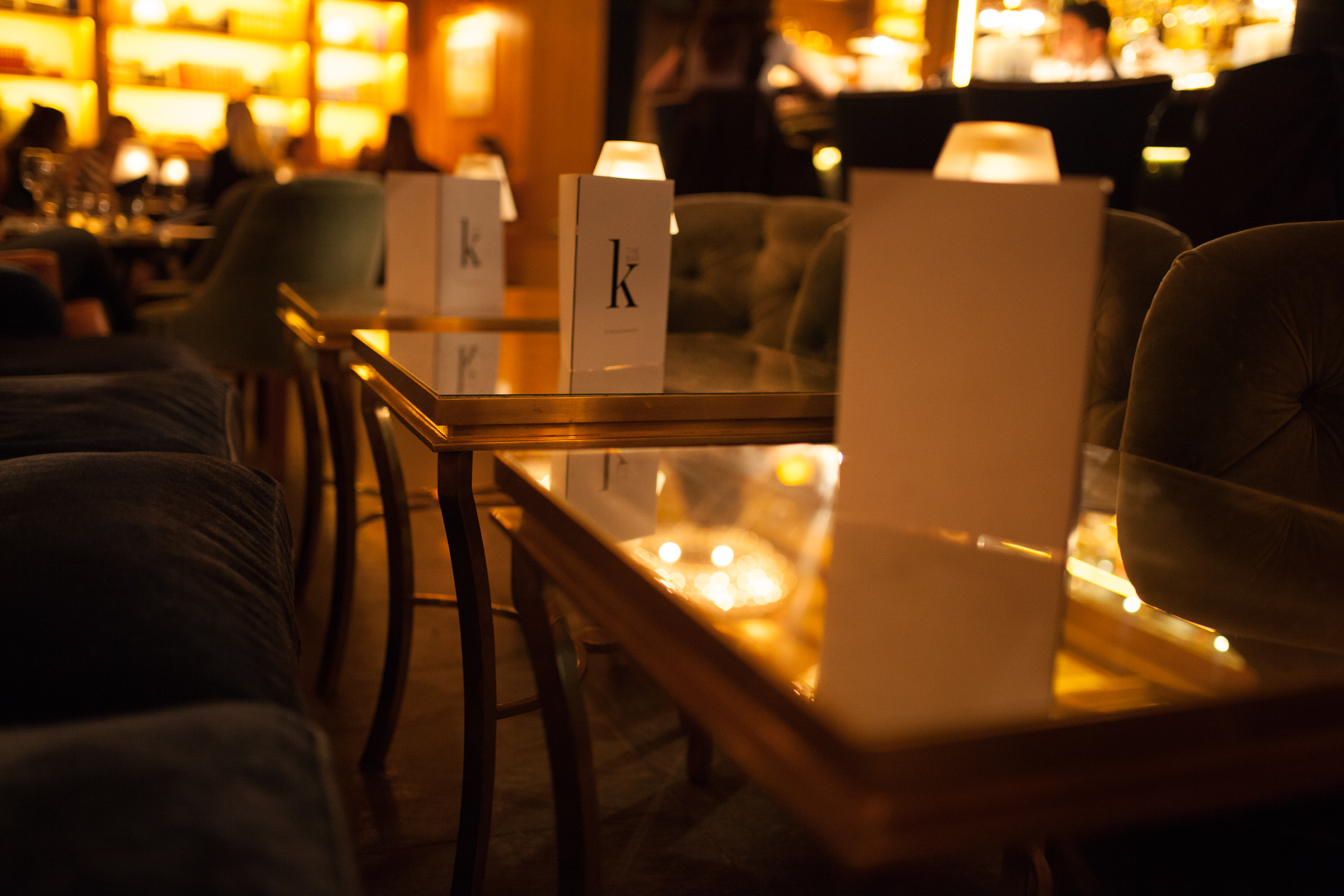 As with any aperitif, the Negroni quickly opened space in the stomach, leaving us rather hungry so, gratefully, we took our seats at a well-lit table beside one of the floor-to-ceiling bay windows.
Much like the venue, the menu was refreshingly relaxed: the food was appealing without the need for complicated wording or wild ingredients. There was octopus, asparagus, goat's cheese, fish along with a few salads and steak dishes for good measure. Perhaps that's the charm of Town House – they don't try too hard, and it truly works in their favour.
With a Homemade Guinness Bread at the centre of the table (which could just as easily have been served as a dessert bread), food swiftly chosen and mouths already pre-watering, we chose a bottle of red to accompany. We'd chosen a fish dish, a vegetable one and steak-based dishes to finish, so in search of something not too overpowering, we selected the fabulous Da Vinci Chianti, a light-bodied, slightly floral number that complemented most flavours exceptionally. The flavours that didn't match would have to make do with water, but with Aqua Panna & San Pellegrino on the table, that wouldn't be an issue.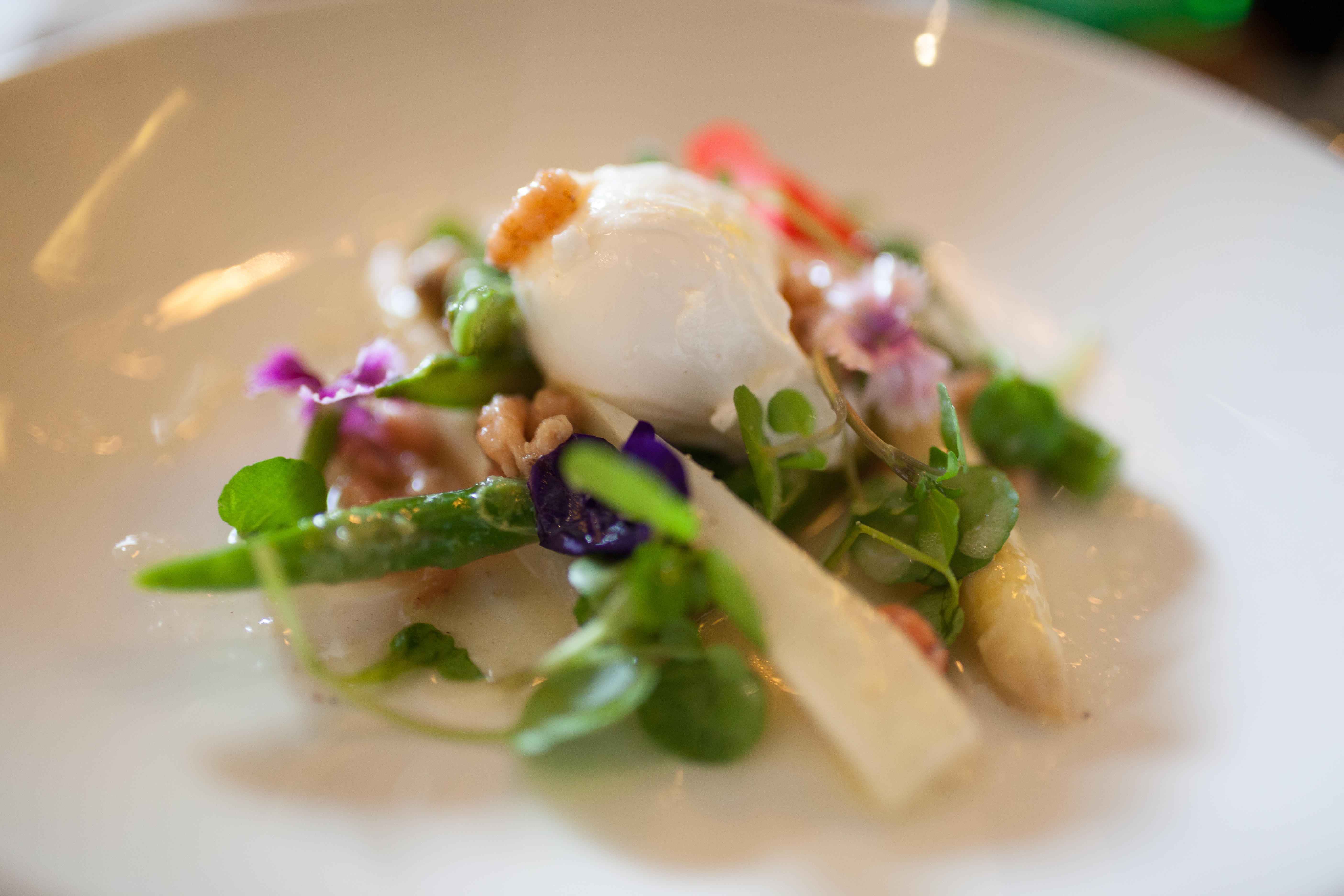 Upon first glance, with only half the restaurant open when we arrived rather early, the section we had seen – one of the aforementioned interconnecting drawing rooms – showed its potential as a private dining room (the options for private hire and events at Town House are extremely reasonable if you were wondering).
A short while later our waiter, knowledgable about the menu and the impressive building in which it resides, arrived with our starters. I should note, here, that my Head Chef guest can be a very harsh critic… Now either Steven left his criticisms behind that day, or he was suitable impressed. From what I tasted, I'd argue the latter.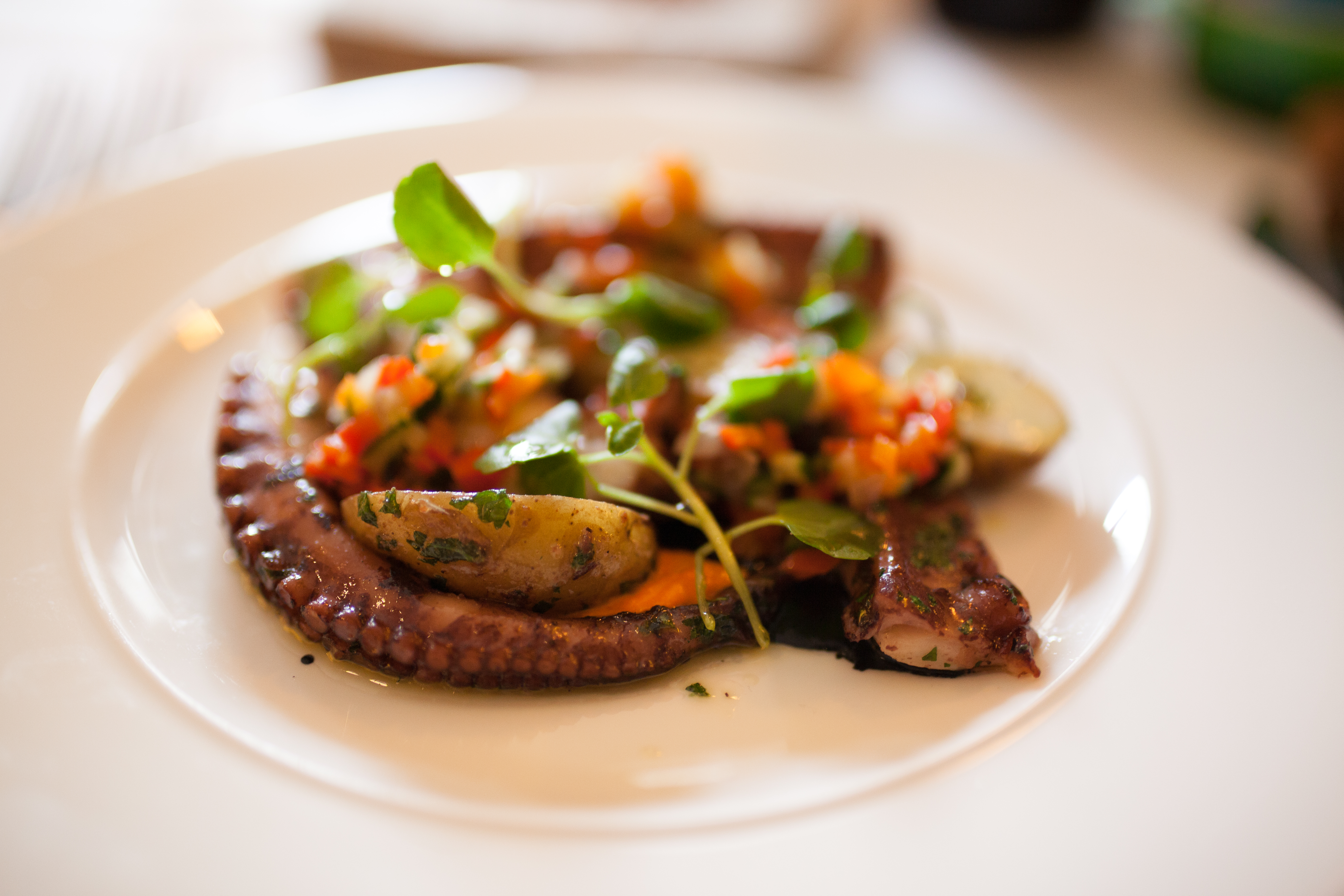 The Asparagus and Poached Egg, which arrived as a cold starter managed to maintain a perfectly runny egg, the yolk of which bounced against the slight citrus note of the dressing and the saltiness of brown shrimp offering a fresh summer starter. The same was to be said for the Grilled Octopus, cooked delightfully and garnished beautifully. Perhaps a little too much salt for my liking, but the dish had fantastic balance otherwise.
With starters cleared, Steven turned our attention again to the atmosphere, noting the high-end Bose systems that provided down-tempo jazz-infused tracks, reinforcing the notion of a casual luxury: a notion that was demonstrated again as our mains arrived at the table.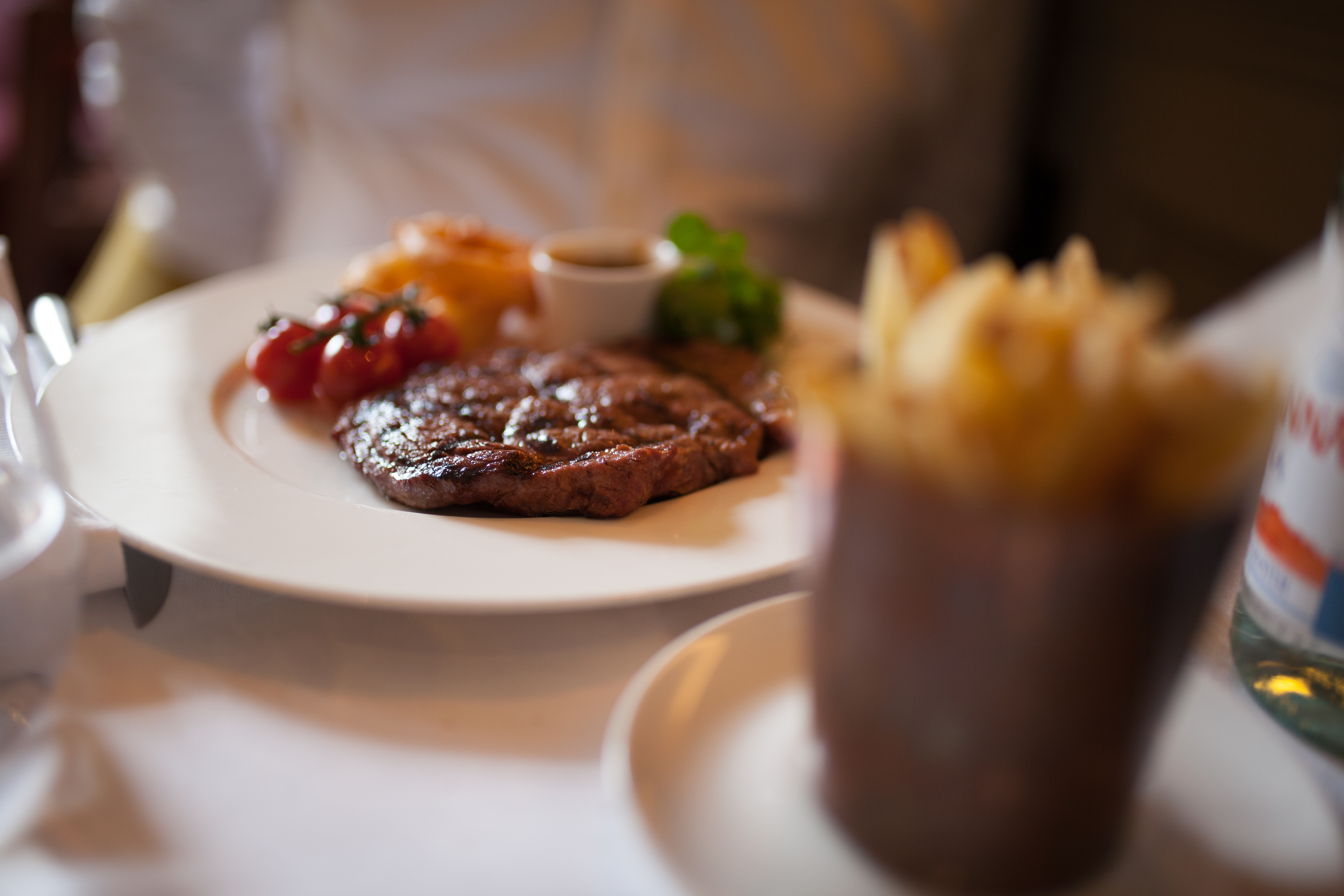 My dish, a Sirloin Tagliata, came cooked medium-rare, sliced and served with chard, crispy onions and an intense horseradish at the base, with each element introducing its own unique flavour before combining harmoniously on the palate. Whilst these flavours were exploding left, right and centre, Steven was enjoying a simple classic: Rib Eye of Beef, seasoned to perfection and rested for just the right amount of time – "amazing", he uttered.
Town House at The Kensington offers a fantastically refreshing approach to effortless fine dining. It's menus are well thought out and well-sourced; its drinks offering is unrivalled in many hotel bars; and the lasting impression it prompts is one of excitement, enjoyment and, simply, excellence.
Town House
The Kensington, SW7 5LR
020 7589 6300