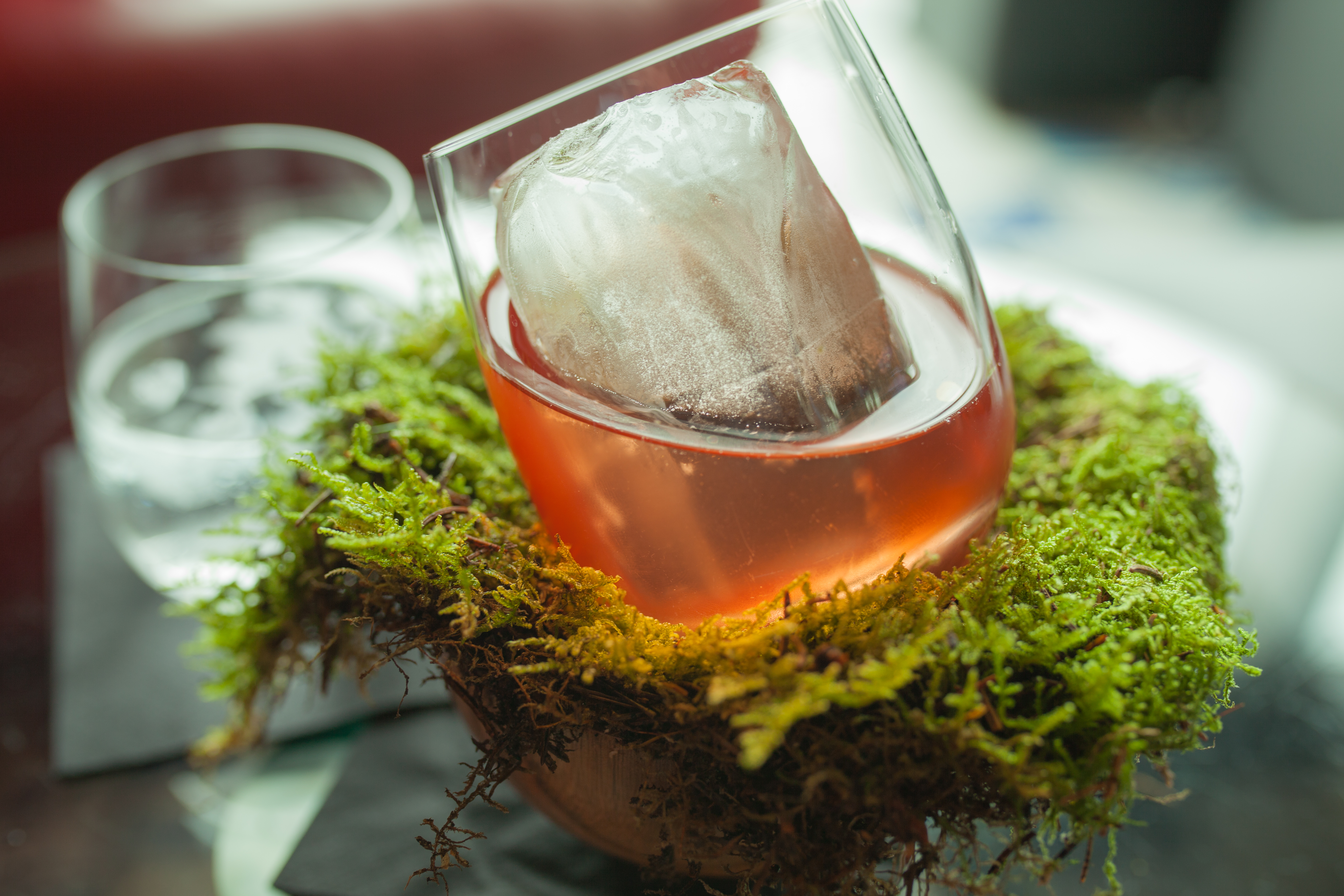 Duck & Waffle is quite an experience. Combining lofty heights with mouthwatering cocktails and inventive dishes, the highest restaurant in London attracts guests from all over the world. Whilst it is certain that the location of this incredible venue has contributed greatly to its success, it is the hardworking, dedicated people that turn dreams into reality, time and time again that keep the fire alive.
I stole Executive Chef Tom Cenci away for a conversation, amassing his early career; his journey to the top and Duck & Waffle, where he, Chef Director Dan Doherty and team have been stealing the hearts of Londoners and beyond every day (and night) to a befittingly soundtrack of smooth jazz.
Tom sat incredibly upright, his crisp white jacket hardly brushing the seat of a deep red, leather booth. This was not a surprise for a man who practices precision all day long, but as our conversation progressed, looking out over the sweeping London cityscape, he relaxed. There was a certain stillness up there in the sky – even in the midst of a super-busy lunch service. Perhaps I was subconsciously being soothed by the prospect of an afternoon of culinary delights or my second Damp Negroni was taking over.
I interviewed Tom adjacent to a sweeping profile of glass and architectural aluminium, a waiter approached, proffering a large decanter of water, gratefully received and a welcome stomach-settler after that impressive glass elevator/rudimentary spaceship rockets you twenty-eight storeys into the air.
Tom's culinary creativity was sparked a little over an hour and a half from Duck & Waffle, in the leafy town of Taplow, hidden deep within the Home Counties.
He said: "When I was at school, I wrote off to all the local hotels for work experience. A few said yes, including Cliveden in Taplow – who gave me the opportunity to work in the kitchen for two weeks. I never looked back."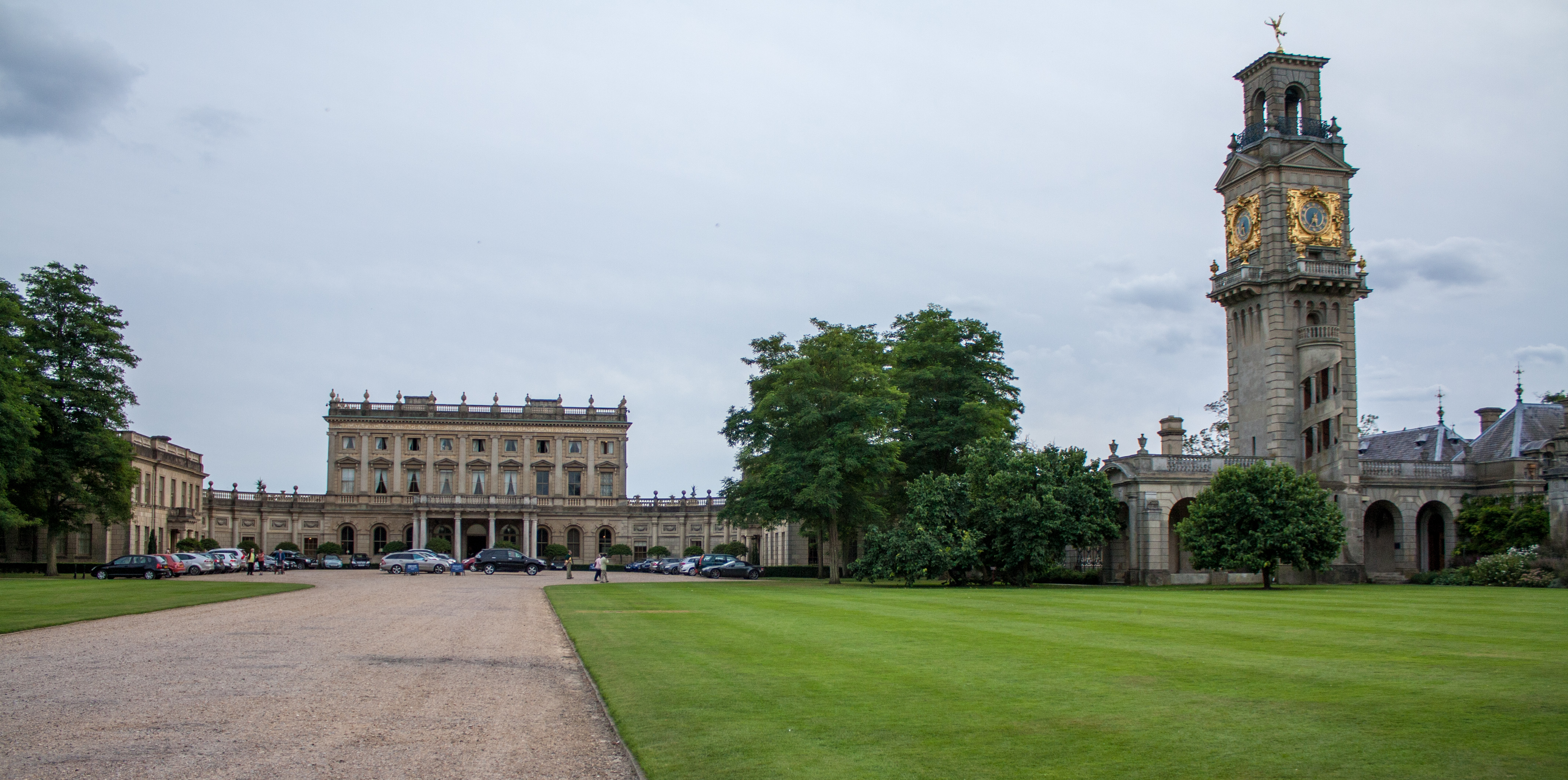 The iconic Cliveden House Hotel and Spa– home to picturesque grounds, a state-of-the-art spa and, now, a gastronomical dining experience provided by André Garrett – offered Tom an apprenticeship scheme without hesitation.
Travelling between Cliveden House and Bournemouth & Poole College – whose alumni include Trinity's Adam Byatt; The Pig Group's James Golding; and Duck & Waffle's Chef Director, Dan Doherty – Tom embraced the challenge completely.
He reflected: "It was a fantastic opportunity and it put me in that steadfast position to become the chef I am today. I did about four years there with the apprenticeship scheme, but I haven't been back to eat for quite a few years. That place is absolutely beautiful."
When Tom was at Cliveden, the Head Chef took Tom and the other apprentices for dinner at 36 on the Quay in Emsworth, he has had a real appreciation for fine dining ever since.
He confessed: "I'd never really eaten at that sort of establishment before. A few years later I went to Noma in Copenhagen, just as René and the guys had won 'Best in the World'. That fresh, Scandinavian approach to cooking was just incredible. Places like that are like a masterclass in cooking."
Of all the dishes that have truly blown Tom's mind throughout his illustrious career, there is one dish in particular that has stuck with him.
He revealed: "You cook so many dishes, and as a Chef you're always forever changing them, so it's hard to pinpoint one seminal dish, but over the last five years – since day one at Duck & Waffle – we've had the Ox-Cheek Doughnut with Apricot Jam and this still stands out today. It's a comforting dish and one of those that as a Chef, it sticks in your culinary repertoire and you keep coming back to it. It makes you happy every time you eat it, and it makes other people happy too."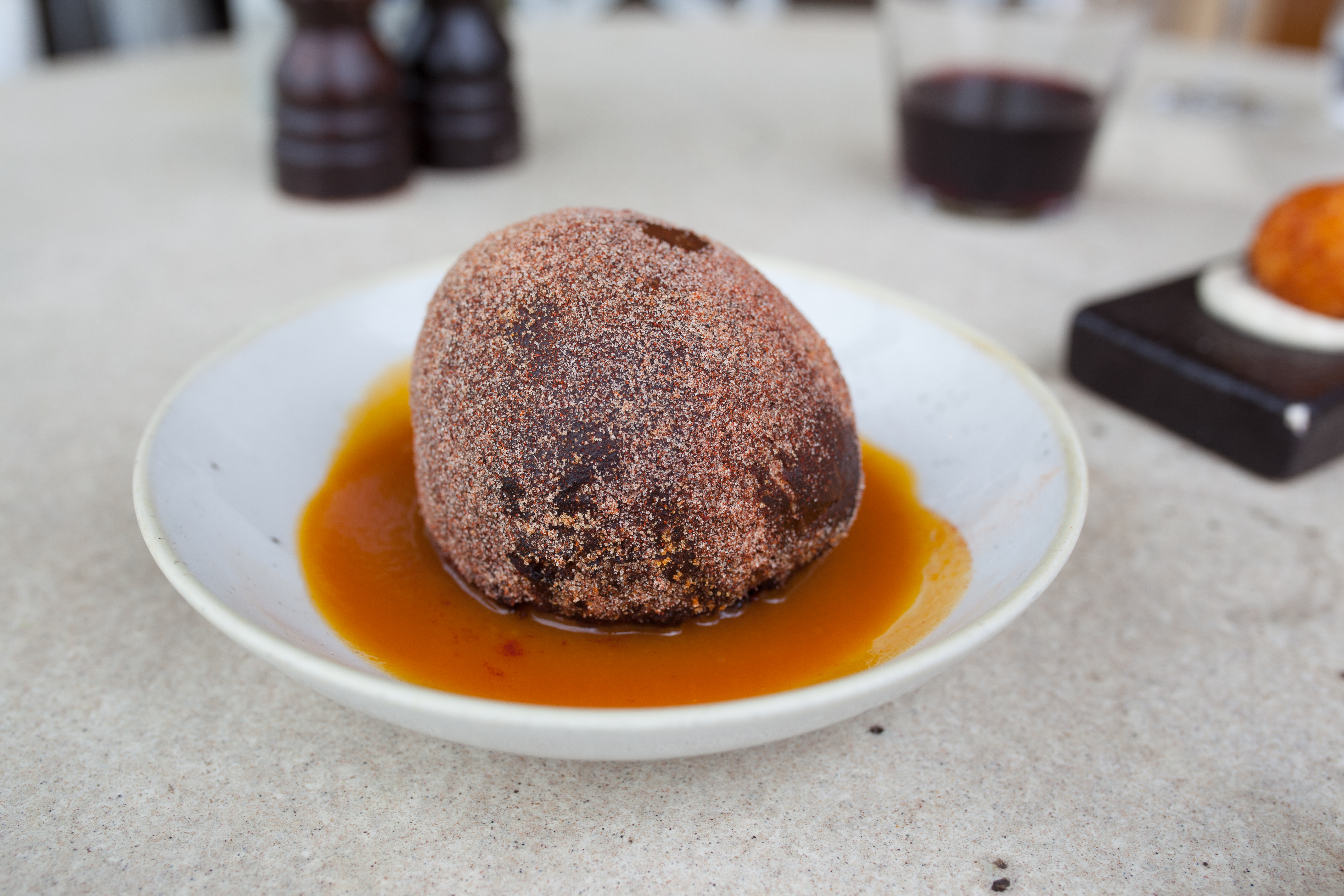 When Tom steps out of the kitchen at the end of a shift, like many other chefs, he is partial to a guilty pleasure or two.
He confessed: "When you're in a kitchen like this, you're cooking lots of fine, rich foods 24/7 so when I'm at home, I tend to sway towards the occasional junk food – a fish finger sandwich, a burger or, a personal favourite, the Twinkie, this horrible sponge thing filled with cream."
Duck & Waffle blends these two aspects, providing a meeting point between rich, indulgent gluttony and spectacular Instagram-worthy fine dining.
No one could say that Tom hasn't worked hard to be where he is today. Over the past 17 years he has trained almost constantly in seven different venues around the world.
He enthused: "When I left Cliveden, I went to work at 1 Lombard Street. The organisation there was incredible, run almost like a military operation with a Michelin-starred restaurant and a Brasserie which served over 350 covers all coming out of one kitchen."
He added: "On top of that, there was also a private dining room, again coming out of the same kitchen. To see the organisation and the hierarchy there was just amazing."
From there, Cenci moved to Mayfair's Noble Rot, working with Julian Owen-Mold, who completely changed his perception of cooking technique.
He revealed: "It was much more relaxed but the food was very different – a lot more playful. These two restaurants changed my career in terms of how I saw the organisation side of things and how to play around with different foods to create completely different results."
In search of something different and following the paths of high-profile chefs such as Gordon Ramsay, Tom spoke with Lombard's esteemed Herbert Berger who secured him a position working under Joel Robuchon at Restaurant Laurent on Paris' Champs-Élysées.
He said: "It was incredible. Two Michelin stars and again the hierarchy and organisation there was unbelievable."
With all this organisational experience under his belt, Tom was ready to make the leap to the top of that all-familiar hierarchy. He moved back to London taking on a Head Chef position at Nobel Rot's sister restaurant, Graze. Under his direction, the venue was voted Best New Restaurant and Bar in 2005. Such an extraordinary accolade did not make Tom complacent. In 2006, he moved to Istanbul, working for Harvey Nichols and earning him the title of Time Out's 'Best New Chef' in 2007. Again, his drive was not quite satisfied and when Owen-Mold reached out, he jumped at the opportunity to move to Canada to work as Julian's Sous-Chef at the 5-star Boutique Hotel, Nita Lake Lodge in Whistler, sourcing local ingredients and creating truly innovative dishes.
In 2010, Tom returned to London to add a few more awards to his list, briefly running a small Gastro Pub, My Dining Room, to which Time & Leisure Magazine awarded 'Best Brunch 2011' and Time Out gave 5 out of 5 stars. This progress did not go unnoticed and in 2012, Cenci was approached by Duck & Waffle, where he worked as Senior Sous-Chef under his old college-mate Dan Doherty – the now Chef Director.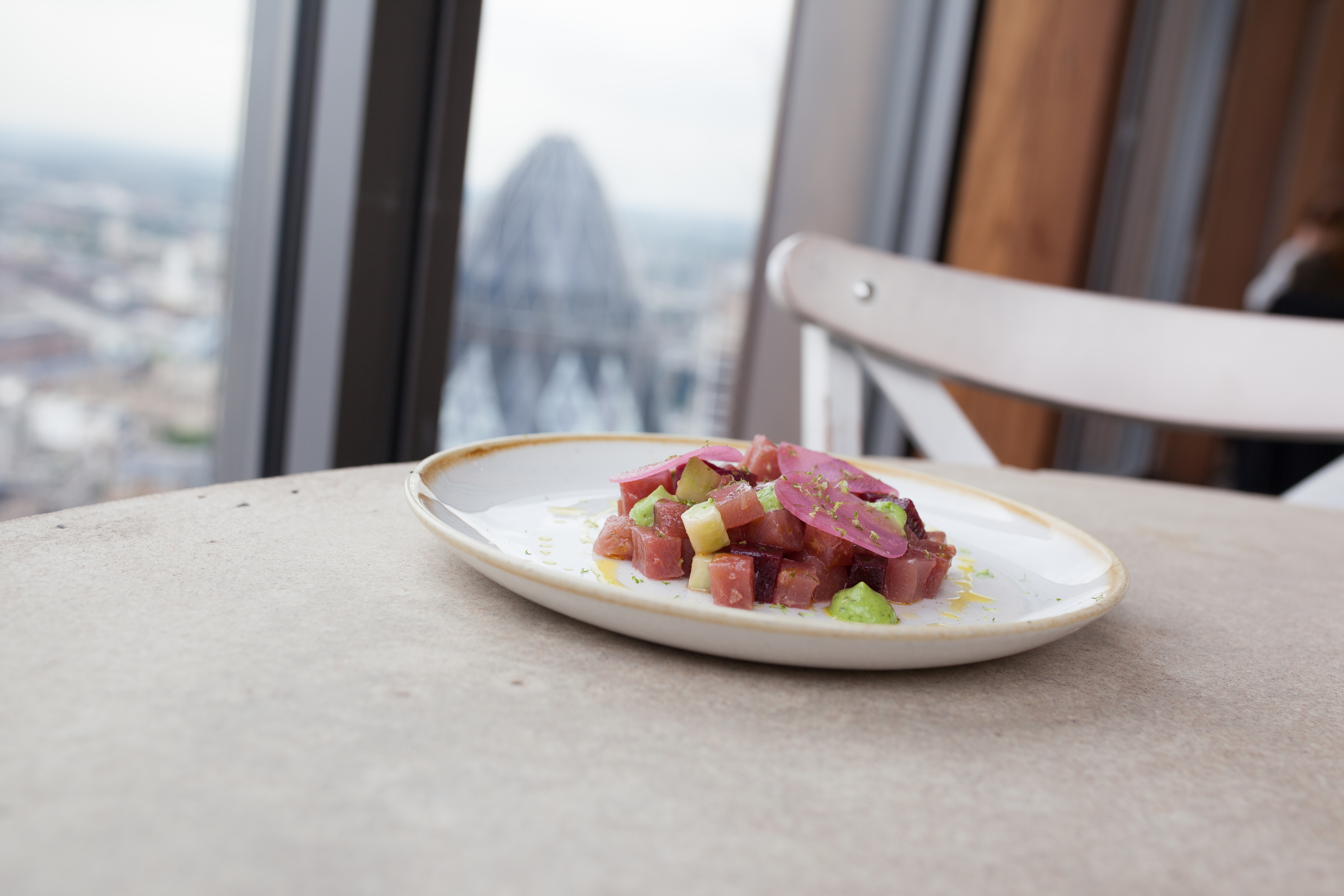 Fast forward 5 successful years and Tom now pours all that experience into both the venue and its menu, with a range of his own signature dishes being featured and applauded. I couldn't wait to sample some of the exquisite delights Duck & Waffle has to offer, I was led to the best table in the house – with views over and across the City, Thames, Gherkin & Shard.
Flooded with natural light on even the most overcast of days, the venue feels enormous, with a large open-kitchen emanating at the entrance, with an impressive bar area just before it serving classics and creations like that aforementioned Damp Negroni, featuring Gin filtered through layers of moss and woodland decay, which tastes like drinking a forest. There's something truly enchanting about that, don't you think?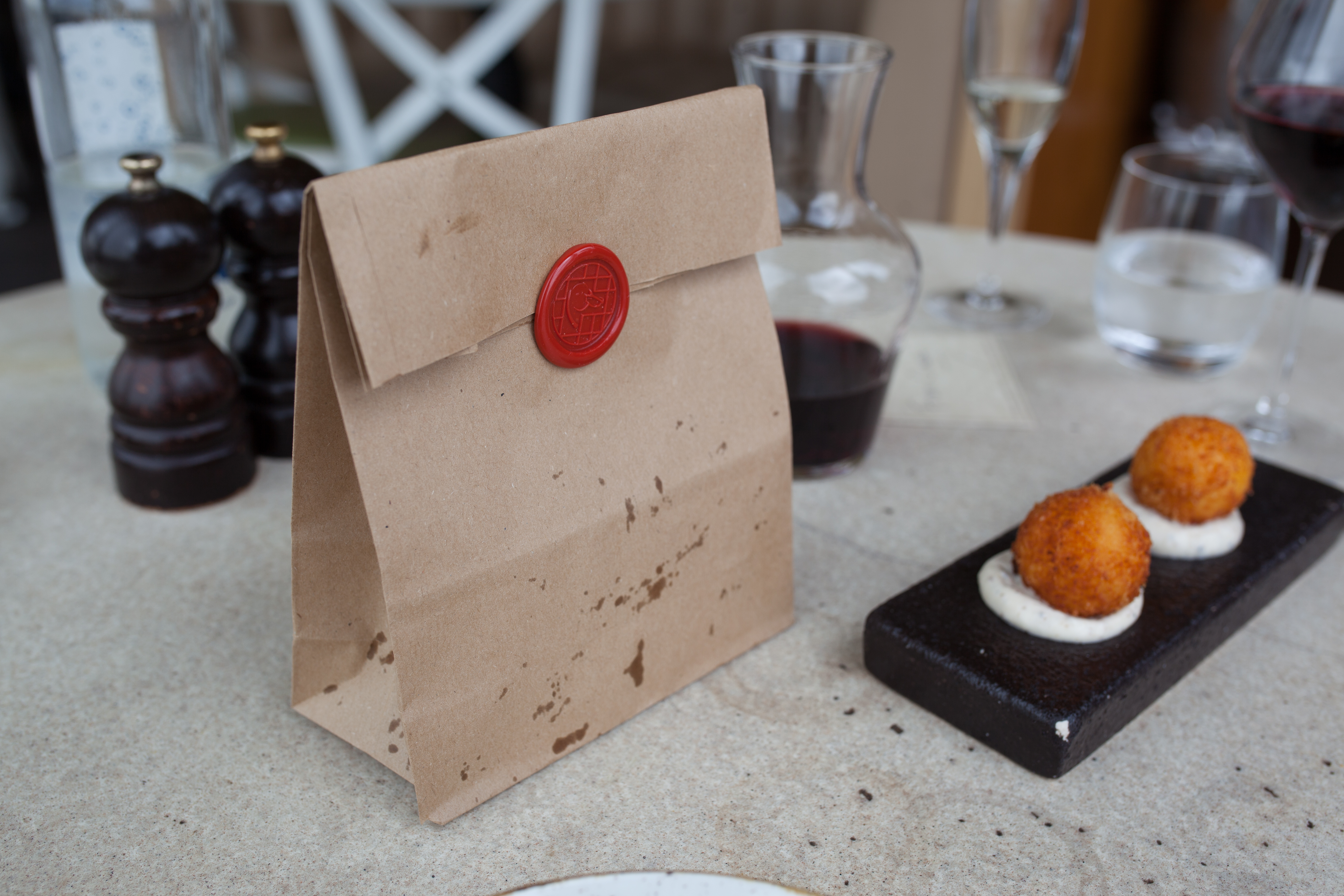 With my appetite successfully awoken, and with rich scents wafting across the restaurant, we were delighted to hear that Duck & Waffle serves plates as and when they're ready. In other words, they don't wait for the whole order to be ready before sending it out. This, for me, allows for a far more relaxed experience for all involved, diners and chefs.
Pouring a glass of smooth New Zealand Pinot Noir from a 400ml carafe, the first two of these courses arrived – and what a dish to start on. The Yellowfin Tuna was exceptional. Cubes of fresh, flavourful tuna and vibrant beetroot combined harmoniously, whilst pickled cucumber added another textural element and creamy wasabi mayonnaise added a gentle note of spice. On the side of the table, presented in a brown paper bag emblazoned with a red-wax-seal, BBQ Crispy Pig's Ears were reminiscent of smoky pork crackling – a true indulgence.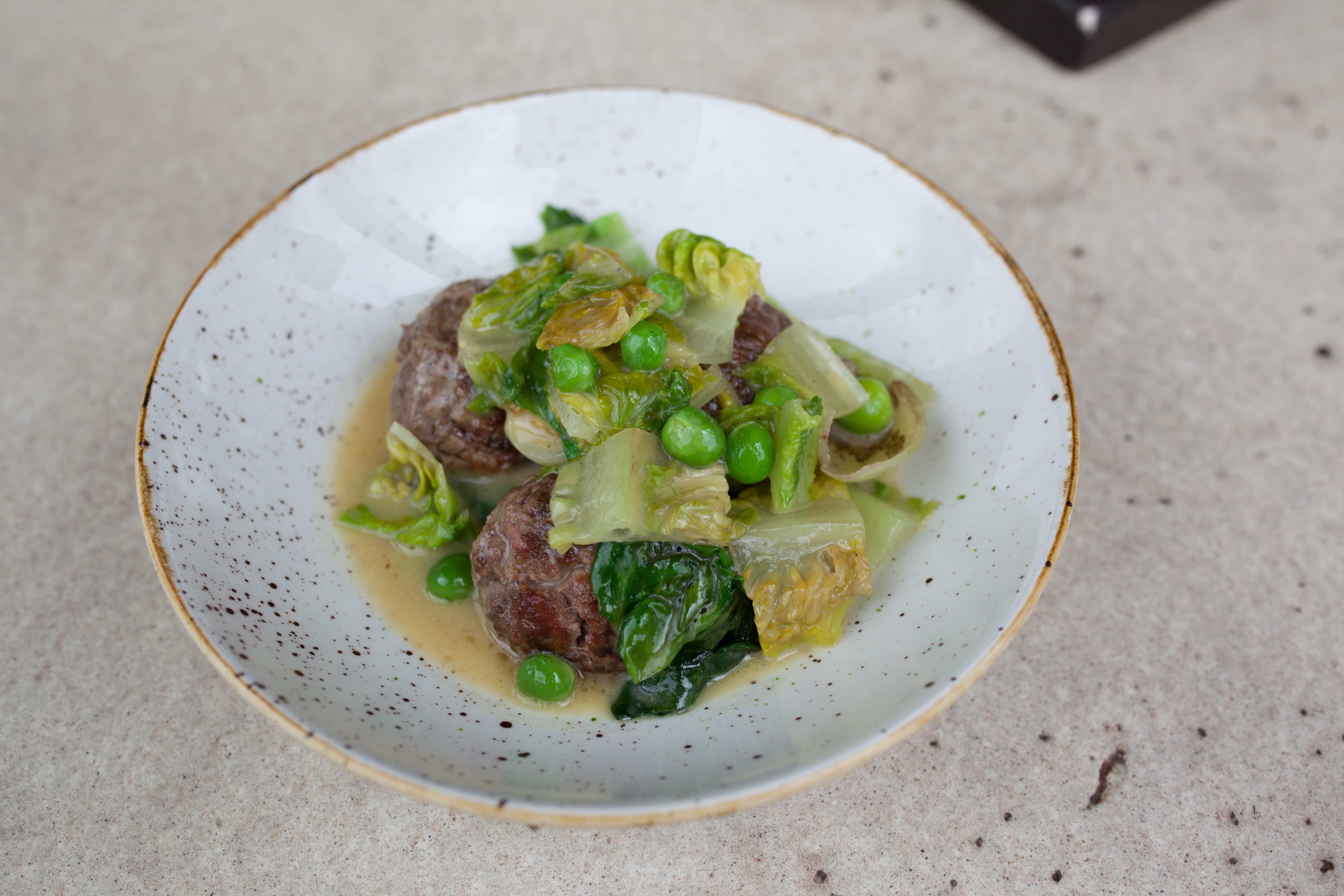 A short while later, the first of Tom's signature dishes was presented – Haggis Meatballs. Haggis definitely isn't something you find in many fine-dining restaurants outside of Scotland, but maybe this shouldn't be the case. Cenci's take on haggis was luxurious, with a broad bean purée and large al denté peas lifting the dish as the meatballs fell apart and a rich, smoked blue cheese flavour coated the inside of our mouths. The other side of the table, again, offered something entirely different – Crispy Polenta with truffle mayonnaise was uncomplicated but effective.
Finally it was the moment (one of the many moments) that I'd been so excited for. Duck & Waffle's Ox Cheek Doughnut was something so unusual that we'd probably have opted for it even without the Executive Chef's recommendation. You'd think that it would be really heavy, but that's not the case. The doughnut is light, fluffy and well-balanced. Game-led flavour profiles are encouraged by a paprika kick whilst sweet, sticky apricot jam lifted the dish to a whole new level.
Five courses and one carafe down, I was just over half way through our dining experience in the sky, and the next two dishes to arrive were two of the most popular on the menu, for good reason as I would soon discover.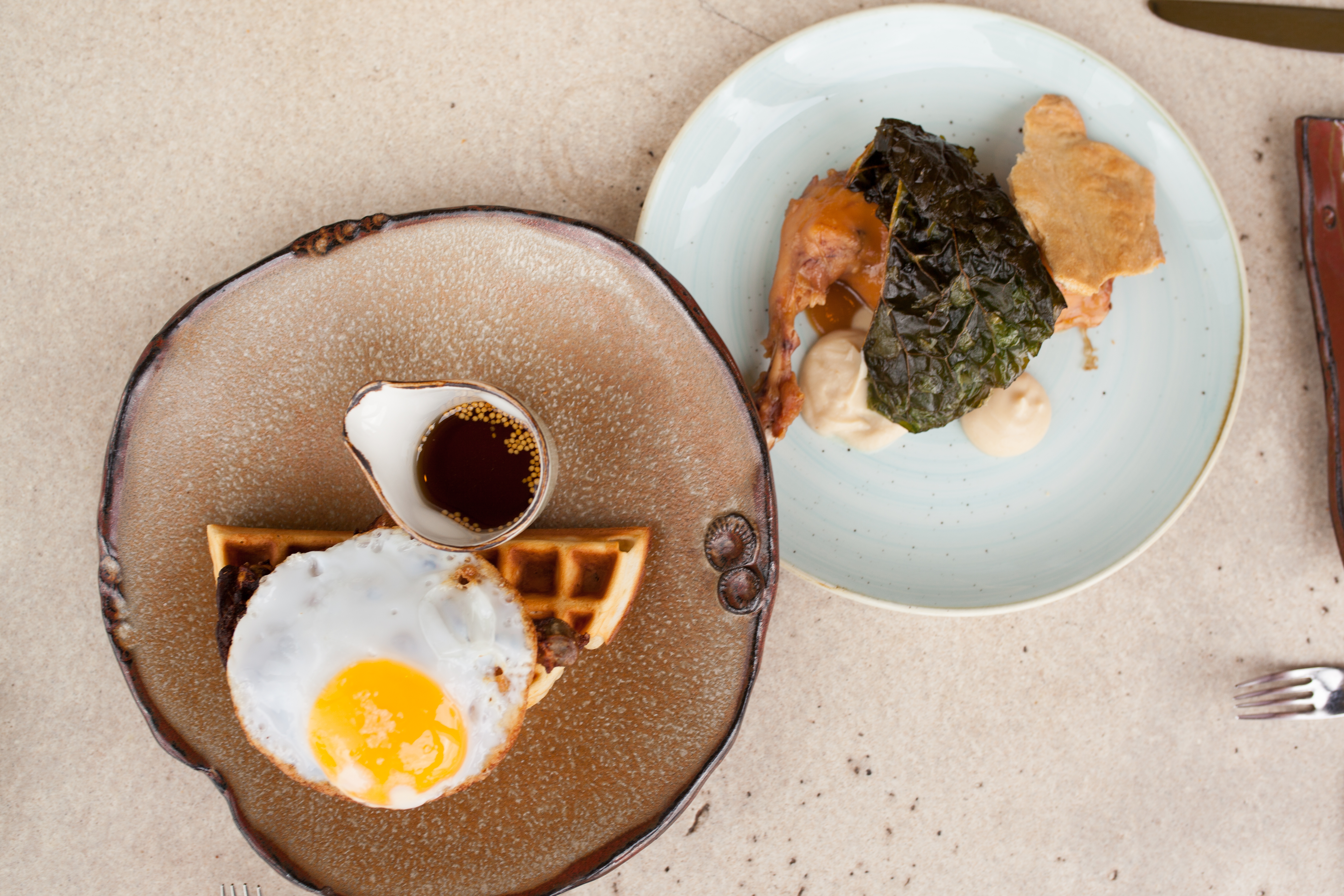 One cannot dine at Duck & Waffle without sampling that staple eponymous dish that has been with them since their inception. Correction: one should not. To miss out of those ultra-soft, fluffy waffles; crisp, moist duck and that mouth-watering mustard maple sauce would be a crime. A sin. Whoever came up with this is a genius… a culinary wizard.
Similarly, the Japanese-inspired Miso-Glazed Rabbit was divine. Another of Cenci's signatures, the crisp white meat was served uncompromised alongside unleavened bread-like suet biscuit, crispy fried cabbage and a roasted cauliflower purée which, oddly, served as one of the most standout elements of the entire afternoon, with flavour bursting onto the palate.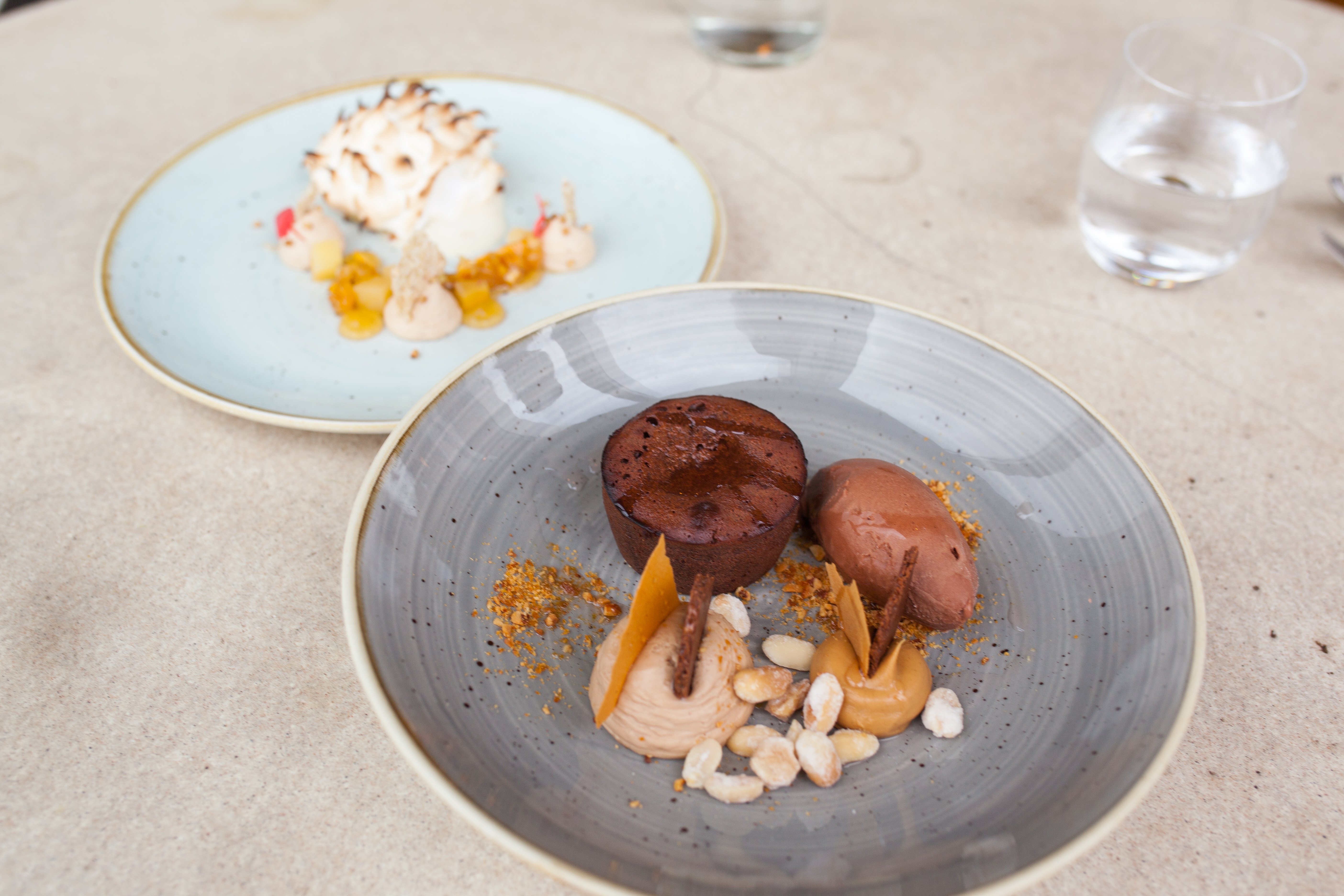 Truly full, I sipped on a current-led Port and an elderflower-laden Asti as I awaited the final course. My Baked Alaska did everything a Baked Alaska should, holding a perfumed taste with a gin and lemon-zest note at its finish, even including cherries that appeared to surgically dissected into thin, carpaccio style slices. Meanwhile, the Chocolate Fondant oozed decadent alongside crunchy sugared peanuts, smooth peanut butter, chocolate ice cream and an intense praline crumb.
If you have visited Duck & Waffle before, you'll be incredibly familiar with the supreme level of service, the unique flavour combinations and the overall experience that I enjoyed so much that afternoon. If you haven't yet had the pleasure of this 24 hour dining destination, then add it to your bucket list straight away. Duck and Waffle is a restaurant that should be visited at least once, and one that you'll want to visit time and time again.
Duck & Waffle
Heron Tower, 110 Bishopsgate, London EC2N 4AY
020 3640 7310