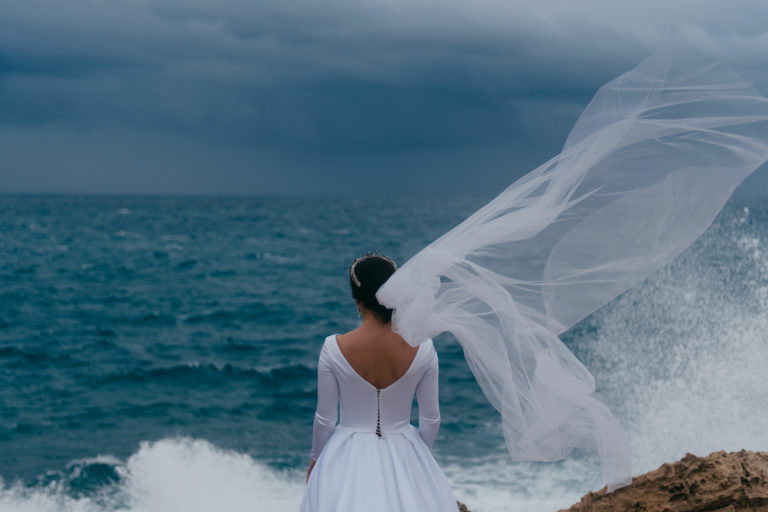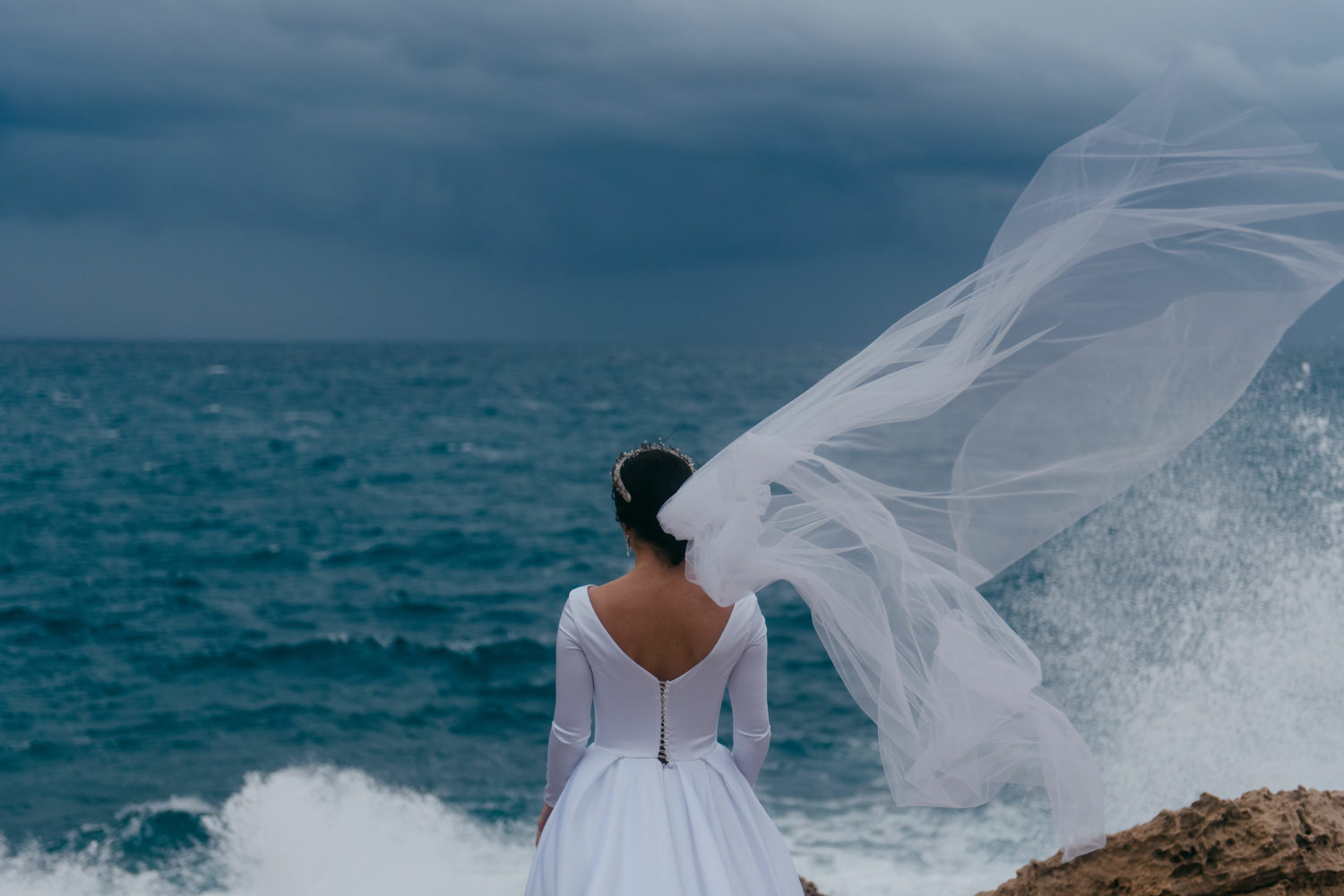 A wedding is a joyous occasion and a celebration of the love between two individuals. It's why many have opted to defy the traditions and expectations of others. After all, the day is about the couple and not the attendees.
It's common to see brides don glamorous wedding dresses. However, others prefer simple dresses to save. According to Zippia, the cost of an average wedding increased by over 33% . 
But the expensive cost isn't the only reason. Some brides would rather wear a simple dress because they want to highlight their jewellery or prefer a classic style. A simple dress is also suitable for those who wear stripes or solid colours often or those who want to show off their body shape.
Regardless of what kind of dress they wear, all brides want to look and feel beautiful. It all depends on how you style your dress. Read on to learn how you can style a simple wedding dress that will take your breath away.
Intricate veil
You can add flair to your dress with an intricate veil, which is a symbol of love, commitment, and tradition for some brides—just like what Madame Tulle said of veils.
This piece of white fabric can be more than an element of your wedding attire, though. A veil looks flattering on your body. It can make your torso look longer. Plus, it adds symmetry to your dress and complements its silhouette, enhancing the style.
A veil can flatter your face as well. It elongates both the body and face. It's especially ideal if you have a round face.
Moreover, wearing a veil can bring an element of mystery to the day and make the groom feel like he's unwrapping one of the best presents he'll ever receive.
2. Subtle features
Wedding dresses don't have to steal the show with glitter, bling, and other adornments. When the dress fits you perfectly, it highlights your figure and leaves you looking radiant and gorgeous.
Wearing shapewear or confidence-boosting underwear may just be enough to improve the look and feel of your dress.
3. Stylish footwear
While some brides wear simpler shoes to match their minimalist dresses, others prefer to doll up with stylish footwear. Not many guests will expect to see a bride wearing boots, tennis shoes, or even flip-flops. These options depend on the aesthetic the bride aims for on her big day.
As long as you feel comfortable with your shoes, you have the freedom to choose the perfect pair that will go well with your dress.
4. Beautiful bouquet
Before it's tossed to the awaiting sea of ladies at the reception, a bouquet completes your look. You can match your dress with a large bouquet of vibrant flowers wrapped in lace or silk.
An example of a lovely bouquet is one of the orange ones featured by Martha Stewart. It shows how flowers in full bloom can bring added beauty to yourself, as well as your dress.
5. Scattered sheer lace
Adding lace to your wedding dress also ties in with other elements of the outfit like the veil and hairdo. You can also turn this fabric into a choker necklace or a bow for your shoes. A lace on the bodice of your dress can give it the subtle upgrade you're looking for.
Alternatively, you can make a cape out of lace and then drape it over your shoulders to give the illusion of layered elegance.
6. Eye-popping jewellery
Something borrowed, something blue. Incorporating these principles into your jewellery selection will turn heads when you walk down the aisle. Pair the old with the new to give life to your dress. The colours of your jewellery will make your dress look striking.
According to POPSUGAR, around 68% of brides spend less than a thousand bucks on their dresses. So, if you're planning to go this route, you can use what you save to invest in a signature piece of jewellery. For example, strapless gowns could call for bold earrings that hang down to the shoulder or a more heavy-set necklace. In contrast, an elongated, elegant necklace may complement a plunging neckline and draw the eyes down to the beautifully simple wedding dress it's paired with.
7. Elaborate hairstyle
Wedding dresses come in a variety of sizes, colours, and designs. With a simple one, you can pick any hair style you want, whether a bold or modest one. For instance, the undone braided updo is perfect for any dress style or neckline. It's pretty, romantic—a wonderful match for a classic strapless, V-neck, or high-neckline dress.
Choosing the hairstyle according to the aesthetic of the dress would make sense, especially when pairing a formal bun or French twist with a formal gown. On the other hand, a more playful loose hairstyle with many curls could enhance an informal wedding dress.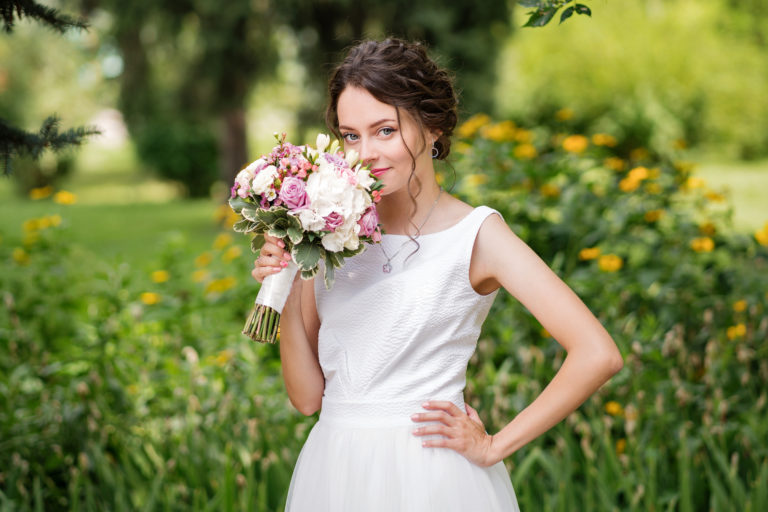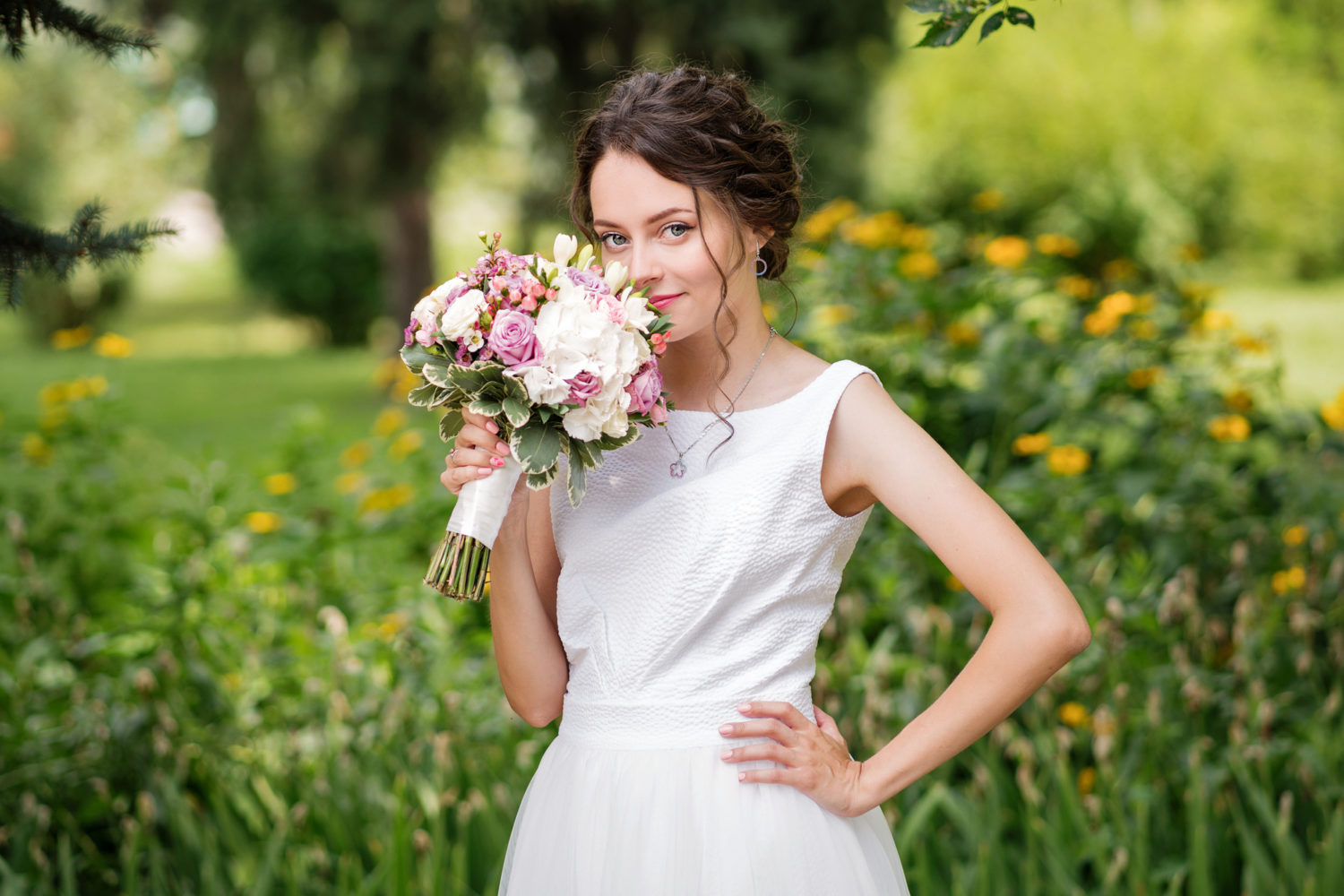 8. Exquisite sleeves
Dresses with sleeves have become more prevalent in recent years, with some designers having separate sleeves that can fit various dresses. Some are transparent, others lacy. Sleeves may feature patterns, come with pearls, look frilly or puffy.
9. Daring colour combos
A newer trend for wedding dresses is using colourful combinations instead of plain white, ivory, or other traditional shades. Although minimalist brides usually prefer neutral tones, some wear dresses in purple, red, black, and silver hues.
You can add a cheerful element to your dress, like a sash or a belt, which will elevate your wedding-day look instantly. You can also wear a bright underskirt for a pop of colour.
10. Rebellion against tradition
There are different kinds of wedding dress codes, including formal, beach formal, or dressy casual attire. Nowadays, brides are more inclined to go against the norms and traditions of their families to create their own.
Shorter dresses, unique hemlines, stand-out necklines, and alternate designs have paved the way for simple wedding dresses to stand out in the sea of the ordinary. So, don't be afraid to ruffle the feathers of some people. Go for whatever you want. Besides, it's your wedding.
Wrapping up
Simplicity by no means equates to dullness, and this is especially true for those who want to wear a timeless piece for their wedding dress. However you style your simple dress, you'll look stunning and elegant.