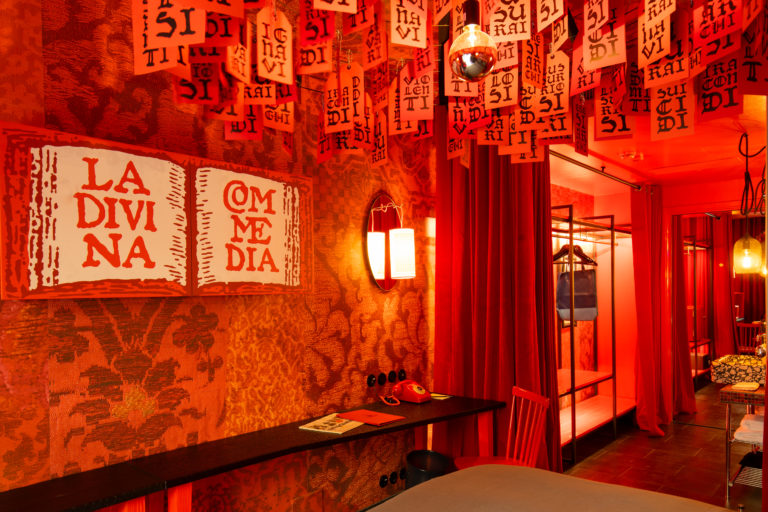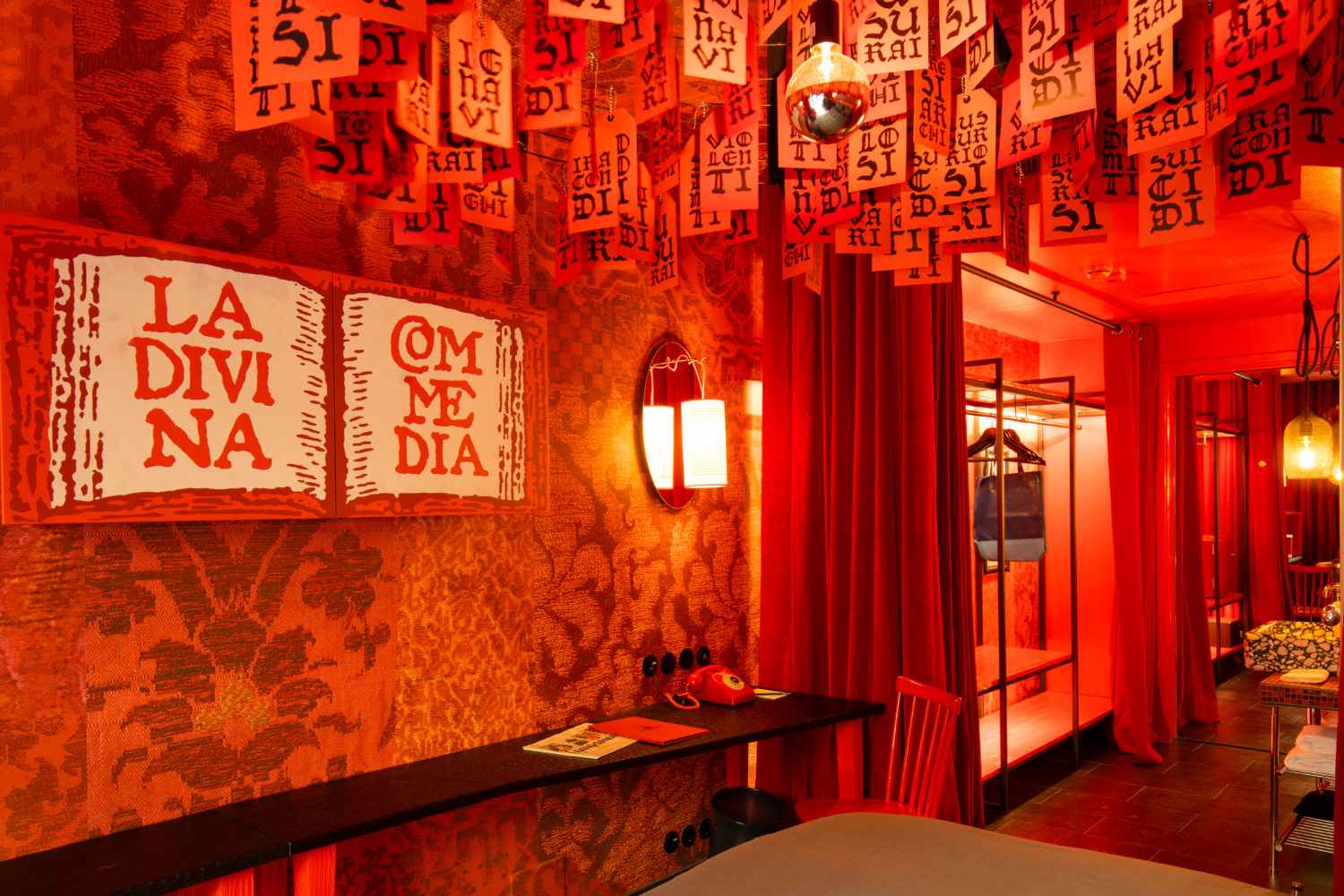 Founded in 2005 by a quartet of creative minds, the 25hours group boasts 15 hotels scattered across vibrant cities like Berlin, Paris, Zurich, Vienna, and Dubai. It's a brand that prides itself on individuality, authenticity, and larger-than-life personality. In 2021 – and on the 700th anniversary of Dante Alighieri's passing – it opened its doors in the enchanting city of Florence, an ideal location for exploring this timeless jewel of Renaissance art, culture and food.
This fabulously unique hotel revolves around Dante's Divine Comedy, imaginatively brought to life by interior designer Paola Navone, where guests can choose a "Paradiso" or "Inferno"-themed room. The interior design is a captivating blend of materials, all seamlessly intertwined, and the facilities are second to none.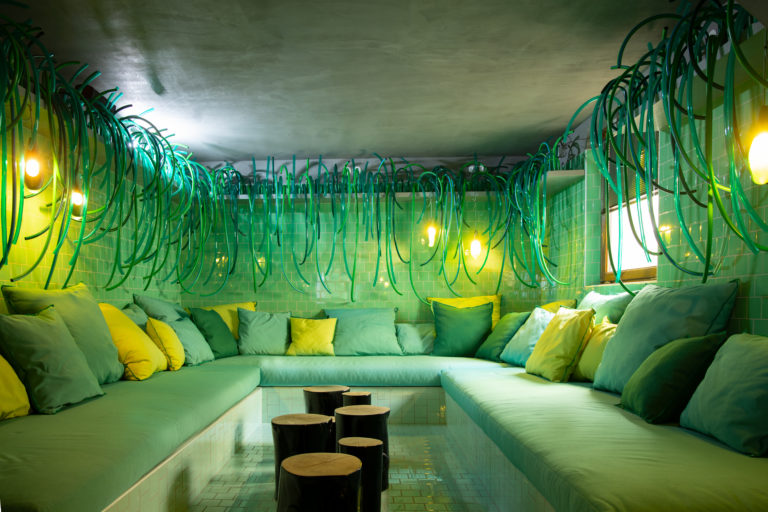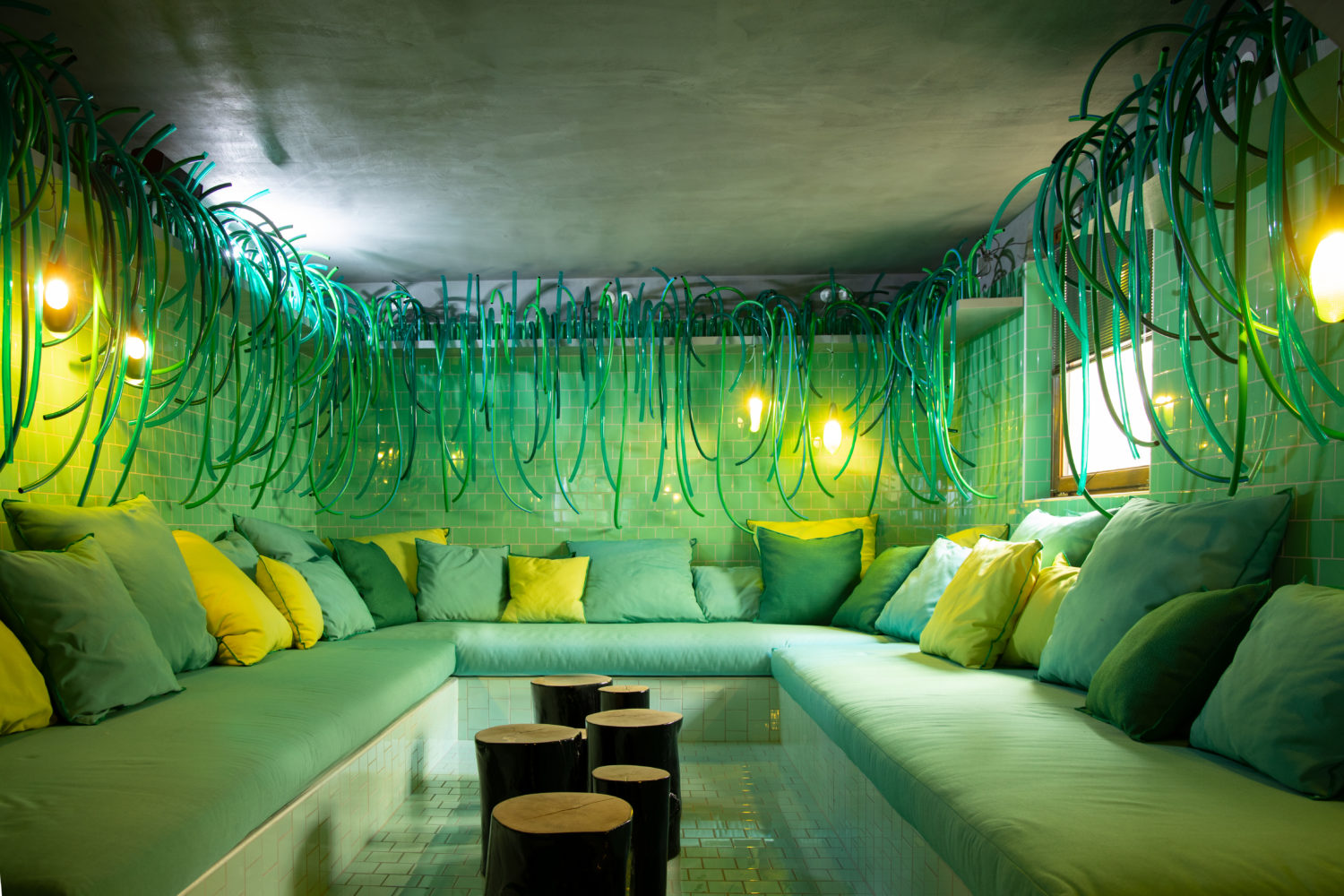 The heart of the 25hours Hotel Piazza San Paolino is a central core of sixty-six rooms (perhaps a devilishly clever spin on the overall theme) within an original monastery beside the San Paolino Church. This historic core extends into an annex with over a hundred guest rooms, some featuring balconies, along with a jaw-dropping apartment boasting a private garden and pool. Florence has never seen a hotel quite like this.
The hotel's centrepiece is the gorgeous San Paolino restaurant in a historical palazzo, serving locally sourced Tuscan fare. It also offers a courtyard garden, a molto sexy Negroni bar, and a neighbourhood grocery store, ensuring even the most forgetful packer can feel at home.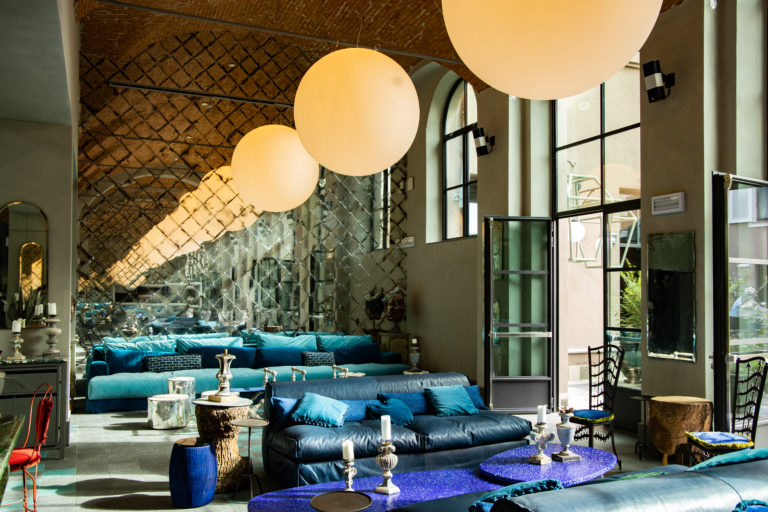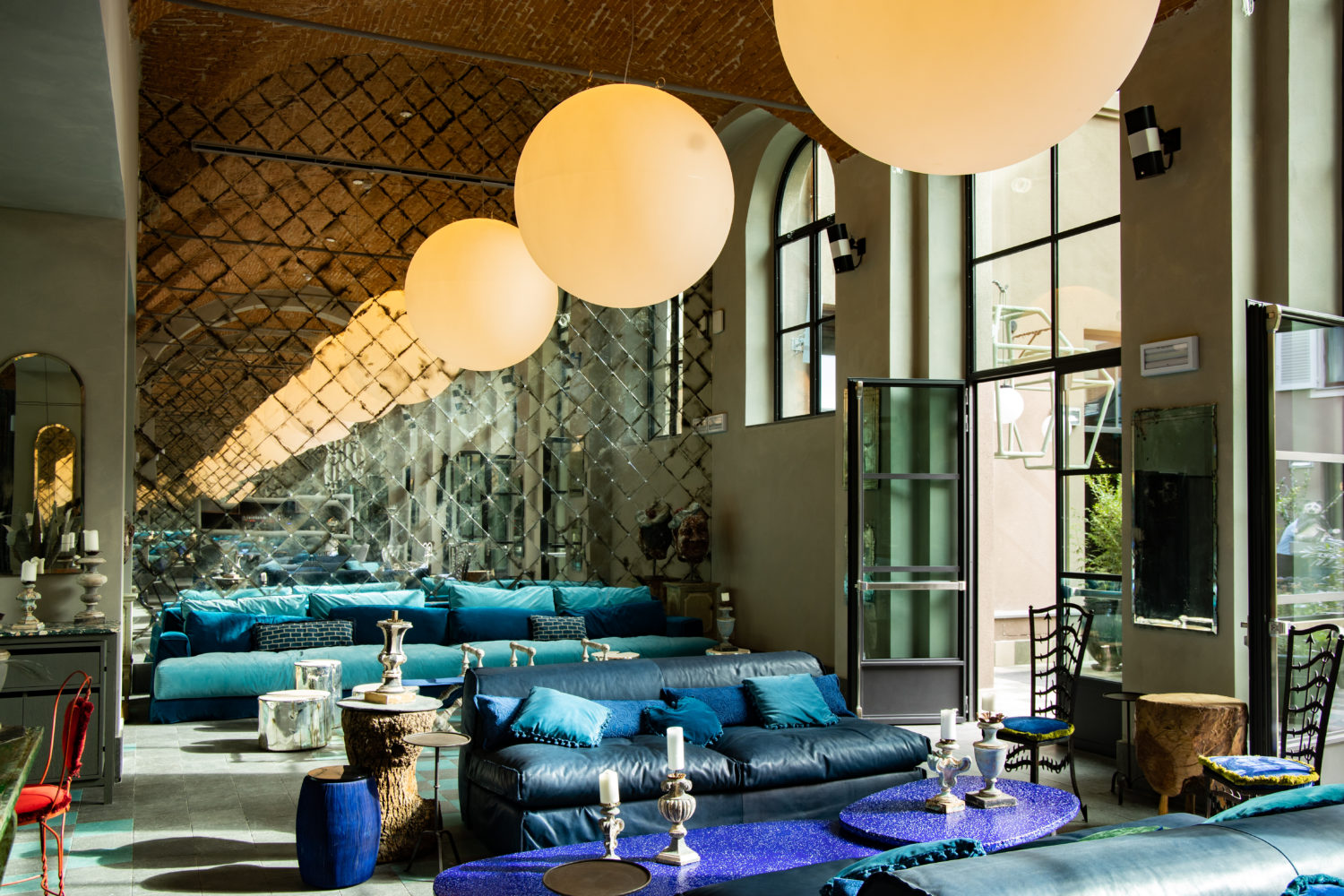 The rooms are like chalk and cheese; "Paradiso" boasts an ethereal aesthetic while "Inferno" features a bold red and black theme, gunmetal grey bed linen, and Seven Deadly Sins mobiles above the beds. Extravagant, yes. Tacky, not in the slightest. Worth mentioning are the Simmons mattresses, making guests feel like sleeping on a cloud, whether in Heaven or Hell. Rooms also include complimentary minibars, Bluetooth speakers and smart TVs.
A brick-vaulted screening room, Cinema Paradiso, further adds to guests' viewing pleasure, with films being showed every Sunday. There is also a well-stocked library featuring a billiard table, turntable, and a collection of vinyl LPs, spa complete with a Finnish sauna and Schindelhauer city bikes available for hire.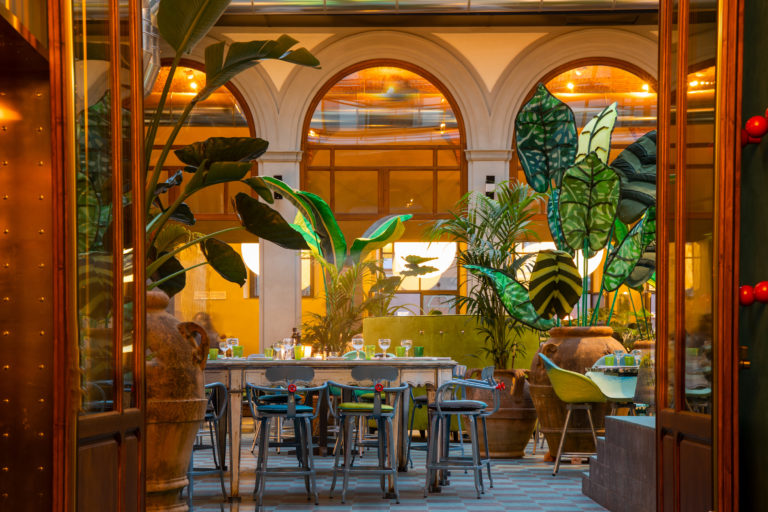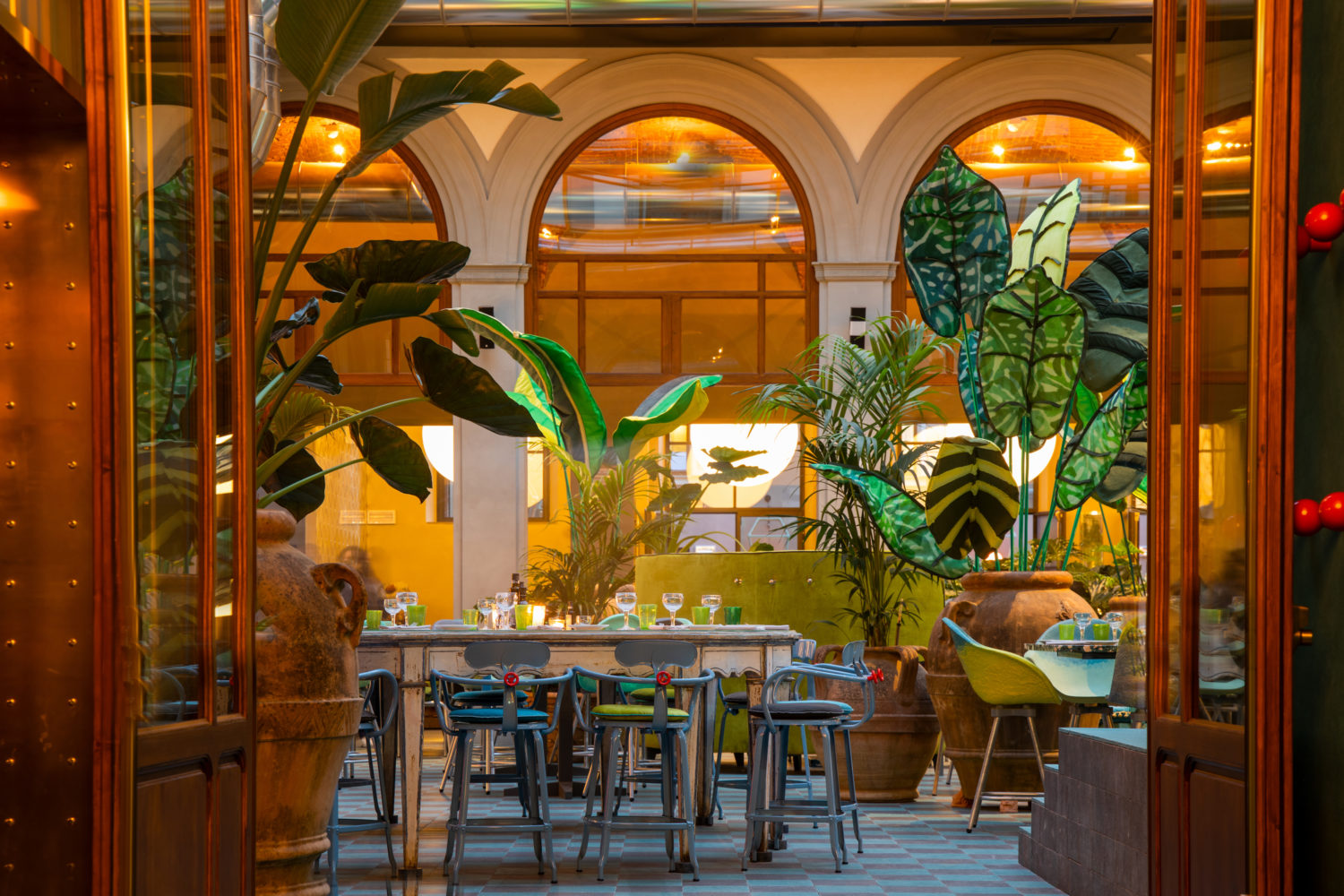 Nestled amidst a myriad of cultural landmarks, 25hours Hotel Piazza San Paolino is the ideal gateway to Florence's treasures, including the Uffizi Gallery, statues of Dante, the iconic Ponte Vecchio, and the magnificent Duomo. A mere 10-minute stroll away, a visit to Mercato Centrale – Florence's bustling gastronomic paradise – is an absolute must. As Christmas approaches, Piazza Santa Croce itself transforms into a Tuscan winter wonderland with its Christmas Market, making this a perfect festive getaway.
So whether you've been naughty or nice, headed for Paradiso or Inferno, every guest is guaranteed one hell of a good time.
25hours-hotels.com/en/hotels/florence/piazza-san-paolino
Piazza di San Paolino, 1, 50123 Florence