Islay is a whisky lover's paradise. A tiny island just 25 miles long and 15 miles wide with a horizon that bristles with the pagoda rooves of distilleries, all of which ooze the succulent scent of barley into the crisp, Hebridean air. All but one. The 1980's were a cruel time for the amber nectar industry, the kind of 'brand loyalty' that we see now simply didn't exist and other tipples became far more desirable to the consumer. Moreover, economic hardships in the early 1970's caught up with the industry, the story was a simple one; excessive expansion exceeded demand. By 1983 the output of Scottish whisky had plummeted from 206.6m litres per annum in 1978, to less than half of that in '83, just 93.4m million litres. For a small island like Islay, this was catastrophic.
1983 was a sad year, not just by virtue of those figures, but because the absence of appetite simply laid waste to the world of whisky. Many distilleries closed, including the greatly revered Port Ellen.
This tale does, however, have a happy ending because three years ago Diageo announced that following a modest little £35m investment, the stills at Port Ellen would once again spring into life and would again start producing the exquisite whisky for which it was so loved.
Port Ellen had not simply shut its doors in the classic 'mothballing' manner, where cobwebs are allowed to fall so thickly on the copper stills that they become layered in a kind of mourning veil. The distillery had undergone some fairly major changes, with buildings re-purposed or knocked down entirely.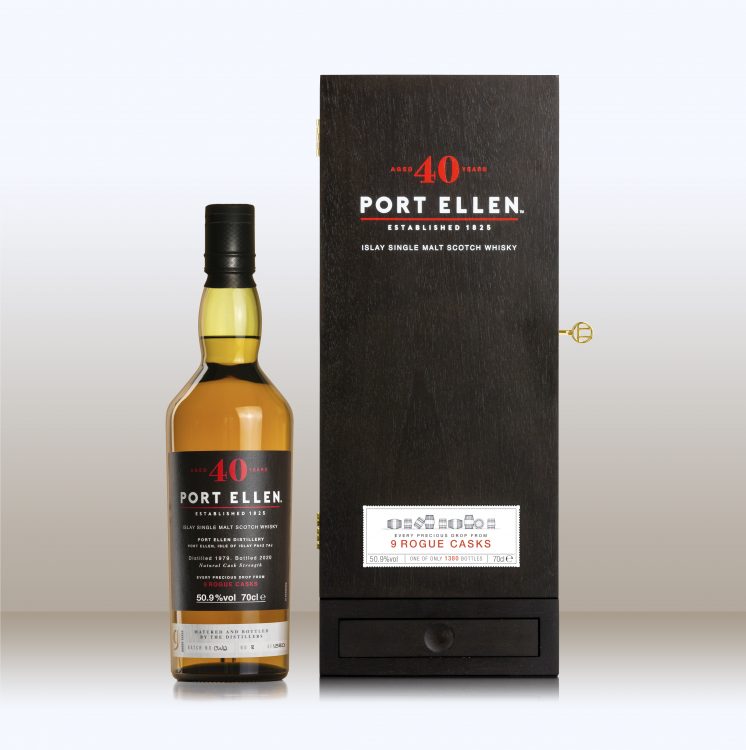 Diageo pledged to return Port Ellen to as-close-to-its-former-glory as possible, and blue prints of the original lay out have been meticulously studied and adhered to in advance of the grand reveal.
As the long, long awaiting run up to unveiling fast approaches, and in celebration of this impending return of the prodigal son, Port Ellen has released a new limited edition single malt Scotch whisky, the 'Port Ellen 40 year Old: Port Ellen's 9 Rogue Casks'. Just 1,380 bottles of this expression will be released from the extremely limited remaining stock of pre-closure Port Ellen whisky, meaning that this truly is a chance to own a bottle of history.
The bottles of this 40 year old have all been filled from nine remaining casks of this well aged spirit, meaning that this is amongst one of the rarest expressions to ever issue forth from Port Ellen throughout its entire lifespan. These surviving casks were amongst a tiny selection which had been earmarked in 1979 for possessing particularly unusual and appealing characteristics, which made that particular spirit stand out against the usual profile of Port Ellen. Forty years later, Master Blender Dr Craig Wilson has selected just nine of these casks to be strategically combined, and bottled.
A donation of 20 signed bottles including the Port Ellen 40-Year-Old bottle and bottles from Islay distilleries Lagavulin and Caol Ila will be donated to the Islay Feis Ile Committee. The 20 special bottles, worth a total value of £10,000, will be used to support fundraising activities to raise money for Islay based charitable organisations and community groups. Each of the 40 Year Old: Port Ellen's 9 Rogue Casks is priced at £6,500 and will be available globally through selected luxury retailers.