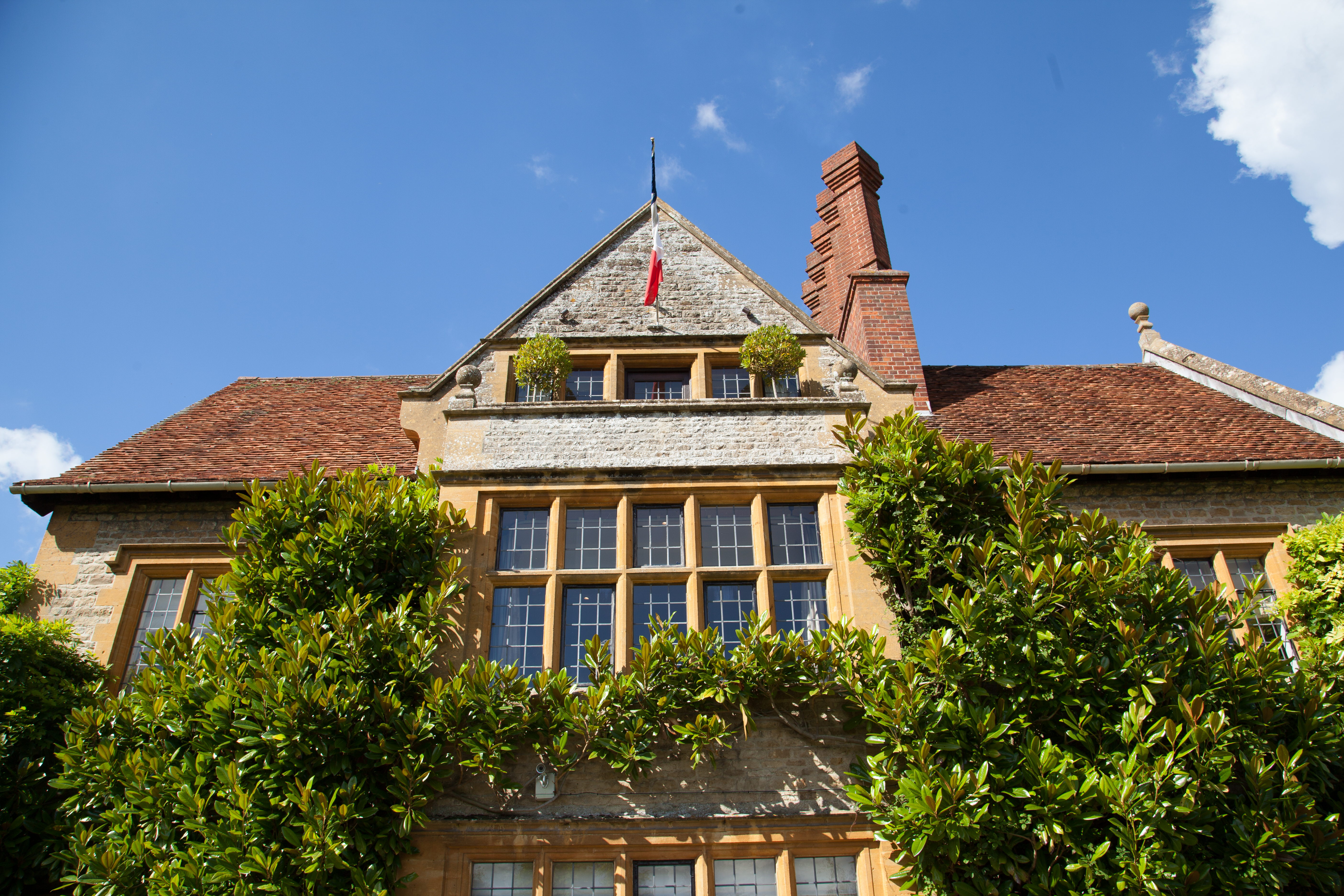 Situated in the stunning Oxfordshire village of Great Milton, Belmond Le Manoir aux Quat'Saisons offers one of Britain's very finest gastronomic experiences. The hotel received two Michelin stars in 1984 – remarkably the very first year of its opening – and, even more remarkably, has retained them ever since. From the moment our taxi began its journey up the tree-lined driveway it was not difficult to see why this magnificent location has garnered such fantastic acclaim.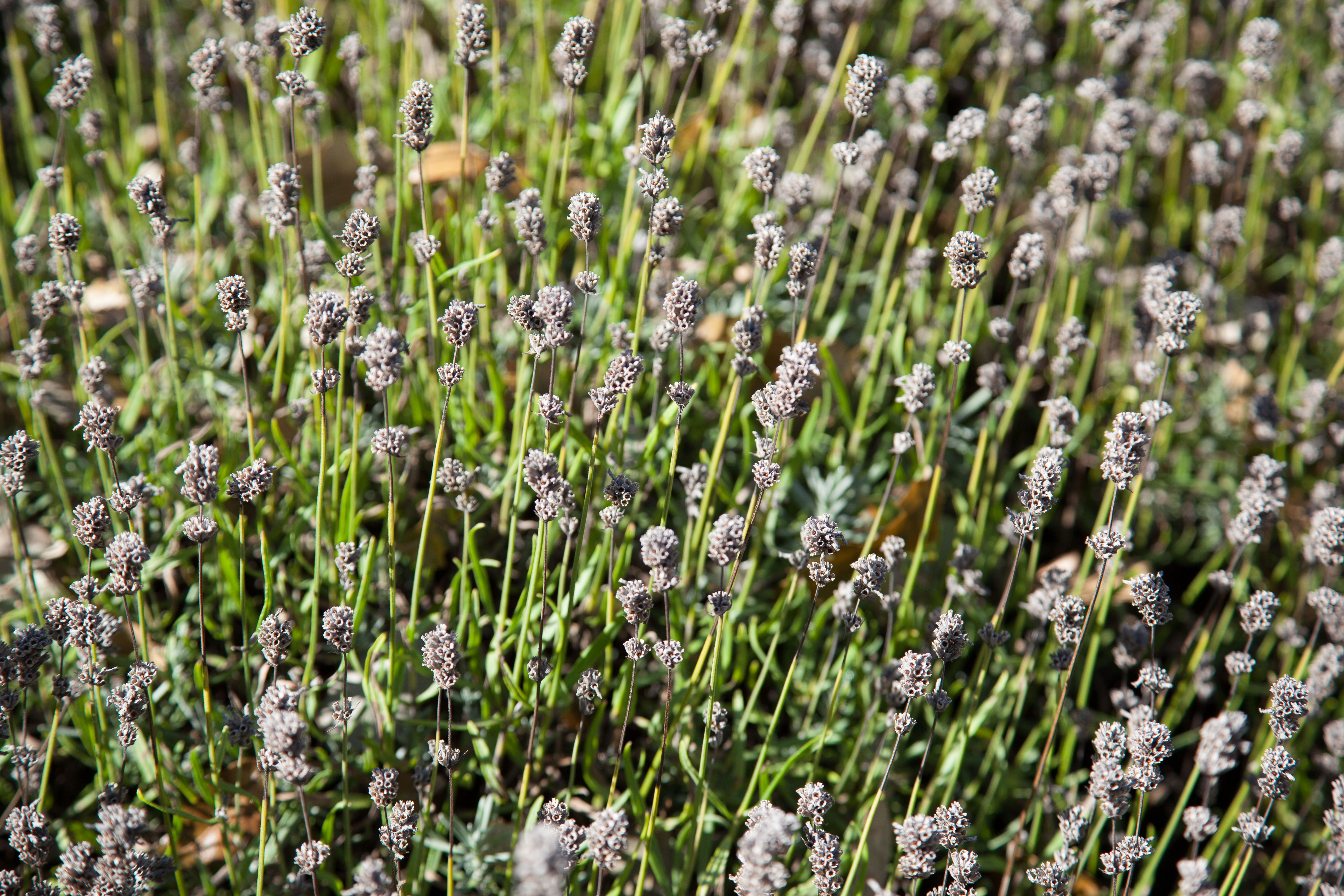 However, it is not only the hotel with its 32 individually designed, completely unique rooms and suites that have achieve such feats. It is not one sole component that has made this location into what it is today. Rather, it is one very talented man and his dedicated, inspiring and driven team of chefs, groundkeepers, designers, housekeepers and florists. In short, Raymond Blanc OBE and his team have created a true English gem that combines the freshest ingredients, all grown on site, with such fantastic French culinary prowess.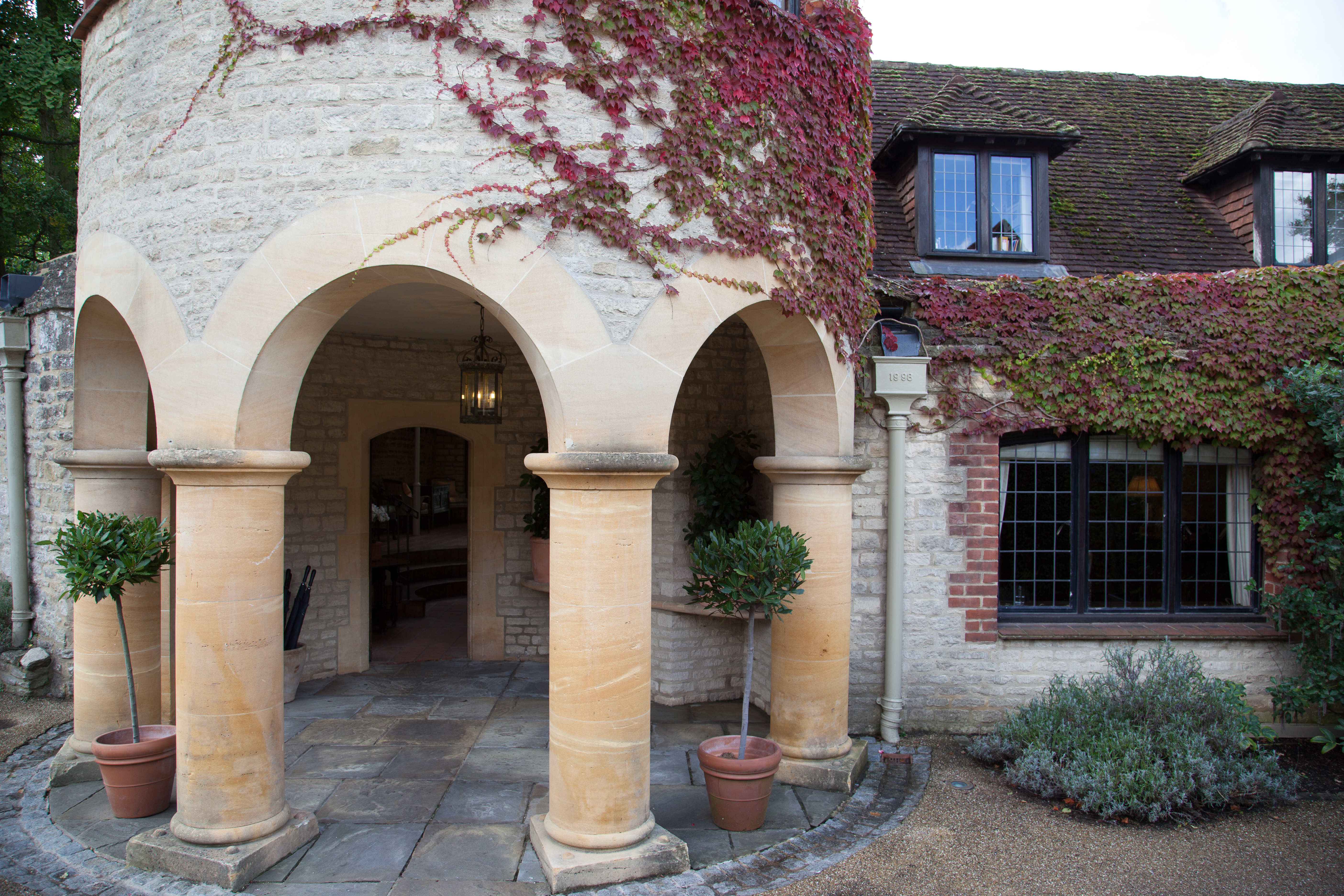 Imagine our excitement, then, when The Arcadia were invited to sample an intimate 'Creative Canapé' masterclass with one of Blanc's most trusted Cookery School chefs. If you like what you see and what you read this course has just launched for the Christmas party season and its only £185 per head for half a days tuition, tea & coffee and your very own course certificate! There's over 30 other courses to choose from and they're available to all ages and, more importantly, all abilities! They even hold four day residential courses if you fancy treating yourself to a five night stay in these incredible surroundings, including dinner in Blanc's critically acclaimed restaurant each night.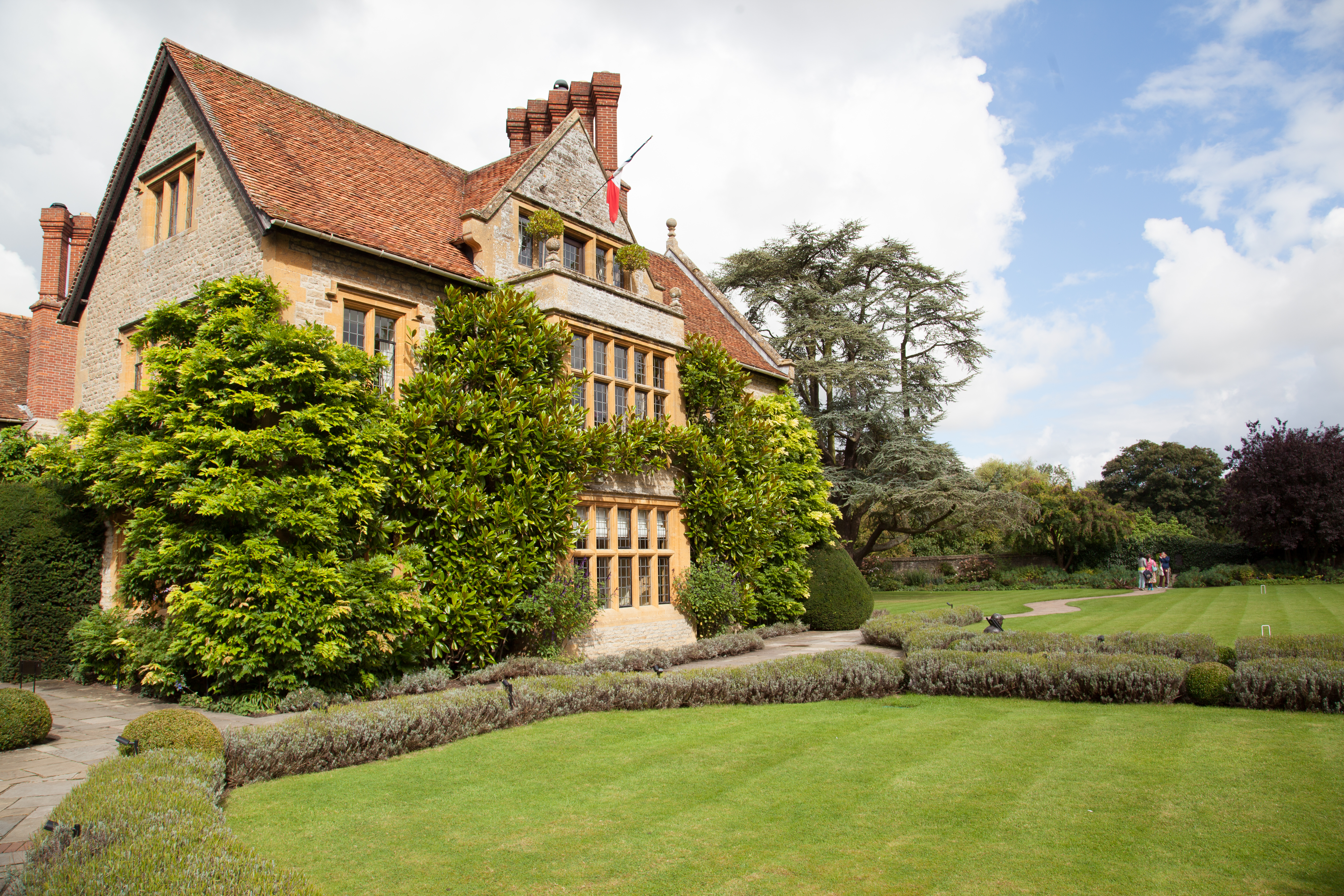 Sitting around an island counter in the Raymond Blanc Cookery School teaching kitchen, Head Tutor Mark Peregrine – who brings over 30 years' experience to the role – explained what we should expect from the day: a day that would consist of a masterclass in canapé creation, an extensive tour of the grounds, greenhouses and suites and that would end with a champagne afternoon tea in a glass-roofed conservatory from which the biggest dragonfly we'd ever seen would attempt, without success, to escape (although we managed to help the little guy out eventually). Peregrine then introduced his second in command and, without further ado, the class came to session.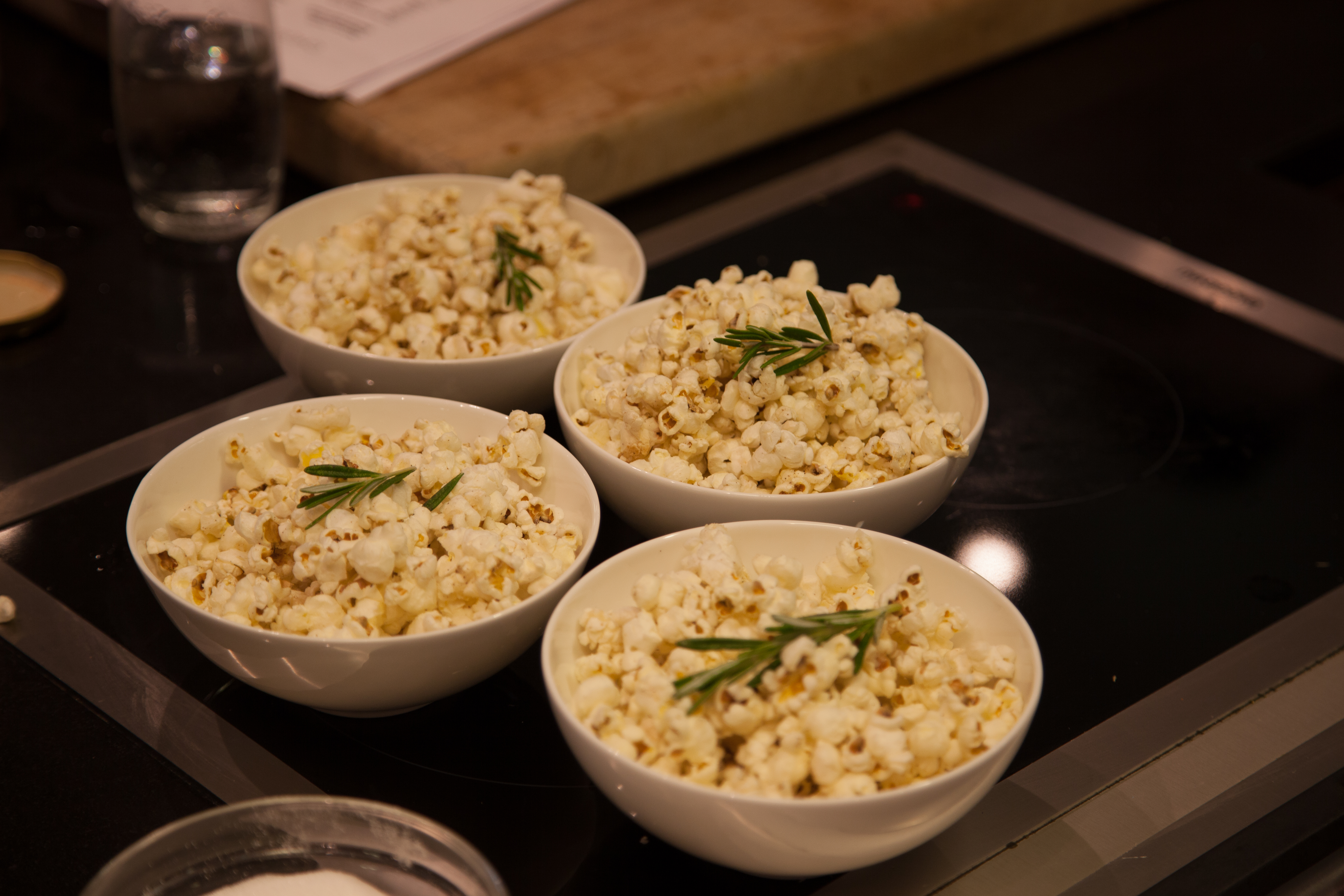 First up our tutor weighed out 300g of popping corn into 30g of olive oil in a large saucepan and gently melted 60g of butter, infusing with a generous handful of rosemary. This infused reduction would later be seasoned with two pinches of fine sea salt and one of cayenne pepper before being poured over freshly popped corn and combined with an abundance (100g) of finely grated 48 month aged parmesan cheese. Voila: your new favourite savoury popcorn is born. This popcorn should be prepared and consumed within the same day, although this will certainly not be a struggle due to its highly moreish qualities.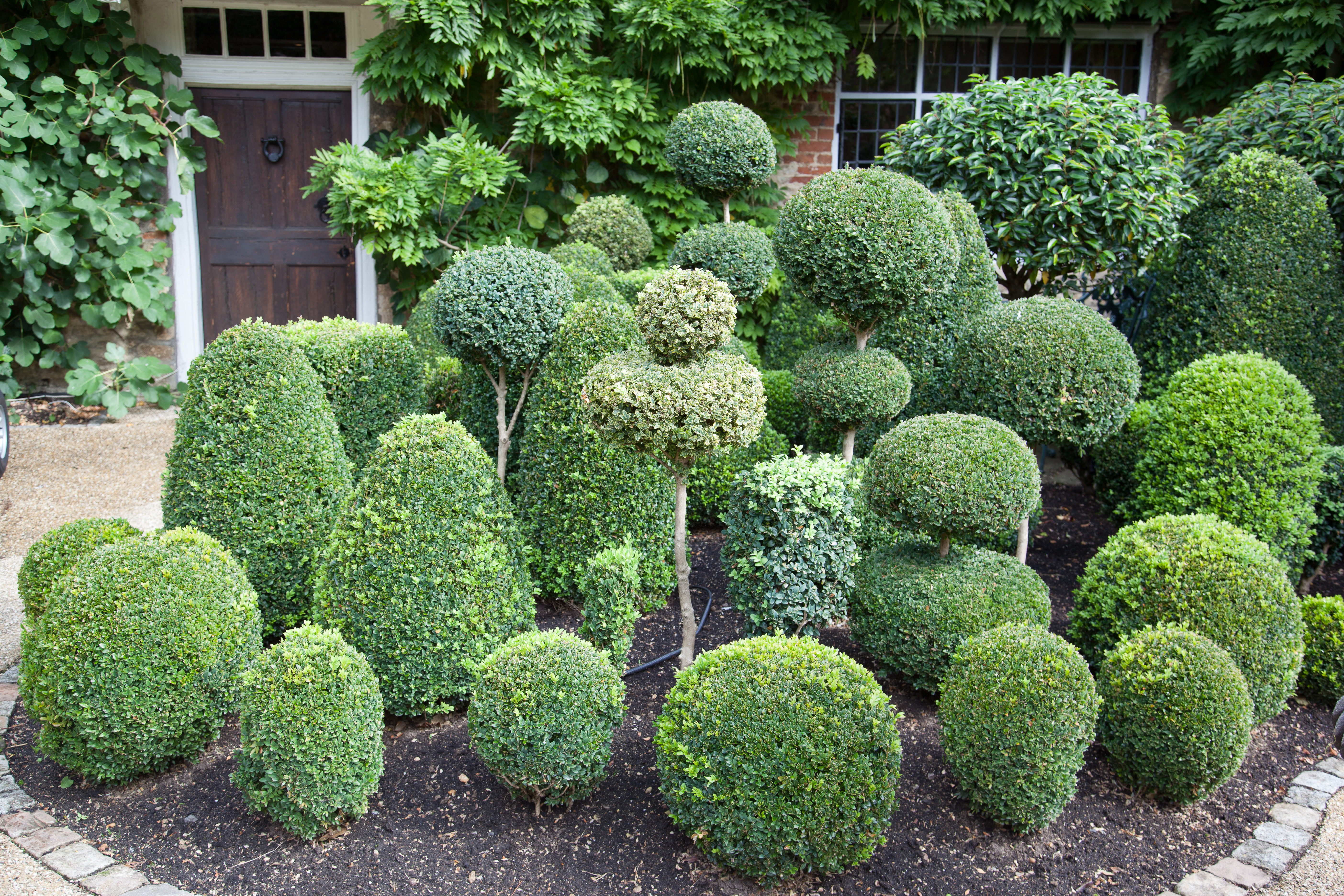 We then learnt how to make and pipe choux buns, or profiteroles as they're also known. These would not be your everyday chocolate and cream profiteroles though, after they had cooled, and after the smell of that freshly baked goodness had finished wafting across the kitchen, they would piped with freshly prepared chicken liver parfait and mango chutney. This isn't something one would usually choose to consume before 11am but they went down a treat, regardless.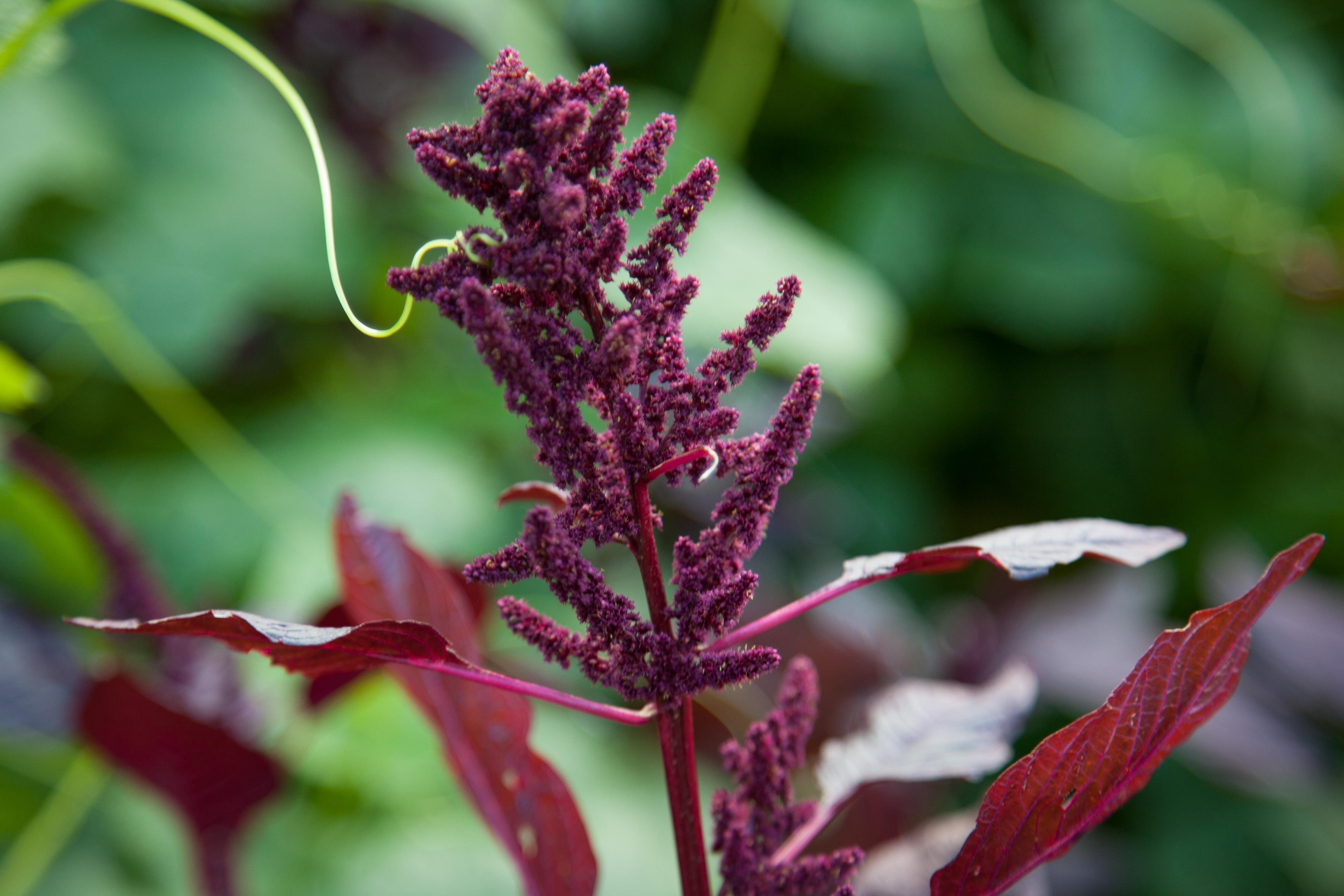 My favourite dish of the day included a Blue Peter element in its creation. After the organic salmon had been prepared and marinated it was swapped out for an earlier prepared roll – after wrapping the salmon in clingfilm and compressing it, the roll must set in the bottom of a fridge for about 12 hours. This is then arranged on a cocktail-sized blini with creme fraiche, caviar and dill, creating an interesting blend of textures that dance on your tastebuds.
The Goats Curd on oat biscuits will not be a canapé for everyone. During the class, elements of the dish divided opinion: the goats curd, when following the recipe, contains garlic and this is then garnished with the even stronger taste of dried Kalamata black olives. It's a very interesting canapé though and, as a finished product, then strong flavours really seem to compliment each other.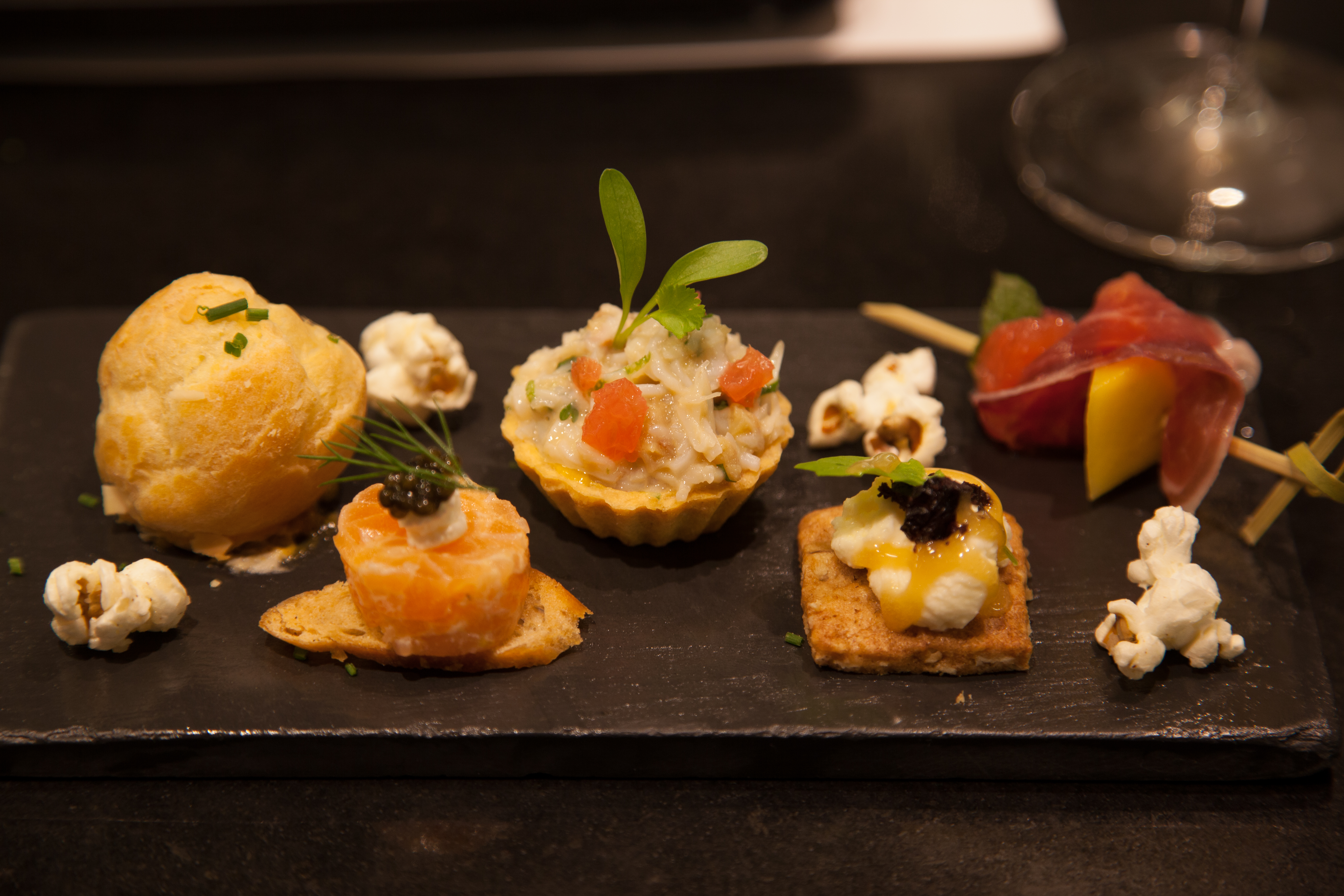 The course in full swing I began to appreciate how useful such an experience is, especially around the holiday season. Raymond Blanc's chefs provide you with the skills necessary to throw some seriously amazing dinner parties and gatherings, even providing you with a recipe book detailing each and every canapé you learn and taste throughout the day.
Two more canapés remained: the simple, but delicious fruit sticks comprising of melon, grapefruit, mint and parma ham and the complex crab salad tarts. The latter combined white and brown crab meats with natural yoghurt, coriander and lime. In the recipe handout, Raymond Blanc's introduction poignantly encapsulates what the RB Cookery School is all about.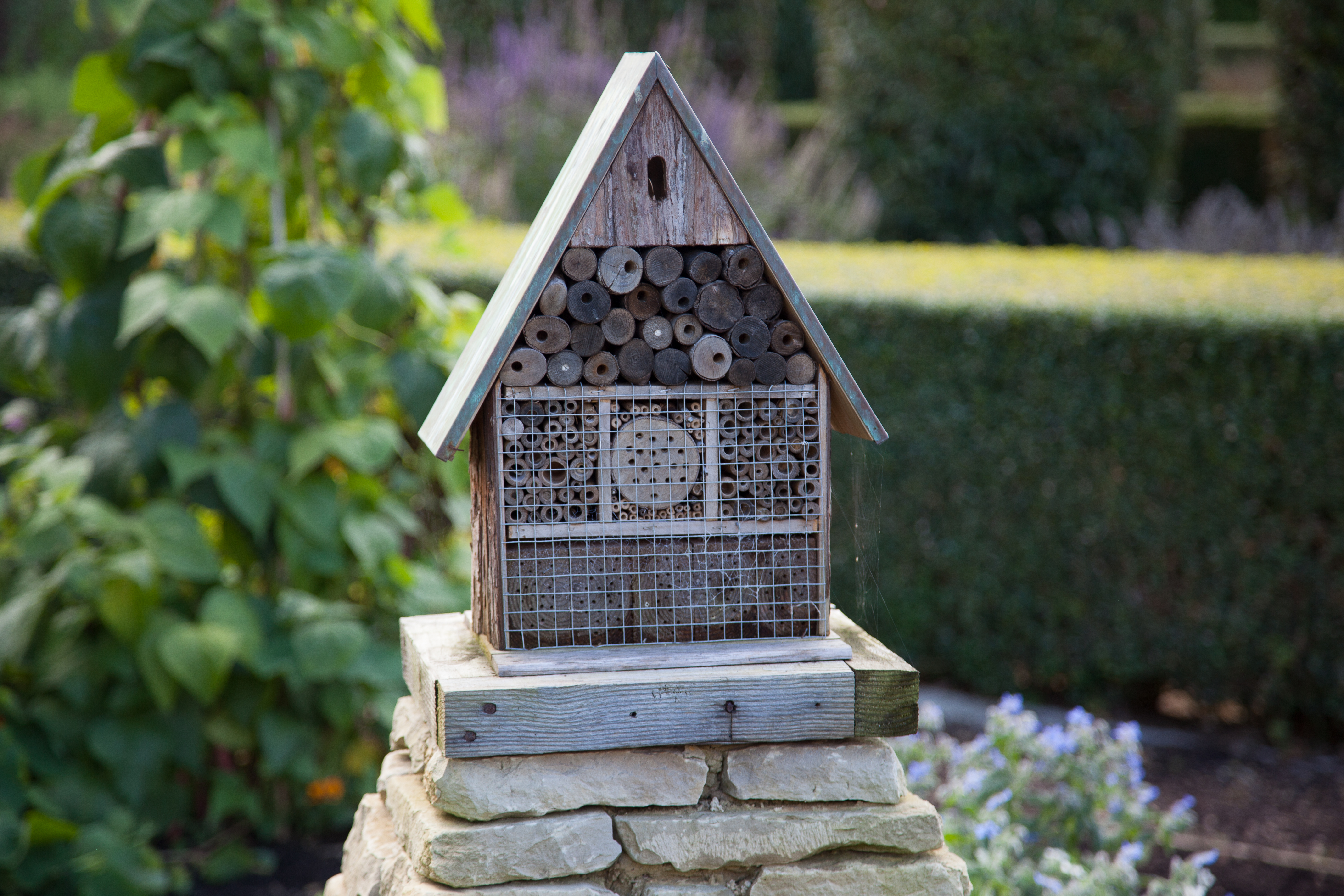 "Way back in 1977 I started to play with flavours from elsewhere and one of my first dishes was crab, avocado salad with grapefruit and ginger. I remember it well… But it was also the ugliest dish I have ever made as the salad was finished off with a ball of avocado topped with a slice of black olive; it looked like a monstrous black and green eye. Many better versions followed with mango and grapefruit, etc. That is the was dishes progress, to always look at a dish with curiosity".
'Creative Canapé' certificate, framed and in our bags, we reluctantly left the kitchen, meeting with one of the groundkeepers in the driveway. We wandered slowly through the grounds, enjoying the splendidly warm sunshine.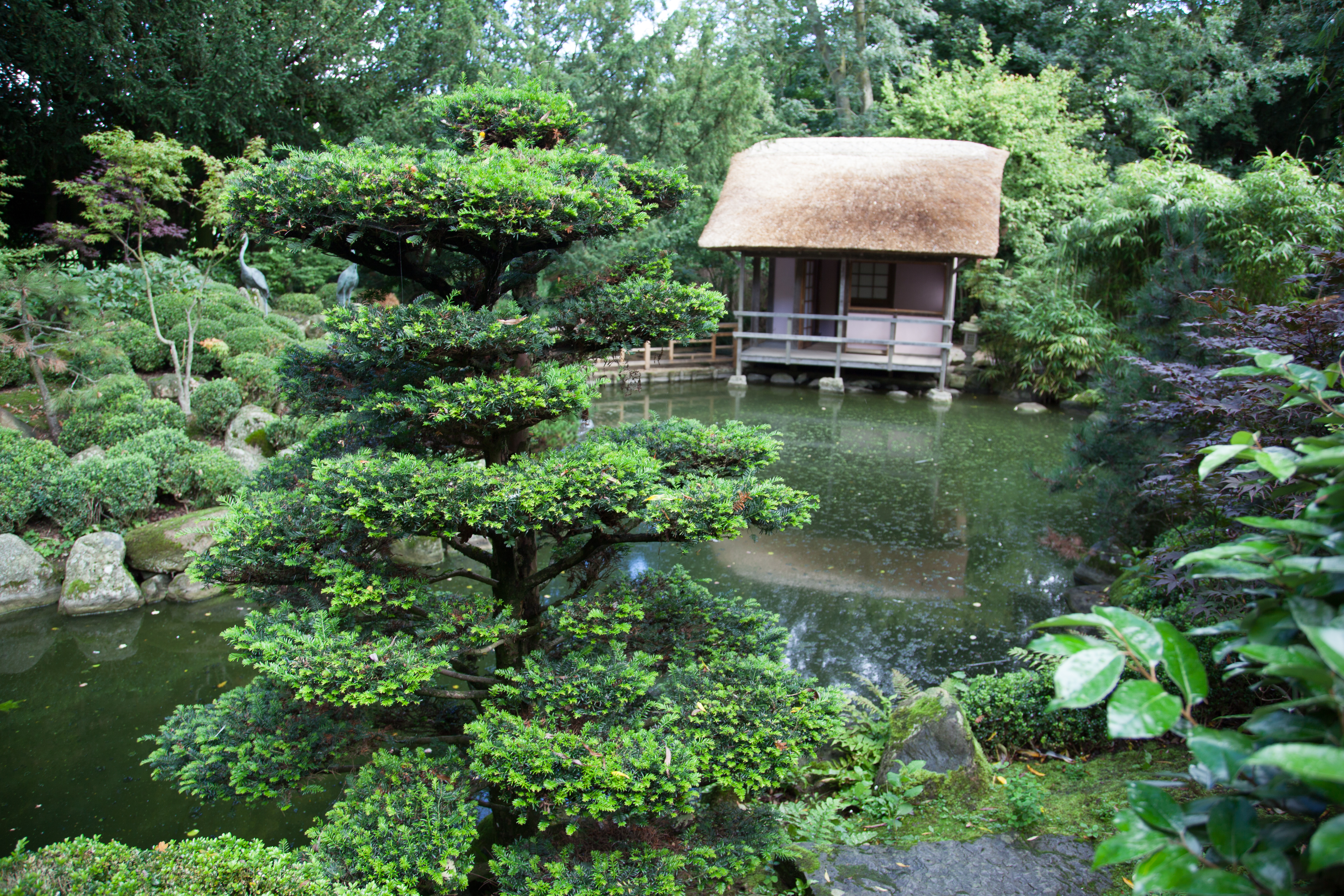 When we reached the main garden we were told a story of how Blanc had the designers change the garden layout. The path had previously run in a straight line through the garden on which people would, or so Blanc believed, hurry through with heads to the ground. This was not something Blanc wanted to encourage and so he replaced this straight line with a curving, meandering walkway.
"We wish to create a soothing, calm environment. The curved paths are here to make you slow down and take in your surroundings". Lined with lavender bushes the garden walk is quite the sensual experience. We paused for a while, sitting on bench made from up-cycled champagne boxes and bottles. As I looked around the carefully tended gardens other little intricate details began to shine through: a peacock monument, a ceramic mural on the floor, rich floral scents and bright, bold, beautiful colours.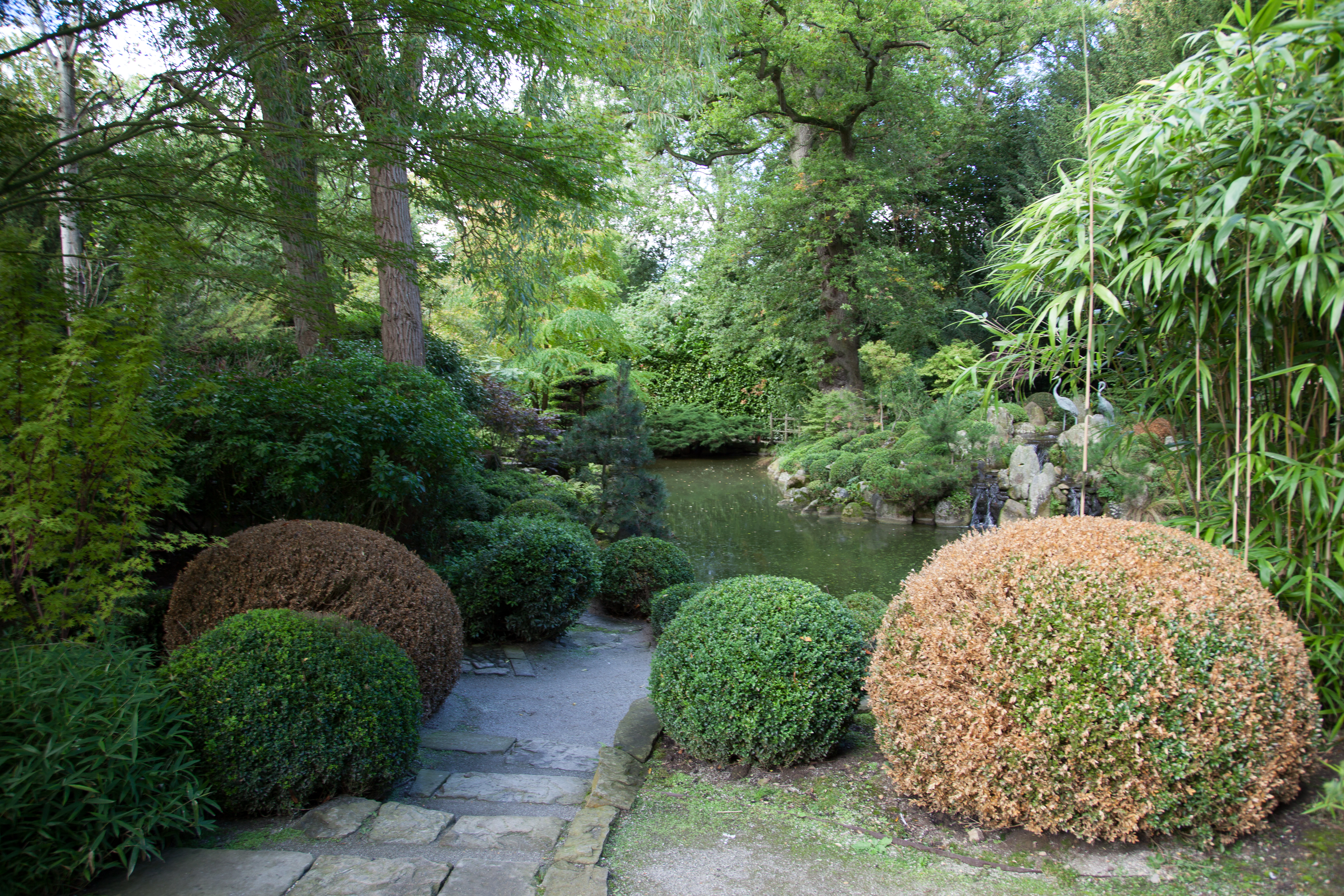 Moving through the gardens, we saw an abundance of fresh fruits, vegetables, salads and fungi. The 100% organic vegetable garden supplies 90 types of fresh salads and vegetables to the restaurant, including some varieties indigenous to South-East Asia.
The two acre garden is overseen by a bronze scarecrow modelled on Raymond Blanc himself! Further into the grounds, and following Japanese superstitions, you cross and oak bridge over water in an act of "leaving the devil behind you". Stepping stones are sunk into the ground purposefully to "increase mindfulness" and add to the peaceful tranquility of the Japanese Tea Garden, complete with a water basin where guests may clean their hands in ritual ablution.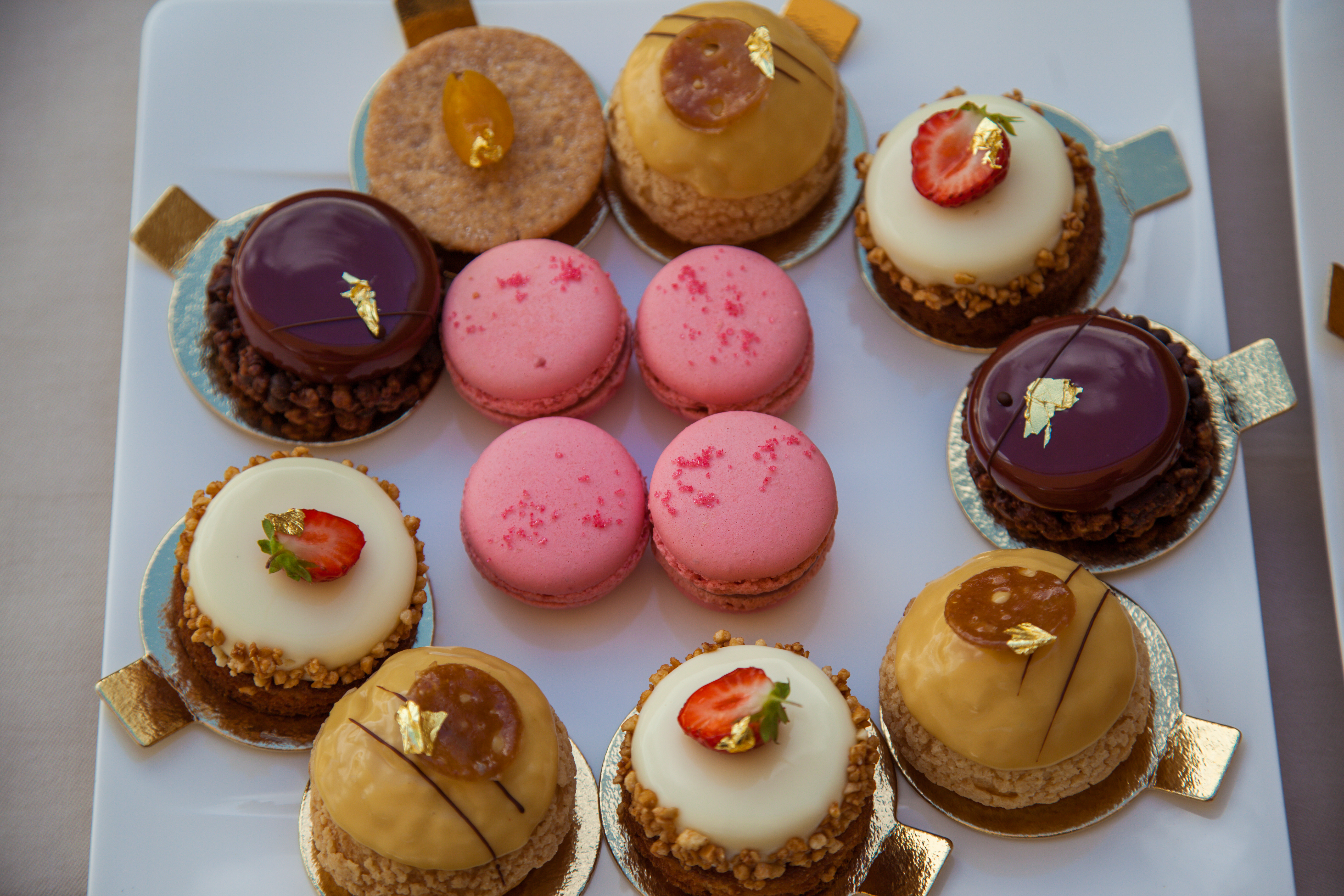 Belmond Le Manoir aux Quat'Saisons is an absolutely incredible experience. Whether you're dining, enjoying a fantastically romantic weekend away or indulging in a Cookery Tuition experience day, you are guaranteed to leave feeling refreshed, enlightened and educated. You will want to return time and time again and, like me, you will look for any excuse to do so.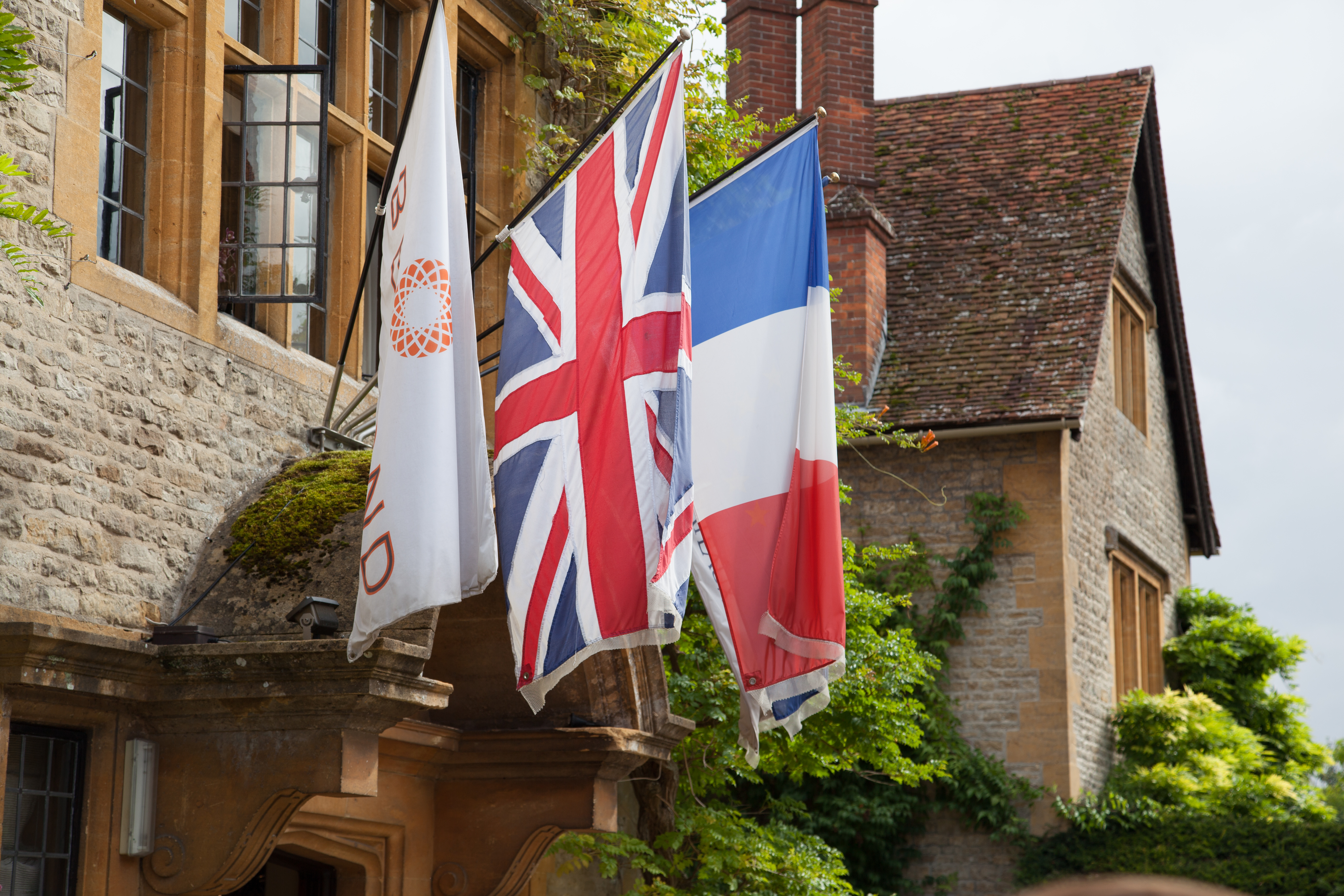 Belmond Le Manoir aux Quat'Saisons
Church Rd, Great Milton, Oxford OX44 7PD
01844 278881
Photography: @spdibley