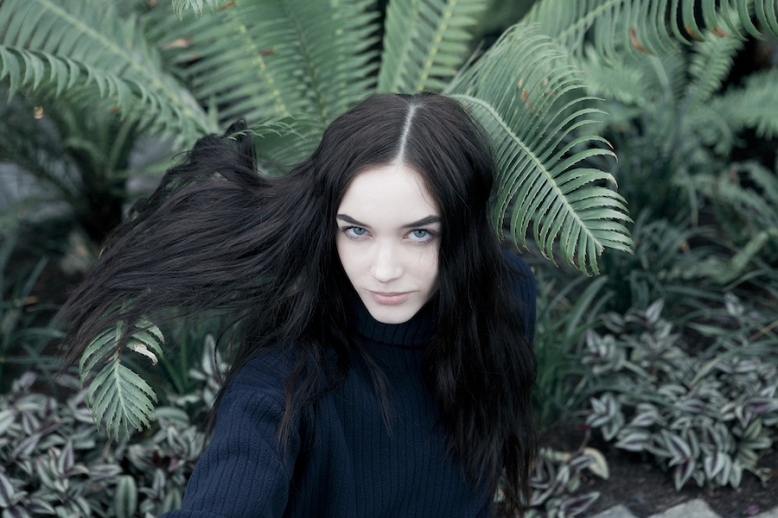 Elizabeth Jane Bishop leads a rather extraordinary life. In the real world, she is a model who is signed to the prestigious Elite London Special Bookings. Online, she is an Internet sensation, and is followed by hundreds of thousands of people.
The Internet is a precarious tool and those with a high-profile online presence have the luxury of being selective with what they post. They only show us what they want us to see. This is particularly true in the case of Elizabeth Jane Bishop, although her beautiful face is plastered all over the Internet; she still remains an enigma to most. We took this hyper reality dream girl out of the screen and into the real world to find out more about the real Elizabeth Jane Bishop.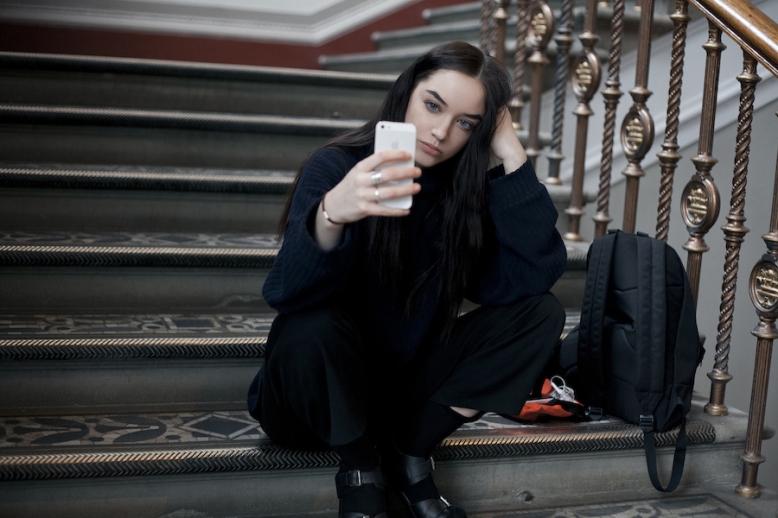 It was a Saturday morning and the Victoria & Albert museum was bustling with tourists and art lovers alike. In the car en route to the museum, Elizabeth had texted to say that she had arrived early and was waiting in a nearby coffee shop. I was instantly impressed by her organisation.
Photographer Jade Sukiya, Fashion Editor Jay Best and I were positioned at the entrance of the highly anticipated and critically acclaimed Alexander McQueen: Savage Beauty exhibition, waiting for Elizabeth to appear from another entrance of the museum.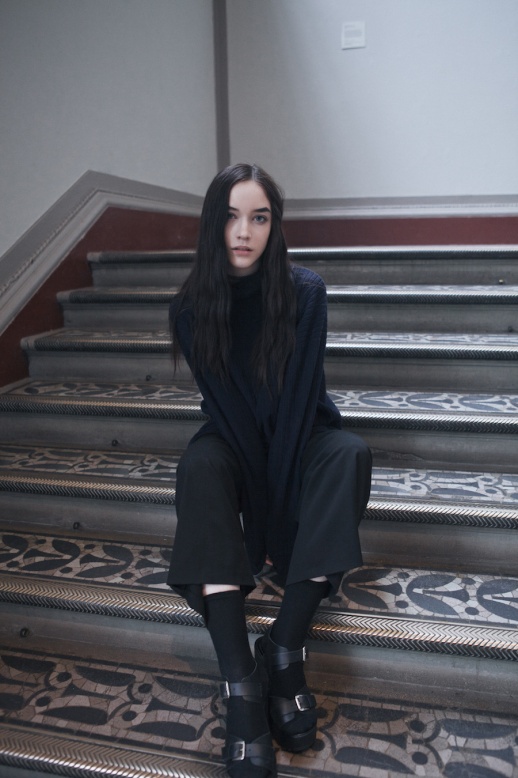 I spotted Elizabeth instantly; she shone out effortlessly amongst the sea of faces. My first thought was that she looked like a vintage china doll; there was an undeniable delicacy to her willowy figure and porcelain skin. She had naturally plump lips that were the colour of pink roses; they were a stark contrast to her ethereal azure eyes. As she greeted us in turn with a warm hug, her mass of poker straight hair tickled my nose.
She was an understated vision in an oversized Tommy Hilfiger heavy knit jumper and a classic camel DKNY trench coat.
Elizabeth smiled warmly and said: "I've literally researched everything in the itinerary and it all sounds perfect for me. It's like you got inside of my head and knew all my favourite things."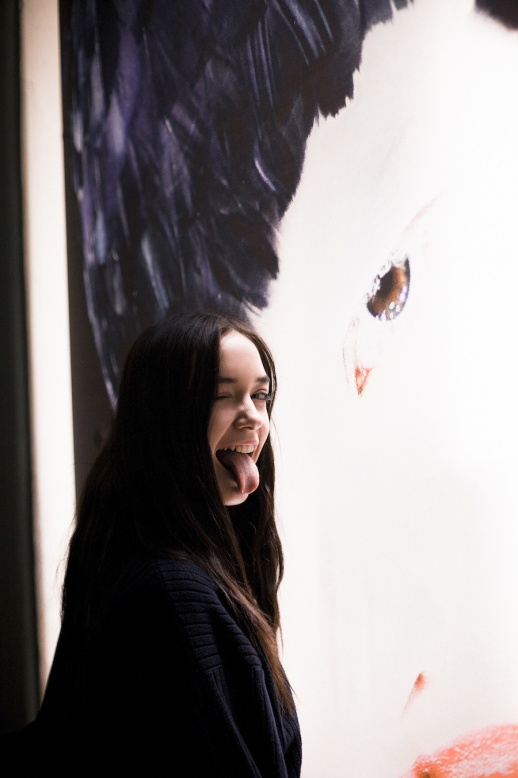 We didn't have long to talk before we were ushered into the darkness of the exhibition. I don't want to give away too much and ruin the experience for anyone who is yet to visit the exhibition, however I will say that it was one of the most spectacular exhibitions I have ever seen.
The beauty of the exhibition is overwhelming, so much so that as I walked from room to room, I could feel my heart beating inside my chest with anticipation.
Savage Beauty is the first and largest retrospective of the late designer's work to be presented in Europe. It showcases McQueen's visionary body of work but it is so much more than that. It takes you on a journey into the chaotic head and heart of one of the fashion industries most dramatic and enthralling visionaries.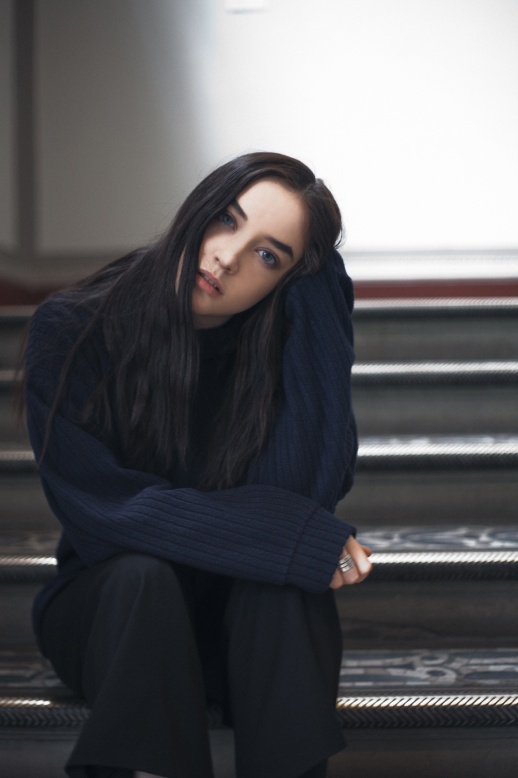 There is a vast array of McQueen's magical works on display, spanning from his 1992 MA graduate collection to his unfinished A/W 2010 collection. The exhibition stays true to McQueen's reputation for creating beautifully outrageous spectacles. There is exquisite tailoring, spectacular gowns and paradoxical themes throughout, such as; freedom and captivity, lightness and darkness, melancholy and beauty.
The exhibition was provocative and enabled our imaginations and curiosities to run wild. We instantly became utterly lost in the tragically beautiful world of McQueen.
Some time later, we emerged from the museum, blinking in the bright morning sunlight. As Elizabeth reflected on the exhibition, she exhaled, then said: "Wow, I don't even know what to say, it exceeded every expectation. McQueen has left a hole in this industry that can never be filled."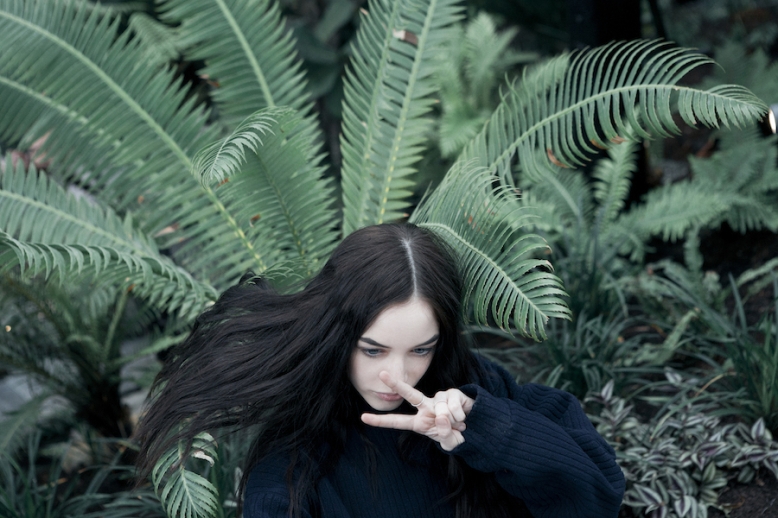 Moments later, we were in the back of a car, weaving towards the skyscrapers of the City of London. Our driver dropped us outside the imposing glass façade of Sky Garden.
The wind had picked up and Elizabeth's long black hair whipped her face like long black ribbons. The wind was unbearable, so much so that we began to run towards the entrance to avoid getting blown away. As we ran, I could hear Elizabeth's cackle ringing in my ears; it was as infectious as a child's, I couldn't help but smile.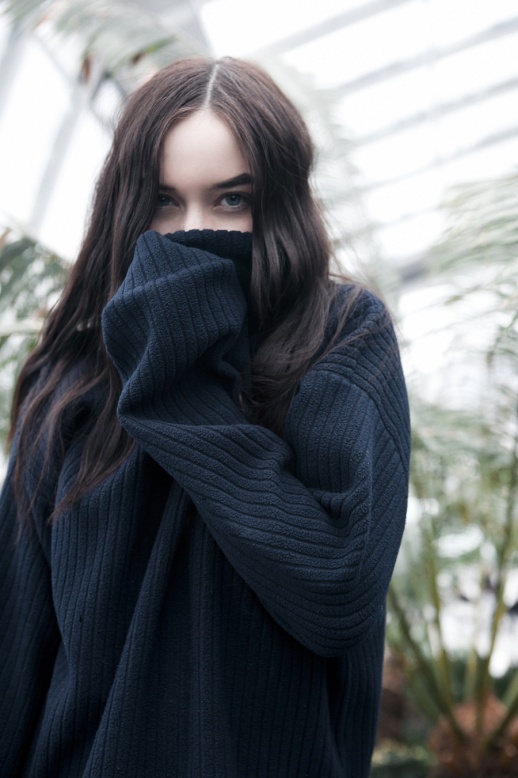 Sky Garden is a place like none of us had ever experienced before. It spans three storeys and offers unrivalled 360 degree views of London's glittering skyline. It has exquisitely landscaped gardens, filled with luscious green plants and vibrant flowers in a rainbow of colours.
Elizabeth quite literally screamed as we walked through the gardens, her ice-blue eyes were alight with delight. She turned to me and said sweetly: "This is truly the most beautiful place, to be surrounded by all these plants is my dream. I can't thank you enough for bringing me here."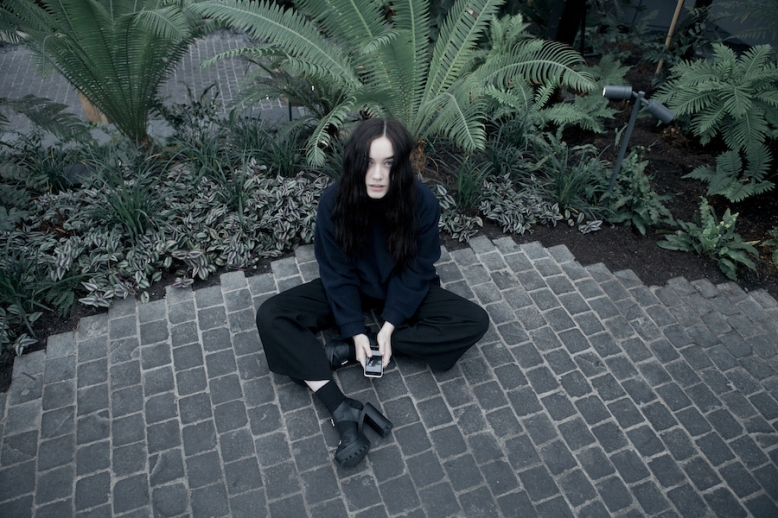 We braved the treacherous winds and ventured out onto the open-air terrace. We stood side-by-side, left utterly speechless by London's beauty. Sky Gardens offers visitors the opportunity to experience London from a completely different viewpoint. We were up so high that London was spread out intricately below us; it was a magical sight to see such a bustling and powerful city from the peace of the sky.
We made our way to the Darwin Brassiere where we had a table booked for lunch. Darwin is a quintessentially quietly luxurious restaurant that serves the very best of seasonal, homegrown British ingredients.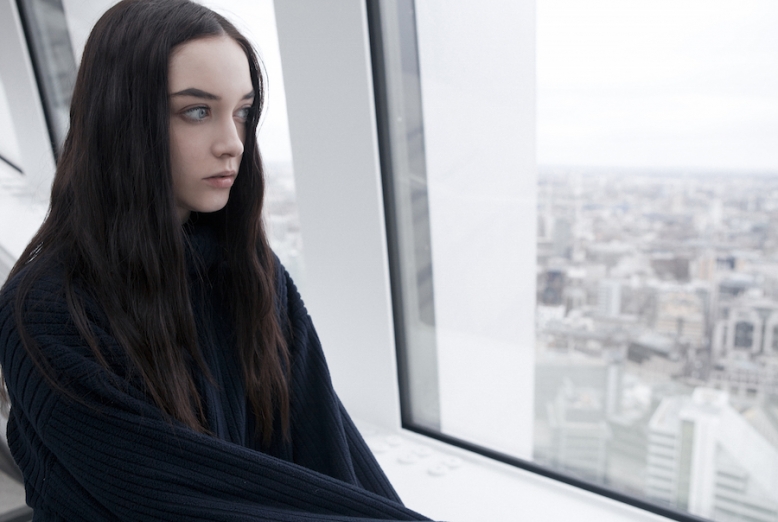 We were offered the best table in the house; it was a corner table and offered outstanding and uninterrupted views of the Thames.
Darwin's manager Yannis came over to introduce himself. He presented us with a bottle of Pinot Grigio on ice. Elizabeth's face lit up like a Christmas tree as she took her first sip of wine. She licked her lips, then said: "It's beautiful, my absolute favourite!"
Yannis passed us our menus and Elizabeth barely looked at hers. She giggled softly, then in hushed tones, she said: "I've already looked at the menu extensively online yesterday, I know exactly what I want."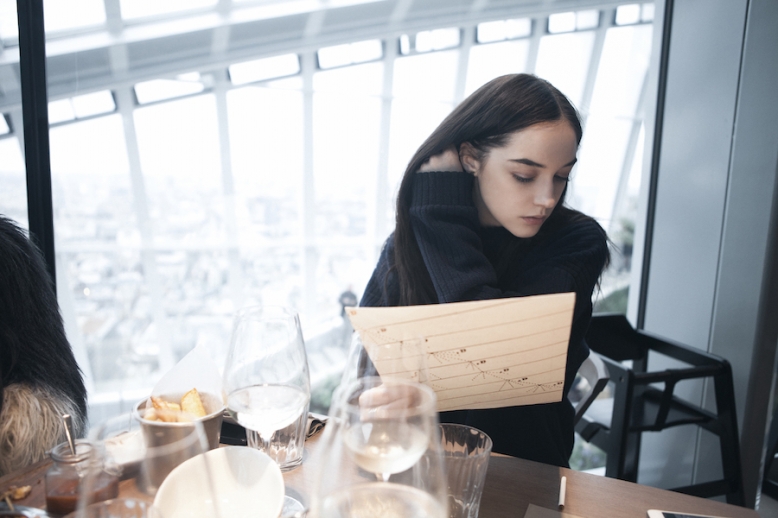 We placed our orders and tucked into the bowl of salty olives and breadbasket that had been laid before us. Elizabeth tore off a chunk of bread without abandon, layering it with thick golden butter before sprinkling shards of salt crystals on top.
Our starters arrived and Elizabeth's eyes widened in awe as a luxurious plate laden with six fresh Rock oysters was placed in front of her. They were glossy with shallot vinegar and lemon. Elizabeth looked lost in thought for a moment, she bit her lip lightly then said: "To Tabasco or not to Tabasco?"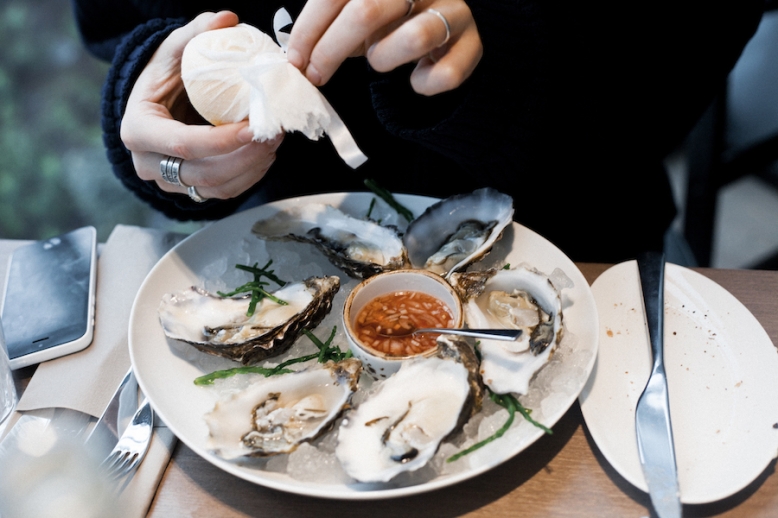 She tapped the bottle on the table before suddenly popping off the lid and dousing her oysters with the fiery red liquid. She tipped the oysters down her throat, swallowing them whole like a true professional.
Suddenly her eyes widened once more in alarm and she coughed. Clouds of pink rushed to her porcelain cheeks, she laughed heartily and said: "Wow, I have never had Tabasco before, it is intense."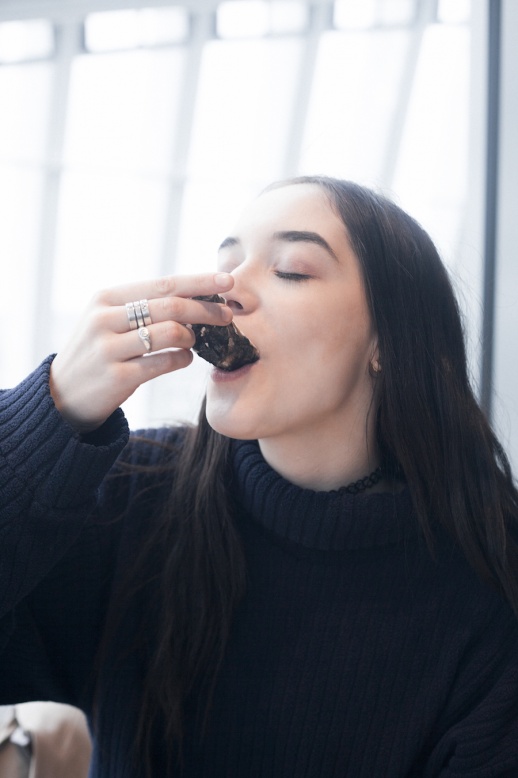 We sipped our glasses of wine and the topic of conversation soon turned to men who took our fancy. Elizabeth sighed deeply, leaning into the table, as if to reveal a secret. She smiled softly and said: "I love people who others would consider 'weird looking'. I love John Travolta but not as a young man, I love him how he is now, toupée and all."
A waterfall of dark hair fell across her face, she tucked it behind her ear with her delicate pale finger.
She said: "I've always had a real thing for Noel Fielding, I can't tell you how often I have dreamt of our wedding. We would probably be in black leather blouses and disco trousers."
She added: "When I was younger, I begged my mum to take me to see Mighty Boosh Live. I was so overwhelmed to be so close to Noel that I sat in the audience and cried the whole time."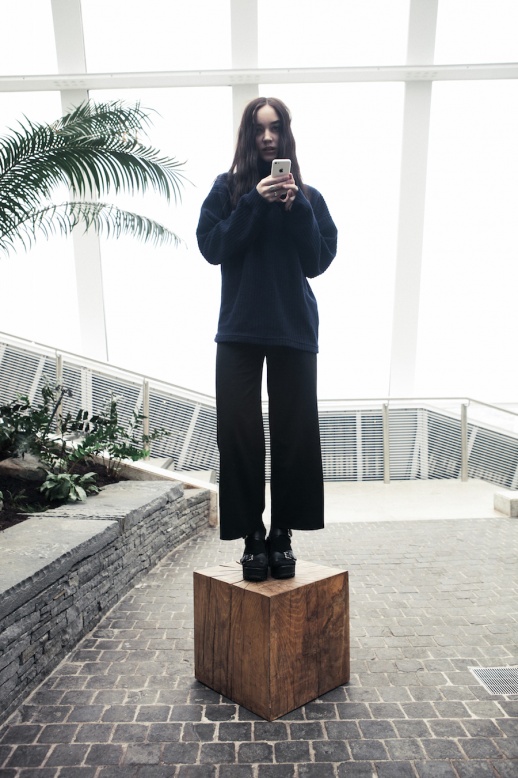 Elizabeth took a sip of her wine, then said excitedly: "Oh I adore Natalie Westling she is so beautiful and so effortlessly cool. I really admire how she's achieved global success at such a young age but seem to remain so humble."
Our main courses arrived; each dish was more spectacular than the last. My "Rhubarbs" Handmade Beef Burger' was made with beef from the Goodwood Estate, club sauce and dill pickles on a golden toasted brioche bun. It was accompanied with creamy house slaw and a basket of salty chips.
Elizabeth tucked in to her bronzed salmon fishcake with its rich sorrel velouté. She placed a forkful of pink salmon in her mouth and her eyes rolled back in her head, she exclaimed: "God, this is divine."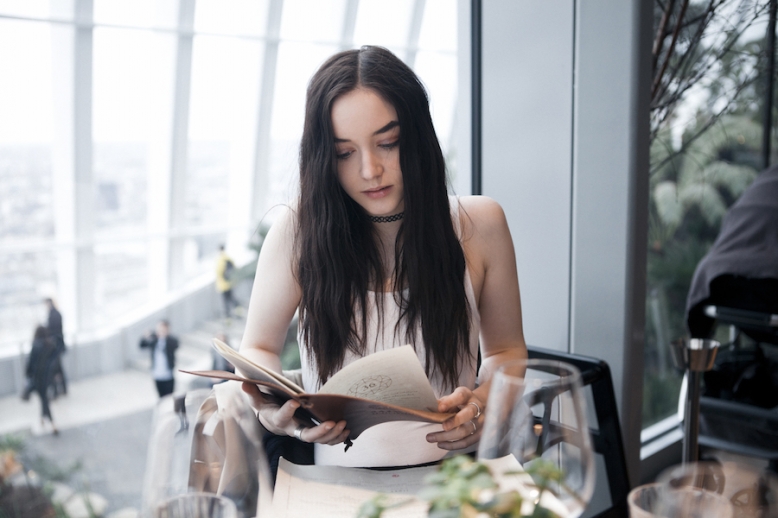 We had cleared our plates in mere moments, our eyes firmly set on the dessert menu. We ordered a towering Knickerbocker Glory and a Chocolate Pavé. The desserts arrived and they were absolutely incredible. The Chocolate Pavé was rich and decadent with a crisp biscuit base and a creamy banana and salted toffee ice cream.
The Knickerbocker Glory was a tower of white ice cream dotted with sweet treats. Elizabeth tucked in with the enthusiasm of a child, licking her spoon like a kitten as she did so.
We walked out of Sky Garden and into our waiting car, rubbing our stomachs like the gluttons we were. The food had been decadent and utterly. As soon as we got into the car, Elizabeth began rummaging in her rucksack, she giggled as she found what she had been looking for.
She pulled out a packet of Midget Gems and offered them around, gently pouring a little mound of jewel coloured gems in each palm. It was refreshing to see a young girl with such a healthy appetite and who made no excuses at all for it.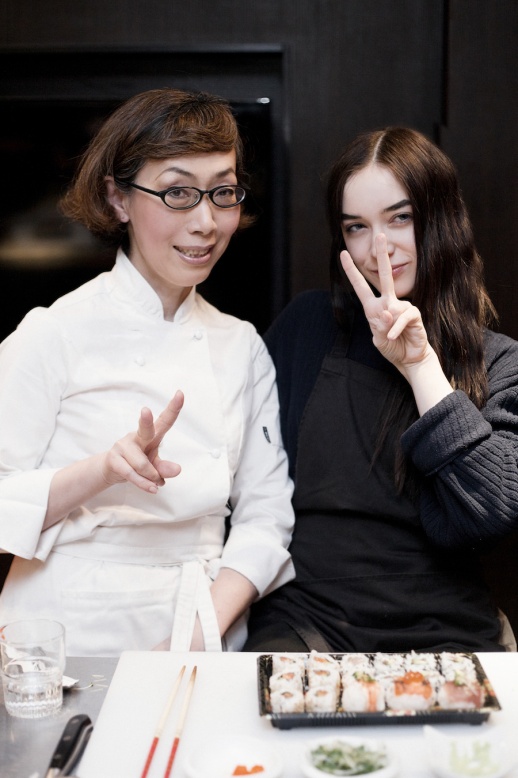 London was on our side that afternoon and we weaved through the streets of East London uninterrupted. We pulled up outside the famed Sozai Cooking School, where we would be having our private sushi class.
Elizabeth clapped her hands together with glee. She said excitedly: "I cannot wait, I have been literally waiting for this all week."
We knocked on the door and were greeted by none other than Akemi Yokoyama, Japanese chef extraordinaire. Akemi is the best in the business and has even worked as Tina Turner's private chef.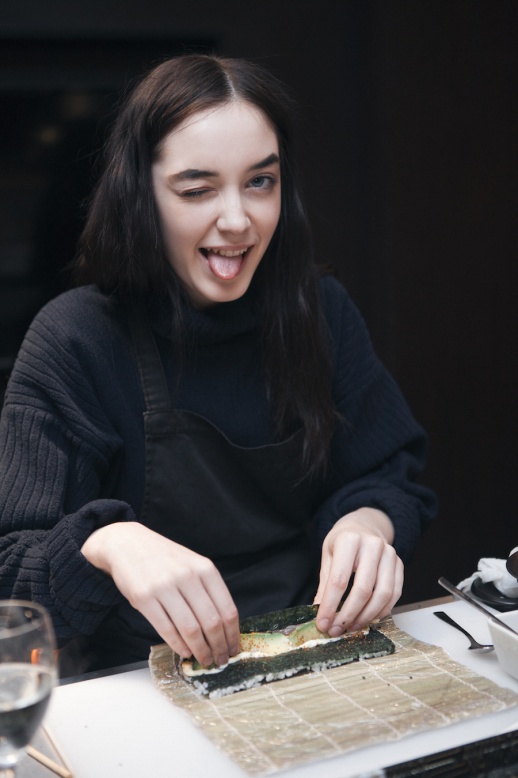 The stainless steel tables were impossibly clean and they were laden with ingredients for our sushi.  Akemi introduced us to sparkling sake, which was so fizzy that the bubbles made our tongues tingle long after we had our last sip. It was dreamy and has quickly become our new signature drink.
Akemi stressed the importance of the sushi rice; she demonstrated how to make a perfect batch. We were utterly amazed by the mountain of perfect white rice she produced. We would be making two types of sushi using fresh ingredients such as salmon, avocado and tuna.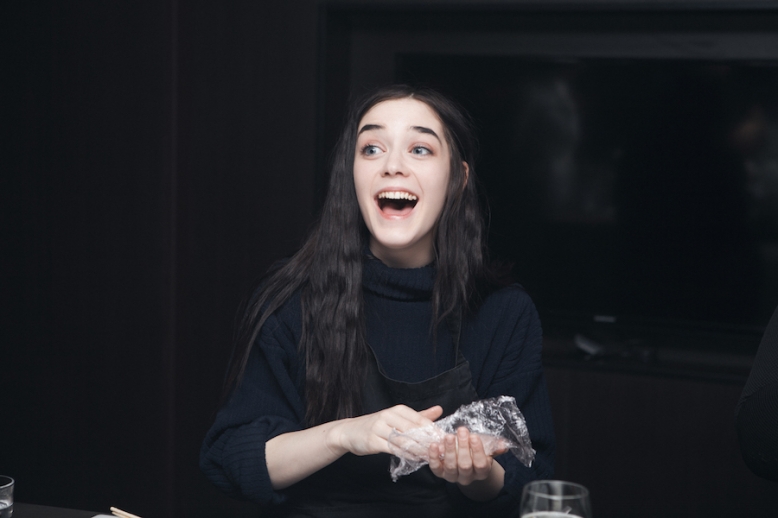 Akemi demonstrated a number of vital techniques; from rolling the sushi properly to wetting the blade of the knife and allow the water to drip down the blade for a cleaner cut.
Elizabeth was utterly mesmerized. She sat in silence, soaking in all of the information then spent longer than required hunched over her sushi to ensure it was the best it could be.
Akemi then produced her favourite ingredient, a creamy Japanese mayonnaise that was bursting with flavour. She said kindly: "Elizabeth, I am not sure if you eat mayonnaise seeing as you are a model."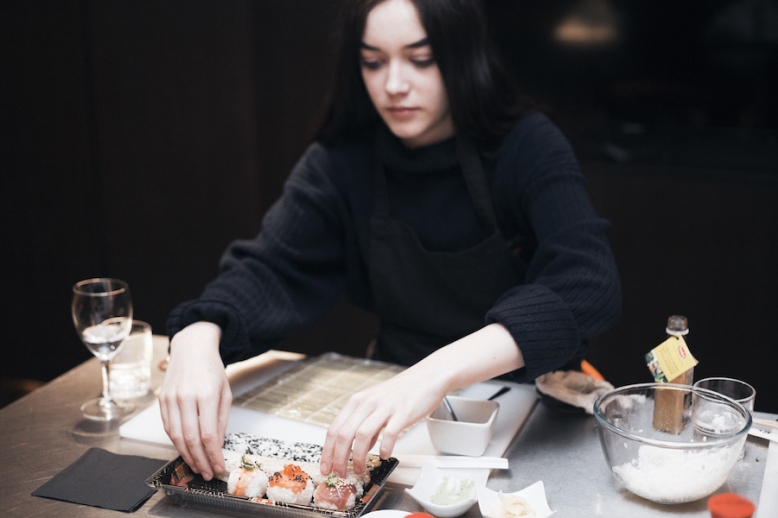 Elizabeth let out a raucous laugh and squeezed a mountain of creamy mayonnaise on her rice. She licked a little off of the tip of her thumb and said: "Nothing could stop me eating mayonnaise."
Akemi displayed her sushi on her tray; they were so beautiful that they looked like little works of art. We followed suit, trying to emulate her perfection. Elizabeth nibbled her thumb delicately, her eyes firmly on her plate. She said: "Damn, this is the best activity ever."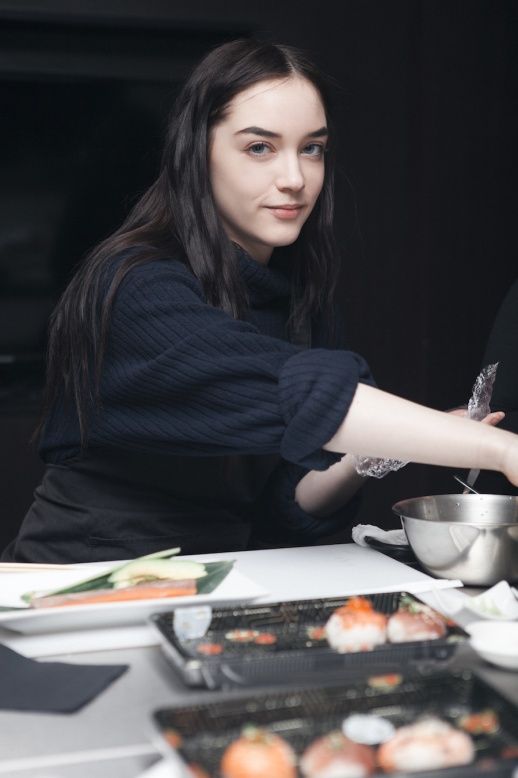 The class was without a doubt the highlight of our day. Akemi was knowledgeable, charismatic and kind. She encouraged us but gave instruction when necessary.
At the end of the class we looked at our trays, clustered with jewel coloured sushi. Akemi smiled warmly, she said: "Well done girls, you've done a beautiful job."
We couldn't help but feel a sense of achievement for creating something that we all loved to eat but had never attempted to recreate before. Akemi laughed warmly at the smiles on our faces, she nudged me gently and said: "Sushi makes us happy!"
We collectively burst out laughing and Elizabeth chimed in, "this sushi is so good, it could create world peace."
She high-fived us in turn, then bellowed: "sushi game never weak bitches". The group burst into another roar of laughter once more.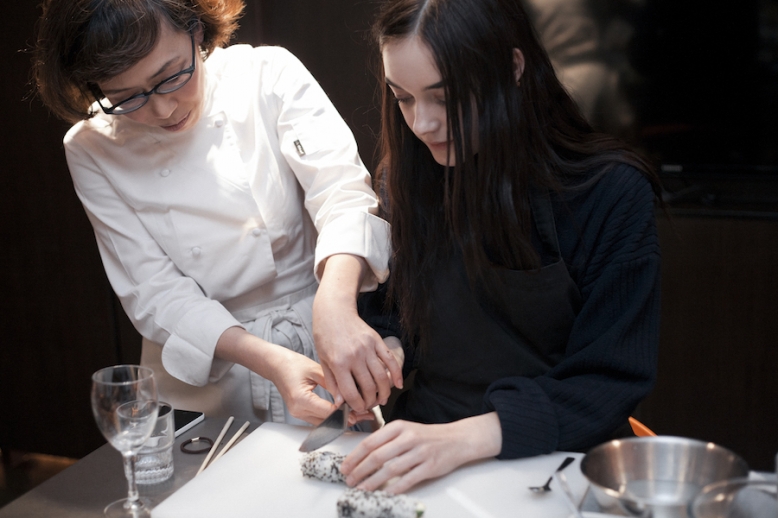 We had all kind of fallen in love with Akemi. We thanked her profusely for sharing all of her incredible knowledge and guidance. She instructed us on how we could recreate our experience at home with limited equipment and where to buy the ingredients.
Elizabeth thanked Akemi again before embracing her in a warm hug. As we waited for the car to arrive, Elizabeth turned to me and said softly: "Honestly, thank you.  I loved that so much, it couldn't have been more fun."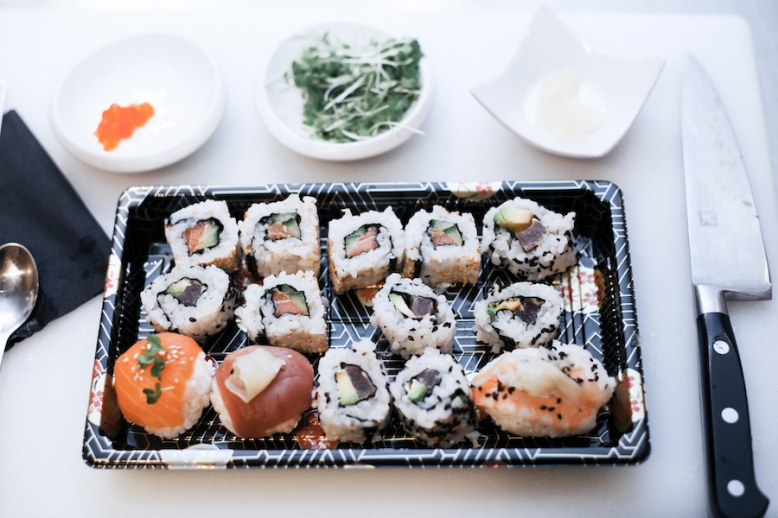 We had been having so much fun at Sozai that we didn't realize that night had almost fallen. The sky had turned into a velvety midnight blue and we got in the car to head to our final destination of the day.
The roads were now cluttered with traffic; the streetlights illuminated Elizabeth's face as we crawled towards the West End.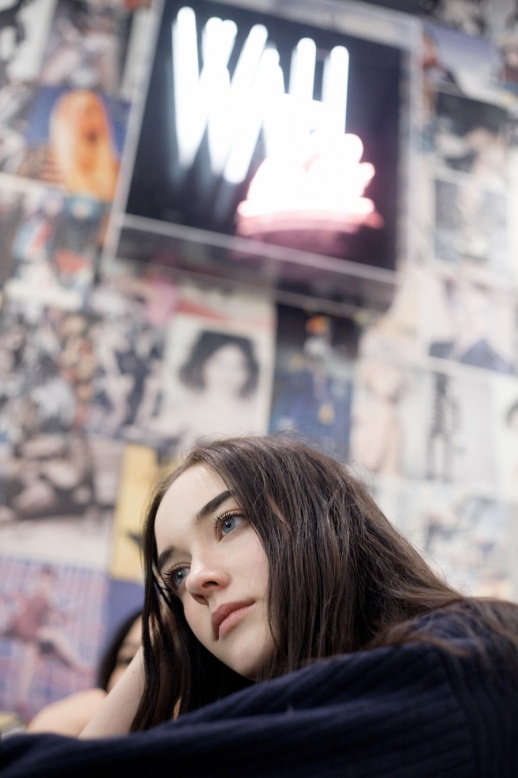 Eventually we pulled up outside Topshop in Oxford Circus. We weaved our way through the hundreds of customers that still filled the store, even though it was almost closing time. We made our way downstairs to WAH nails.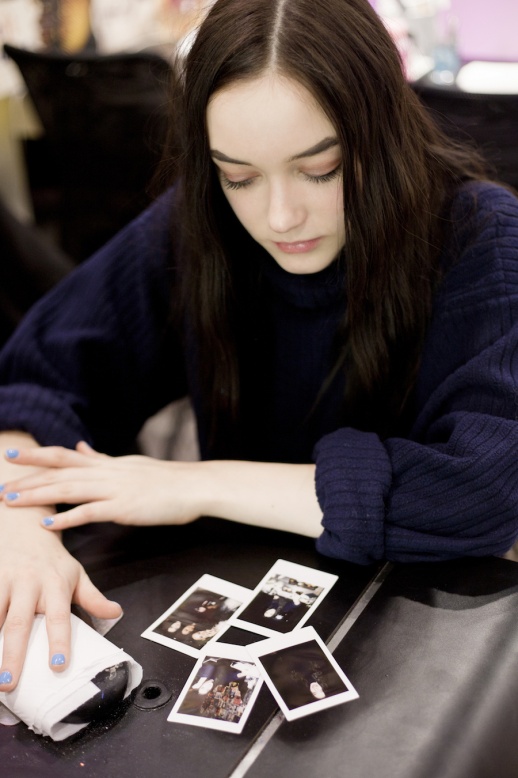 We stood and surveyed the wall of nail art, struggling to decide on which design to choose. I merged two designs to create a spectacular 'smoke and swallow' design. My nails were painted white with intricate black detailing and a soaring black swallow on each thumbnail.
Elizabeth chose a simple and feminine design, which featured a baby blue base with a pastel pink heart on each nail. As nail art extraordinaire Kione Grandison worked on my nails, I peeked over at Elizabeth. Jess Young was painting delicate hearts on each nail. A small mischievous smile crept across Elizabeth's face, she said: "It's the Instagram heart. Like bitch!"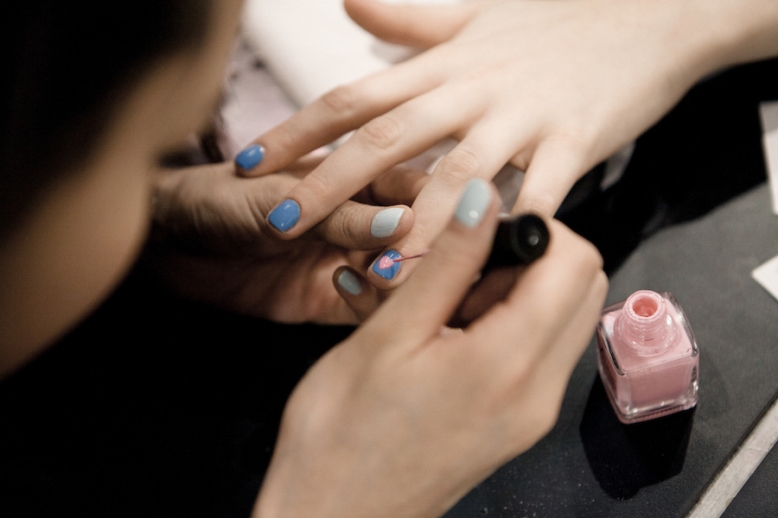 It had been a very intriguing day. As Elizabeth packed up her belongings to leave, she gave me a warm cuddle. I said: "It has been a long day."
She squeezed me tightly, then replied: "It has been the best day."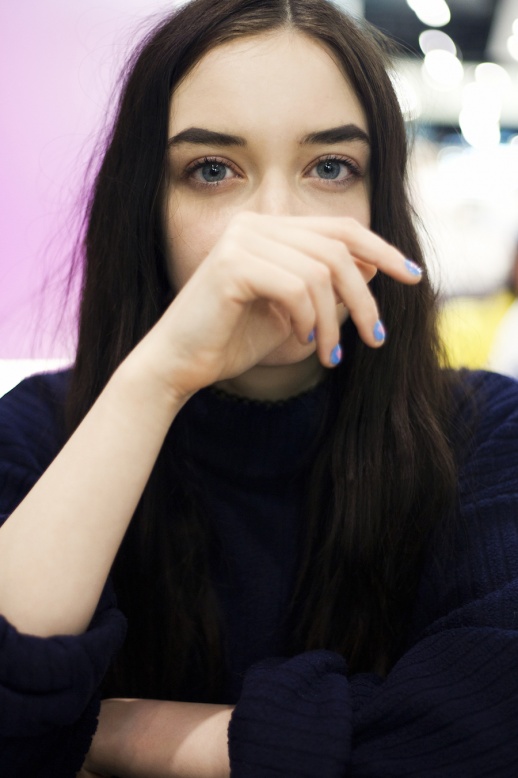 Elizabeth Jane Bishop is intelligent and creative, charismatic and mischievous. She wore her heart on her sleeve and was never afraid to speak her mind.
As I said before, the Internet is a precarious tool. Those with a high-profile online presence have the luxury of being selective with what they post, they only show us what they want us to see. In the case of Elizabeth Jane Bishop, that notion is redundant because her real life persona is an absolute dream.
Elizabeth is signed to Elite London Special Bookings.
Follow Elizabeth Jane Bishop on Instagram: @ElizabethJaneBishop
Follow Elizabeth Jane Bishop on Twitter: @ElizabethBishp
Photographer
Cromwell Road,
London
SW7 2RL
Alexander McQueen: Savage Beauty runs until 2nd August 2015
Sky Garden
20 Fenchurch Street
London
EC3M 3BY
5 Middlesex Street
London
E1 7AA
Topshop
36-38 Great Castle Street
West End
London
W1W 8LG