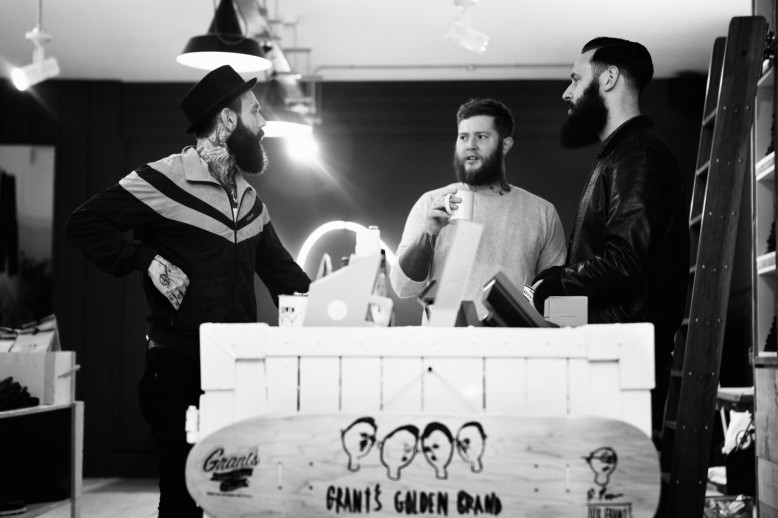 Ricki Hall is a very busy man. When he is not shooting for some of the most renowned fashion brands in the world, he is collaborating with them to create his own collections.
Ricki currently has almost 250,000 fans on Instagram, and has been hailed as the most popular bearded model in history. To say that Ricki is in demand is an understatement. So when the opportunity arose to pin him down for an entire day uninterrupted, we jumped at the chance. We decided to spend the day roaming the magnificent city of London, visiting some of Ricki's favourite boltholes and finding new ones along the way.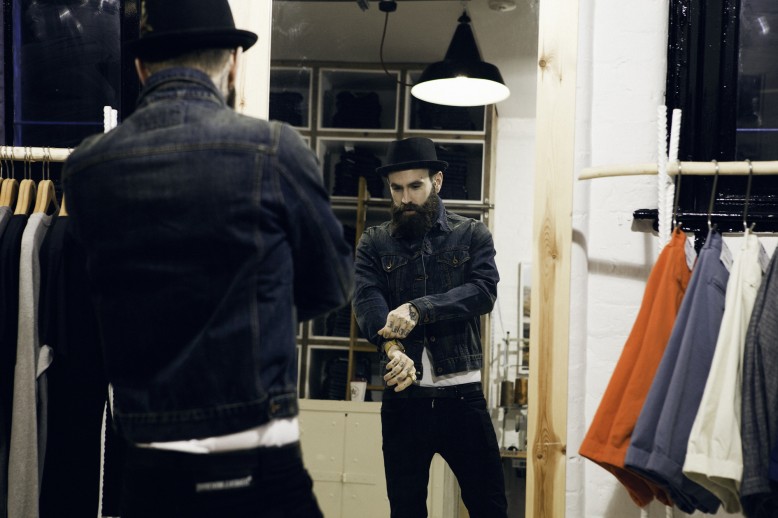 Monday 26th May 2014
11am: Edwin had agreed to open early especially for Ricki, so the shop was deserted as we waited for the man himself to arrive. Fashion editor Jay Best, photographer Jade Sukiya and I were lost in conversation when the sound of knuckles rapping on glass distracted us. We turned to see our dear friend Ricki, smiling mischievously at us on the other side of the glass.
He sauntered into the shop and greeted us with a warm hug. He was dressed in a retro navy blue Adidas jacket with light blue and maroon accents. He teamed this with his trademark skinny jeans and white vest top. The look was completed with a dapper porkpie hat, which concealed his slicked back hair. Ricki looked as though he had walked off the set of Snatch, the glorified love child of the grungy nineties and the gaudy noughties.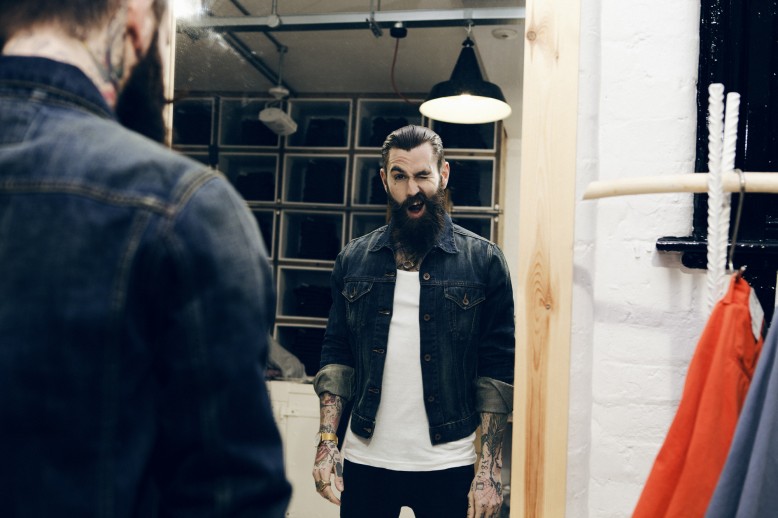 Ricki pulled back his upper lip to reveal a gold tooth. I caught a glimpse of the large gold sovereign ring that he wore on his index finger, a gift from his beloved girlfriend Lauren.
Adjusting the large gold watch on his left wrist, he pondered: "I'm trying to change my look up a bit. I look like a bit of a gypsy nowadays. What do you think?"
A group of girls walked past the shop, they peered into the window as Ricki pulled off his jacket to reveal his heavily tattooed arms. Although their looks were fleeting, it was clear by their longing expressions that whatever Ricki wore was irrelevant, he would attract attention regardless.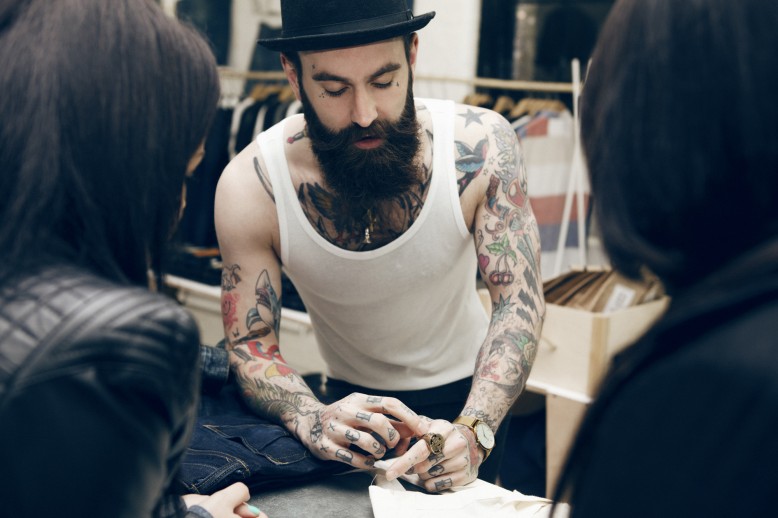 Aside from his exterior, Ricki was also re-evaluating his interior too. He revealed that he was attempting to live a healthier lifestyle by cutting back on cigarettes and alcohol.
He winked at me, "I have basically stopped smoking but I still have the odd cheeky fag every once in a while."
I slapped Ricki on the back playfully and was horrified to see him recoil, his face contorted with pain.
After an agonizing moment, he revealed that he had attended The Great British Tattoo Convention the day before and had some colour added to the vast tattoo on his back. He peeled off his white vest to reveal an incredibly sore, red ink stained back.
Ricki, ever the gentlemen, brushed off my apology. He smiled warmly, "Seriously babe, don't worry it's fine. It's just a bit sore, that's all." However, as Ricki got into the waiting car, I saw him briefly wince and I felt pang of guilt.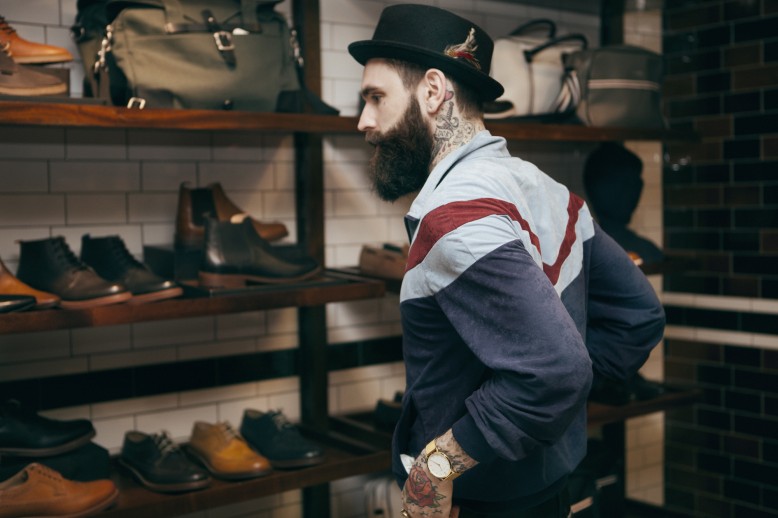 12pm: We weaved through the chaos of Carnaby Street, in the direction of Ben Sherman. When we arrived, we were greeted warmly by the staff and Ricki spent a while catching up with everyone there. We scoured the rails and Ricki selected a few items that had caught his eye. We retreated to the changing room, whilst Ricki modelled each item for us.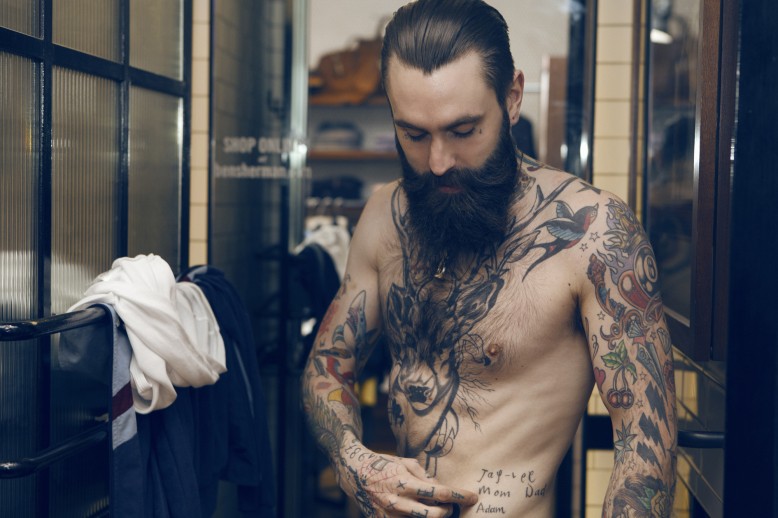 As he got undressed, I asked him whether he had had any new tattoos since the last time I had seen him. He gestured to a few small inkings, positioned just underneath his ribcage.
His eyes lit up with emotion, he said: "These are the names of family members, in their own writing."
He added: "You know that family means everything, so I really wanted to get something personal done."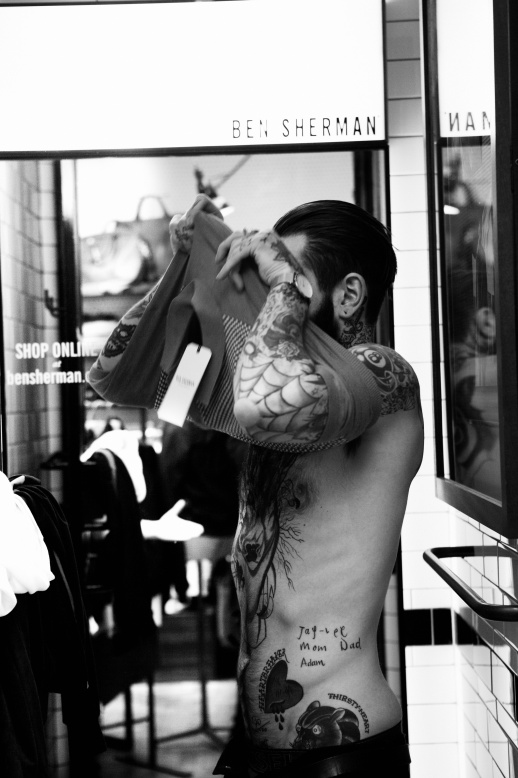 Anyone who knows Ricki well, will tell you how much he idolizes his family. He is particularly close to his young nephew Jay-Lee and always tells hilarious and heartwarming stories about him.
This occasion was no different. Ricki's eyes lit up once more and his voice filled with pride as he told me about the last time they were together. He said: "We had both showered and put on our pyjamas. I often get in bed with him and lie there until he falls asleep. This time we watched cartoons for a while and I suddenly looked down and he was fast asleep. He had probably gone to sleep about an hour before and there I am still lying there, mesmerised by the cartoons like a big kid!"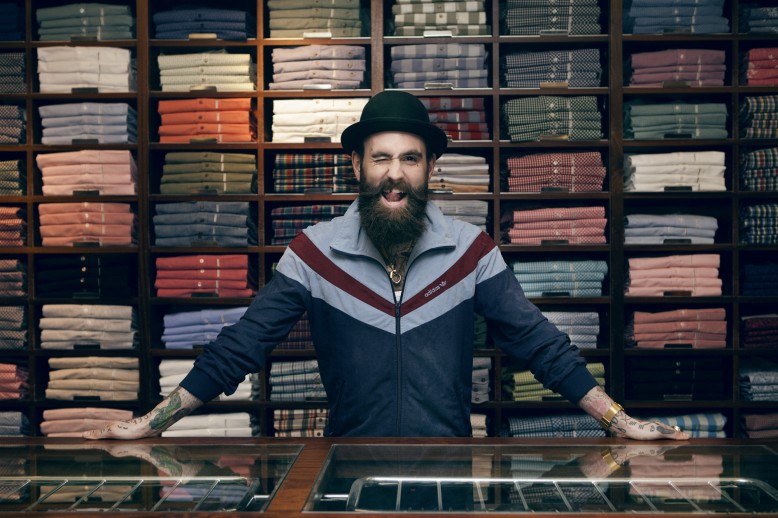 A while later, we waved goodbye to the lovely staff at Ben Sherman and headed back out to the chaos of Carnaby Street. Ricki's arms were laden with bags from Edwin and Ben Sherman. We walked towards the glistening black Mercedes, which was waiting for us on Marshall Street, courtesy of Uber's Lux service.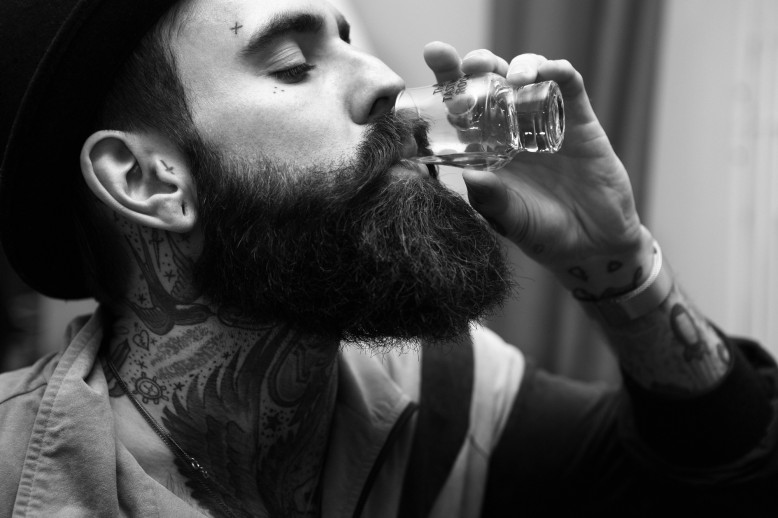 1pm: We sped past the tourist attractions and flagship stores of Regent Street towards the charming streets of Marylebone, which were dotted with luxurious boutiques, palatial residential homes and elegant cafes.
Our driver pulled into Chiltern Street and a wide smile lit up Ricki's face, barely visible behind his bushy beard but there nevertheless. His voice piqued with excitement and he rubbed his hands on his thighs. He said gratefully: "Thank you for organizing this, it is something that I have always been dying to do."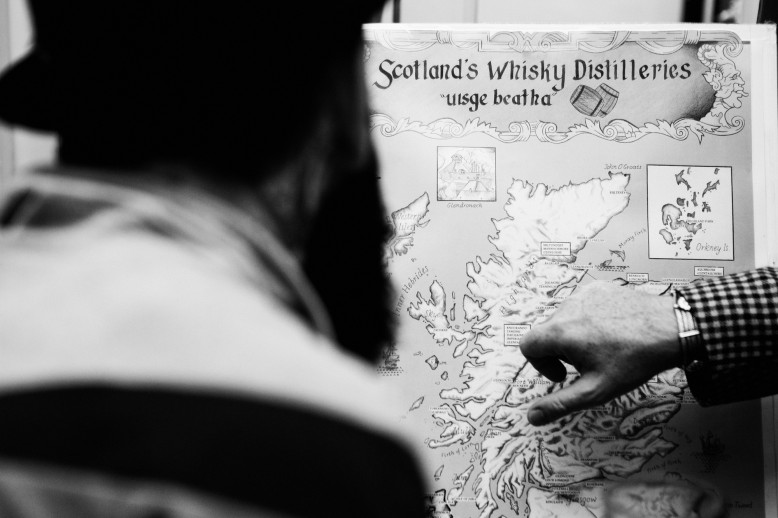 When you enter Cadenhead's Whisky Shop and Tasting Room, it feels as though you have stepped back in time. It almost feels like you have wandered into a decadent King's private cellar in Game of Thrones. Every conceivable shelf is groaning under the weight of old whisky bottles in all shapes, colours and sizes. The smell of the shop also fits with another time. The deep, rich smell of the finest whiskeys imaginable engulfs and enchants you.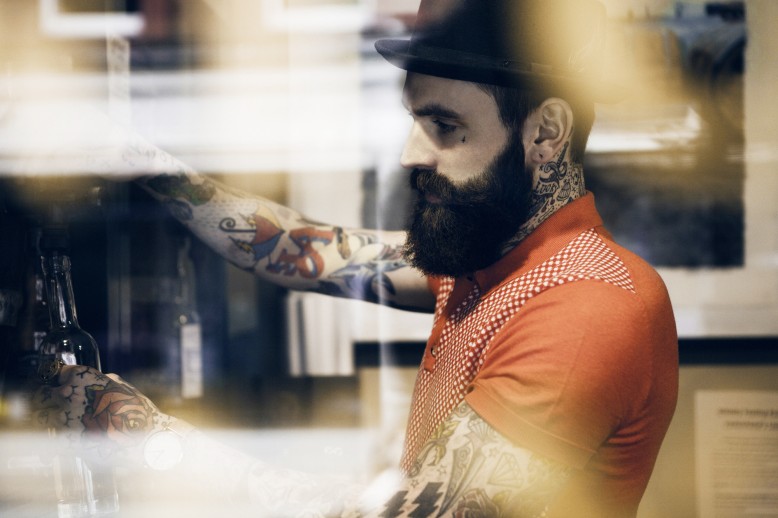 The owner Stephen had agreed to open exclusively for Ricki and had kindly set up an extravagant whisky-tasting table in the basement of the shop. The long dark-wood table was fit for kings. A variety of the best whiskeys and snacks were laid out, including salty pretzels and buttery shortbread that are designed to complement the flavours in the whiskies.
We were introduced to Stephen's colleagues John and Richard and we were all immediately in awe of them. All three were ferociously funny, wise and immaculately dressed in flamboyant blazers.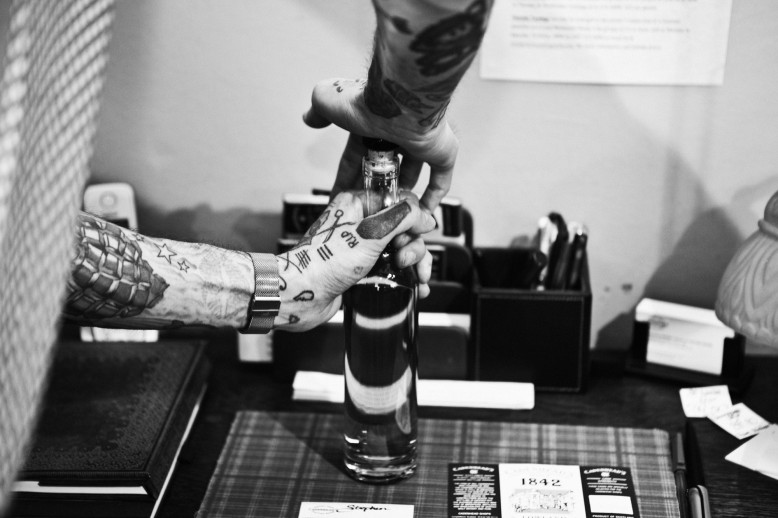 We listened intently as whisky connoisseur Stephen, stunned us into silence with his knowledge on the history of whisky and the precarious process of producing some of the finest whiskies in the world. John and Richard also kept us entertained with hedonistic and hilarious stories about their lives and the shop.
Richard leant in intimately and revealed: "Do you know that Lady Diana Spencer's wedding dress was made in this very room? This shop used to be owned by the fashion designers David and Elizabeth Emanuel. Where you are sat was the beading room."
John gestured to a beautiful ornate mirror in the corner of the room. He added: "Apparently, she put on the wedding dress, looked into that very mirror and burst into tears."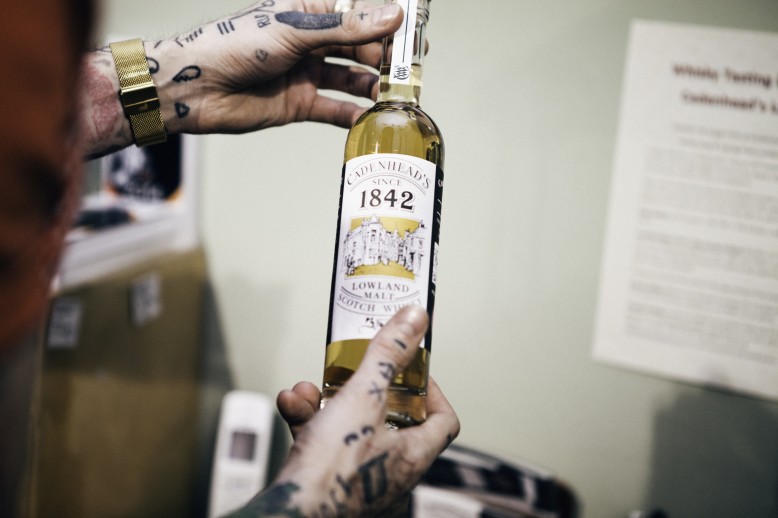 Stephen filled our glasses with dozens of whiskeys; each was deeper and more intoxicating than the last. Ricki announced that he was suffering from a particularly bad bout of hay fever. Stephen laughed knowingly, he said: "Don't worry about that, I have got something that will blow that out of the water."
He filled our glasses with a rich, dark, velvety liquid. We drank and it flowed down our throats like molten amber, the familiar burn tickling our tongues.
A light cough escaped Ricki's lips and he sniffed in awe. He laughed, "I have been wasting my time with hay fever medicines, I should have just had a whisky!"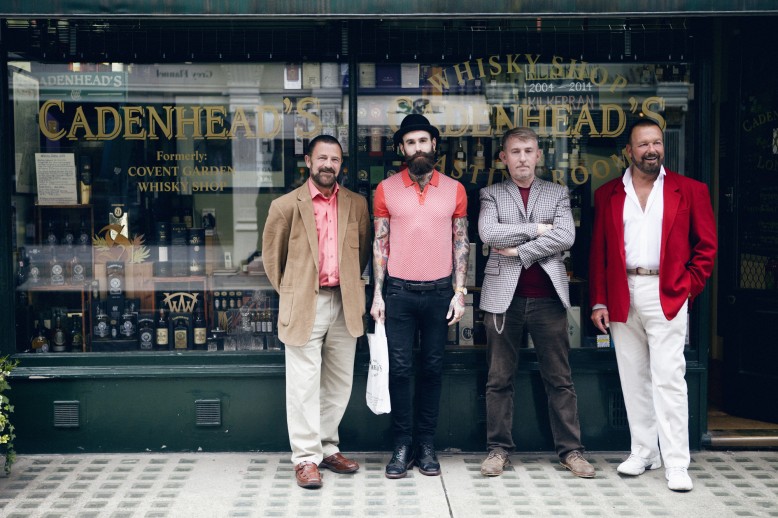 We wandered upstairs to street level, feeling considerably merrier than when we entered. Stephen kindly offered Ricki the opportunity to pour and bottle his own whisky, straight from the barrel.
Ricki also printed and stuck his personalized label onto the bottle and showed us his handiwork proudly. We all thanked John, Stephen and Richard for a truly unforgettable experience and Ricki promised them that he would return in the next few weeks, with his parents in tow.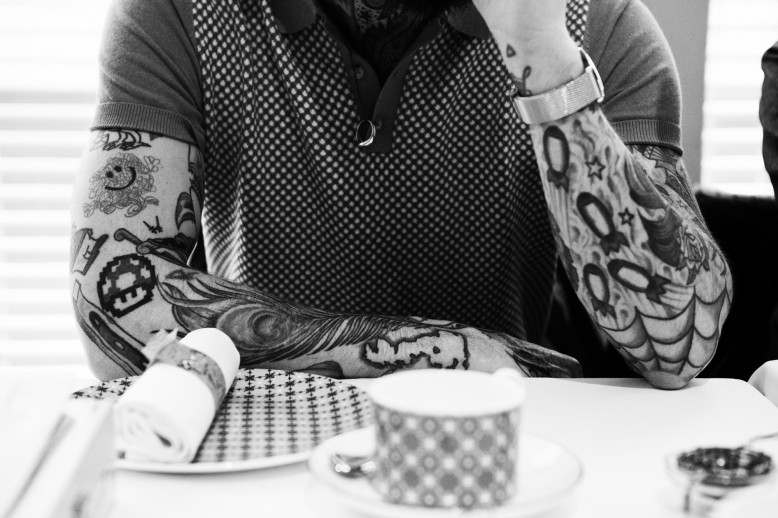 2.30pm: As we pulled up outside the St. Martin's Lane hotel, Ricki suggested that we probably should've eaten lunch prior to the whisky tasting. We giggled in unison and went in search of food.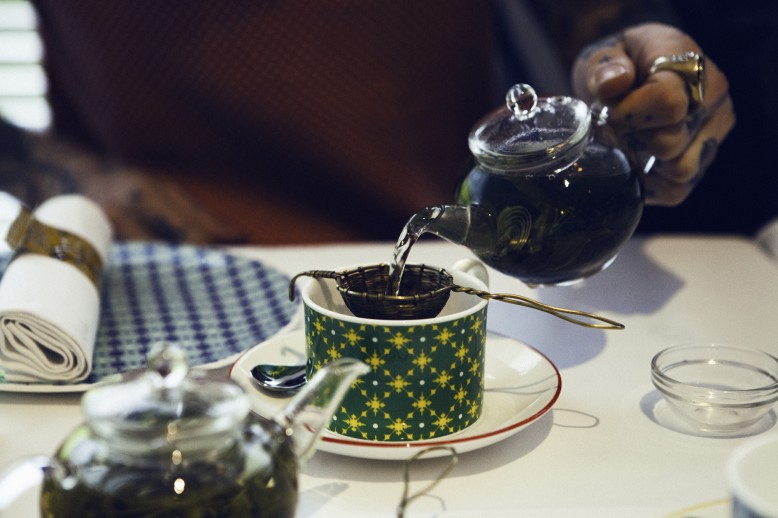 With its bold colours and eclectic interior, Asia de Cuba is an aesthetic playground. We were seated at a table with crisp white linen and colourful bespoke crockery designed by Luna & Curious. The waitress placed handmade cigar boxes in front of us that contained cutlery and a tea strainer.
She explained the Asian and Cuban inspired Afternoon Tea menu and selection of exotic teas they had to offer in depth. Ricki pondered the menu, he joked: "So much choice! At home, we usually just have PG Tips but I do like to splash out on Twining's English Breakfast tea when I am feeling fancy!"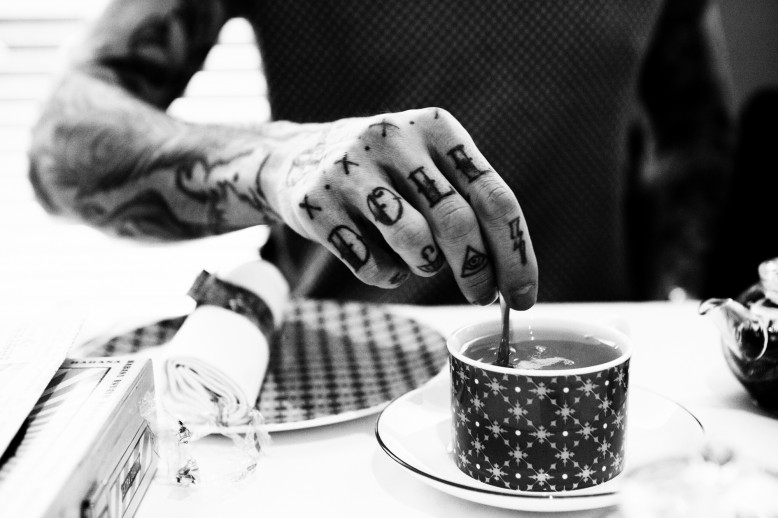 Ravenous from our eventful morning, we gorged on the first half of the afternoon tea. A vivid three-tiered stand arrived, laden with delicious savoury delicacies; from BBQ pulled pork sandwiches that melted on our tongues to beef and vegetable empanadas with Caribbean hot sauce that made our lips tingle.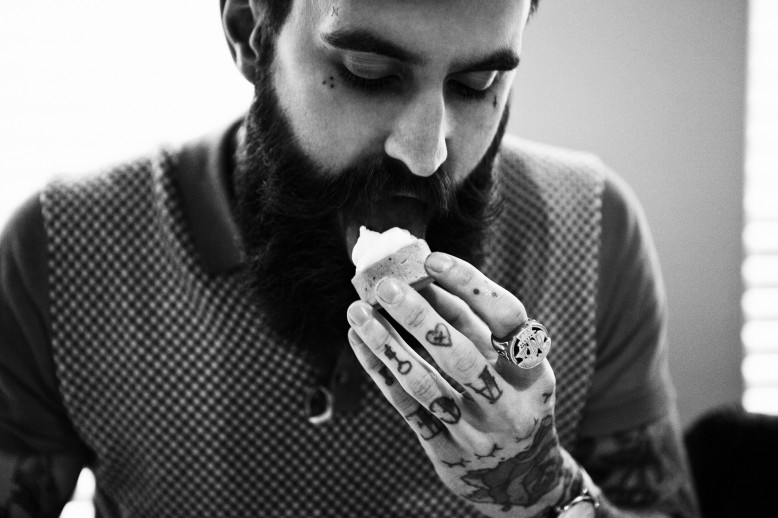 The savoury part of the tea was wolfed down in moments and we anxiously waited for the sweet treats to arrive. Moments later, plates of indulgent desserts littered the table, including; mini Mexican doughnuts filled with butterscotch sauce and rich chilli chocolate pots. After the table had been cleared, we ventured out to the gleaming midnight blue BMW that was waiting patiently outside to take us to Camden.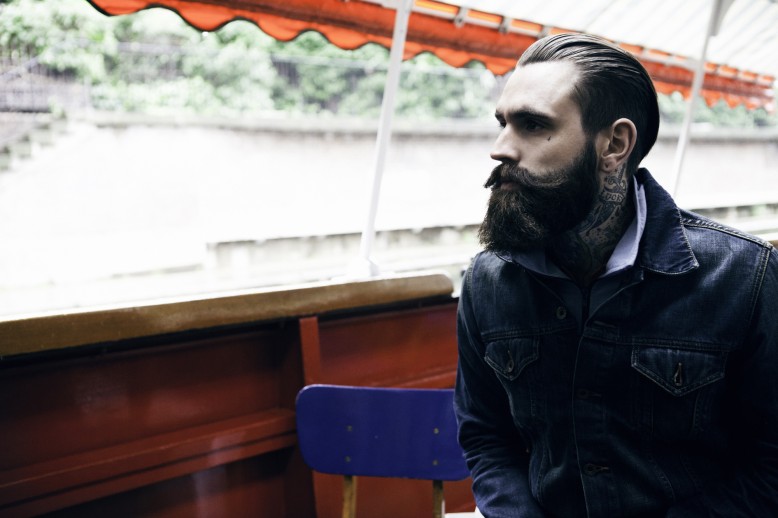 4.30pm: As we sped through the cobbled streets of Covent Garden towards Camden, the driver informed us that the car had a full karaoke system. To our delight, he fired it up and Gloria Gaynor's 'I Will Survive' came flooding through the speakers. We sang all the way to Camden, no one singing quite as loudly as Ricki.
The sky had been dangerously dark all day and it was clear that rain was imminent. We settled into our seats in a beautiful canal boat called the 'Jenny Wren'. Just as we were floating through the lock, the clouds finally gave way and rain began tinkling on the surface of the canal. Protected by the boats full-length canopy, the rain created an intimate and serene environment. Almost like when you lie in bed late at night and can hear the rain tinkling on your rooftop.
The Jenny Wren glided down the canal towards Regent's Park and the beauty that we encountered overwhelmed us. Grand detached Georgian houses backed on to the canal and as we glided past, we got a sneak peek into the most beautiful gardens that were brimming with character. Gardens with rows of majestic red roses peeking over white lattice fences, to an American-style garden with large porch and an uninhabited hammock that rocked gently in the breeze. Each house owned a small rowing boat that was moored at the end of the garden and bobbed along serenely as we passed.
As we passed the extraordinary gardens, Ricki said quietly: "They're all so beautiful. If I had a garden like that, I would spend all my time in it. They're perfect."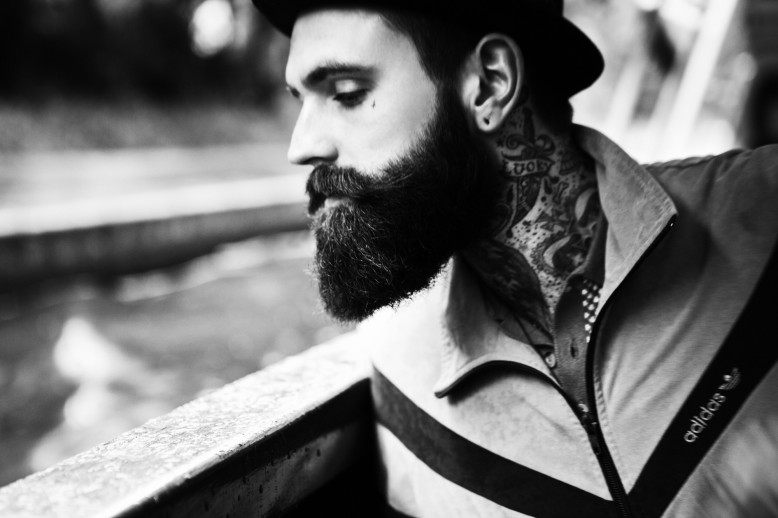 We floated by London Zoo and a group of children chanted in the distance, "We are going to the zoo zoo zoo, how about you you you?"
As we passed the bird enclosure, we could see hundreds of birds in a variety of colours swooping and soaring above our heads, it was truly magical.
We went through a long dark tunnel; Ricki swung his head out of the boat and peered into the water, lost in thought. He said inquisitively: "Can you imagine what would be at the bottom of this canal if it was completely drained? Thousands of corpses, I bet!"
As we floated towards Little Venice, dozens of families on bicycles or just strolling waved at us from the path. We all waved back politely but no one smiled or waved quite as much as Ricki.
The boat reached the enchanting area of Little Venice and palatial white stucco fronted houses boarded both sides of the canal. Jay said curiously: "I wonder what the residents look like? They are probably standing in the windows in nothing but fur and diamonds, watching us now."
The boat turned around at Robert Browning's Island in Little Venice and a couple of magnificent swans, closely followed by their grey fluffy babies began trailing the boat. Ricki turned to me, and smiled softly: "This is amazing. It is something that I have always wanted to do since I was a child, thank you."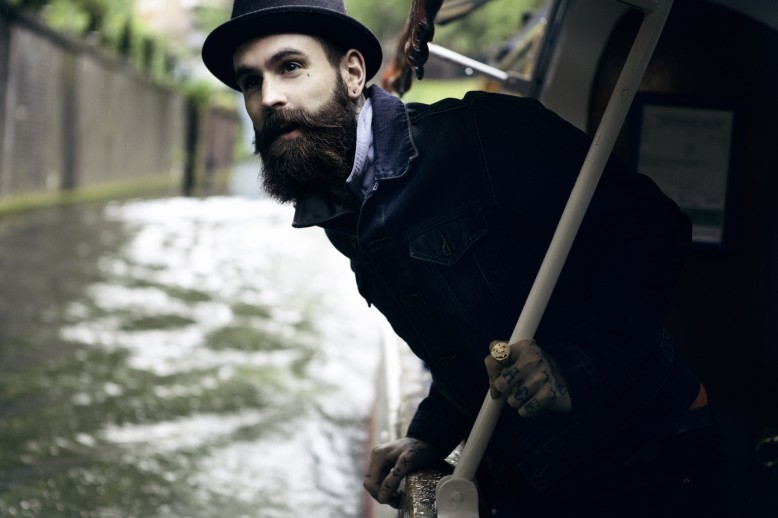 6.30pm: After we had disembarked from the boat, we went in search of Ricki's friends Nik and Carlos who were waiting nearby in the Hawley Arms.
We settled ourselves in a cosy and intimate booth in the far corner of the pub. As we drank cider and ate steaming chips from a pint glass, Ricki told his friends about our eventful day. In turn, Nik kept us entertained with stories from his town of Philadelphia, America.
The evening was drawing to a close and we were all exhausted. As we said our goodbyes to the group, Ricki stood to hug me. In hushed tones, he said: "Thank you for a beautiful day, it has been a pleasure."
I replied: "Not at all Ricki, as always the pleasure was all ours."
Creative Direction
Jay Best
Photographer
47-49 Charlotte Road
London
EC2A 3QT
50 Carnaby Street
London
W1F 9QA
26 Chiltern Street
London
W1U 7QF
45 St. Martin's Lane
London
WC2N 4HX
250 Camden High Street
London
NW1 8QS
2 Castlehaven Road
London
NW1 8QU