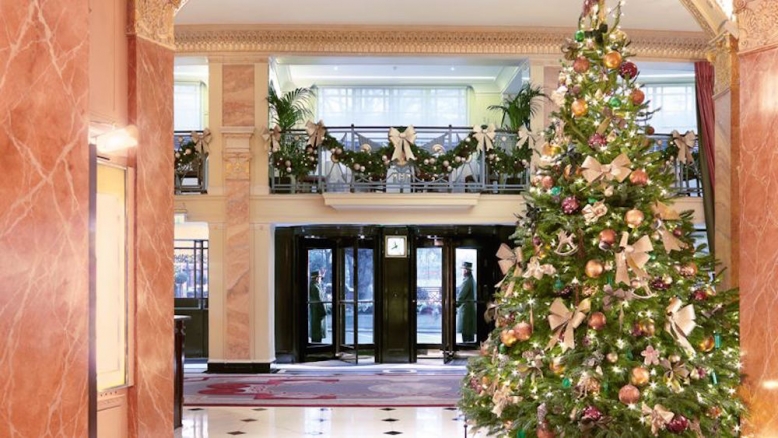 There is nowhere quite like London at Christmas. I weaved my way through the bustling crowds of Christmas shoppers on Oxford Street, their faces were illuminated by the glittering silver balls of light that were strung up above them.
I took a sharp turn onto a deserted residential street, which was lined with grand red brick mansions. One house had the most luxurious red velvet wreath I had ever seen, it hung proudly from an ornate gold door knocker.
The pavements were slicked with a delicate sheet of glittering frost, so I walked precariously in my ballet flats in the direction of The Dorchester hotel.
The Dorchester was lit up like a Christmas tree; golden fairy lights illuminated the hundreds of gold baubles that decorated the hotels iconic entrance. I walked past a line of perfectly valet-parked supercars; a snow white Lamborghini Aventador glistened under the festive lights, next to a gun metal grey Rolls-Royce Phantom, its engine purring, waiting for its owners return.
Two debonair doormen flanked the Dorchester's entrance. They were dressed in their iconic uniform; a beautiful green coat with shiny gold buttons, a black top hat with gold ribbon and the whitest gloves I had ever seen.
With one effortless sweep and a warm smile, they guided us into the revolving doors of the hotel. These are the same doors that have welcomed royalty and most of Hollywood's elite, from past to present, including; Elizabeth Taylor, Frank Sinatra and more recently Angelina Jolie and Mariah Carey.
The hotel's interior was even more spectacular than the exterior. A majestic Christmas tree stood proudly in the corner, laden with bronze baubles, golden fairy lights and strewn with glittery ribbons.
As I walked towards the bar, I could hear the most intriguing sound wafting through the air. As I got closer, I identified it as a phenomenal jazz rendition of Blackstreet's 'No Diggity'. The song has always been and will always be infectious. I smiled to myself and muttered the chorus under my breath.
I stepped into the bar and my jaw almost hit the floor. This incredible song was not a recording, as I had assumed it was actually being performed live but a handsome blonde man. He sat on a small podium at the heart of the bar with nothing but his microphone and guitar for company. I stood absolutely still, completely mesmerised by his performance.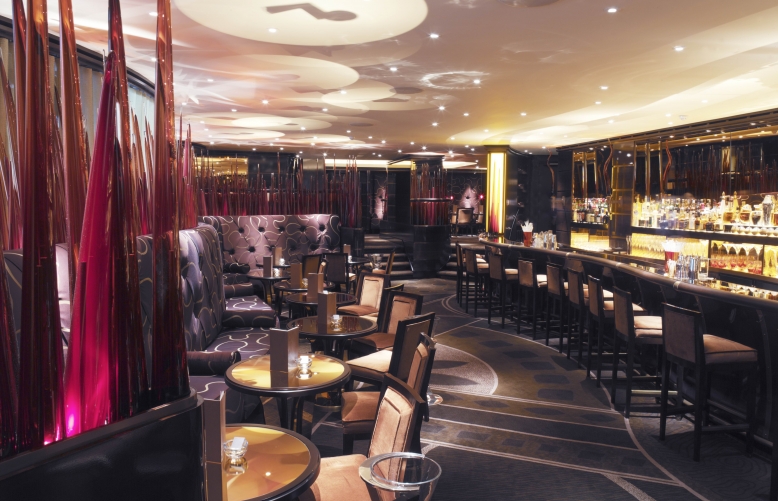 Suddenly, the bar's manager broke my trance. He greeted me warmly and showed me to my table. It was by far the best table in the room, tucked into an intimate corner but high enough to overlook the bar. I slipped into my luxurious quilted aubergine booth and admired the gleaming bronze table that glistened under the low lights of the bar.
I surveyed the crowded bar and had to admit that they were overwhelmingly glamorous; gentlemen in black tuxedos accompanied ladies in floor-length evening gowns, their fur stoles wrapped nearly around their bare shoulders. It felt as though I had been transported back to the 1920's where hedonism and extravagance reigned supreme.
At the table next to mine, sat a Middle-Eastern couple who were sharing a very expensive magnum of Krug Grande champagne. The gentleman was dapper in a navy suit with a white silver pocket square, his considerably younger companion wore a luxurious calf-length black fur coat over a thigh-skimming black dress that left little to the imagination.
It was true that almost every person in the bar was the epitome of glamour and exuded extravagance but more importantly they all seemed to be having a wonderful time.
Suddenly, the rest of my party arrived and we eagerly poured over the extensive menu; on offer were everything from pots of Earl Grey tea to £4,500 bottles of 1998 Krug 'Clos d' Ambonnay'.
However, the most interesting item on the menu by far was the 'Louis XIII Dorchester Experience'. For £2,500, you receive an exclusive invitation for you and three guests to discover Louis XIII and its source in Cognac. You will be personally welcomed in Cognac by a Louis XIII Ambassador and taken on a private tour of the family estate. After your tour, Executive Chef Philippe Saint-Romas will prepare a spectacular lunch for you and your guests.
If that wasn't enough, you will receive your own Louis XIII glass, which is personally engraved just for you.
For those who don't know, Louis XIII was created in 1974 and is a blend of 1,200 eaux-de-vie aged from 40-100 years and created exclusively with grapes from Grande Champagne, the most prestigious region of Cognac.
The Dorchester hotel proudly boasts a vast glass case, which showcases the entire Louis XIII collection. It is the only hotel bar in the world to own every bottle in the collection.
We were feeling undeniably festive and decided to opt for The Dorchester's signature Christmas cocktail the 'Gingerbread Man'.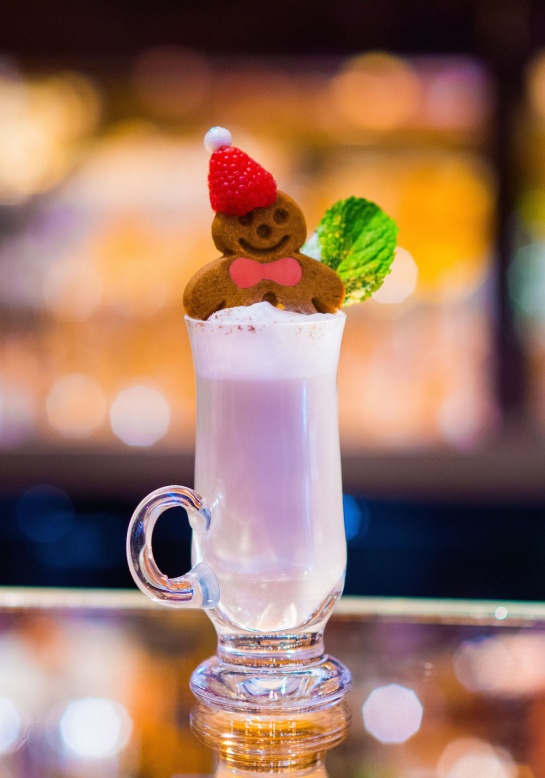 We placed our orders with the manager; he smiled and nodded softly as we did so. He said warmly: "Fantastic choice ladies, it is one of my favourite drinks on the menu. Would you like it hot or cold? I recommend cold, trust me."
He was a distinguished man with a strong handshake and a twinkle in his eye. He had phenomenal knowledgeable on a variety of vintage wines and champagnes. He took the time to discuss in great length some of The Dorchester's signature drinks. He even had us smiling until our cheeks ached with his hilarious and captivating anecdotes about the hotel.
Within moments of placing our order, a silver tray arrived, laden with fresh green olives, savoury biscuits, salty peanuts and delicate sweet pastries. Our eyes widened with glee as the delicious platter was placed carefully in front of us.
Before we had a chance to tuck in another silver tray arrived, carrying three 'Gingerbread Man' cocktails, cold as recommended, of course.
The Gingerbread Man cocktail captured the spirit of Christmas in a glass. The fragrant warmth of Armagnac gave the drink a welcome kick whilst the gingerbread and almond milk created a creamy dream-like cocktail. It was incredibly delicious and was accompanied by a delicate Gingerbread Man.
After a phenomenally successful first round, we couldn't call it a night without trying another of the manager's recommendations. We opted for 'Her Majesty's Cup', The Dorchester's homage to Her Majesty on her Diamond Jubilee.
It was an absolute dream and is now without doubt my new signature drink. It arrived in a delicate floral teacup, on a long martini stem. It was an intoxicating blend of refreshing Early Grey infused berries and spicy Hendricks's Gin topped with champagne.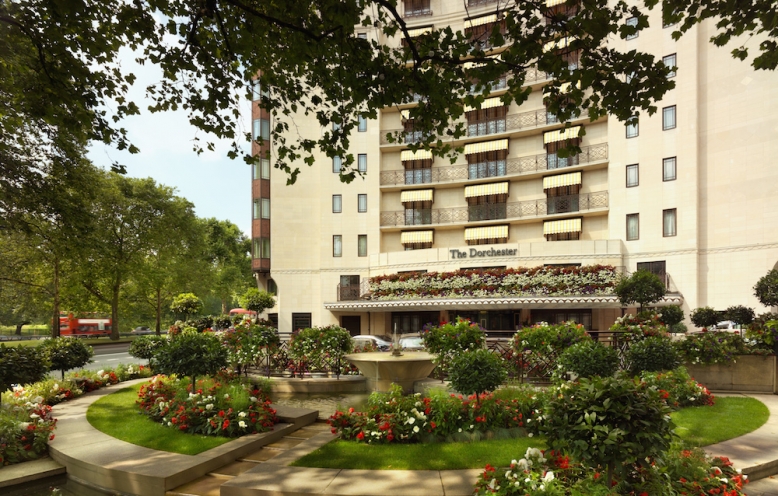 It was approaching midnight, not bad for a Wednesday evening. We gathered our belongings ready to head back into the night, however I couldn't leave without saying goodbye to the manager.
I found him on the other side of the bar, engaged in animated conversation with two businessmen. He caught my eye and made his excuses before approaching me and taking both of my hands in his. He thanked me for coming and I replied frankly: "No, thank you for an absolutely magical evening."
The Dorchester Hotel
53 Park Lane, Mayfair, London, W1K 1QA
020 7629 8888