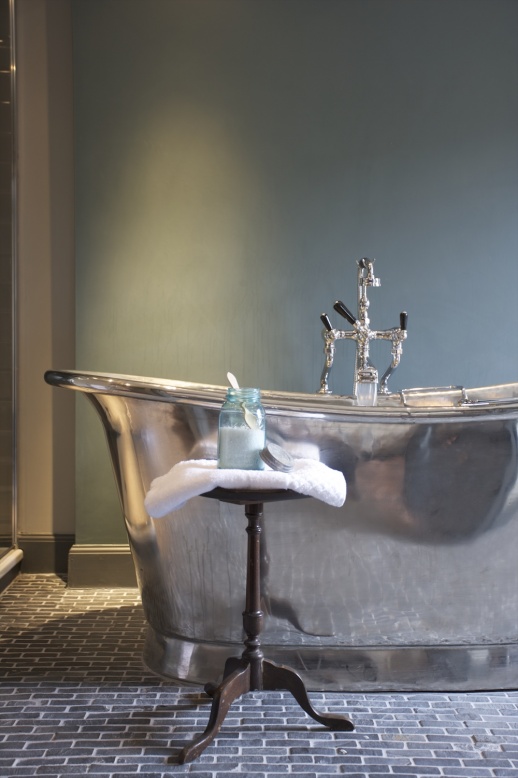 The picturesque village of Northleach in The Cotswolds is a jewel nestled amongst rolling emerald green fields. My boyfriend and I drove along a winding lane, past dozens of honey coloured chocolate box cottages. Locals smiled as we past them, it wasn't hard to see why people travel from all corners of the world to get a glimpse of this unspoilt haven.
We pulled up alongside The Wheatsheaf Inn, which was shrouded in majestic ivy. We got out and gratefully stretched our legs after a particularly arduous journey from London, thanks to a broken down van on the M40.
We had struck lucky and the golden September sun had decided to make an appearance. We walked towards the entrance of the inn, the sun warming the tops of our heads and the gravel crunching under our feet.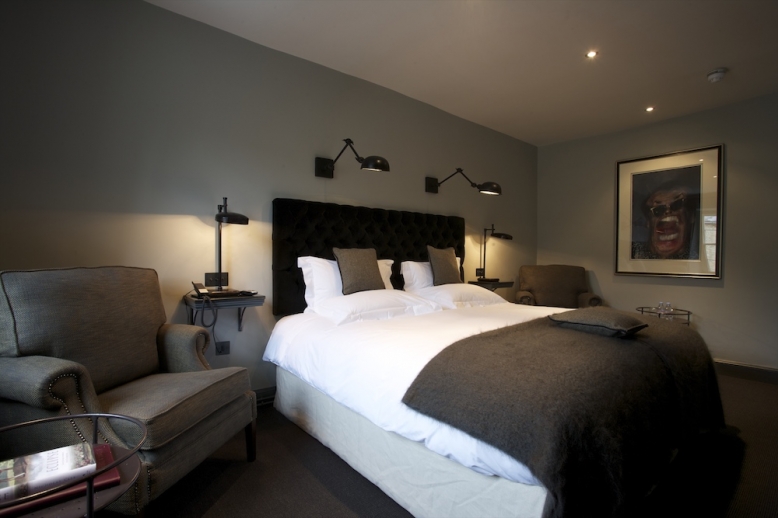 The moment we stepped into the dark, cosy and inviting bar at The Wheatsheaf Inn all of our cares floated away. A kind receptionist behind the bar immediately approached us, we signed the guestbook and she efficiently led us to our room.
The room was absolutely spectacular. It was immaculate and designed with a soothing palette of greys. The bed was heavenly and big enough for four people. A picture of Jack Nicholson cackling with laugher hung from the wall, which immediately brought a smile to my face.
Beside the bed were a few welcome touches such as complimentary bottled water, a selection of elderflower cordials and a variety of snacks including; hand cooked crisps and chocolate bars.
The lovely receptionist threw open a set of double doors to reveal one of the most magnificent bathrooms I have ever seen. It was almost as spacious as the bedroom and decorated in similar grey hues. The bathroom's crown jewel was an incredible steel bath, which stood proudly opposite the bed. It wasn't hard to see why the inn had been crowned the prestigious 'certificate of Excellence' by Tripadvisor.
Mere moments after the receptionist had left us to our own devices, I filled that incredible bath with hot water and sunk into it, so that only the tip of my head could be seen.  Luxurious white clouds of lavender infused bubbles clouded my senses and all of my mundane cares melted away.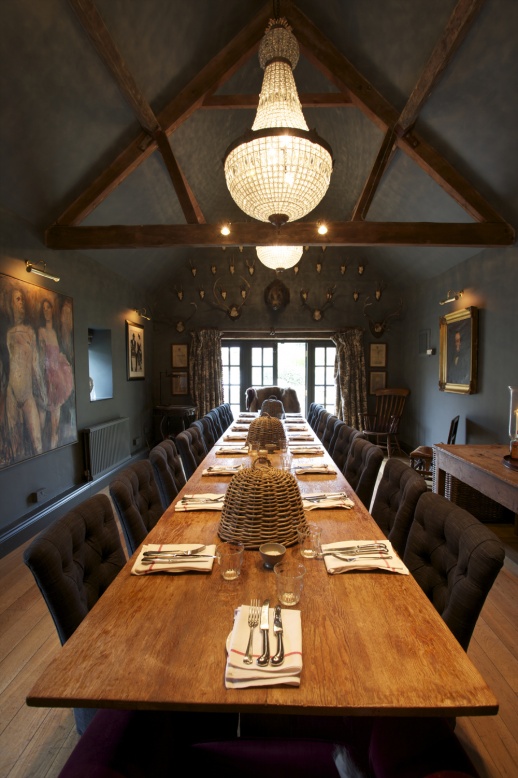 We had booked a table at the restaurant downstairs, so eventually I reluctantly hauled myself out of the bath and headed down for dinner. The intimate restaurant was absolutely packed with diners. Laughter wafted from each table and filled the air. We were given a table right by the roaring fire; gold, red and blue flames licking one another, the crackling of the flames couldn't have been more soothing.
We ordered a round of vodka and elderflower cocktails, which arrived in moments. The drink was light and refreshing and the bubbles gently tickled my tongue. We ordered from the traditionally English rustic menu, which I was very pleased to see was unpretentious and featured The Cotswolds' famous locally sourced produce.
Our starters arrived and I got stuck into my divine twice-baked cheddar soufflé with spinach & grain mustard. The soufflé was light and fluffy but bursting with mature cheese flavour. A lake of warm, golden and gooey melted cheese that toed the balance between salty and sweet perfectly surrounded it.
Next came the main attraction, a generous silver platter of Chateaubriand steak for two. My eyes widened at the platter laden with beef, whilst my boyfriend's eyes glistened over with delight, in true caveman style. The beef cut like butter and was rich with smokey flavour. A deliciously buttery Béarnaise sauce accompanied the platter along with a side of golden chips, which were deliciously crispy and salty on the outside yet soft and fluffy on the inside.
We patted our stomachs appreciatively as the friendly waiter cleared our plates and agreed that we would pass on dessert. That theory was blown out of the water when our waiter informed of us The Wheatsheaf Inn's famous 'Marathon Pudding'. He said mischievously: "Skip dessert if you like but I would strongly recommend the Marathon Pudding, it is iconic and by far the best dessert I have ever had." After a statement like that, we simply could not refuse.
It was a decadent dark chocolate masterpiece. It was a baked take on the traditional Snickers bar. When I pierced it with my fork, a cloud of white steam billowed out and our mouths began to water once more. The rich dark chocolate soaked sponge was dotted with salty crunchy peanuts and a heavenly caramel sauce.
We retreated to bed, barely able to make it up the short staircase, which led to our room. My boyfriend who can be an utter food snob said appreciatively: "I can honestly say that that was the best meal I have had in years." I smiled in response, I couldn't have put it better myself.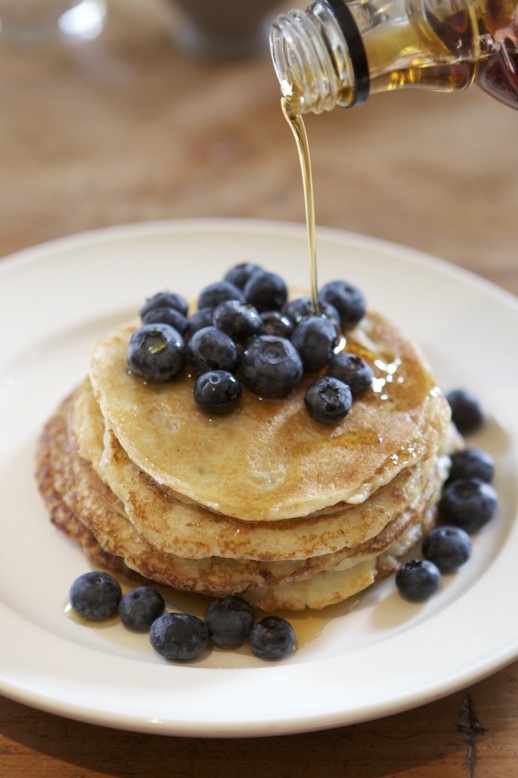 After a particularly luxurious 11-hour sleep, we woke up starving which was miraculous after such a decadent meal (I blame the country air). After another hypnotic hour in the bath, we headed back downstairs for breakfast.
We were instantly seated and presented with fresh pots of tea. A complimentary breakfast buffet was on offer and it was pretty extraordinary. Champagne chilled in an ice bucket alongside a selection of fresh juices and a selection of fresh fruits were on offer as well as racks of buttery toast and a variety of cereals. There was also a menu that you could order from which featured cooked dishes. After a brief peek, I decided on the blueberry pancakes.
We cracked open the weekend papers and we read whilst we waited for our food to arrive.
A stack of fluffy golden pancakes were placed before me. Lashing of golden maple syrup glistened on the plate and a mound of navy blueberries sat prettily at the peak. It was accompanied by thick, white mascarpone cream which I dolloped happily on top.
After we had finished breakfast, we retreated to 'the snug', which was situated in the furthest corner of the inn. We were provided with endless rounds of complimentary tea, which was served in pretty pastel pots. We sat and sunk in the comfortable sofa, accompanied by a book and enjoyed uninterrupted intimacy and tranquillity.
Our check out time loomed so we dragged ourselves back upstairs to pack our weekend bags, ready to head off to our next hotel. I looked at that beautiful bath longingly with a heavy heart, as my boyfriend steered me out of the room.
As we checked out, the receptionist handed us a brown bag, full of goodies. Inside were the incredible 100 acre toiletries we had enjoyed during our stay and snacks for our journey such as chocolate bars and bottled water.
With a glorious smile on his face, he asked whether we had enjoyed our stay. I smiled warmly at him and said frankly: "it was perfect."
The Wheatsheaf Inn is part of The Lucky Onion, a group of restauranteurs', sommeliers and hoteliers who had a passion for travel, food and drink. We recently stayed at No, 131 in Cheltenham, another of their incredible hotels. Review coming soon.
The Wheatsheaf Inn
01451 860244
West End, Northleach, Gloucestershire GL54 3EZ