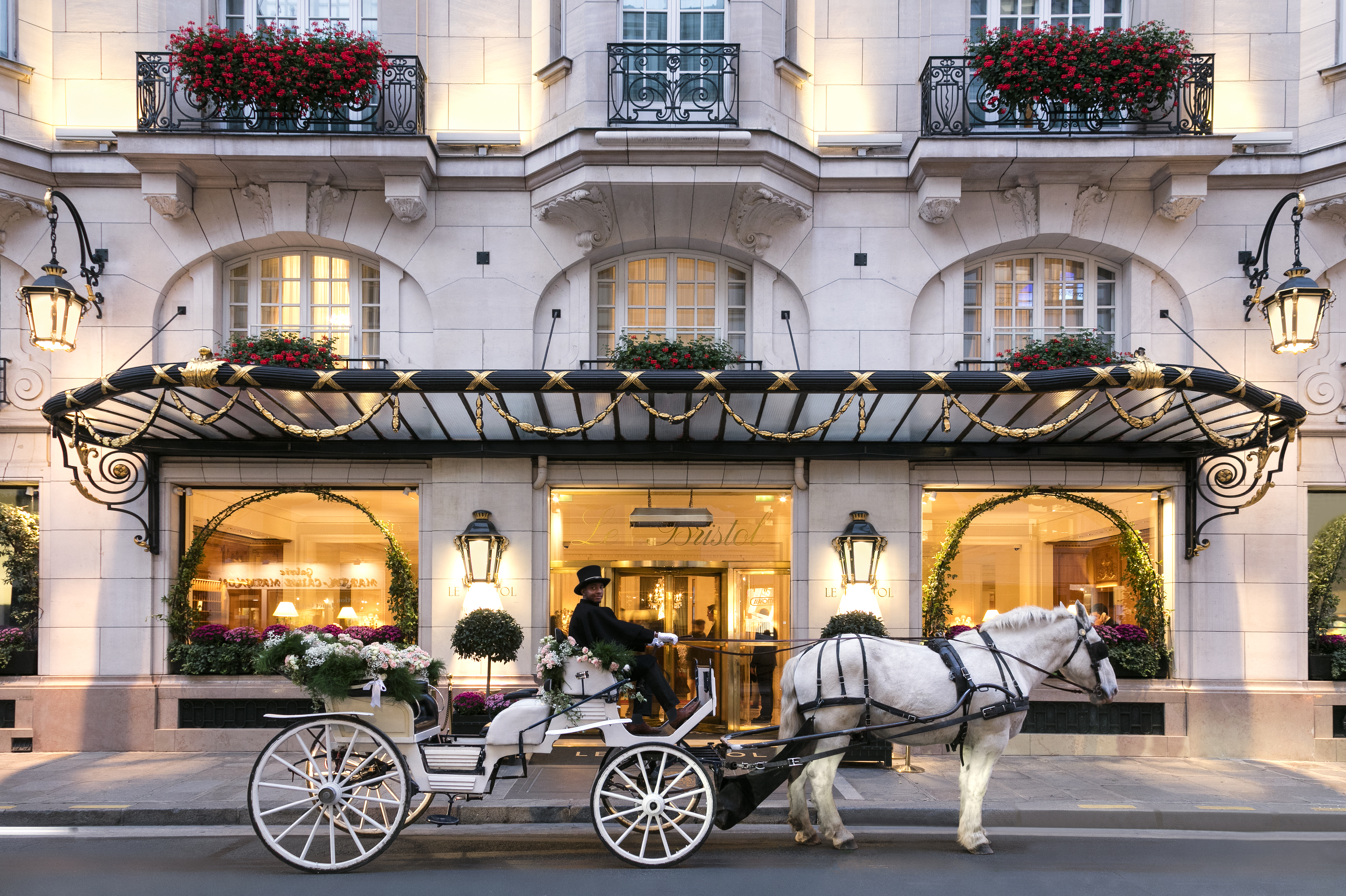 In Paris, Je T'Aime, Carol is on a solo adventure in Paris, somewhere she has dreamed of visited her entire life. As she sits on a bench in a Parisian park in the sunshine, she says, "I felt alive. Yes, alive. That was the moment I fell in love with Paris and the moment that I felt that Paris had fallen in love with me."
In just two hours and 15 minutes via the Eurostar, I had embarked on my own adventure from London to Paris. It is said that Paris is a city for lovers; indeed it is, it is for lovers of the extraordinary in all its forms. This is true for so many things, including; art, fashion and food. It is also true for hotels; no city houses as many extraordinary hotels as the city of light. So much so, that in France having 5 stars just isn't adequate, and few exceptional hotels are awarded the prestigious Palace status. There are over 9,000 hotels in Paris and only 10 hotels hold this prestigious accolade, Le Bristol is one of the lucky few.
When you mention that you are staying at Le Bristol, you are met with a raised eyebrow, a knowing smile or a head nodded in appreciation. Le Bristol is not just a hotel, it is a masterpiece, a symbol of excellence and its stellar reputation spreads far beyond its walls.
A rarity for such a world-renowned hotel, Le Bristol has only exchanged hands once, from one family to another. In 1923 Hippolyte Jammet purchased the property with the ambition to transform it into a luxury hotel, he named it Le Bristol as a tribute to Bishop Frederick Hervey, 4th Earl of Bristol, an 18th century traveller famed for his desire for comfort and demand for exceptional standards. In 1978, Rudolf Oetker, founder of The Oetker Collection, which also includes the world famous Hôtel du Cap-Eden-Roc in Cap d'Antibes, acquired Le Bristol Paris.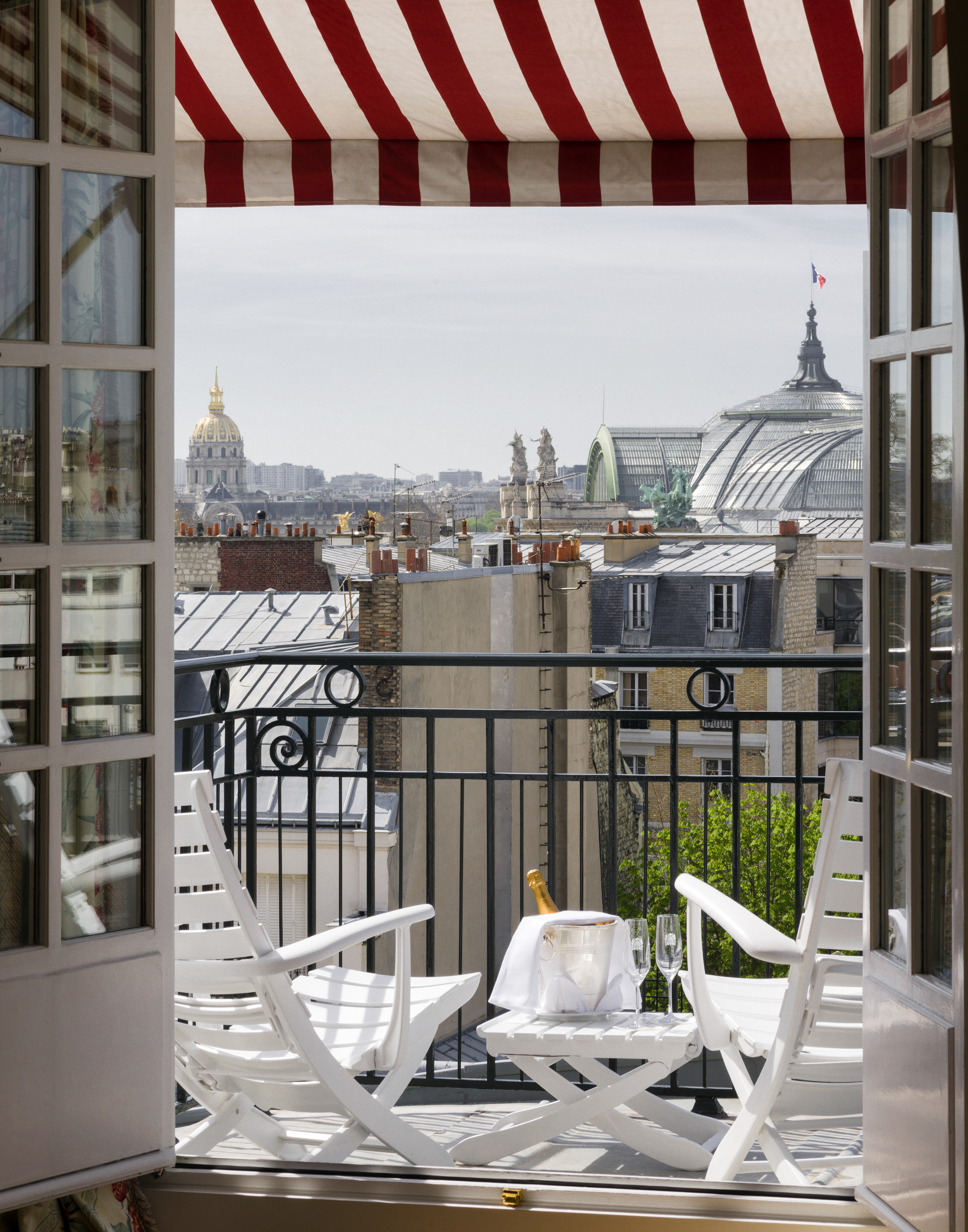 Le Bristol has been welcoming guests since April 1925, in the midst of the Roaring Twenties. It was a glorious time of historic grandeur when Josephine Baker reigned supreme and Paris attracted visionaries, such as Balenciaga, Chanel and Picasso. Later, during the war, Le Bristol sheltered Jews from the Gestapo and one Jewish architect was so grateful that he later returned in the 1940s and designed Le Bristol's world-famous lift. Le Bristol has always been a haven for the rich and famous, from Charlie Chaplin, Marilyn Monroe and Mick Jagger to more recently, Kate Moss, Ryan Gosling and Emma Watson. If only these walls could talk, the stories they would tell.
However, of all the, distinguished guests that frequent Le Bristol, there is one familiar face which outshines them all with ease, Le Bristol's resident cat Fa-Roan. This beautiful Burmese feline's piercing blue eyes and caramel ombré ears can often be spotted roaming around the hotel, lounging on the front desk or in an armchair to the delight of the guests.
Although the formidable Fa-Roan is without a doubt the star of the Le Bristol family, it is the staff that are truly unforgettable. Le Bristol is effortlessly homely and unpretentious; a rarity for a luxury hotel in Paris, but the staff go above and beyond at every opportunity. Elsa at the front desk is particularly wonderful; she greeted me on arrival, and we spent 20 minutes discussing the highly-anticipated Dior exhibition nearby.
I stayed on the 8th floor, in a romantic pink-hued Junior Suite. The 592 sq.ft. suite is decorated in traditional Parisian style, with whimsical powder pink fabrics by Frey and Rubelli, Louis XV and Louis XVI-period furniture and the walls heave with paintings.
The bathroom is without a shadow of a doubt one of the most elegant and impressive I have ever seen. It is made from pastel pink marble and is so vast that it is the same size as a one-bedroom flat in London. Aesthetically, it tips its hat to the golden age of glamour with double-vanity sinks overlooked by vintage Hollywood mirrors, with bulbs blazing. The bathroom has underfloor heating, a spacious seated shower, separate toilet and opulent pink bathtub.
The air in the suite is heavy with the scent of fresh roses, from the pastel pink roses that float in the bathtub to the deep velvety red roses in vases in the bedroom. The crown jewel of the suite is definitely the three balconies that overlook the charming rooftops of Paris. From each of the balconies, you can spot the Eiffel Tower and The Big Wheel at Place de la Concorde. There is nothing as romantic as the night I spent sitting on the balcony when the sky was as deep as black velvet, scattered with stars that shone like diamonds. I watched the twinkling of the Eiffel Tower and the bright lights of the wheel as it turned rhythmically, illuminated in the darkness.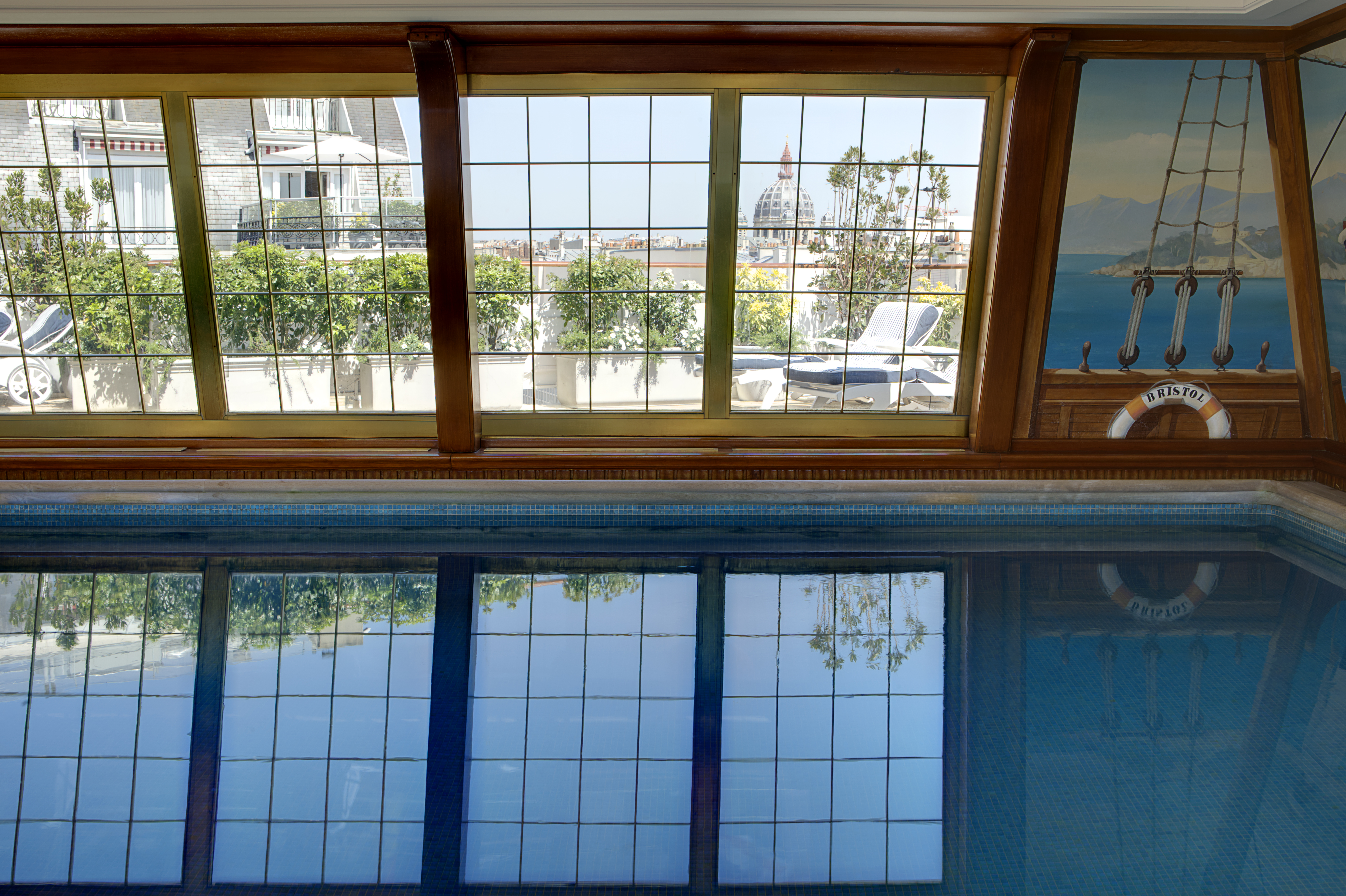 Before turning in for the night, I couldn't resist slipping downstairs to Le Bar du Bristol for a nightcap. The intimate bar is that special kind of place where regulars frequent and treat it with the comfort of their own homes. Head Chef of Le Bristol's world-famous three-Michelin-star restaurant Epicure is at the helm of the bar menu and has filled it with an assortment of delicious tapas, such as; Culatello ham with toast and olive oil. The Head Barman produces flawless executed cocktails, but a glass of Réserve de la Comtesse 2011, was the perfect way to end a spectacular day.
In the morning, I woke early to take advantage of Spa Le Bristol by La Prairie indoor rooftop pool. It is heated, chlorine free and offers views of the Eiffel Tower and Montmartre. The pool is designed to resemble a yacht and features a mural of the Oetker family discovering Hotel du Cap-Eden-Roc. There is also an outdoor terrace for sunbathing in the summer.
After a luxurious morning swim, I returned to the suite for breakfast. In-room dining never looked so regal, beautifully presented on the green table on the balcony, decorated with a vase of red roses. There was fresh pineapple juice, a silver tray of warm Parisian pastries, eggs benedict and a platter of fresh fruit.
I sat on the balcony, sipping a cup of steaming hot chocolate,  watching the sun peek from behind the sea of Parisian rooftops and for the city of lights to wake. It was then that I realised, a night at Le Bristol is not just an experience, it is an honour.
Instagram: @lebristolparis
oetkercollection.com/destinations/le-bristol-paris
112 Rue du Faubourg Saint-Honoré, 75008 Paris, France
+33 1 53 43 43 00
Eurostar operates up to 19 daily services from London St Pancras International to Paris Gare Du Nord with one-way fares starting from £29 (based on a return journey). Fastest London-Paris journey time is 2hr 15 minutes, tickets are available from eurostar.com or 03432 186 186.