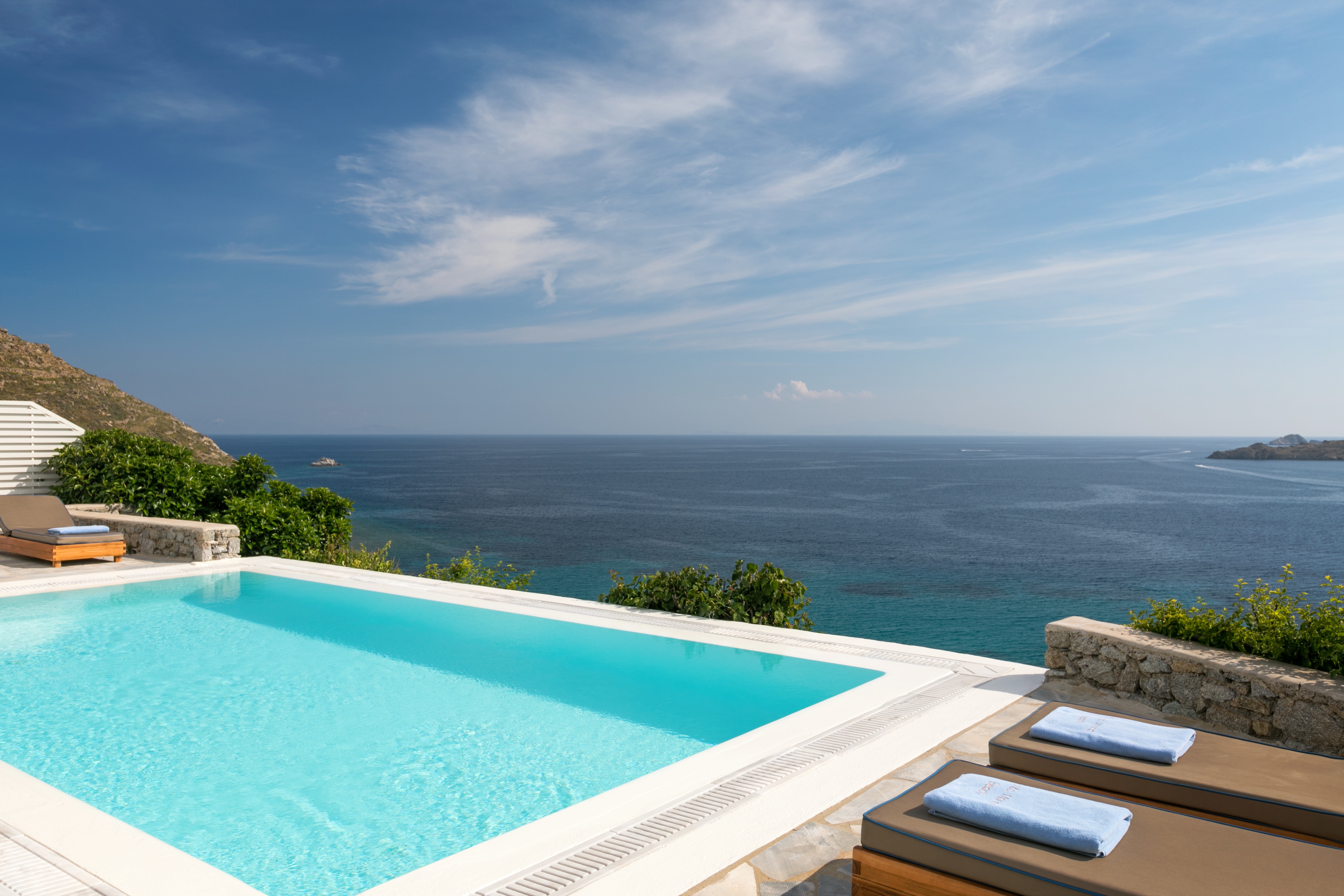 American writer, Henry Valentine Miller once wrote, 'It takes a lifetime for someone to discover Greece, but it only takes an instant to fall in love with her'.
Tourism in Greece is booming with a record-breaking number of 30 million visitors arriving in 2017. Greece boasts 6,000 islands dotted in the Aegean and Ionian Seas, of which only 227 are inhabited. The island spans an area of 85.5 kilometres and rises to an elevation of 1,119 feet at its highest point. There are only around 10,000 locals living on the island.
Mykonos had humble beginnings and was predominantly reliant on sailing and merchant activity until the 1930s when tourism arrived. Mykonos has been a magnate for the wealthy and influential for decades, and continues to be an international hotspot; from the 1960s when Brigitte Bardot, Jacqueline Kennedy Onassis and Grace Kelly visited until now, when Leonardo DiCaprio, Bella Hadid and Ariana Grande use the island as their playground, arriving in style via helicopter, yacht and private jet.
Mykonos' charm lies in the perfect harmony of its signature simplistic whitewashed architecture with doors painted in sapphire blue that mirror the glittering ocean surrounding the island and sheer opulence of the culture where sleek superyachts are as common as Toyota Priuses.
Mykonos is scattered with luxury 5-star resorts, but there is one that is truly in a league of its own. Santa Marina Resort & Villas is located on a hillside on an exclusive peninsula in the southernmost corner of the majestic Ornos Bay, just four miles south of Mykonos Town. From the moment, I drove through the well-manned security gates and up the winding road to the private resort, I immediately knew I was somewhere extraordinary.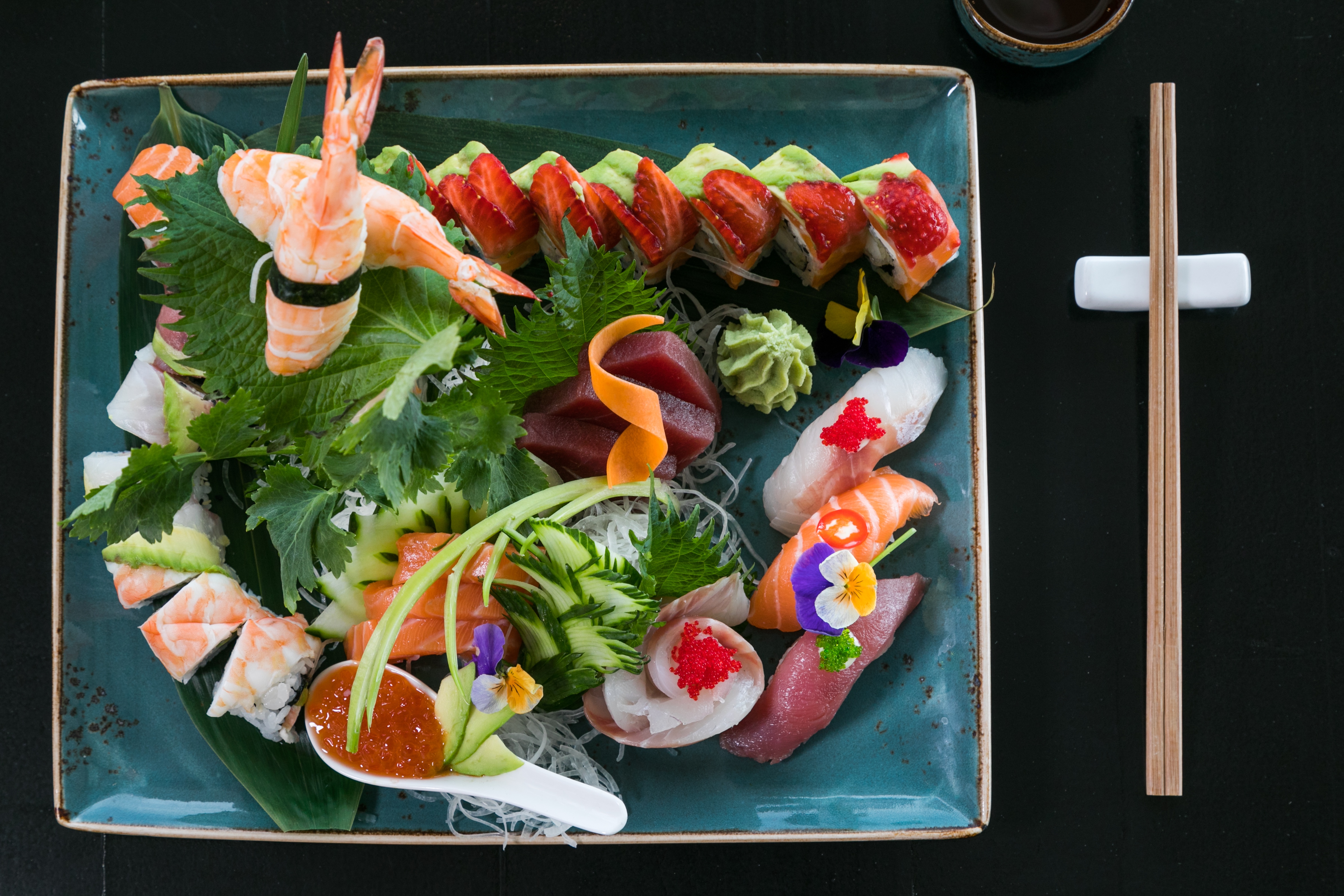 At Santa Marina Resort & Villas, signs of opulence are everywhere; there is a private pier where billionaires dock their yachts, a discreet helipad and the resort boasts the only private beach on the entire island. It is a world away from the high-octane feel that many tourists associate with Mykonos; it is, in fact, a haven of tranquillity but just on the precipice of the eclectic nightlife that drive millions of tourists to Mykonos each year.
Santa Marina Resort & Villas has 101 rooms and suites across multiple levels. I stayed in a Deluxe Sea View Room that spans 322 sq. ft. and had a king-sized bed with a Luxury Collection mattress that is dressed in crisp white 250-thread-count sheets. The adjoining marble bathroom has a glass-panelled waterfall shower, hand-carved wooden sinks and luxurious Acqua di Parma toiletries.
The architecture of the room pays homage to the traditional style with stacked stonework and whitewashed walls, but the interiors are more contemporary with hardwood flooring, bamboo furniture, vaulted ceilings and walls laden with modern artwork. The room also boasts a private balcony that offers unforgettable sea views. I spent seemingly endless afternoons on the balcony, underneath a cloudless powder blue sky, admiring the contrast of the shimmering waters of the aquamarine infinity pool.
When it comes to sheer relaxation and indulgence, look no further than Santa Marina Resort & Villas' Ginkgo Spa. The wellness spa was inspired by the Ginkgo biloba, the oldest living tree species and is recognised for its medicinal properties, as well as a symbol of love.
The Ginkgo spa is an aesthetic dream that spans 423 s. m., seamlessly designed with water freely flowing beneath my feet as I walked along raised tiles to one of the five treatment rooms for a Radiance Ritual massage. The 110-minute treatment is a rhythmical, graceful Balinese inspired massage that uses powerful aromatic oils, followed by a ESPA Skin Radiance Facial.
When it comes to gastronomy in Mykonos, Santa Marina Resort & Villas reigns supreme. It is home to a decadent private dining experience where the dock is transformed into a romantic setting for two with only the sound of the waves lapping against the shore for company. It also has the Santa Marina Beach Bar, ideal for light bites and cocktails on the golden sand and the Colonial Pool restaurant and bar, which is perfect for relaxed poolside all-day dining.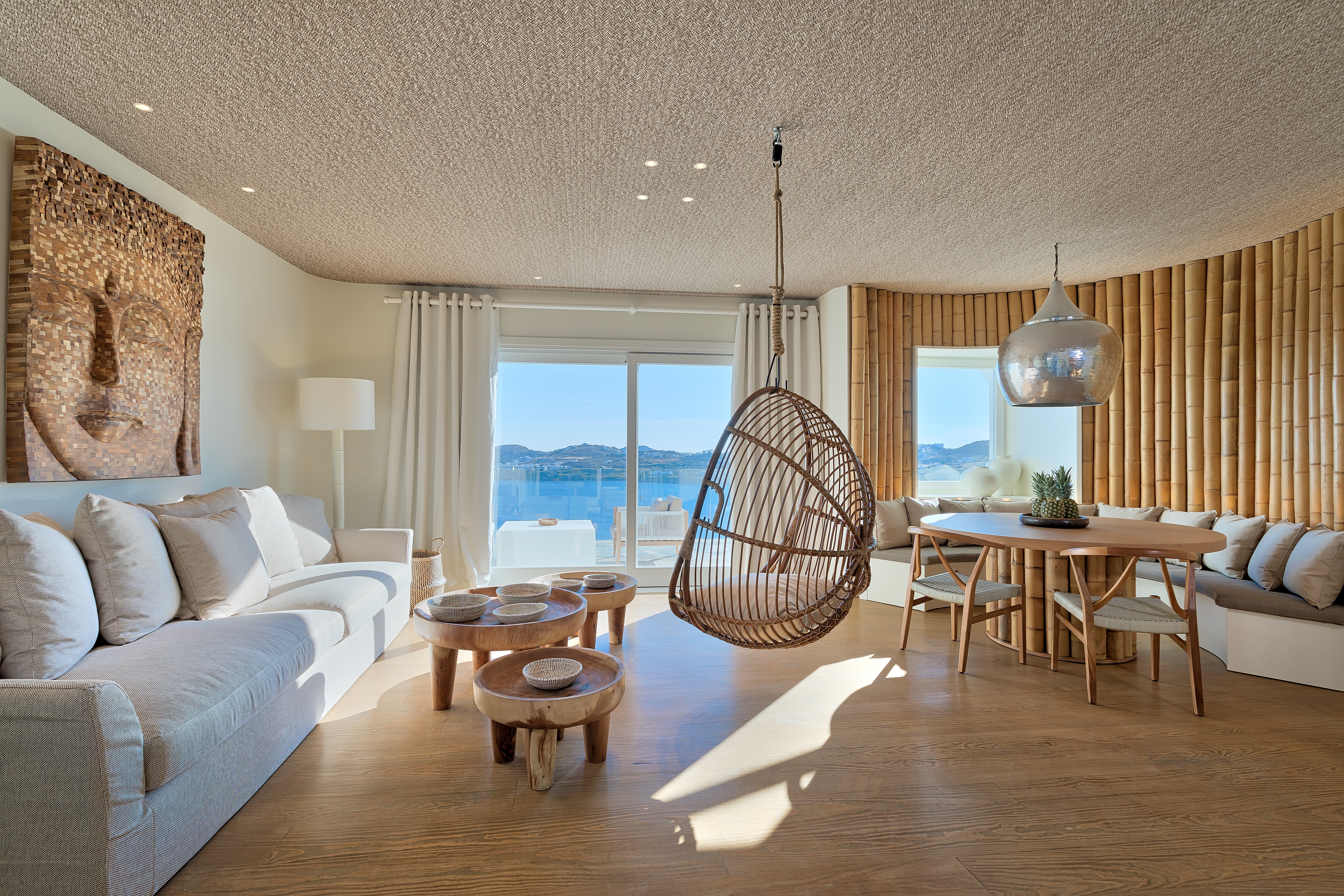 However, Santa Marina Resort & Villas is also home to the most sought-after table on the island, the first ever Buddha-Bar Beach. By night, Buddha Bar comes alive, enticing Mykonos' most prestigious and glamorous clientele like moths to a flame for an unforgettable evening of sheer decadence.
The Asian-influenced décor, includes its signature stonework Buddha statues that pay homage to the Pacific Rim cuisine, where East meets West. Celebrity DJs rotate regularly, but infectious house music is guaranteed, contributing to an eclectic ambience. The clientele is bold, beautiful and adventurous and in true European style, they like to dine from 11pm.
I chose two cocktails from the carefully curated collection, a White Princess, with gin, lemongrass infused sake, fresh mint, lime juice, passion fruit and vanilla foam and the Bubble Wrap, with champagne, raspberry, strawberry, elderflower liqueur and rose syrup.
To start, I dined on delicious Vietnamese Spring Rolls with sweet and sour passion fruit sauce and Chicken Gyoza dumplings with truffle yuzu ponzu. For my main, I opted for a hearty homemade Green Chicken Curry served with boiled jasmine rice and Lobster Manchurian Style with fried rice.
Dessert consisted of exotic Coco-Mango Bars with vanilla namelaka and mango sorbet and Raspberry Spicy Sphere with white chocolate wasabi mousse and lime sorbet. The meal was phenomenal; so good in fact that I returned the following evening.
It was the kind of late summers evening that inspires songwriters and poets. The sun was slowly setting, leaving a rose gold streaked sky in its wake. I sat, cocktail in hand, with a Shisha pipe filled with fresh fruit. As I inhaled the sweet smoke and watched the sun slip behind the horizon, it dawned on me that in that moment, there was nowhere else I'd rather be.
Ornos Bay, Mikonos 846 00, Greece