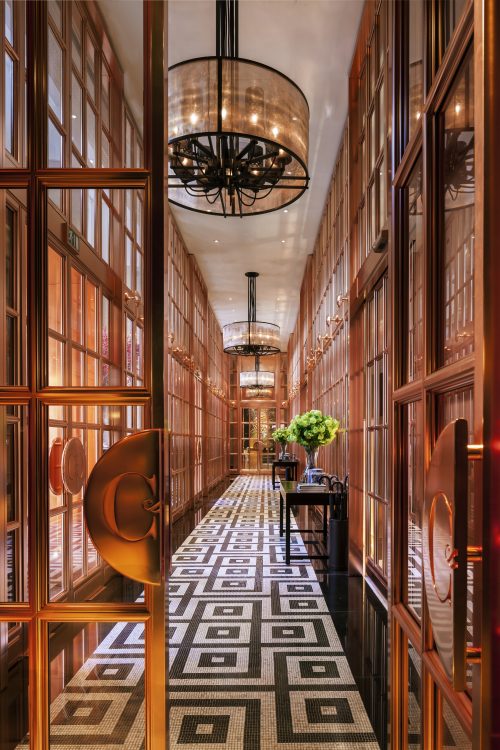 In the midst of bustling Holborn where commuters roam like ants and black taxis and iconic big red buses battle for right out of way lies an Edwardian Grade II-listed building that is so enchanting that it looks like a castle from a fairytale.
Escape the buzzing streets past wrought iron gates, through a small carriageway and you find yourself transported to a private courtyard and at the heart of one of the most extravagant pieces of architecture in London. 252 High Holborn was designed by H. Percy Monckton in a flamboyant Edwardian style and construction began in 1912, the building was expanded in four stages over the next 50 years.
The interiors are as astounding as the exterior, the rose bronze gallery connects Rosewood London's public spaces and it is an utter masterpiece, so gloriously extravagant that Gatsby himself would approve. The lobby boasts black and white marble mosaic flooring, a one-off painting of the English countryside by famed Argentinian artist Eduardo Hoffmann and gilded eglomise glass partitions filled with eclectic art and books.
The lavish interiors feature Cuban mahogany and seven types of marble, including extremely rare types such as Swedish Green and Statuary. At the heart of Rosewood London is one of the world's most spectacular staircases, a Renaissance-style seven-storey grand marble staircase, a true architectural tour de force valued at £40 million. As intricate as the icing on a wedding cake, it ascends from either side of the entrance on High Holborn, forming a bridge on the first floor and rising through all the floors under an elliptical dome.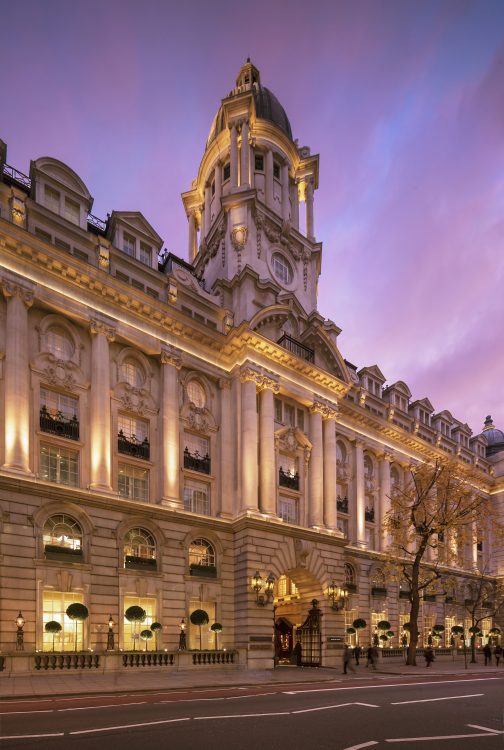 The sophisticated comfort transcends to Rosewood London's 262 guestrooms and 44 suites, decorated in a palette of white, stone and soft grey, each offering privacy, warmth and quiet elegance. Expect lacquer, textured wood veneers and prismatic mirrors with bathrooms crafted from the finest Italian marble and hand beaten alpaca silver finishes.
There are also eight signature 'house' suites that are among the most decadent in London, including the Manor House which is the only suite in the world that has its own postcode. The Manor House boasts old world charm and has its own private entrance on High Holborn and a private elevator to ensure complete discretion.
Stay in the vast Pearl Suite, an ode to the Pearl Assurance Company which constructed the Rosewood London building over a century ago. The 93-square-meter residence is designed for entertaining with a spacious sun-soaked living room with its own dining table and bar, complete with multiple DIY cocktail making kits and extravagant glassware.
There is a powder room located off the entrance hall and a bedroom complete with a super king-sized bed, dressed in crisp bed sheets and personalised monogrammed pillowcases that you can take home with you, a thoughtful touch. A dressing room is adjoined to the bedroom and a vast Italian marble bathroom with double vanity sinks, soaking bathtub with built-in TV and spacious walk-in shower.
There is a minibar which is so vast it acts as a fully-functioning larder, filled with snacks and drinks, from Dom Perignon Vintage 2006 to chilled Peroni's and salted caramel gourmet popcorn to honey roasted peanuts.
As you would expect, the suite is stunning but the real charm is the dedicated butler who is assigned to your suite and will go above and beyond to ensure that all of your dreams come true during your stay. If possible, request Julie, she is incredibly professional, efficient and absolutely charming. She suggested that we are woken the next morning with a rather special wakeup call, a tray of freshly baked warm biscuits and cups of steaming coffee which you can enjoy from your bed as your butler sets up breakfast in the living room, this is the kind of opulence wildest fantasies are made of.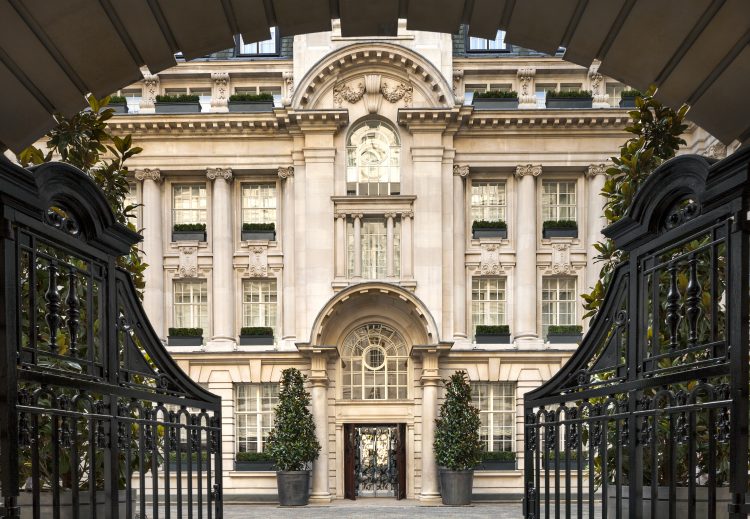 Julie insisted on ordering something extraordinarily special for breakfast and we were happy to oblige. You must try the curated Dom Perignon Breakfast which is the ultimate indulgence. Start with a perfectly chilled glass of Dom Perignon Vintage 2009 with English strawberries served with a cloud of whipped vanilla cream. Follow this with Oscietra Caviar Eggs Royale with fresh smoked salmon, perfectly poached eggs in a rich golden hollandaise sauce on a toasted English muffin. Nibble on a tray of warm freshly-baked morning viennoiseries with a freshly squeezed orange juice in hand.
For dinner, head down to the Holborn Dining Room situated in the former East Banking Hall of Pearl Assurance, it is now a bustling art-deco brasserie serving locally-sourced seasonal British fare. Aesthetically, it is a celebration of classic British design with reclaimed oak furnishings, copper-topped bars, antique mirrors and opulent leather upholstery with tweed fabric detailing. Sink into an intimate booth and ask for Nicola, one of the most hilarious and attentive waiters you will ever encounter.
The bar stocks over 500 gins and staff are incredibly knowledgeable and happy to pair you with the perfect tipple. To start, opt for the famous Monkshill Farm scotch egg, winner of the prestigious Scotch Egg Challenge or the Gin-cured salmon with pickled cucumber.
For the main event, the tender Beef Wellington with truffle mac and cheese and heritage carrots slathered in cumin butter and macadamia is divine, as is the Dover sole with brown butter, lemon and parsley.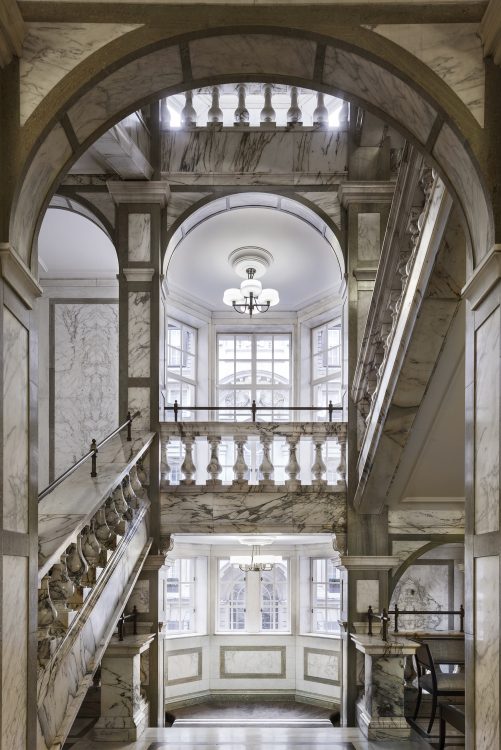 For dessert you are truly spoilt for choice with nostalgic British classics such as Jelly and ice-cream made with strawberries, mascarpone and elderflower and Peach Melba with sharp yet sweet English raspberries.
After dinner, head to Scarfes Bar which has the sophistication of a private members club and the relaxed atmosphere of a drawing room. Celebrated British artist and caricaturist, Gerald Scarfe is honoured at Scarfes Bar. His collection of provocative paintings adorn the marble walls, transforming the bar into a living canvas.
Sink into a velvet armchair by the roaring open fire surrounded by over 1,000 antique books that have been hand-picked by a Portobello antiques dealer. The cocktail menu is extensive, highlights include 'Poetic Justice' made with Chivas Mizunara, tonic wine, Sassy Small Batch cider, maple wood and hazelnut. 'Diamond Bouquet' is also a real treat, made with Snow Queen Enigma, fortified wine, royal jelly and pickled grape.
Rosewood London is a celebration of perfect British hospitality, design and sheer unapologetic opulence, it is no surprise that Justin Bieber, Oprah and supermodel Karlie Kloss stay here when they are in town. To be frank, Rosewood London is glorious, and may well be London's most thrilling hotel.

@rosewoodlondon
252 High Holborn, Holborn, London WC1V 7EN