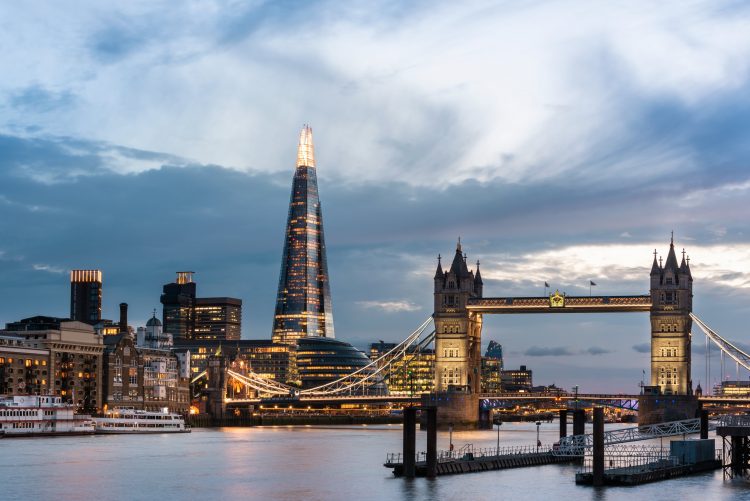 The Shard is a statuesque beauty that has quickly become an icon of London's skyline. Floors 34 to 52 of the elegant 95-storey skyscraper are home to Shangri La London, the first UK outpost for one of the finest hotel groups in the world.
Without doubt, being housed in the tallest building in the United Kingdom has its advantages, the most important being that Shangri La London offers some of the most unforgettable views of the city and beyond. London is famed for being low-rise, so unlike say New York, where even when staying on the higher floors of most hotels, you are still often staring into an office or eye to eye with a millionaire in his or her neighbouring apartment, Shangri La London offers sweeping unobstructed views of landmarks such as St. Pauls, Tower Bridge and the boats gliding up and down the Thames.
The aesthetic follows Shangri La's iconic design of warm neutrals, oriental elegance and opulent statement touches, such as the chandelier that weighs as much as a Hummer. The classic interiors create a welcome haven from the hustle and bustle outside, and it is rather surreal to sit up in the ivory tower overlooking the glittering lights of the kingdom below.
Shangri La London boasts 202 guestrooms, including 17 spacious signature suites, all with floor-to-ceiling windows and stunning views. Guests can handpick their desired view of London by choosing from rooms in four different categories, such as The Superior Shard Room which faces south towards the historic counties of Surrey, Sussex and Kent, The Deluxe City View Room northerly and easterly views, The Iconic City View Room which boasts incredible 180-degree panoramic views and last but certainly not least, Premier City View Room which overlooks unparalleled northerly views of some of London's most iconic landmarks.
At Shangri La London you are quite literally walking on air, the plush sky-blue carpets resemble the clouds and offer a perfect contrast to the refined materials used, such as marble and silk. The iconic Shangri La bed with patented body contouring technology, dressed in crisp high thread-count linen is the most comfortable you will ever sleep in, complete with a bespoke choice of pillows from a menu and rests in front of cherry blossom-embossed accented walls, paying homage to the brands Asian heritage.
The marble bathrooms boast heated floors and televisions elegantly concealed in the mirror and are stocked with luxurious Aqua Di Parma toiletries. When booking, ensure that you request a room with a freestanding bathtub, perfectly positioned against a floor-to-ceiling window for a truly unforgettable experience.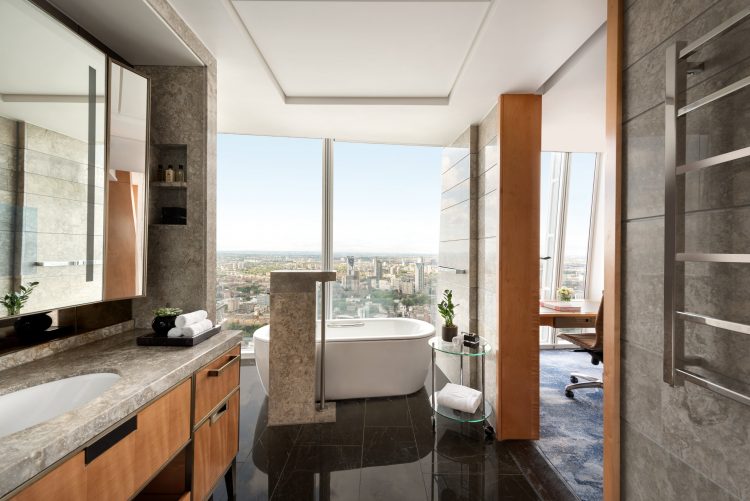 The crown jewel of Shangri La London is the Shangri La Suite, one of the largest and most decadent in London. This exquisitely appointed one-bedroom suite boasts an en-suite bathroom, dressing room, separate living room complete with a dining area, office space, guest washroom and kitchenette. Guests can expect a bed dressed in 1,000-thread count cotton Frette linen, champagne chilling on ice, a personal butler service and a private 1-way airport transfer from a London airport.
There are many thoughtful touches, such as a Chinese tea set, an iPad loaded with digital newspapers, augmented reality and a local area guide and binoculars to take in the exceptional skyline views. The marble bathroom boasts a jacuzzi bath and steam shower, washlet toilet with a heated seat and a choice of Acqua Di Parma, Jo Malone, Miller Harris or Ormonde Jayne amenities.
Whilst staying at Shangri La London, ensure to head to the 52nd floor where you will find a glass encased gym and an incredible sky pool, both providing beautiful panoramic views, of course. This oasis in the sky has lounge areas to relax post-swim and there is a pool boy on hand with an abundance of heated towels and refreshing drinks.
When it comes to dining and drinking options, at Shangri La you are truly spoilt for choice with a trio of incredible places; TĪNG, GŎNG and Bar 31. Located on the 52nd floor, GŎNG is the highest bar in London and perfect for innovative sunset cocktails whilst admiring that famous view. Bar 31 is a more relaxed offering with local craft beers on tap and tasty nibbles made with ingredients from Borough Market.
TĪNG is a casual eatery, even its name derives from the Chinese word for 'living room'. The restaurant and lounge is located on the 35th floor and boasts 360-degree views of the River Thames, Tower Bridge and Canary Wharf. It is the epitome of casual elegance and the perfect spot for breakfast, lunch, dinner and a late-night supper. However, the star of the show is undoubtedly its afternoon tea, one of the finest in London. Add some theatrics to your afternoon with a menu that celebrates British classics with a Shangri La flair.
Start with a glass of Bollinger, followed by the signature Welcome Tea, a blend of white and jasmine tea with apricot pieces that arrives in extraordinary style, flooding your table with rolling smoke.
There are delicate finger sandwiches, such as Roast Chicken and truffle mayonnaise on malted grain and Smoked Salmon with wasabi mayonnaise on caraway. Followed by freshly baked scones served with Devonshire clotted cream and English strawberry jam. Then it is the sweets, such as a tangy mojito meringue tart and a perfect passion fruit macaron. Then there are cakes, chocolate and hazelnut bar and a lemon drizzle cake accompanied by a vast selection of fine loose-leaf teas.
Albeit with wildly different offerings, each place shares one thing in common. The chefs have established strong bonds with local suppliers and are committed to sourcing ingredients from their neighbours at Borough Market and in Bermondsey. Charcuterie is sourced from local legend Cannon & Cannon, farmhouse cheeses from Neal's Yard Dairy and honey from the award-winning Bermondsey Street Bees.
Try to coincide your visit with a performance from Shangri La London's partnership with private theatre service 'Revels in Hand'. Hosted in one of Shangri-La's decadent suites, they offer hilarious and provocative performances of beloved plays, such as Voice of the Turtle.
Revels In Hand is the brainchild of Melanie Fullbrook, Freddie Hutchins and Lucy Eaton, three extraordinary actors who are passionate about reviving the lost leisure of theatre done intimately. Intimate performances such as this were common in Shakespearean times, adored by royalty and the aristocracy. Revels In Hand have brought this amazing experience back to life for a new generation.
As the sun sets over the city, casting the suite in a rich golden light, you are invited to sit less than a metre from the actors, so close that you can see every twinkle in their eye and every fine laughter line. With a flute of champagne in hand, this is an exclusive evening that you will never ever forget. The perfect end to a night in the clouds… what could possibly be more dreamy?
@shangrilalondon
31 St Thomas St, London SE1 9QU