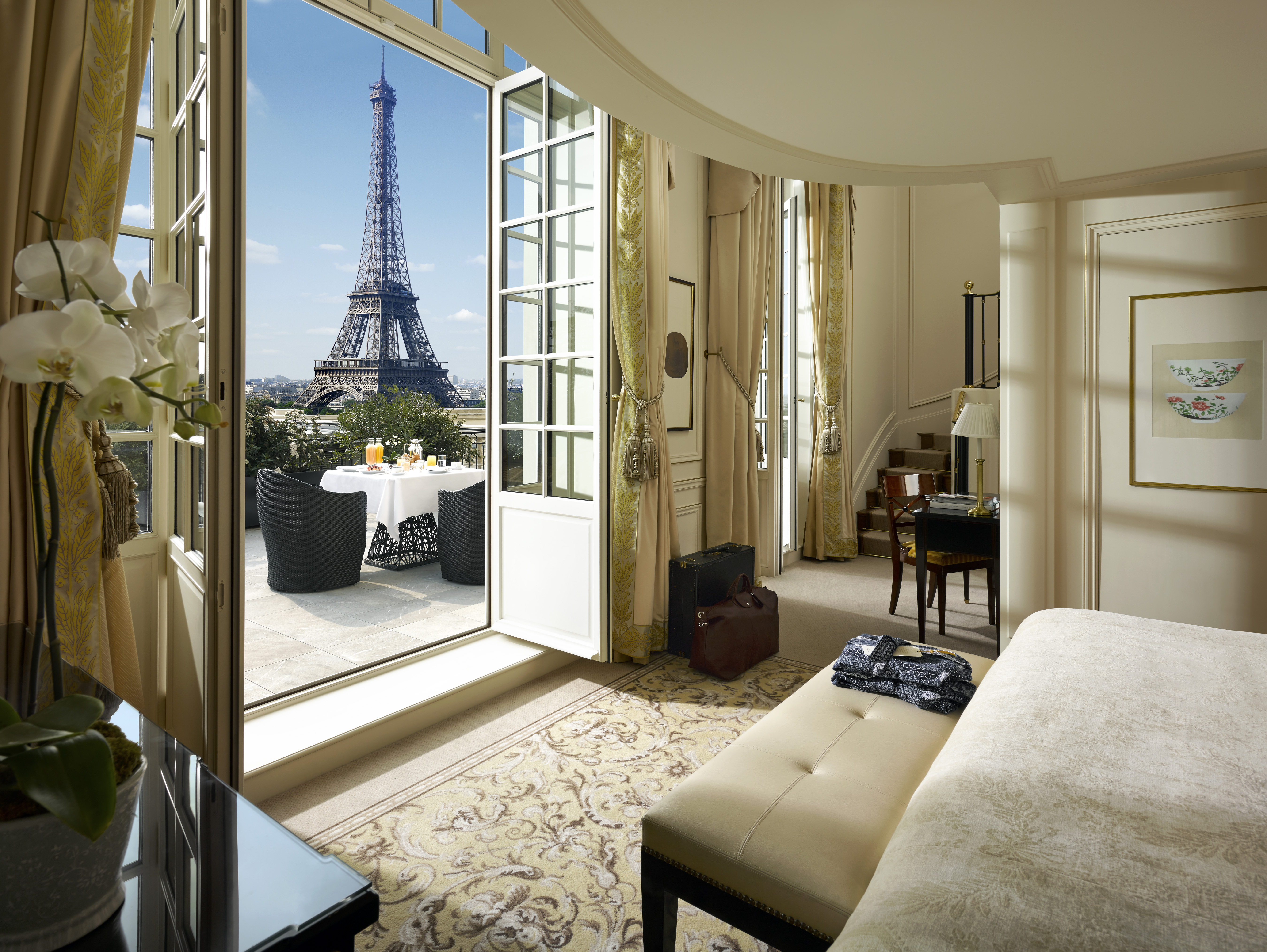 Shangri-La is a fictional, mythical, harmonious valley in the iconic novel Lost Horizon by James Hilton. It is depicted as a remote location that is so paradisiacal that it is the nearest place to perfection. After spending time at Shangri-La Paris, it comes as no surprise as to why its name and philosophy was inspired by the novel. It is located in the 16th arrondissement of Paris, in the shadow of the Eiffel Tower.
No. 10 Avenue d'Iéna was once the palace of Napoleon Bonaparte's grandnephew, Prince Roland Bonaparte, but is now occupied by Shangri-La Paris. It has such historical significance that is an official Historical Monument. It was the place to see and be seen for Paris' glittering aristocracy and bourgeoisie. 120 years later, the building still hosts the entertainment world's elite, including; Blake Lively, Rihanna, Beyoncé and Jay Z.
Shangri-La Paris has one of the most mesmerising facades in the world, inspired by the Louis XIV style. Celebrated sculptors Steiner and Houguenade, who rose to fame for their craftsmanship on the Louvre were commissioned to carve the façade with intricate masonry of stone from L'Oise.
On the afternoon of my arrival, the sun had almost hit its peak position in the cloudless pastel blue sky. The car crawled past the intricate cast-iron gateway and came to a halt at the steps of Shangri-La Paris.
The lobby had all the intimacy and authenticity of a grand private living room. Amongst the glittering chandeliers and vases overflowing with white orchids, which filled the air with their scent, was a discreet wooden check-in desk. There was an air of gentle efficiency, which indicated that guests at the Shangri-La Paris aren't used to being kept waiting.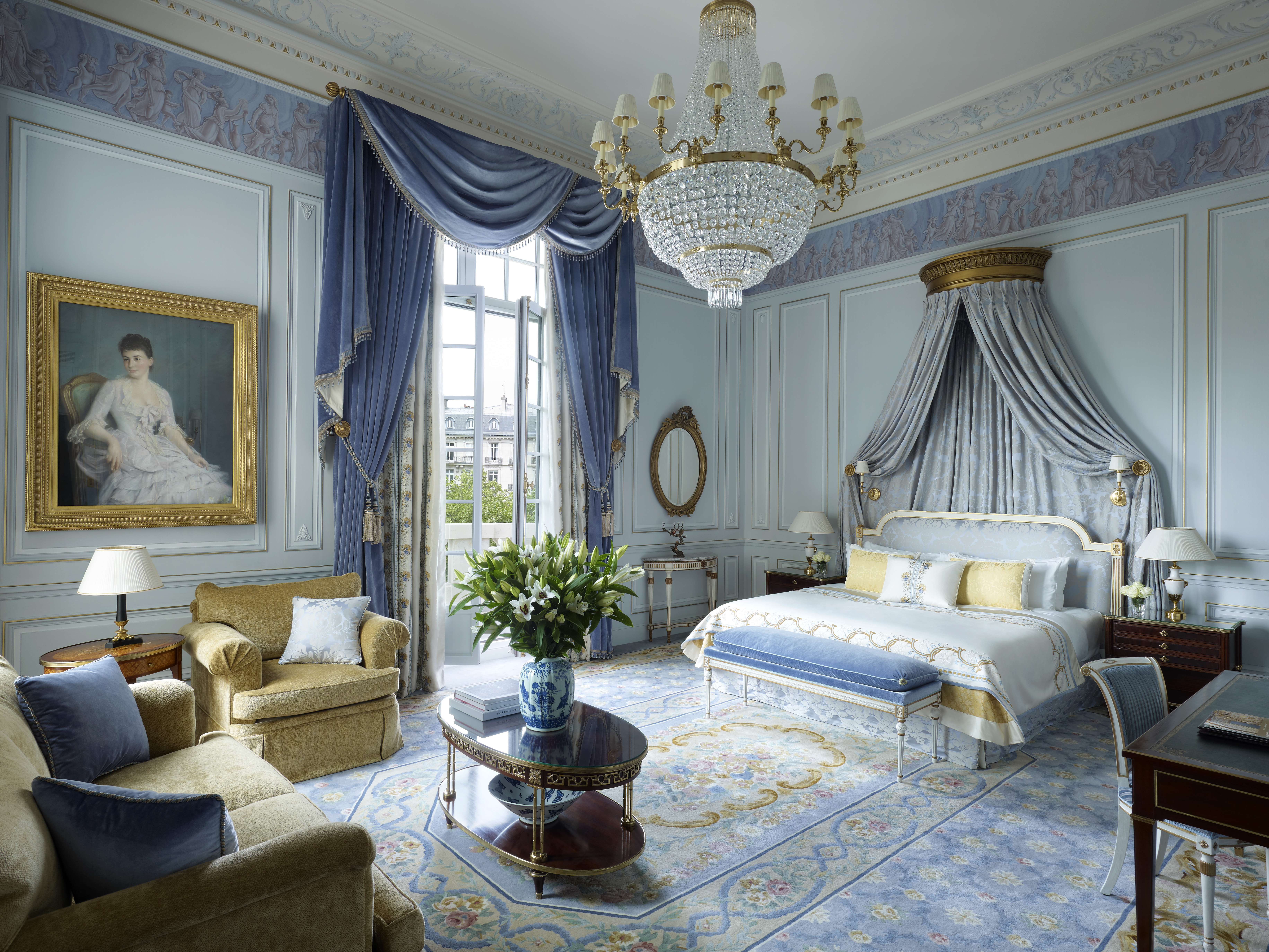 Shangri-La Paris has delicately preserved the charm of the illustrious private residence it once was. I stayed in the opulent 750 sq ft. Duplex Eiffel Tower view suite, which was old-world elegance personified.
Upstairs, was a mezzanine living area with plush cashmere coloured sofas, a television and a dining table laden with champagne, pastel macarons dusted in gold leaf and a platter of exotic fruits that glistened like jewels. I peered over the balcony at the extravagant bedroom below, then descended the grand gilt staircase to explore.
The double vaulted ceiling was dizzying, below was a vast bed dressed in crisp white sheets and a luxurious gold woven blanket. A spacious walk-in wardrobe led to an incredible marble bathroom fit for an emperor. It boasted heated floors, separate bathtub and rainfall shower, as well as a flat screen television discreetly integrated into a large mirror.
I turned to the window, and my heart felt as though it had jumped out of my chest; so real and enchanting that I felt as though I could reach out and touch it, was the magnificent steel and lace structure of the Eiffel Tower.
Any luxury hotel can offer effortless silken service, exquisite accommodation and lavish amenities, but nowhere else can offer all of that as well as unobstructed views of the most romantic monument in the world.
I clung to the wrought iron balcony, feeling the heat of the sun upon my face and watched as two plump pigeons circled one another against the background of the majestic tower.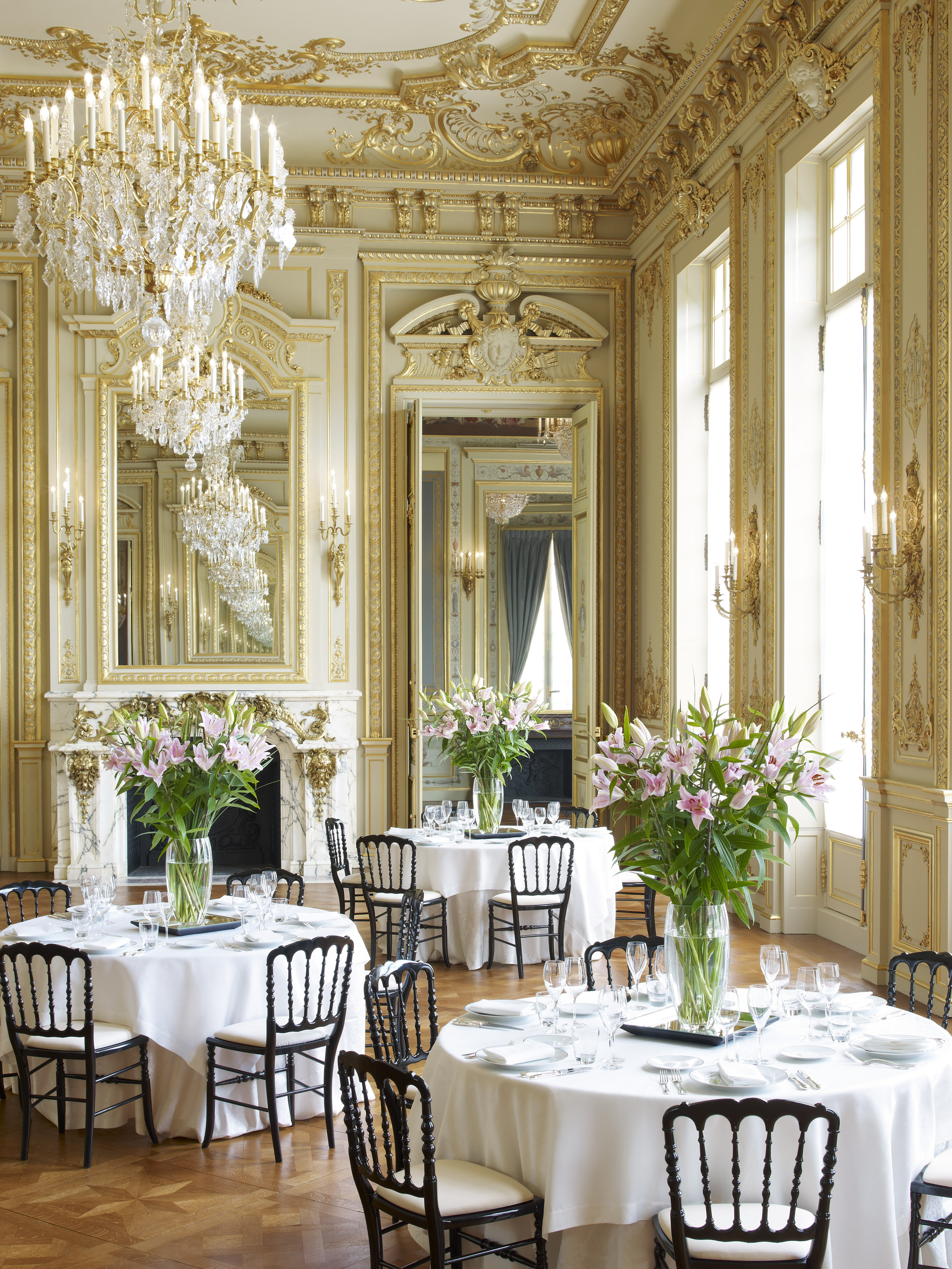 Author Samantha Schutz once wrote, 'Even the pigeons are dancing, kissing, going in circles, mounting each other. Paris is the city of love, even for the birds.'
Shangri-La Paris is home to Shang Palace; the only Michelin starred Chinese restaurant in France. It is an oriental paradise of luxurious private booths, traditional lanterns and ornate screens. My guest and I were greeted at the door by two beautiful Chinese women, dressed in opulent burnt orange and gold silk robes, with provocative slits up to their slender hips.
Our waiter, Hugo Tcheng, had ink black hair and a chiselled jawline. He wore a black traditional Chinese suit with white trim. With a wide smile, he handed my guest and I a hot white towel that was scented with a deep aroma of jasmine.
We sipped passion fruit cocktails that held the unmistakable but pleasant burn of fresh ginger and were decorated with fresh violet pansies.
A carousel of luxurious gold plates laden with food began to arrive. We tried delicious vegetable spring rolls with black vinegar and seaweed and ruby red tomatoes marinated in plum sauce with fresh mint and Thai basil.
Next was sashimi in a rich sesame and peanut sauce, served with a rainbow of fruits and vegetables. The dish is traditionally served on Chinese New Year and according to tradition, you make a wish and the higher you mix the dish, the more likely it is for your wish to come true.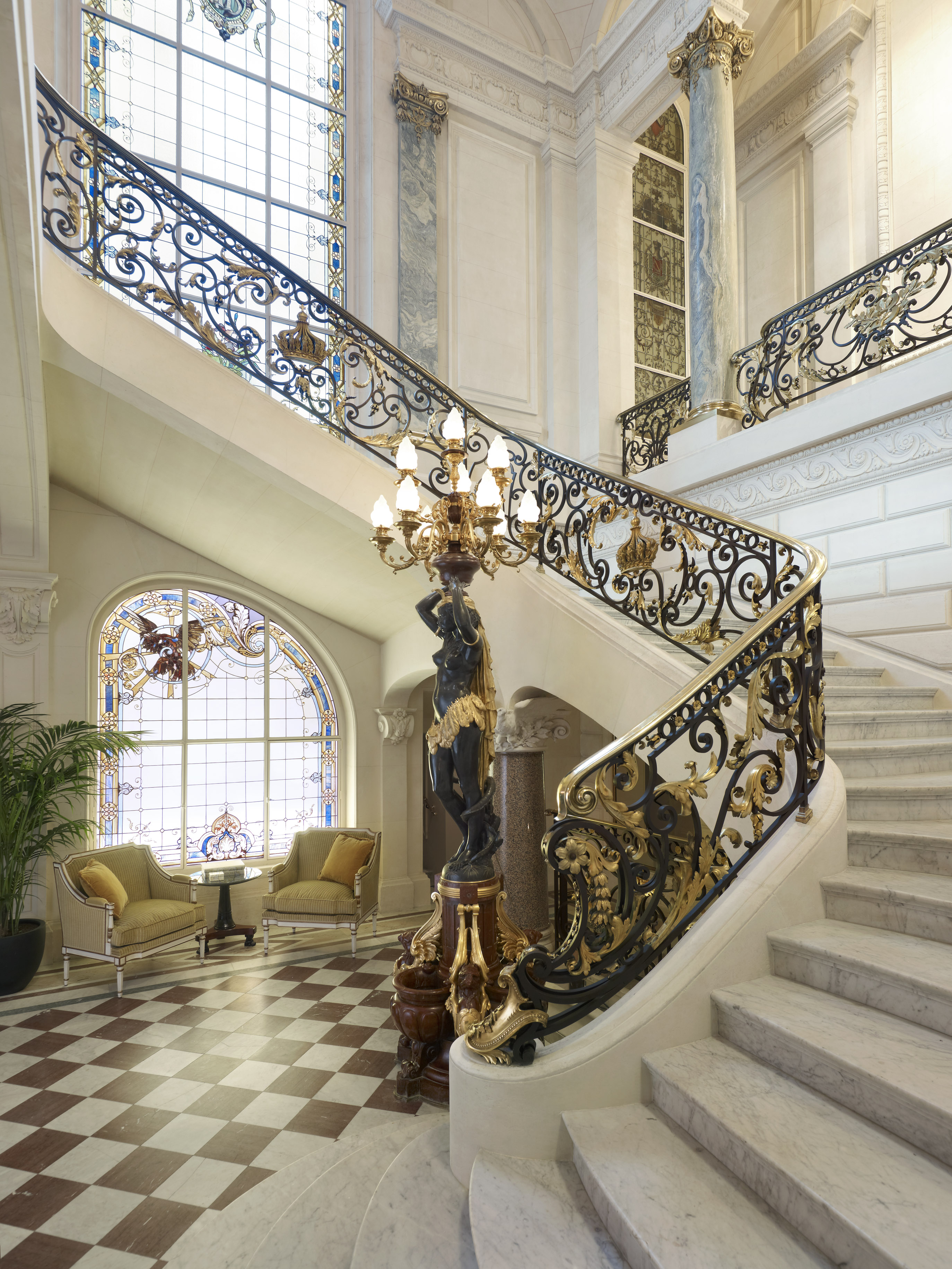 There was tender braised cod, with ginger and spring onions and chef style fried rice, an intoxicating concoction embellished with egg, shrimp, chicken, barbequed pork and bamboo shoots.
Hugo delivered hospitality from the heart, and his attention to detail was exquisite. I accidently spilt a drop of soy sauce on the white tablecloth and in a flash he had discreetly covered it with a white napkin.
Hugo told us about his captivating childhood summers spent in Hong Kong. His eyes misted over with nostalgia as he described a decadent dessert of mango cream which he often enjoyed there. A few moments later we were presented with two gold bowls brimming with mango cream with pomelo and sago. It was refreshing, sweet and delicious, Shang Palace's pièce de résistance.
With our satiated appetites, we returned to our suite, just in time to see the last of the evening sky slip away like a sigh. I threw open the curtains and sunk onto the lavish bed. The warm summer night air billowed in and I watched the lights of the Eiffel Tower twinkle like fireflies against the black velvet sky.
As always, Ernest Hemingway said it best, "There are only two places in the world where we can live happy: at home and in Paris."
Shangri-La Paris
10 Avenue d'Iéna, 75116 Paris, France
Eurostar operates up to 18 daily services from London St Pancras International to Paris Gare Du Nord with return fares from £69. Fastest London-Paris journey time is 2hr 15 minutes. Tickets are available from eurostar.com.