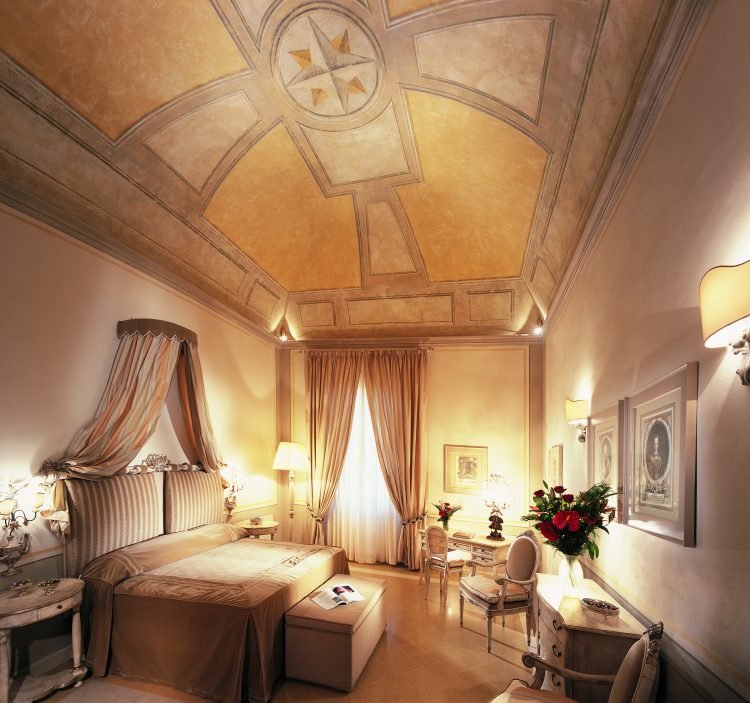 Tuscany is so devastatingly beautiful that it is no surprise that it has been inspiring poets, painters and musicians for centuries. The birthplace of the Italian Renaissance, its lyrical landscapes, rich heritage and artistic legacy will leave you spellbound.
In the hills of Tuscany, you can find true magic. Thermal waters have been flowing from the depths of San Giuliano Terme for centuries and are appreciated for their healing properties by the Medici family, the Romans and the Etruscans. In 1743, the Grand Duke of Tuscany, Francis Stephen of Lorraine built his summer spa residence there.
Bagni di Pisa is a spectacular luxury spa resort which aches of the history, glamour and unapologetic splendour of times gone by. This majestic Lorraine Palace has 61 rooms which are architectural gems, boasting modern comforts that work harmoniously with the neoclassical aesthetic. The suites feature 18th century vaults frescoed in pastel colours with parqueted lofts and Carrara marble bathrooms. There are romantic views of the sprawling rustic Tuscan countryside and even as far as the Leaning Tower of Pisa.
Bagni di Pisa is passionate about wellness, there are a vast variety of relaxation therapies, beauty treatments and detox programs. The resort has perfected the ancient art of Salus per Aquam, the power of healing through water and offer the ultimate experience of using these magical thermal waters to rejuvenate your mind, body and soul.
Bagni di Pisa's sister hotel Grotta Giusti is a short drive away and well worth a visit. Situated in sprawling parkland that was landscaped in the 1800s, with an opulent 19th century villa at its heart. Get lost in unspoilt nature in the 45-hectare parkland, stroll through the gardens, past fragrant flowers and the timeless beauty of the gardens, shaded by trees that date back centuries. There is a freshwater swimming pool, tennis court and a fitness course with various hiking trails.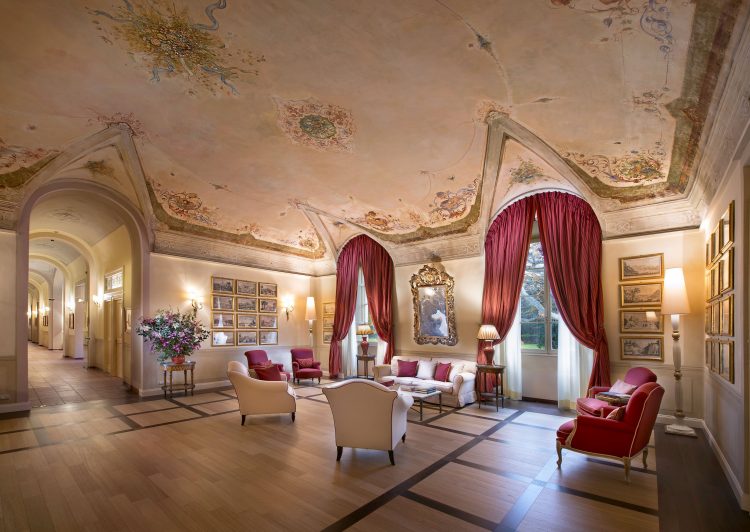 Grotta Giusti is home to La Veranda, one of the finest restaurants in Tuscany. Celebrated Chef Guido Lotti is famed for his passion for locally sourced ingredients, spectacular execution and knowledge of Tuscan tradition. His gastronomic masterpieces are inspired by the local lands, expect fine wines and delicious traditional dishes.
Iconic Italian opera singer Maestro Giuseppe Verdi referred to Grotta Giusti it as the 'eighth wonder of the world' due to its vast thermal cave. It is the largest thermal cave in Europe and stretches over 200 metres below the resort.
Get lost in a unique world underground, wander through three distinct areas, Heaven, Purgatory and Hell, where guests can experience temperatures ranging from 28° to 34° C and the healing and therapeutic properties from the natural steam.
The hauntingly beautiful cave has interiors decorated with a lattice of stalactite and stalagmite formations and large vaults that are natural formations, where guests can embrace absolute peace and quiet. Venture on through the cave until you reach 'The Limbo' where the temperature remains at 36ºC and there is a sparkling pool for guests to soak in all year round. The cave is a showcase of mother nature at her finest, so spectacular that it will leave you utterly speechless.
Bagni di Pisa
@bagnidipisa
Largo Shelley, 18, 56017 San Giuliano Terme PI, Italy

Grotta Giusti
@grottagiusti
Via della Grotta Giusti, 1411, 51015 Monsummano Terme PT, Italy