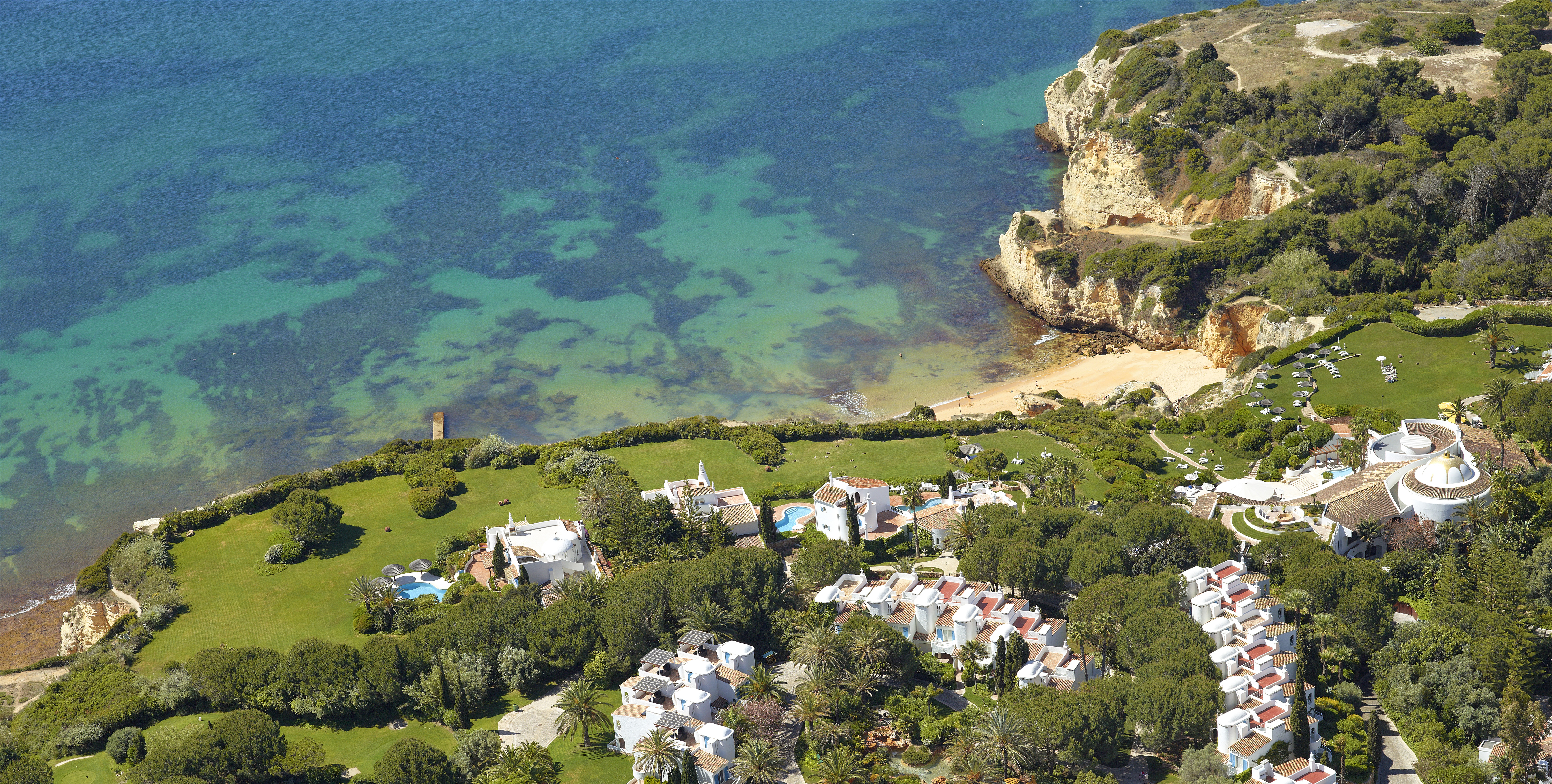 Algarve is the extraordinary archipelago in the southernmost region of Portugal, renowned for its coastline that stretches over 100 miles. It is easy to understand why 10 million visitors flock to the coastal town annually. It is perfect for anyone who loves the sea, hikes with picturesque views of the ocean and delicious food.
The 40-minute journey from the airport passed a myriad of different skies; a brooding flint-grey sky turned into a bright sea of misty clouds sailing like heavenly hoods. As we reached our destination, an iridescent rainbow straddled the sky, anointing the resort with its brilliance.
Stay at Vila Vita Parc Resort
American novelist Mary McCarthy once penned, 'Any Portuguese town looks like bride's finery – something old, something new, something borrowed, and something blue'.
Vila Vita Parc Resort is located at the top of a majestic cliff in the small town of Porches and embodies McCarthy's description of Portugal entirely. The 22-hectare resort boasts lush green botanical gardens throughout, which includes olive trees that are over a century old. The Algarve is world-famous for its golf courses; Vila Vita Parc offers countless opportunities to improve your golf game with a 9-hole Pitch & Putt course and a spectacular cliff top driving range against the background of the ocean.
Guests will arrive at a charming Algarvian-Moorish building and welcomed in by the friendly staff, before being escorted to one of the 170 accommodations by one of the hotel's many golf buggies. It is an exciting way to start your stay at one of the leading hotels of the world.
We arrived outside a row of beautiful whitewashed apartments with charming blue shutters. We stayed in one of the lavish Oasis Suite Premium Rooftops. The suite is spacious, with an office that overlooks the vibrant gardens. The room boasts a cosy lounge complete with a rich oak and glass coffee table, comfortable settee and armchair, with a full-length mirror positioned in the centre of the room. There is an incredible wooden king size four-poster bed complete with delicate drapes for an added touch of privacy and opulence.
The luxurious six-piece bathroom is bright and airy and boasts a balcony that overlooks the green tropical gardens below. The bathroom features a double basin, a sumptuous oval bathtub, a separate walk-in rain shower, complete with underfloor heating.
The suite's crown jewel is without a doubt the private 40-square-metre rooftop terrace which is accessed via it's own staircase.There is nothing more serene than enjoying the plum skies as the sun sets over the crashing waves of the Algarve coastline.
Instagram: @vilavitaparc
Rua Anneliese Pohl, Alporchinhos, 8400-450 Porches, Portugal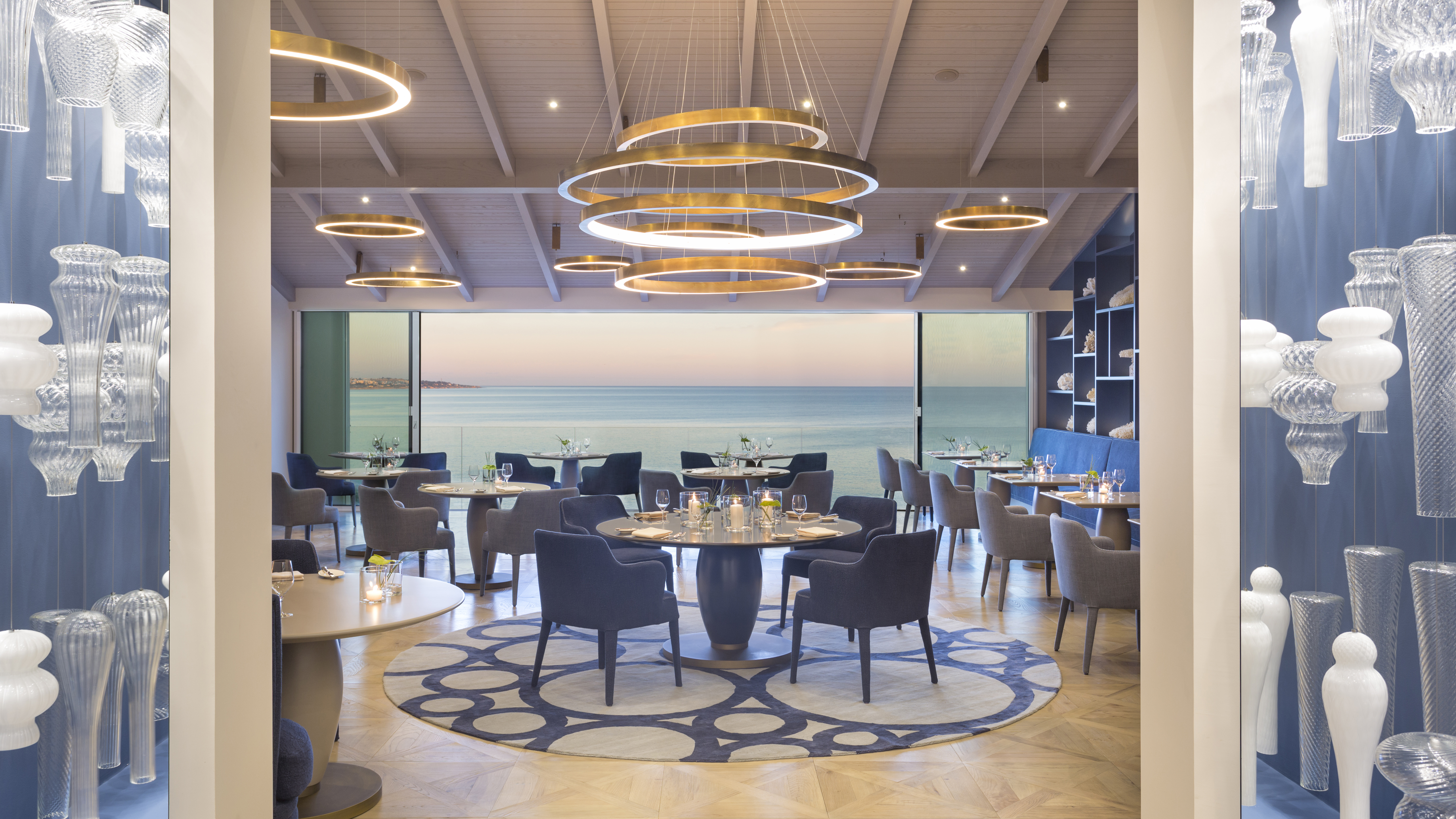 Eat at Adega and Ocean
Adega specialises in traditional Portuguese cuisine and overlooks an enchanting swan lake. The rustic interior creates a warm and welcoming atmosphere, which is enhanced further by the gracious and attentive staff.
The seasonal menu is made with fresh local produce and includes contemporary and traditional dishes, such as; the 'Octodog' – octopus that is tenderised and so full of flavour served in an open sweet potato and succulent 'Portuguese Steak' – draped in prosciutto and decorated with crispy potato slices smothered in a rich gravy sauce. Desserts are a real delight, and a personal favourite is 'On the Islands', a moist banana Madeira cake with a scoop of white chocolate ice cream and a shot of Poncha served in a pipette to drizzle over everything.
You can't visit the Algarve and not dine at two-Michelin star restaurant, Ocean. As soon as you walk into the restaurant, you are immediately met with the most breathtaking view of the Atlantic ocean.
Perfectly themed, the restaurant's interior is decorated in a palette of blue and grey, with a stunning feature wall with built in geometrical shelves, all filled with large shells and candles in each cubby hole. Round grey tables are dotted around the room, and intimate blue booths fill the corners of the restaurant.
The kitchen is headed up by award-winning chef, Austrian Executive Chef Hans Neuner. His creativity and dedication to producing the finest culinary works of arts are outstanding. There are two options; a four-course or seven-course meal. Always go for the latter and be prepared for a dining experience like no other.
The dishes are carefully curated and beautifully presented, the bread is made with barley flour and is served in a beautiful glass jewellery box, alongside white and gold pearls of goat's milk butter on a wooden pearlescent dish. You are kept on the very edge of your seat, eagerly anticipating what culinary masterpiece will be presented to you next.
Even the starters are extraordinary, such as the 'Pumpkin Egg' – a delicious imitation egg made from parmesan, pumpkin, sunflower seeds, cauliflower, porridge and truffle. Main courses such as the 'Atlantic Sole' – a spectacularly delicate fish with fragrant black truffle that gives the dish a wonderful rich flavour. The finale is a spectacular Goat's Milk dessert that comprises of ambrosial thick and creamy pollen ice cream, topped with pretty lavender wafers, bread crumbs and pistachios.
Instagram: @restauranteocean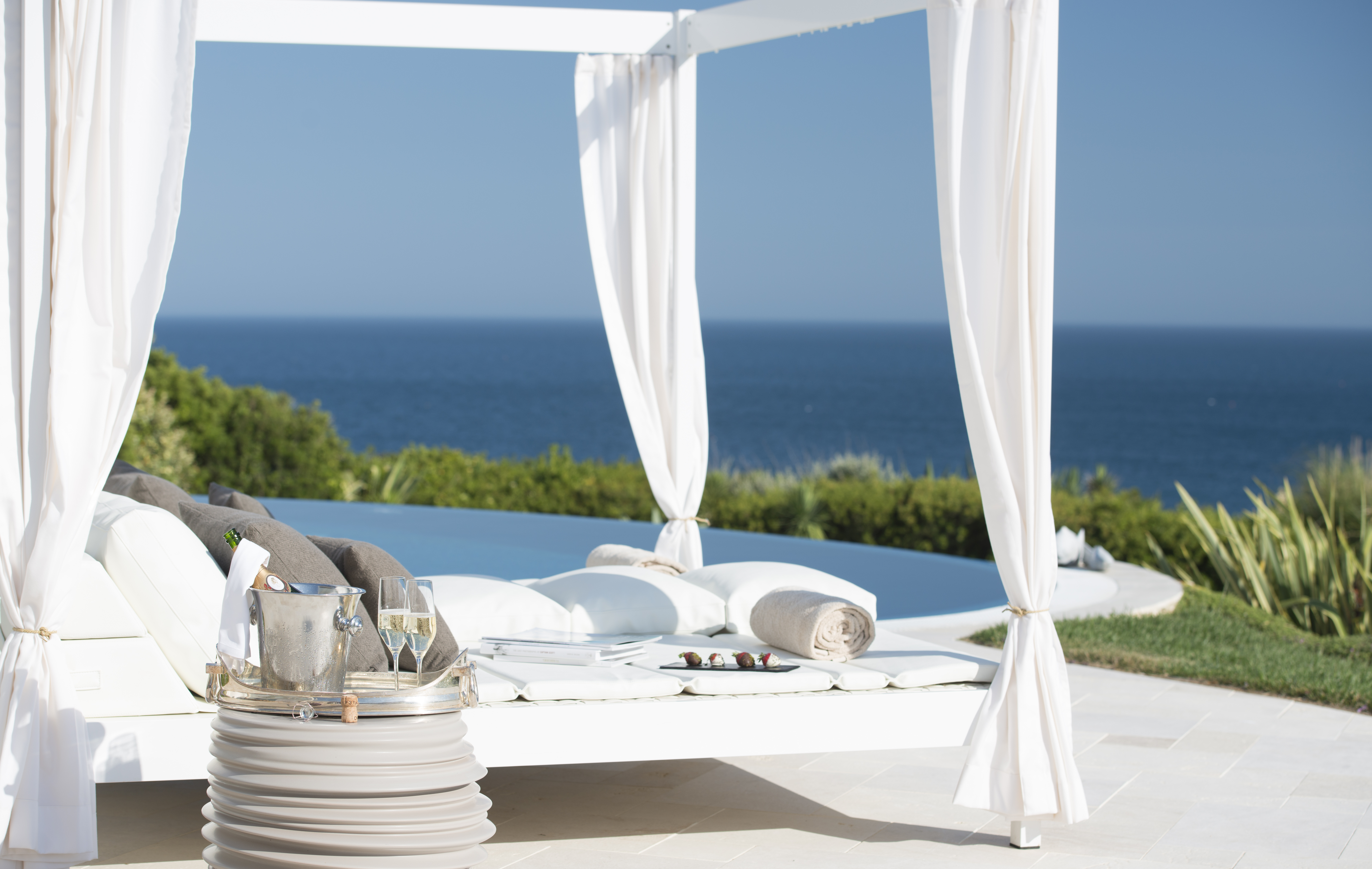 Explore Algarve's Beaches
Writer and historian, Hilaire Belloc once wrote, 'If there is one portion of Europe which was made by the sea more than another, Portugal is that slice, that portion, that belt. Portugal was made by the Atlantic.' If the Atlantic made Portugal, then the Algarve is the bridge from water to shore.
The Algarve is decorated with over 150 of Europe's most magnificent golden beaches, from secluded and romantic beaches to lively beaches for partying and watersports. 'Praia de Beijinhos' – Kisses Beach, the romantic name coined because of the formation of two giant rocks in the shape of birds looking out into the sea. Another reason is that the sea brings shells that look like smiles and kisses onto the shore.
Meia Praia is continually buzzing with electric energy. The stunning seafront stretches 4 km, the largest beach in Algarve, alongside several cool bars and small cafes to enjoy. Revel in everything that this beach has to offer including surfing, windsurfing and jet skiing.  
Hike along the edge of the cliffs and explore more of the Algarve's magnificent coastline. The spectacular panoramic views are not to be missed; cotton clouds float along the infinite celestial blue skies as they merge into the Atlantic sea.
Algarve is also renowned for its dramatic caves. Take a boat out to explore Benagil, the favourite amongst visitors or voyage out further and discover all 20 caves that Algarve has to offer. There is nothing more magical than enjoying a day out in the sea and uncovering earth's greatest treasures. You never know, you may even make a dolphin friend or two.