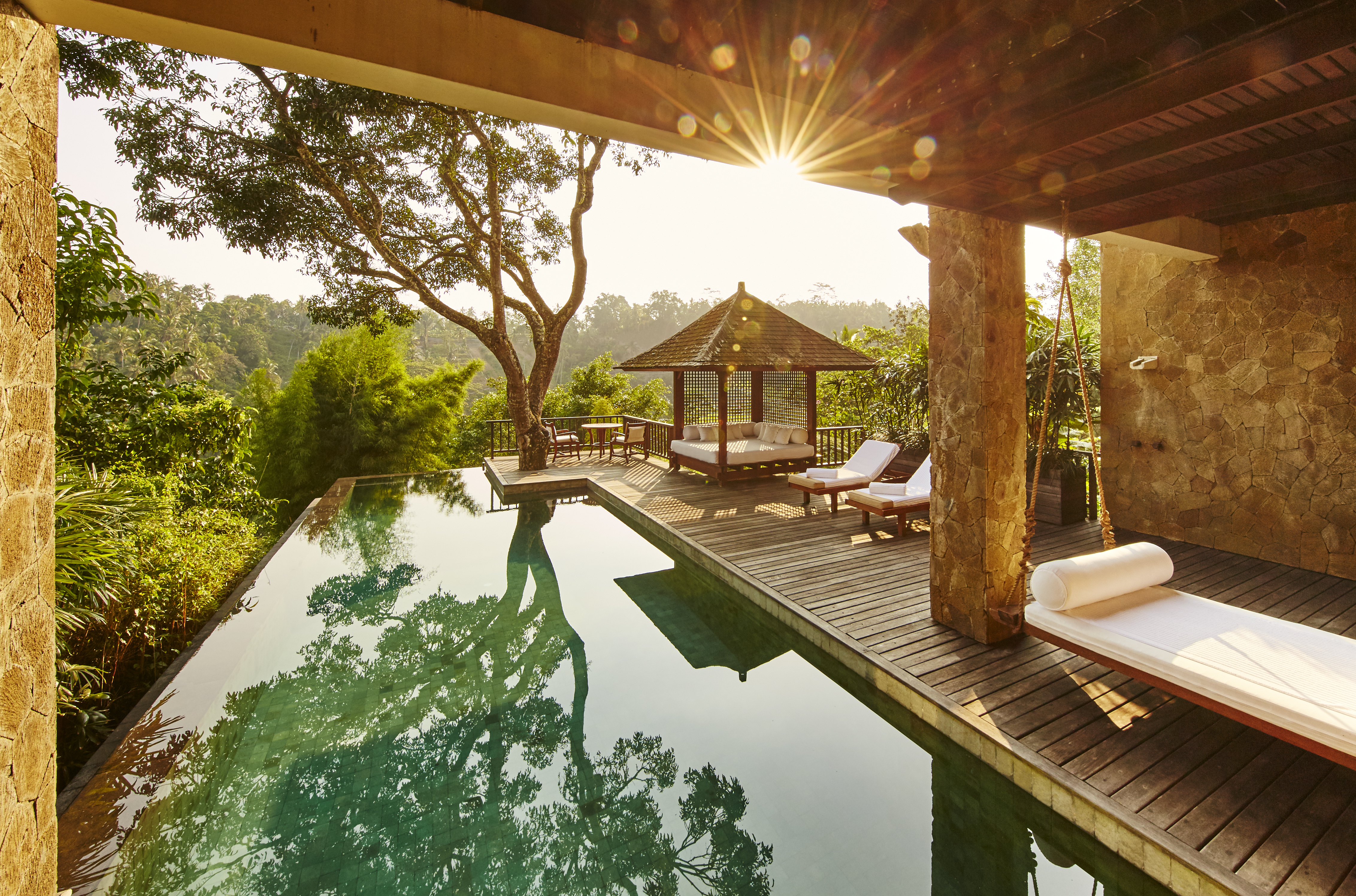 David Attenborough once said: "People must feel that the natural world is important and valuable and beautiful and wonderful and an amazement and a pleasure." There is nowhere more pleasurable to explore than the paradisiac beaches and lush green rainforests of Bali.
It is no surprise that Bali has attracted over 4 million tourists in 2016 alone. It is a playground of beauty and life, including; monkey forests, turtle conservations and butterfly parks.
The island is part of the Coral Triangle, an area with the highest biodiversity of marine species. It is also world famous for its array of incredible beaches, including the iconic volcanic beaches in the north that are famed for their black sand.
Stay at Melia Bali – The Garden Villas
Melia Bali is situated in the picturesque Nusa Dua, beloved for its golden sand and glistening turquoise sea. It's impossible not to fall in love with Melia Bali at first sight, it boasts luscious Balinese gardens with jasper-green trees, pastel-toned flowerbeds and majestic water fountains.
Guests are greeted with the warmest welcome imaginable by beautiful girls with walnut-brown skin and beaming smiles. Dressed in traditional Balinese attire, the girls place a delicate Plumeria lei around your neck and guide you into the Level Lounge. There you are welcomed with a large personalised fresh green coconut water with your name carved delicately into the shell.
The Premium Lagoon Access Suite we stayed in featured a private terrace with access to the Lagoon pool and a spectacular view of the charming tropical gardens. The vast room was furnished with dolomite marble flooring and beautiful mahogany pieces that Bali is renowned for. The decadent four-piece marble bathroom featured a large shower and bathtub, perfect to unwind after a long day in the sun.
Instagram: @meliabali 
Kawasan Wisata Btdc Lot. 1, Nusa Dua, Bali 80363, Indonesia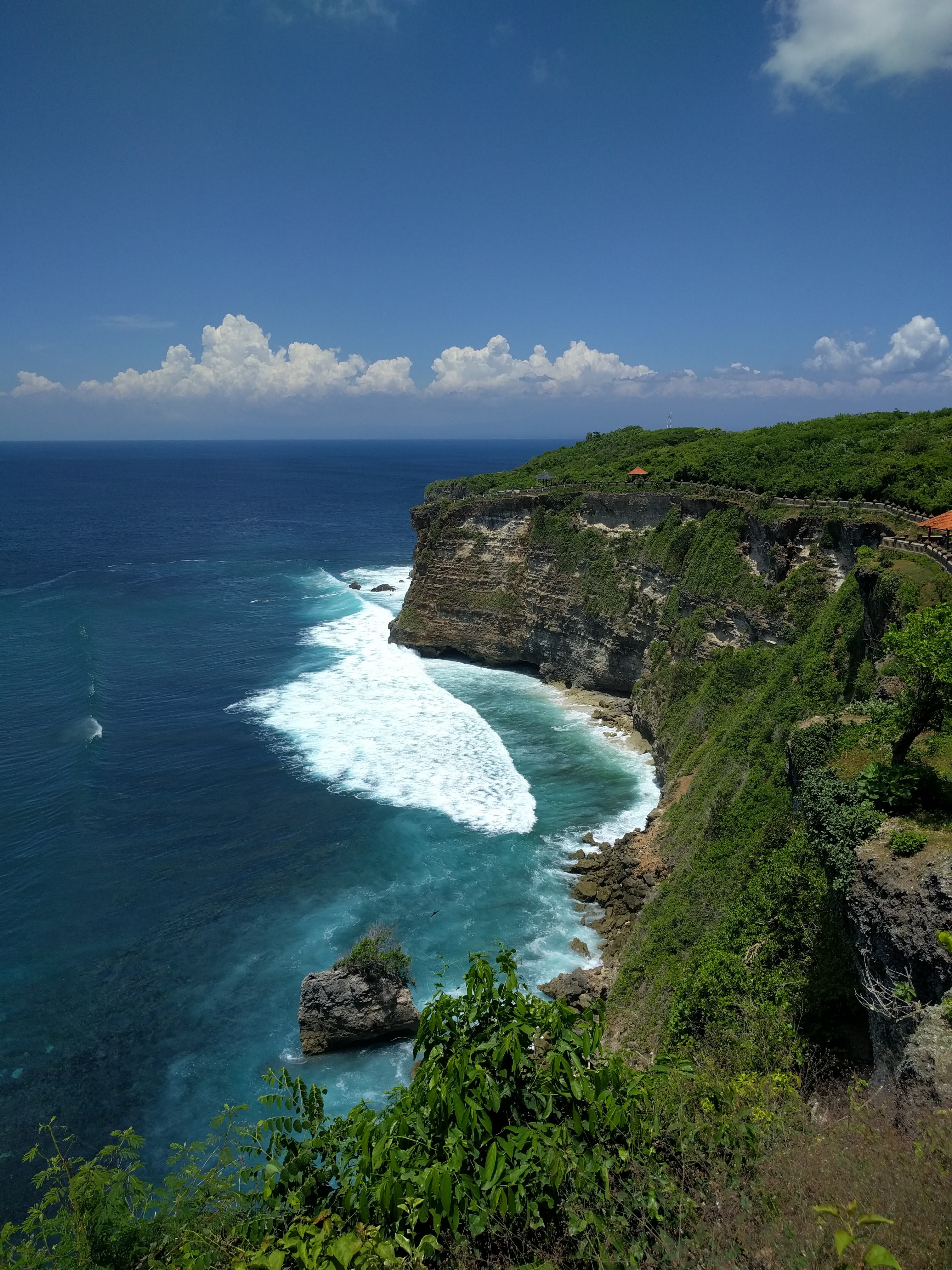 Explore
Bali is full of adventure and incredible places to explore. The predominantly Hindu population has created some of the most beautiful and mystical temples. The Tanah Lot Temple is located on a tiny island in the Beraban village. During the high tide, the majestic building looks as if it is floating in the sea, allowing visitors to walk across when the tide lowers.
Visit one of Bali's beloved monkey forests. The lush green landscape is home to mischevious grey long-tailed macaques that are comfortable around their human counterparts. There is nothing more enjoyable for nature and animal lovers to see than monkeys in their natural habitat, running around, playing amongst themselves, grooming each other and eating.
Stay at COMO Shambhala Estate
Nestled in the heart of the jungle, next to the River Ayung, COMO Shambhala Estate is a holistic health retreat that has attracted celebrities and athletes around the world with its tailored wellness programs.
Each room is given the service of a personal assistant, as well as luxuries that you never even knew you needed. The double wooden doors to the One Bedroom Retreat Pool Villa opened onto a wooden deck shaded by palm trees and leafy canopies. There was a wooden hammock that overlooked the bountiful rainforest. You are encouraged to shower under the stars in the outdoor shower. There is a 11m spring water infinity pool with Jacuzzi jets.
The bedroom boasts a four-poster king-size bed dressed in crisp white sheets. There is a separate lounge with floor-to-ceiling windows and a spacious walk-in wardrobe and dressing room.
The bathroom was the highlight of the suite, a lavish marble affair, complete with an enormous black marble bathtub and a shower room which became a personal steam room with the touch of a button.
Eat at Glow
Glow is an open-air restaurant within the COMO Shambhala Estate which offers dramatic views of the Ubudian jungle. The menu has been carefully curated to be nutritious and delicious and even boasts an additional entirely raw food menu.
The Prawn Salad was delightful, the combination of almonds and orange blossom was absolutely unforgettable. The Grilled Wagyu Beef Sirloin was tender juicy, served with an array of grilled vegetables and parsley salad.
For dessert, there is delicious raw cacao dipped bananas and carob ice cream or if you desire a lighter finale, a selection of raw cacao treats and truffles that are a perfect way to end an incredible meal.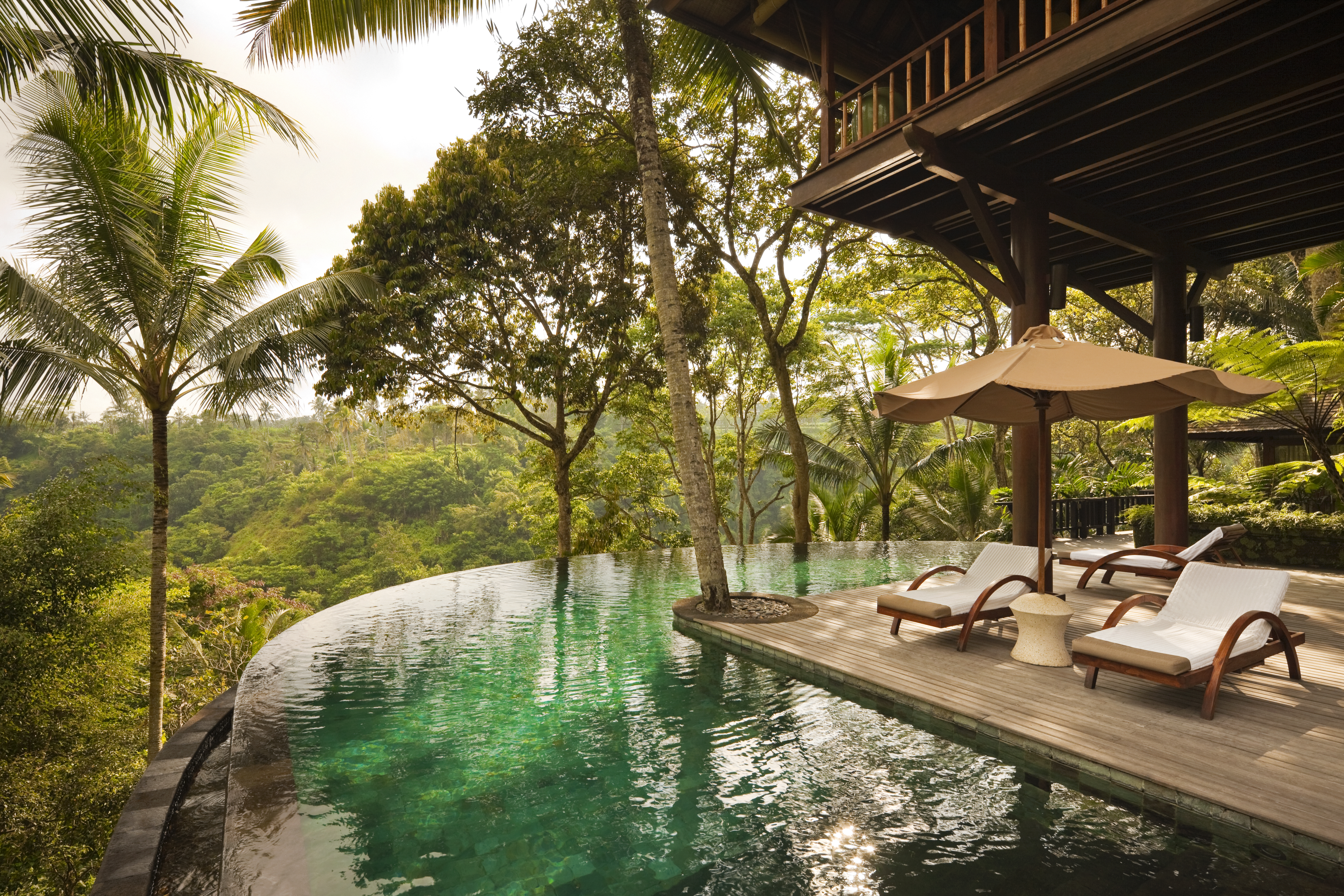 Explore the grounds of COMO Shambhala Estate
The vast estate occupies over 30 acres of land, with only 30 guest houses. When I was ready to explore, I called upon my assigned personal assistant Mika who arrived within 5 minutes. He whisked me away in a golf buggy to explore what the COMO Shambala Estate has to offer.
We visited The Source, an ancient spring of rejuvenating holy water just footsteps from the Ayung River. We hiked along a narrow path with beautifully carved stone arches that led us through the heart of the jungle. It was truly magical to be so at one with nature, with the only the sounds of crickets chirping and birds calling for company.
We visited Arcadia, a miniature waterfall that gushed emerald waters into a spring pool. It was overlooked by several white deck chairs and a four-poster canopy bed, shaded by a charmingly thatched roof. The secluded terrace overlooked the breathtaking foliage that was broken up by the flowing stream of the Ayung River, which is perfect for river rafting.
Enjoy the Spa at COMO Shambhala Estate
COMO Shambhala has one of the most luxurious spas in Bali and offers an array of wellbeing and spa activities. I experienced the open-air Treatment Pavilion in Kedara, which translates to 'bed in a garden', aptly named as it looks like a secluded treehouse.
Ony, the massage therapist greeted me warmly and prepped me for their signature COMO Shambhala massage. She worked her magic using their blended massage oils to calm the mind and gently rejuvenate the body. There was no music, the only sounds required come from the glorious nature which surrounds you in abundance.
I sipped a ginger tea, overlooking the magnificent view of the rainforest and I knew that this was without a doubt one of the world's greatest wonders. It is so astoundingly beautiful, it has to be seen to be truly believed.
Instagram: @comoshambhalaestate
comohotels.com/comoshambhalaestate
Banjar Begawan, Desa Melinggih Kelod, Bali 80571, Indonesia