 Beautifully remote, Six Senses Laamu can only be accessed by plane or boat. It is the only resort in the Laamu Atoll, deep in the Indian Ocean, just five degrees north of the Equator.
Six Senses Laamu is a place for adventure. The island is like a mini rainforest, rich with sweeping palm trees and luscious greenery. The only way to get around is barefoot or by your own hand-personalised bicycle. It is home to a host of animated wildlife, including geckos, birds and crabs. Green turtles even come ashore to hatch their eggs, which are protected from predators by the people on Laamu. An extraordinary coral house reef surrounds the island; Oriental Sweetlips swim alongside manta rays that glide gracefully whilst pods of dolphins are regularly seen dancing and performing tricks in the crystal-clear water.
There is a tight-knit community on Laamu and the ethos is fun; this is apparent by the warmth and hospitality from those that inhabit the island. Six Senses Laamu offers more than a holiday; it gives quiet luxury, a sense of freedom and the opportunity to immerse yourself in nature like never before.
Welcome to paradise…
Stay in a Laamu Water Villa
These decadent 1,360 square foot over water villas are located at the end of the weathered timber jetties, at the furthest point away from the main island to ensure absolute privacy and tranquillity.
A villa offers sweeping views of the Indian Ocean from a private pool accompanied by an upper deck and a pool deck complete with daybeds and sun lounges. There is also an aquarium dining deck with an all-glass table so you can watch the underwater playground of parrotfish whilst eating dinner alfresco.
The villa is fitted with all of the contemporary features needed, such as a Bose entertainment system, 37-inch flat screen TV with satellite channels, iPod and docking station, IDD telephone and high-speed WiFi. There is also a personal bar and a Nespresso machine, alongside a complimentary bottle of Prosecco on arrival.
The villa is full of bespoke features, including an extraordinary glass overwater bathtub with an uninterrupted view of the ocean, a toilet with glass flooring to watch the sea life and an outdoor rain shower. There is even a treetop deck, where you can climb to the top of the villa for a unique panoramic view of the sparkling sapphire seascape against the rose-hued sunset.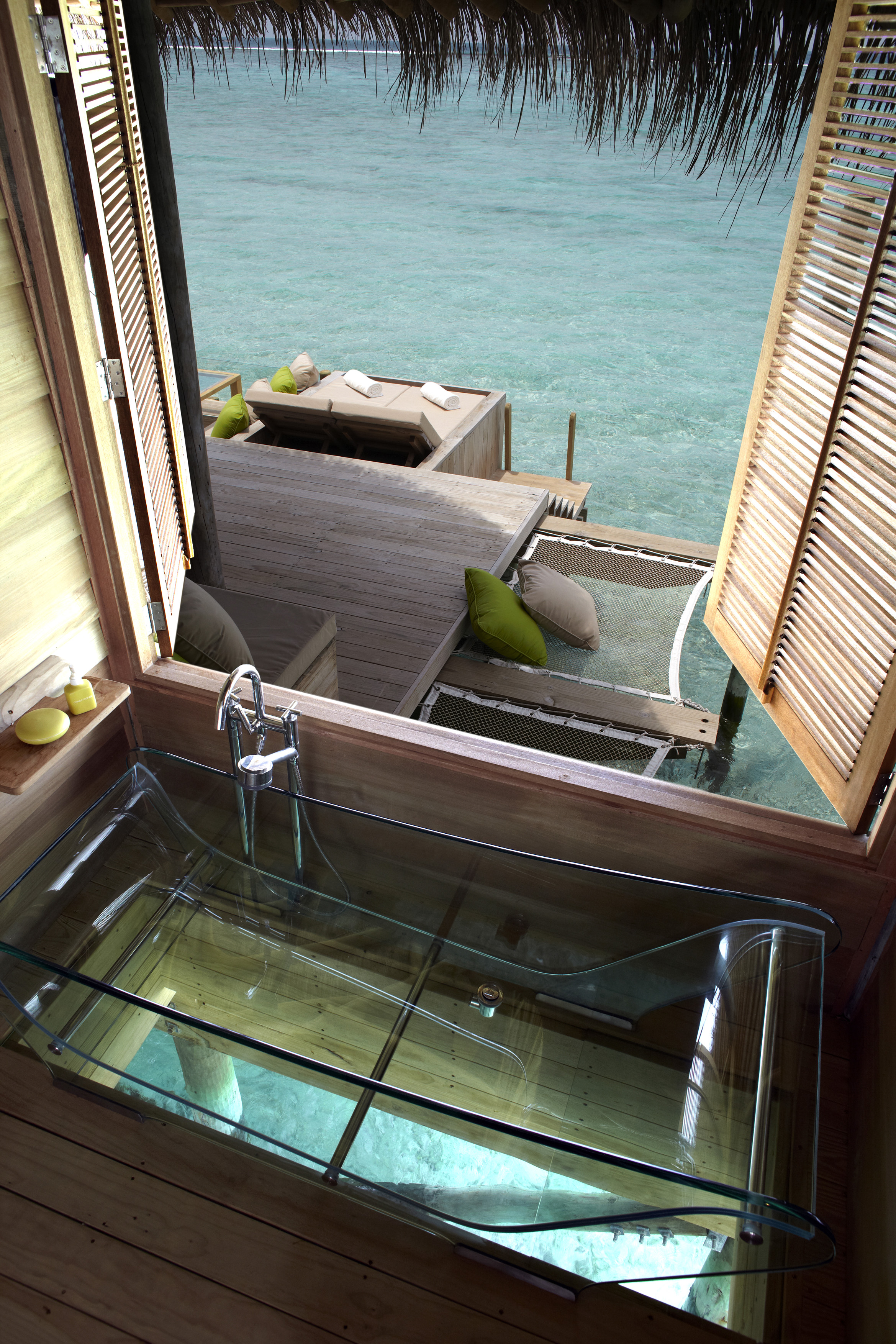 Eat at Leaf
Six Senses has six bars and restaurants but the signature eatery is Leaf. Perched above the organic garden, under high palm-thatched roofs, sea breezes drift among the rustic woods in a tree house style setting.
The chefs work closely with local Maldivian fishermen and farmers to source outstanding local ingredients for the healthy and inventive menu.
We recommend the Laamu Fruity Reef Fish Ceviche with pickled green mango, pineapple and pomegranate to start, followed by Thyme Marinated Beef Tenderloin, served with black trompette mushroom soufflé, truffle charcoal potato puree and sautéed asparagus and last but certainly not least, the Honey Panna Cotta with caramelised banana popsicle and truffle scented honey sauce for dessert.
If by some miracle you are still peckish, head to Laamu's Ice & Chocolate Studio which is complimentary for guests. There is an alfresco ice cream parlour that features over 40 ever-changing flavours of ice cream and sorbet. We recommend the dairy-free coconut ice cream. It is home to an array of truffles with green tea, lavender and mint mojito flavours.
Learn about sustainability
Six Senses Laamu is unique in its tireless effort for sustainability and the incredible measures it goes to preserve the natural world. It is committed to reducing the ecological and carbon footprint from all activities associated with the resort. The island ethos is to live in harmony with nature rather than try to manipulate it. The island flora and fauna and the biologically diverse reef communities have survived and thrived for millions of years without human interference and at Six Senses Laamu, this is something they continue to respect.
During the 2017 Expo in Singapore, Six Senses Laamu received the first ever prestigious BlueGreen360 award to be given to a hotel or resort for commitment to sustainable operations.
A resident Marine Biologist is employed to inform guests about the coral reef ecosystem and about responsible behaviour in the reef environment. Other scientists are contracted to quantitatively monitor the reef.
Six Senses Laamu are especially committed to protecting the turtles that live in the reefs. Hawksbill turtles are listed as Critically Endangered in the International Union for Conservation of Nature Red List. This is due to their shell being used for thousands of years for decorative purposes. In 2016, the Resident Marine Biologists at Six Senses Laamu implemented a new code of conduct on how to sustainably snorkel and dive with turtles, ensuring that every encounter does not affect the natural behaviour and environment of the turtle. They also compiled a database of turtle sightings via a photographic identification process.
Today, the island celebrates the identification of 100 different Hawksbill turtles on the atoll's reefs.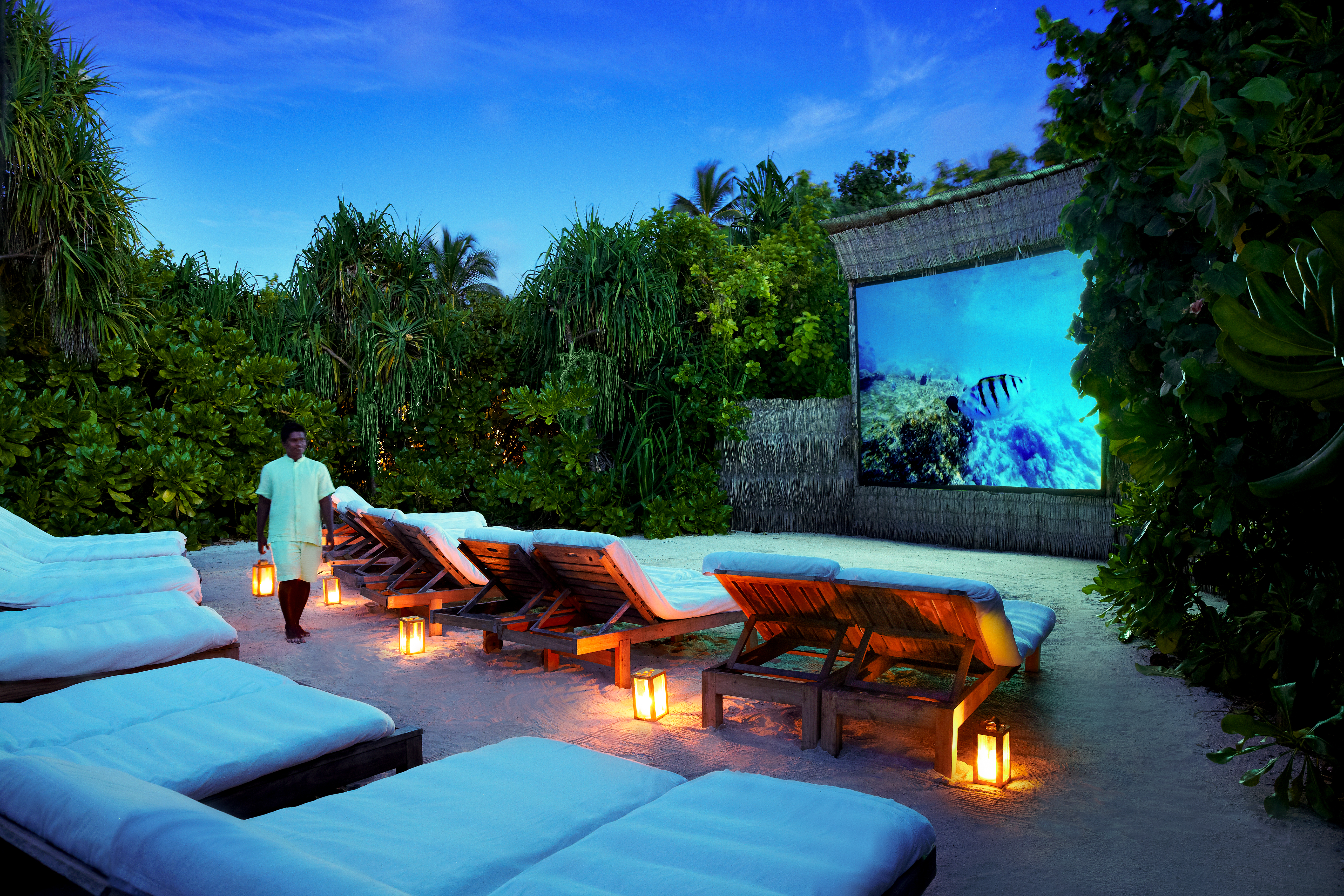 Explore – Go Island Hopping
Six Senses Laamu offers guests the chance to see all that the Maldives has to offer in a carefully curated trip to go island hopping. It is an opportunity to visit two very unique islands and snorkel in one of the most extraordinarily beautiful reefs in the atoll.
The first island gives a rare insight into authentic Maldivian culture. It is a chance to observe the day-to-day culture of the locals, such as visiting the mosque, local shops, the school and the boat building areas. It is also the perfect opportunity to interact with the locals who are some of the most warm, welcoming and playful people you could meet.
The second island is an uninhabited tropical paradise. It is the perfect place to snorkel in the azure water and explore the fascinating underwater world at leisure. There is also a delicious, romantic picnic provided to enjoy in the sunshine.
Enjoy Jungle Cinema
At the end of an adventure-filled day, there is nowhere better to unwind than at Six Senses Laamu's Jungle Cinema.
Shrouded in greenery for privacy, there are comfortable daybeds set up in front of a full cinema size screen. Sit back with your feet in the cool sand, a fresh papaya juice and warm popcorn in hand whilst you watch classics like The Notebook under a black velvet sky glittering with diamond-like stars.
@sixsenseslaamu
sixsenses.com/laamu
Olhuveli Island, Laamu Atoll, Maldives