For the perfect remedy to end of summer blues, one need look no further than Puggiestone House. Set amidst the rolling hills of Dartmoor National Park in the village of Chagford, you'll find a magnificent country manor, complete with landscaped gardens, a treehouse purpose built for relaxation, an indoor swimming pool and sauna; and one of the biggest televisions you've ever seen. 'How could it get any better?', I hear you ask. The answer, my friend, comes under the guise of Oliver's Travels, a luxury network of unique, handpicked villas around the World, each with their own quirky features and available to rent as ultimate sanctuary for personified privacy. The agency's tagline – Why Do Ordinary – doesn't even begin to cover it.
Arriving in the black of night, we ascended the stone steps to enter our home for the weekend, immediately taken aback by what we discovered. The kitchen was one of dreams, with state of the art appliances and deep, rich woods. Moving through its vastness, noting the sweeping windows and looking forward to the views they'd behold in the morning, we entered a long hallway, emblazoned with artworks, notably including a to-scale model of the owner's old yacht. Elegant and minimalist in décor, we immediately felt relaxed as our feet sunk into the plush carpets.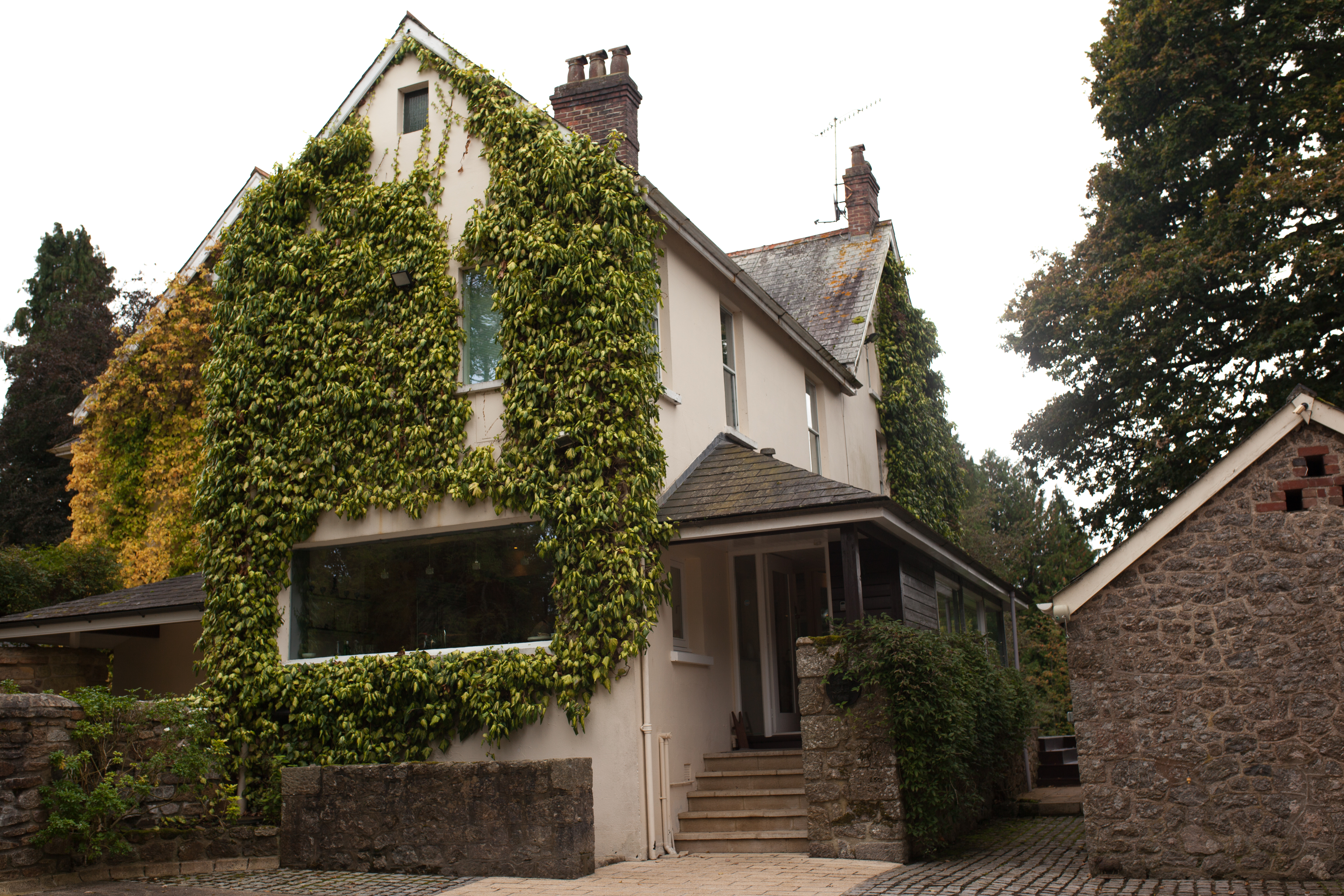 Eager to join the rest of our party, we commenced a brief tour of the building, discovering a library, an expansive, capacious lounge; with that television – a staggering 120 inch model – and an impressive sound system which combined Bang & Olufsen with Bose. Next to behold were Puggiestone's rooms. All seven of them, with the Master En-Suite boasting a large bath, twin vanity basins and a walk-in dressing room almost the size of my kitchen at home. However, the extravagance did not stop there. Ascending another level, we reached the top floor and our room, uniquely designed in a palette of purple and the only one in the house with its own private balcony. After a quick refresh, we joined our housemates for the weekend downstairs in the dining room, quickly settling in to the room (and the gin). After a long day, sleep came soon after.
Woken by the delicate sound of birdsong, we drew the curtains in awe. The extensive gardens were beautiful, a Buddha sitting proudly in the middle of a pond and a private stretch of the River Teign running at its edge. After a trip across the hall to our wet-room with the most powerful shower known to man, I dressed, donned a New & Lingwood wax jacket and set about exploring the grounds before breakfast, the fresh country air invigorating the senses and the light thankfully perfect for photography.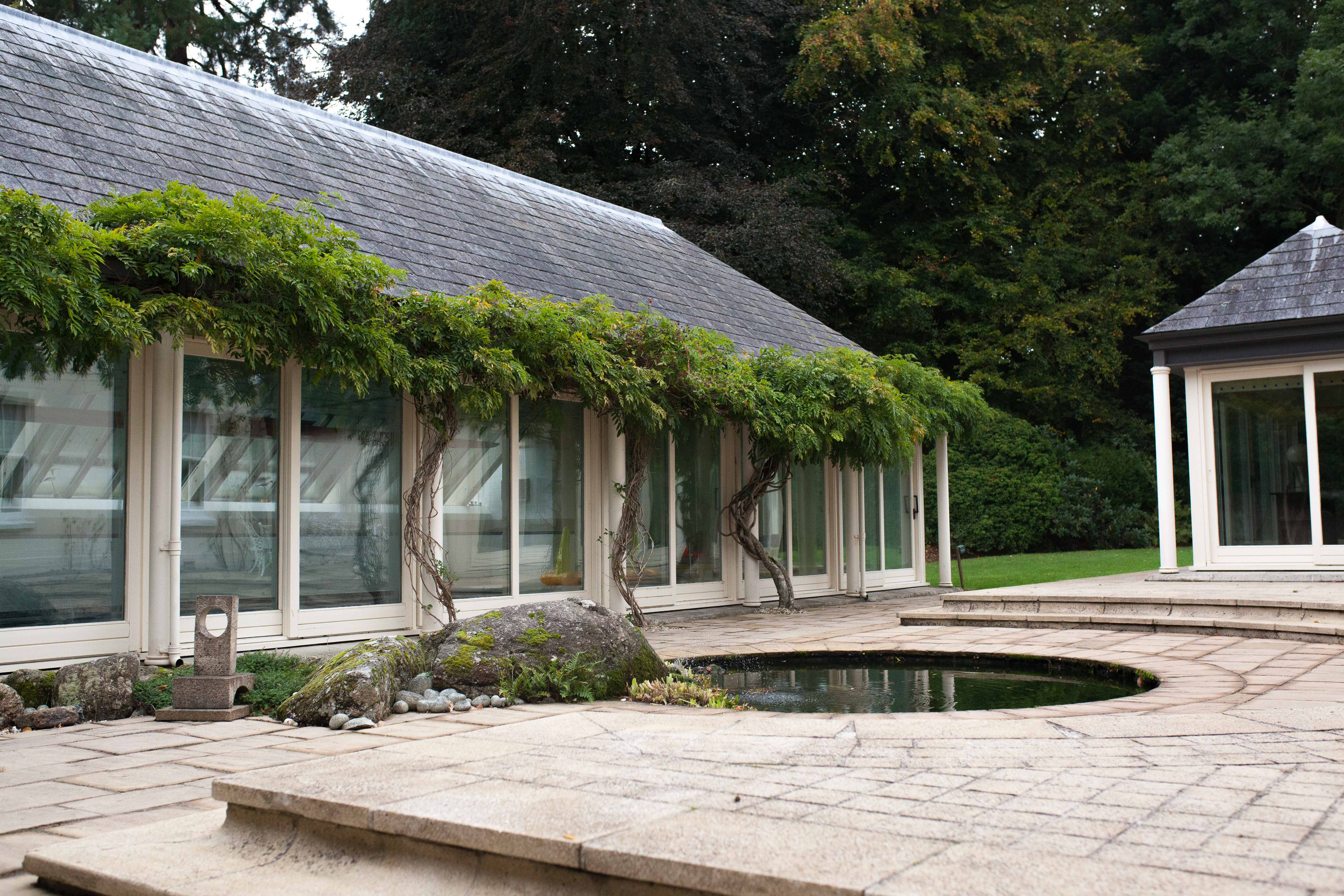 Following a leisurely read of the Saturday Telegraph – something I never seem to find time for on a typical Saturday in Windsor – we simply had to take a morning swim. Crossing across the courtyard, passing a Koi pond, I slid open the doors, hit by the warmth that emanated from the pool decorated with model boats and the family rowing boat at its rafters. The owners clearly have quite a story and what a place to have lived it.
Driving down winding single track country lanes to lunch, this became increasingly true. The scenery was stunning and the wildlife out in its forces: rabbit, sheep, horses and cattle were everywhere to be seen, with the latter even storming past our cars as a farmer herded them through the already tight lanes.
As the hedgerows along the roadside became more sparse, giving way to rolling meadows we neared our lunch destination, Home Farm Cafe, within a National Trust apple orchard, complete with an original working cider press. The bustling venue with an open kitchen and a surprisingly extensive menu was nothing like we had expected 'snack' fare came in giant portions with tiny prices whilst a more a la carte selection comprised hyper-local ingredients: My Slow Braised Dexter Beef with Horseradish Mash, Heritage Carrots and red wine jus couldn't be fresher. The owner told us: "the beef comes from my own farm just a few miles down the road, and the other proteins are all from farmers I know personally". A real find in the middle of nowhere, and a perfect spot to refuel before an afternoon foraging on Dartmoor. It's even one of only 6 'Taste of West' finalists. Deservedly so, me thinks.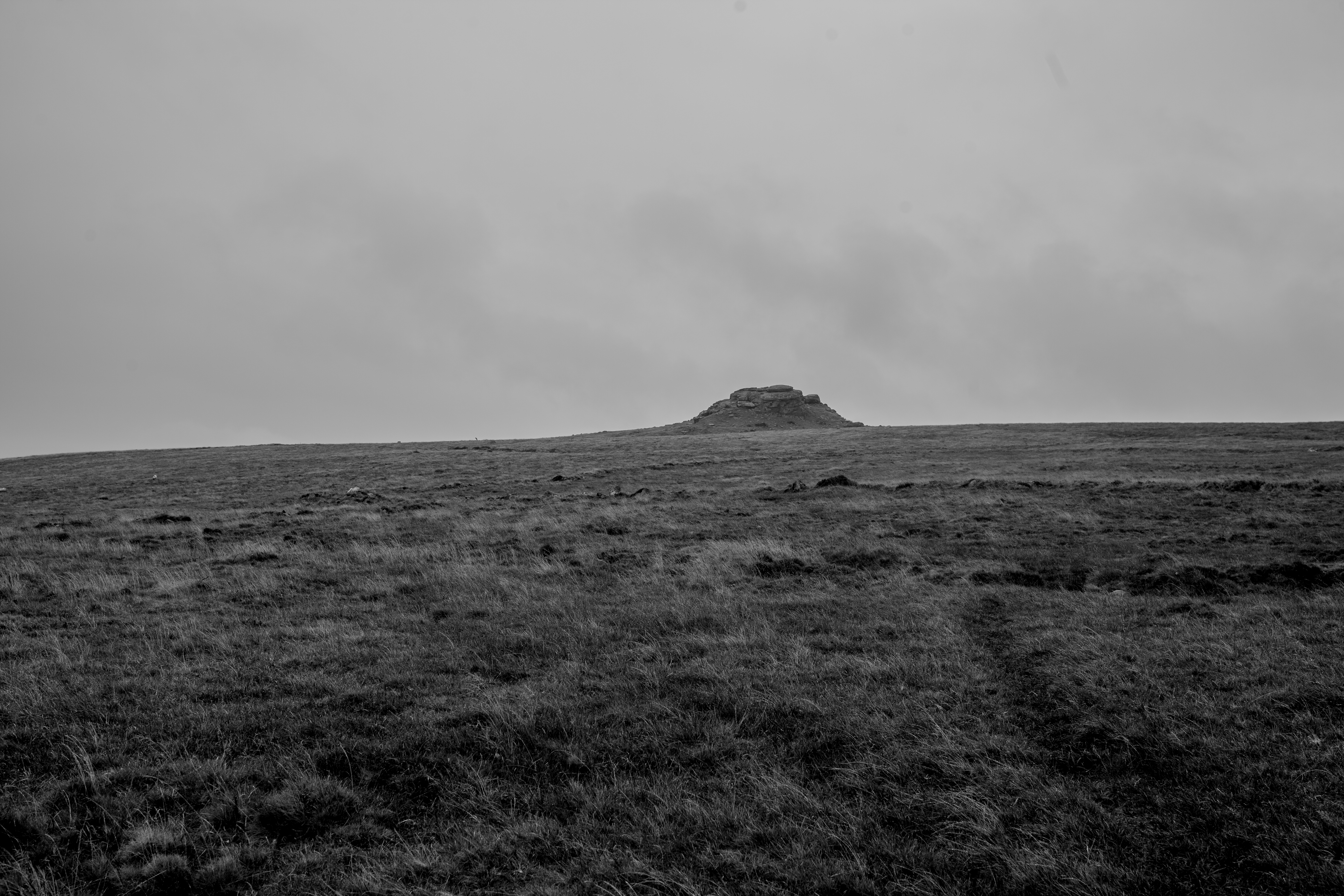 Always keen to try something new, we drove up onto the moorlands to begin an afternoon of intrepid exploration led by our guide, Emma (Dartmoor's Daughter) and thoughtfully arranged by the lovely people at Visit Devon (get in touch with them if you'd like to arrange a similar experience – they couldn't be more accommodating). Emma moved back to her childhood home of Dartmoor after a long corporate career and, also she travelled all over the globe for work, escaping the chaos of city life was one of the best decisions she ever made. Now living off the land, she hardly ever buys fruit or veg: "If you search for it, everything you need can be found around us", she explained… There's a certain poetry to that, and walking through the moors we experienced the land around us in a way we had never considered.
Standing by a tor at one the highest points in the area, we were encouraged to close our eyes and slowly take deep breaths, imagining the breathe was flowing through our bodies into the ground, and truly connecting us with that magical place. Emma clearly has a great respect for the area. She told us of the importance to not strip nature of its fruits completely and to even thank the crop for its harvest; and as our tasting tour of Dartmoor came to a close, we thanked the last tree and descended the hill back to the house.
Even though it had rained almost non-stop, and the wind had cast a bitter chill that left cheeks red and noses numb, we couldn't help but reflect that the forage had imparted something on us all. Not only were we closer to nature, but also closer to one another and walking back up the steep garden hill, our basket full of nature, we smiled warmly.
'Warm' was most definitely that most requested word of the next half an hour. "Warm drinks"; "warm clothes"; "Warm up that sauna!".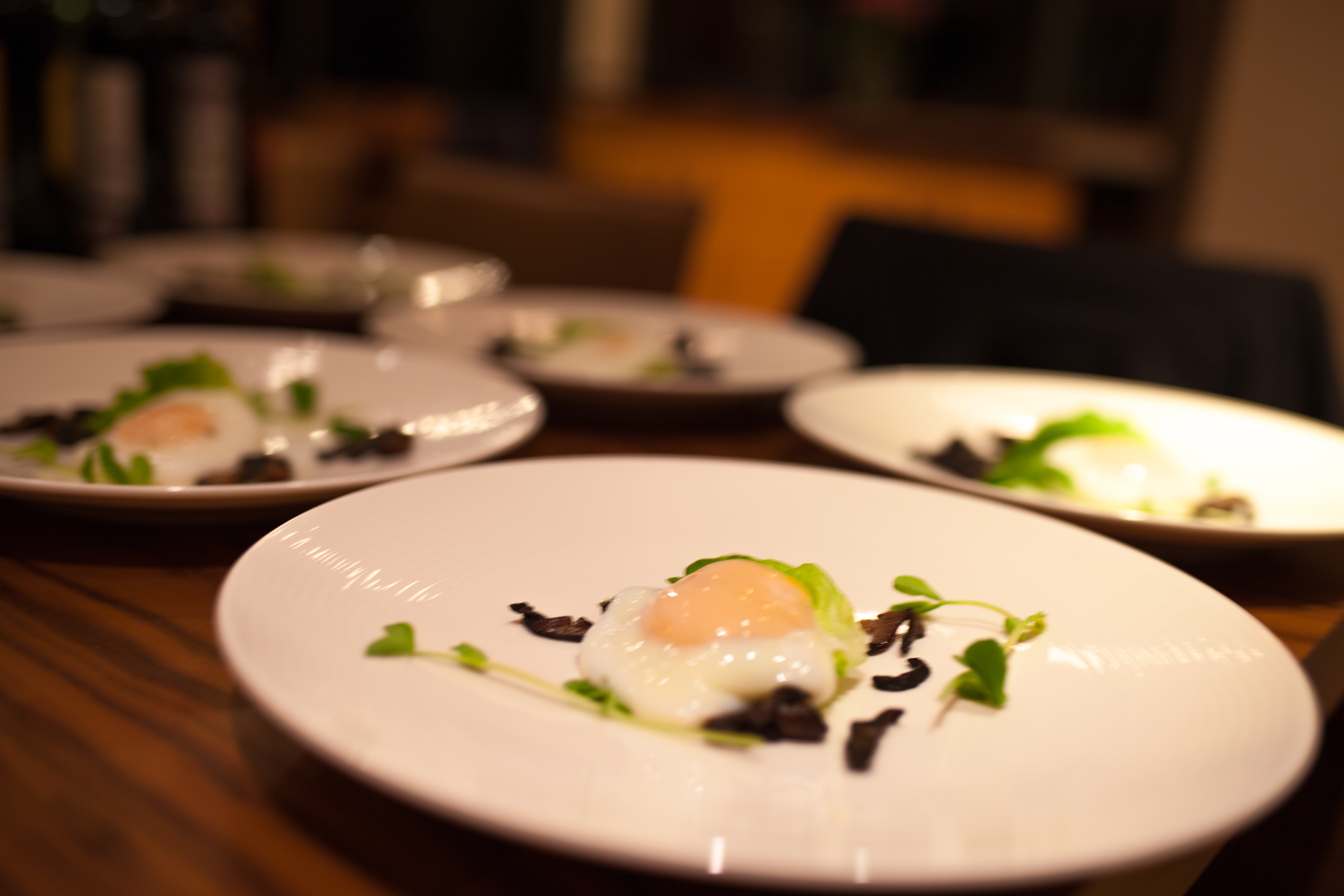 Regrouping for pre-dinner drinks in that enormous lounge, acoustic music resonated through the house and the gin began to flow once again. In the dining room, meanwhile, the table was being prepared: fine white linen tablecloths; large wine glasses; and cut a glass decanter full of a smooth Rioja at perfect temperature. Gavi di Gavi stood proudly in an ice bucket and polished silver cutlery populated the place settings. Dinner was imminent, and with a Private Chef provided by Dine Indulge (a service that can be luxuriously organised by your own personal concierge through Oliver's Travels), there couldn't be more anticipation in the house as rich scents wafted.
Sat at the large dining room table, cabinets full of precious crystal glassware opposite and niche artworks hung on all other available walls, the meal commenced with a light tomato gazpacho, textured nicely and delicately spiced.
Soon after, appetites whetted, the next treat arrived in front of us. A great deal of preparation had gone into the meal: the Dine Indulge chef began his preparations before we'd even left for our afternoon on the moor. A single, perfectly runny poached egg sat atop a scattering of thyme infused mushrooms and fresh pea shoots – a simple creation but delicious nonetheless.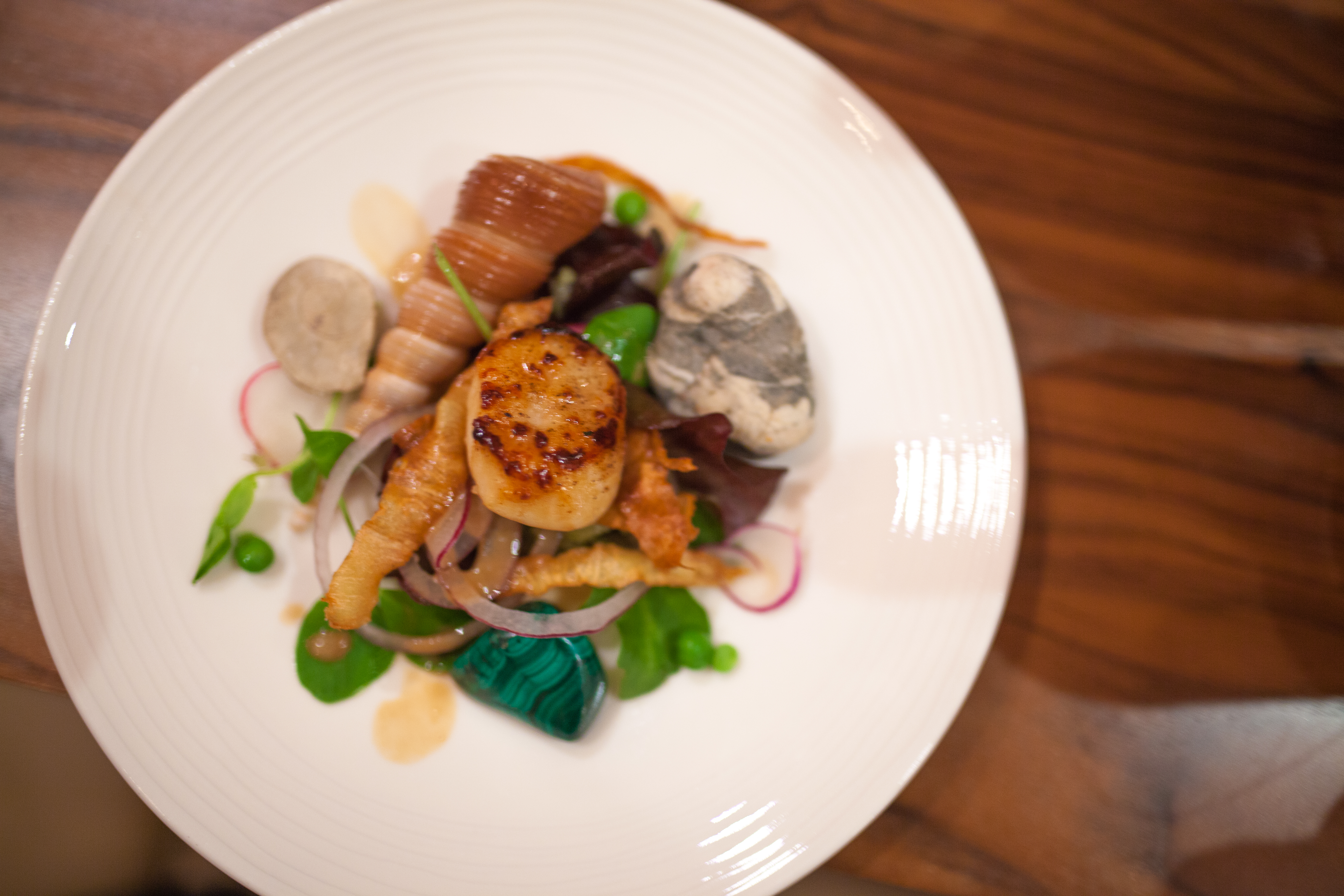 Next up was the scallop course, pictured. A single succulent scallop was presented on the shell accompanied peculiarly yet effectively by parsnip crisps, seasonal greens and a lobster bisque which echoed the taste of the ocean. A well thought out and perfectly executed creation.
Following from these complex flavours, it was time for a palate cleanser. Now: in my experience of palate cleansers they can truly be hit or miss. Luckily, in this case, we were presented with a definite hit in the form of a textured Orange Granita, complete with a crisp dehydrated orange wheel. Citrus-y, mellow & refreshing. And palate-cleansing. Can't forget that.
At the half-way point of the banquet, we took a short, cultured break and began The Telegraph Pub Quiz around the table… 15/20, if you were wondering.
As we pondered the last few vicious questions, the main spectacle arrived: A perfectly pink portion of lamb accompanied by new potatoes, tiny al dente broccoli florets and peas, a squash purée and a rich red wine jus.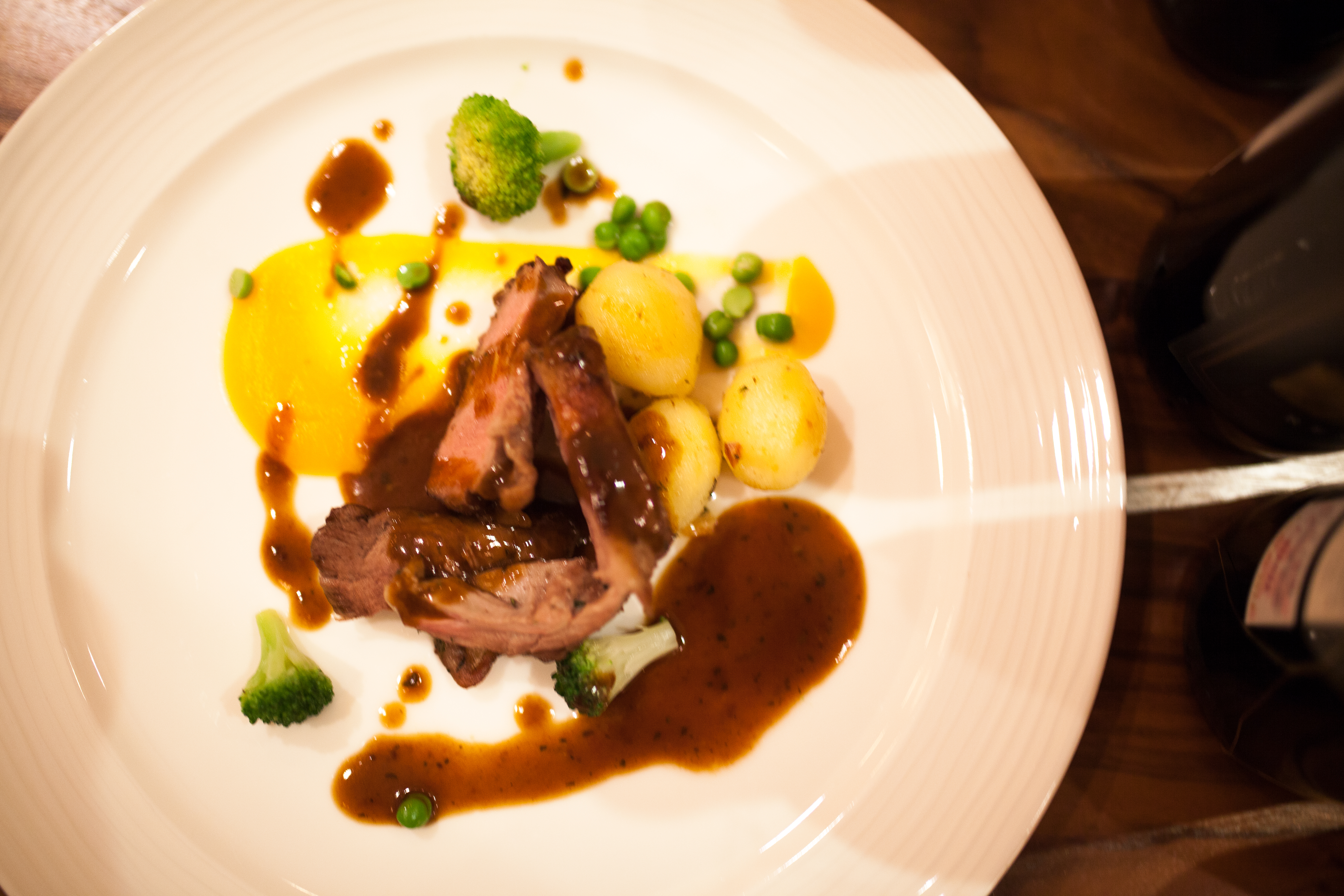 Fittingly, a celebration of chocolate ended the meal, a rich salted caramel and chocolate ganache garnished with an indulgent chocolate truffle, popping candy and a single gold foiled strawberry, served in a large wine glass.
As we sat there chatting, minutes turned quickly into hours, so content and at home in the property that, before long the clock chimed 4am. Oops.
After a few hours sleep and one last dip in the pool, we said our goodbyes and departed, bidding adieu to the house in all its wondrous glory; and wishing we didn't have to leave so soon.
Puggiestone House is available to rent with Oliver's Travels at a maximum of £8000 per week, and with bed space for 14 people, there's nowhere better I could think of spending the money. With natural activities in abundance it is the perfect place to reconnect with nature and, in turn, yourself.
Puggiestone House
Holy Street, Chagford TQ13 8HH