Ackee and Saltfish is a very popular Carribean dish and is known as the 'national dish of Jamaica'
In most recipes (including this one) you will notice the use of traditional Rastfarian colours – Red (peppers) Gold (ackee), Green (peppers/ spinach) and Black (black cracked pepper). This lunch recipe can be adapted in to a dinner with the addition of some brown rice.
Fun fact about Ackee – Although eaten as a vegetable, Ackee is in fact a fruit! Not just any fruit but the national fruit of Jamaica!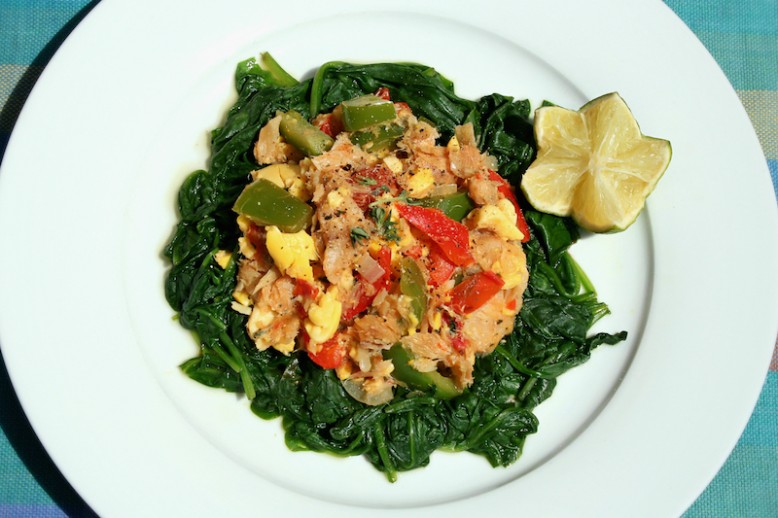 Ackee and Saltfish with Steamed Spinach
(Serves 3)
Ingredients
350g Salted cod cutlets
450g Ackee (tinned)
1 Scotch bonnet pepper 
2 Tomatoes (medium)
1 Red Bell Pepper
1 Green Bell Pepper
1/3 cup Fresh thyme (chopped)
1 Onion
1/2 Lime
300g Baby spinach 
1tbsp Coconut Oil
Optional:
1 lime (cut in to flower shapes)
Sprinkle of black cracked pepper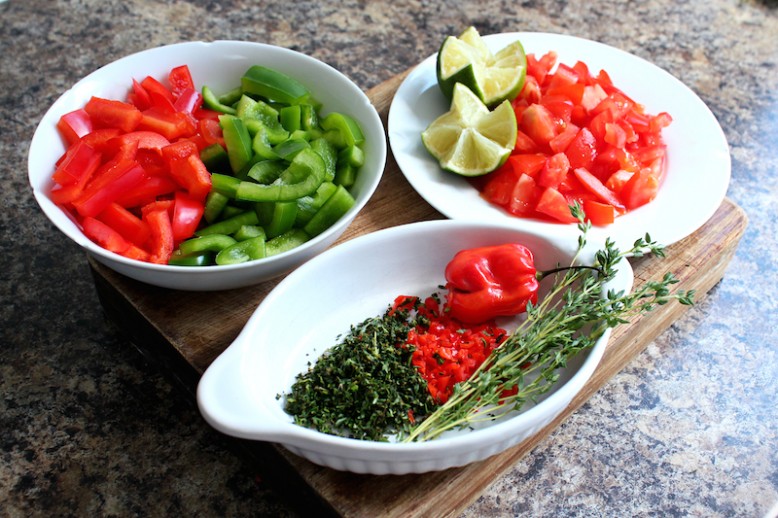 1. Place the salted cod cutlets in a pan and cover with boiling water, leave to simmer for 25-30mins.
2. Use this time to dice your onion, bell peppers, tomatoes and finely chop your scotch bonnet pepper and fresh thyme.
3. After boiling, drain your cod then rinse under cool water and squeeze dry. Remove any bones or skin. Using a fork roughly break apart the cutlets in to large flakes.
4. In a large saucepan, heat the coconut oil. Add your onions and bell peppers and cook on a medium heat for 3-4 minutes, until softened.
5. Add the tomatoes, scotch bonnet pepper and fresh thyme to your saucepan and stir well.
6. Add the flaked salted cod, fresh thyme and 1/2 juiced lime to the pan. Cook for 2mins
7. Drain and rinse the ackee and add this to your saucepan last.
8. Carefully stir all ingredients together – try not to break up the ackee too much as this can turn in to a big mush! Cook for 4-5mins.
9. Steam your spinach for 1min.
10. Serve your ackee and saltfish mixture in the centre of a bed of steamed baby spinach.
Optional: Garnish with cracked black pepper, thyme leaves and a lime  flower.
Recipe by Mica Francis-Angel
Visit Mica Francis- Angels' blog: iwaspromiseddonuts.net

Visit Mica Francis-Angels'  Instagram: @iwaspromiseddonuts