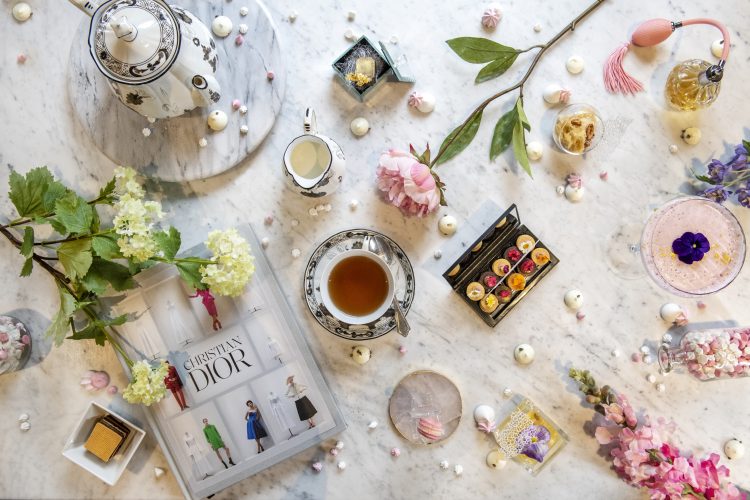 When Christian Dior unveiled their breathtaking exhibit at the V&A, tickets sold out within a matter of weeks and demand was so high that the iconic museums website crashed.
Whether or not you've had a chance to see the magical Dior exhibition for yourself yet, you can still experience a bit of the magic at The Franklin, which has devised the perfect Dior-inspired afternoon tea.
Inspired by Dior's exquisite vision and style, La Fete's planner to the stars, Charlotte Ricard-Quesada has conceptualised the experience into a whimsical and elegant display of sweet treats. There is a peanut sponge and chocolate dulcey chocolate cream served with vaporised Calvados aptly housed in a stunning Dior-inspired perfume bottle.
Tucked away in the heart of Knightsbridge, The Franklin hotel sits pretty in a beautiful red brick Victorian mansion house. As you enter the lobby the atmosphere is instantly warm and welcoming. The interiors are chic with extravagant gold mirrors at every turn and cosy crushed velvet seats.
Once you're seated, the table is filled with beautiful edible pink petals that are almost too beautiful to touch and you are surrounded by towering display jars filled with pink and white meringues.
The first serving is a floral plate of savoury sandwiches including, a Jambon-Beurre giving the classic French sandwich a modern twist by adding cheese butter bread, 'The Legacy Of The Dreamer' is a combination of two beautifully put together finger sandwiches with a refreshing combination of Smoked salmon, courgette and soy sauce and the other filled with Egg, avocado and thinly sliced tomato.
'The Train to Montecatini' is a delicious puff pastry filled with foie gras and strawberry jam in reference to Mr. Dior's rumoured last meal, which was was said to be entirely foie gras.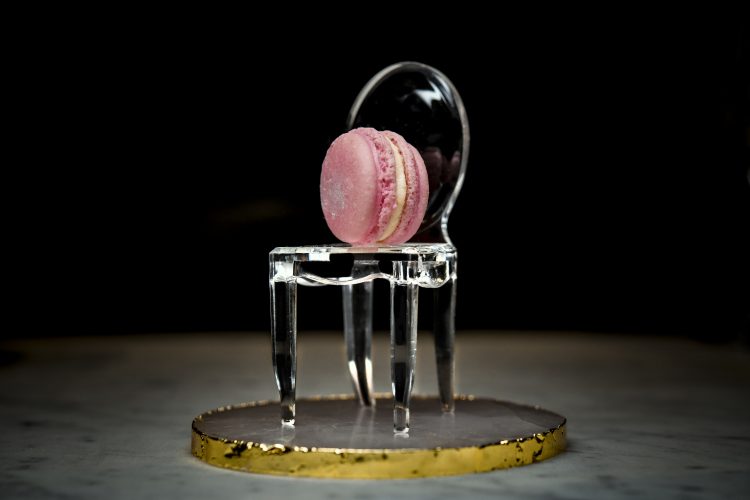 As the sweets arrived, we watched as our server put together quite possibly the most beauty table setting we've ever seen. A blush pink macaron was perched so delicately on a miniature chair, an ode to The Pink House which was Dior's pastel coloured childhood home in Nomandy.
If you are a true fan of Dior, you will recognise Le Montaigne as the address of the flagship and original Dior store from early 1946. Created with cream from Normandy, another homage to Dior's childhood, you can enjoy a delicious white and milk chocolate cake.
For any make-up lovers, there is an eyeshadow palette filled with raspberry Sablés petit four to celebrate the success of Dior's Backstage collection. Of course we cannot forget one of Dior's most iconic moments, J'ADORE, there is an apple brandy served in a classic Dior-inspired perfume bottle that pays homage to Dior's signature scent.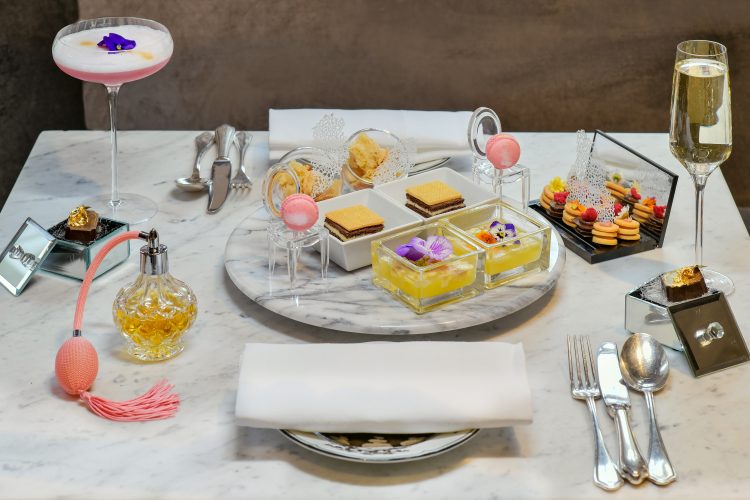 As a huge fan of beauty and fragrance and of course Dior. This afternoon tea is a treat for all of your senses, a delight to the eyes as well as the tastebuds. A vision of innovation, creativity and a celebration of delicious food, all paying homage to one of the most iconic creative geniuses in fashion.
The Culinary Fashion Experience is £40 per person
The Frankin Hotel, 24 Egerton Gardens, SW3 2DB, Knightsbridge.
020 7584 5533