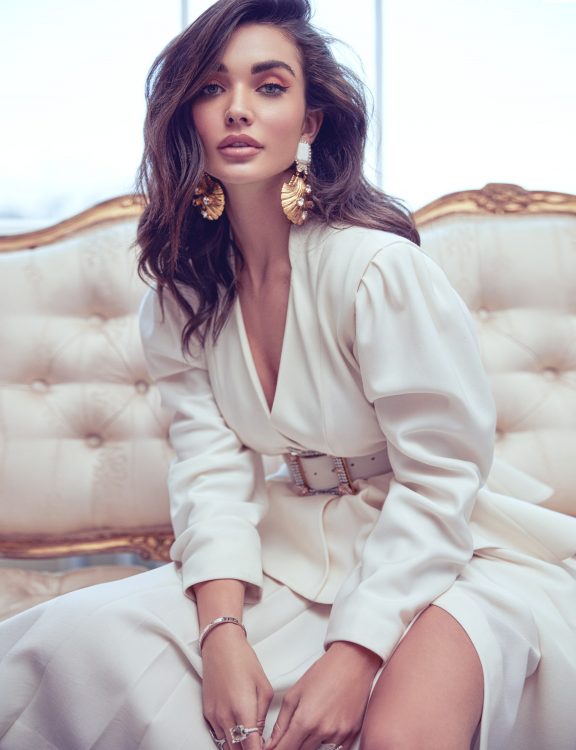 From Liverpool to Mumbai to Hollywood, this British beauty is the golden girl of the silver screen. She has the kind of career that is the wildest dream of most actresses. She made her name in India where she is one of the most in-demand Bollywood stars and has broken America with a huge role in Supergirl. When she is not sitting front row alongside Anna Wintour at fashion week, she is volunteering for orphanages in India and fighting to protect Asian elephants from extinction in the wild.
We are shooting at the glorious Hatfield Place, a historic Georgian country house set in 15 acres of parkland. It's January and the temperature is threatening to dip below zero. The windscreens of the cars glitter with ice and every time Amy Jackson speaks, clouds of mist billow from her lips. She is dressed in a mint two-piece suit and little else, her bare legs exposed to the cold and her heels sinking into the gravel as she walks, but does she complain? Absolutely not, she is too concerned about making sure everyone else is warm enough and that we have the shots that we need.
Of course, she is a professional and being on set is her forte but Amy is so much more than that. She is captivating, friendly and according to her mum, she has always been this way.
I find Amy's mum Marguerita in the kitchen making one of many rounds of tea for Amy and the entire crew so I join her to lend a hand. She is a ray of sunshine with a smile constantly illuminating her face, like mother, like daughter.
I mention to her that Amy is a dream, one of the sweetest people we've had on set and she chuckles proudly as she stirs the sea of mugs.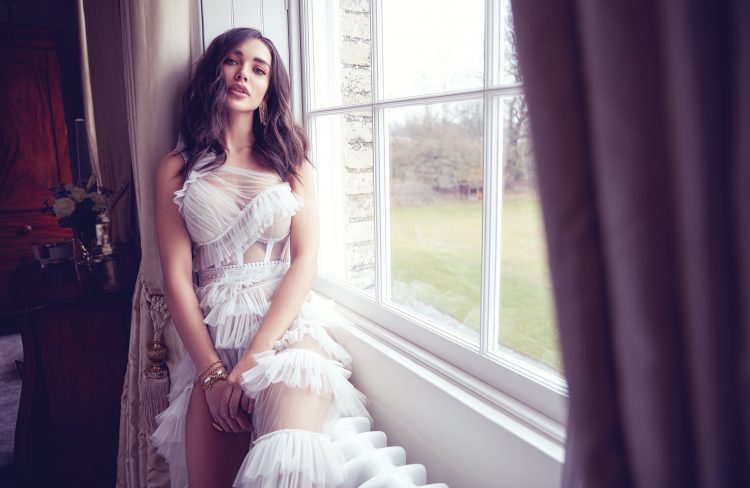 She says, "She's always been this way you know, she hasn't changed a bit. Since she was a little girl, she's always just loved people, she's got a real heart of gold."
As the charming Marguerita and I serve the teas, Amy is sitting in the makeup chair wrapped up in an oversized Fendi puffer jacket and leggings and chatting away in her lilting sing-song scouse accent whilst makeup artist extraordinaire Nikki Wolff works her magic. I catch the tail end of the conversation, Amy says, "Babe. I couldn't diet, I just don't have the determination. The secret is going to the gym, I find that it is as good for your mind as it is for your body."
Amy's beauty could rival Helen of Troy and launch a thousand ships or more. When she looks at you, she is so striking with her glassy ice-blue eyes, you almost have to do a double-take. Her glossy dark hair frames her face which is as delicate as a china doll. However, her beauty is actually the least interesting thing about her.
For the last few years, India has been the largest movie producer in the world. By 2020, the Economic Times has claimed that it will be worth $3.7 billion. India sells the most movie tickets in the world, with 2.2 billion movie tickets sold in cinemas each year, nearly twice the amount of tickets that are sold in China, which came in second place. It is growing at a stratospheric rate, much more so than Hollywood and Amy has played a fundamental role in its success.
Her career has had a string of phenomenally successful blockbusters, her new sci-fi movie 2.0 has been a roaring global success which looks to continue with a huge release in China later this year. In the majority of the global box offices, it was the best performing film, beating Hollywood heavyweights like Fantastic Beasts: The Crimes of Grindelwald and The Grinch.
Amy exclaims excitedly, "Filming 2.0 was like combining everything I've ever worked on, times ten. It took a team of over 1000 technicians from all over the world four years to complete the project."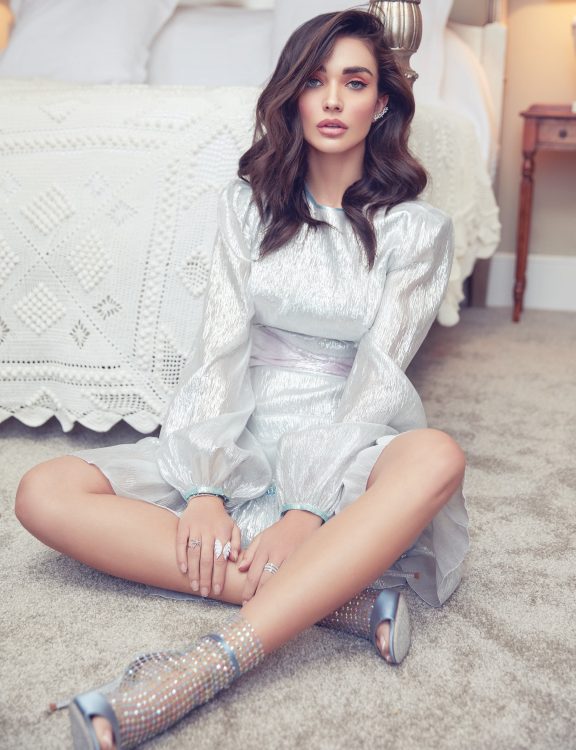 She continues proudly, "It was filmed in 3D with tonnes of special effects which took a lot of time and skill. After a big team effort, the only factor that matters is that it has had an impact on the audience. That's the best reward an actor can have. Next stop China!"
At just 18-years-old, Amy was scouted by Bollywood film producers after she was crowned Miss Teen World in 2009 and the rest is history. Amy recalls, "I remember stepping off the plane in Chennai with my Mum in 2009 like it was yesterday. The car ride from the airport to the hotel was eventful enough but nothing had prepared me for my first day on set!"
She continues, "Over the last decade, I've watched the industry grow and evolve, pushing boundaries and breaking records. It's been incredible to be a part of the huge milestone in Indian cinema."
Having spent the majority of her adult life in India, it is a place that Amy holds very dear to her. With a sense of gratitude, she smiled and says, "India has shaped my life enormously and it has a huge part to play in who I am today. I was 19 when I moved to Mumbai, the real city that never sleeps!"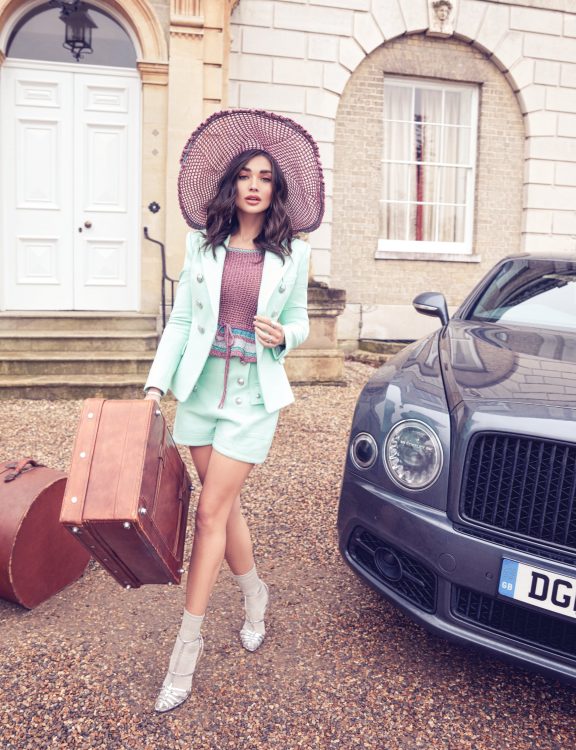 Amy continues to reminisce, "I immersed myself in my career, learning Hindi, reading scripts, completing movie workshops and practising my dance every single day. It taught me that anything is possible if you truly commit yourself. I also made sure I had some downtime, India opened my eyes to meditation and yoga. I'd regularly go on retreats to the north which was a world away from the hustle and bustle of Mumbai."
Since the start of her career in Bollywood, Amy has been welcomed with open arms in India. She muses, "I am forever grateful to my first director A L Vijay who gave me my first role as a bright eyed and bushy tailed teen in Madrasapattinam. My dialogues were in English and luckily the Tamil that I did speak had to be a little off with regards to the script. The film was a huge success, my character was very well received and the audience wanted to see me in more films, which opened the doors to new scripts and also the crossover to Bollywood."
Amy has starred in 16 Bollywood movies and has witnessed a massive change in the industry. She states proudly, "Over the last ten years I've experienced a massive shift from male-dominated storylines with actress' playing the damsel in distress to actress' now headlining the billboards. Singh is Bling gave me an opportunity to showcase action sequences that had never been done by an actress in Bollywood and it felt very empowering. Afterwards, more young women in India took up self-defence classes and for me, that's one of my greatest achievements… to have the ability to inspire other women."
Amy's love for animals has led to her working on numerous campaigns for the animal charity, PETA and has just been announced as an ambassador for Elephant Family, an international charity dedicated to protecting the Asian elephant from extinction in the wild.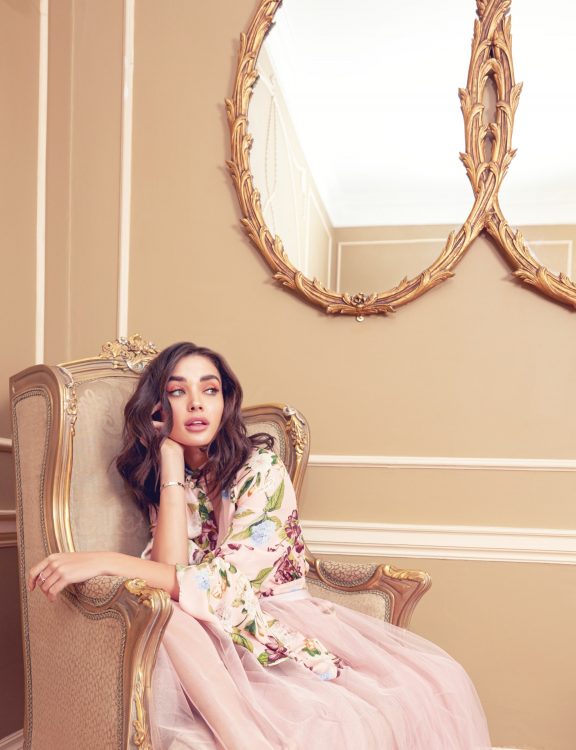 She explains in a solemn tone but full of passion, "Asian elephants are an almost forgotten species. As an ambassador for Elephant Family, I will be working to help raise awareness of the plight of Asia's elephants by being a voice for this beautiful, sentient species."
Amy's philanthropic spirit has also seen her work with a number of children's charities and initiatives from United Nations for International Day of The Girl Child and St. Judes in Mumbai. She explains how she came to be involved, "It was Christmas 2015 and I was feeling sorry for myself because I was spending it alone due to work. Whilst driving to the set, I saw two tiny toddlers on the roadside wearing no shoes and a dirty rag as a dress, laughing and smiling, playing with a Father Christmas figurine."
She continued, "It gave me a wake-up call. That evening we visited The Sneha Sargar Orphanage for the first time. We brought them food, toys and presents and they danced all night long, with smiles from ear to ear. Such a small amount of time and effort made such a huge difference in their lives and it made me want to do as much as possible for them."
Amy has the kind of star power that is revered worldwide, this is clear from her near seven million followers on Instagram. It is admirable to see that she uses her platform for promoting positivity in a time where superficiality can receive the highest praise.
Amy says, "It enables me to voice my opinion and raise awareness for topics close to my heart. It's instant contact with people from each corner of the globe which means I can engage with my friends and supporters wherever they might be – there has never been that kind of interaction before."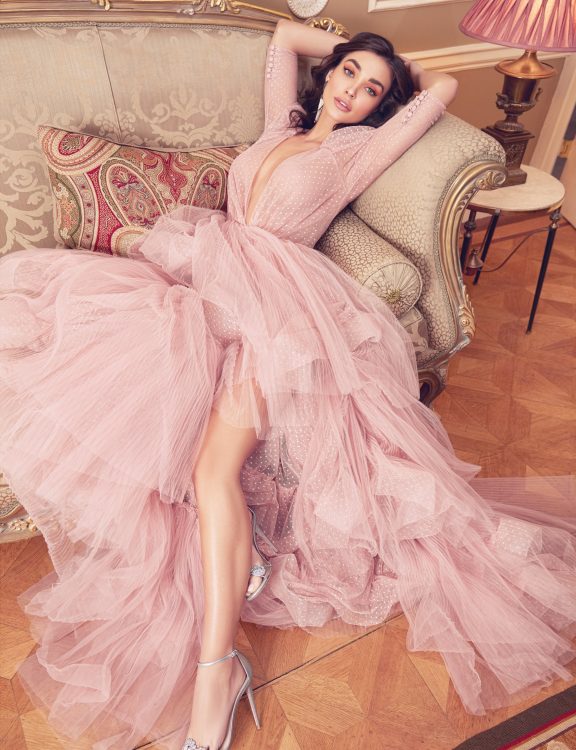 Weighing up the cons, she says, "However, when I see people misuse their social media status by plugging products such as fad diets and supplements and creating idealism's that can be seriously damaging to our youth, that's when I have a problem with it. I ensure my feed is filled with people I genuinely like and pages that inspire me because I've been in a position before where social media can actually make me feel depressed."
She shakes her head and continues, "There's been many a time when I've been working a 20-hour day on set, 15 of those stuck in my trailer scrolling through Instagram. That's unhealthy and it's not real life! If you can be clever enough to use these apps to your own advantage, that's when you'll reap the benefits from them."
When asked what advice she would give to aspiring actresses. Amy immediately says, "Keep mastering your craft, keep learning, keep dissecting scenes, keep watching movies and reading novels. Your chance is just around the corner. It takes that one audition to change your life forever."
Dressed in an ethereal couture gown, worth as much as a small Audi, Amy leans over hikes up the heavy skirts and tucks into the sandwich buffet on set. That is our kind of girl.
Amy Jackson is the global ambassador for Elephant Family. For more information on how you can get involved with protecting Asian elephants from extinction in the wild, visit elephant-family.org.