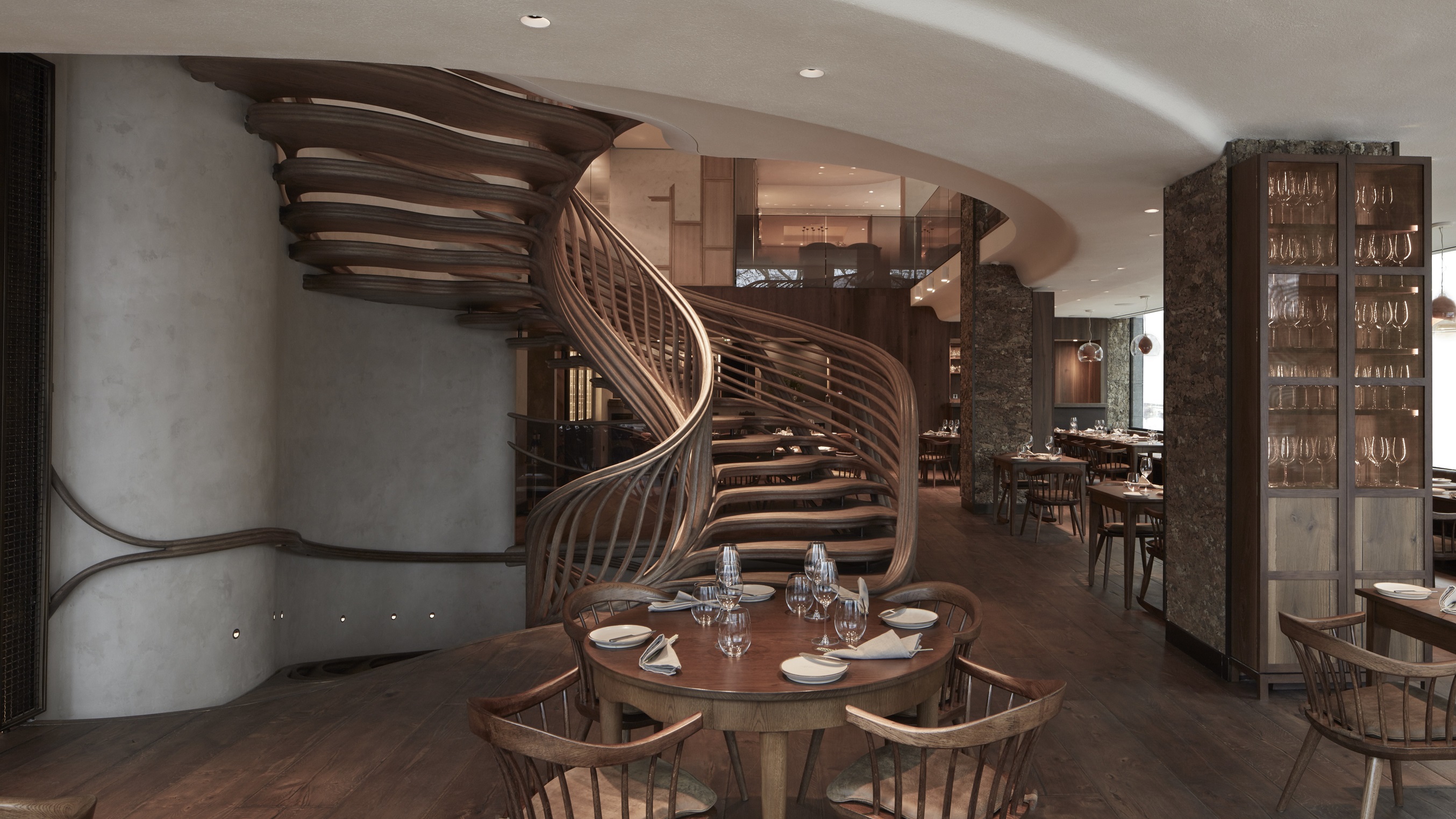 Fresh off the back of winning its first Michelin Star just six months after opening its (naturally) hidden solid wood doors, Hide – the latest venture of Ollie Dabbous – screams decadence and luxury. It is also, as we found out a few months ago, home to one of the finest tasting menus in London.
Upon entrance, a smartly dressed hostess greeted us, walking us slowly through the ground floor and towards the now iconic hand-crafted spiral staircase. It soon became apparent that a whole lot of effort had gone into making the place feel warm and personal – walls were textured, each table was finished with a silver 'H' and, over each one hung a cracked eggshell lighting feature, paying homage to Ollie's signature dish, the Nest Egg – a smokey, gooey, truffled thing of beauty.
Studies have shown that we are happier when we are close to nature. Our heart rates are lower when our surroundings are timber than when they are cold, harsh metal or concrete, and I do wonder whether Ollie's design team had considered this when pulling the place together. This bringing nature instead, paired with curated playlists of low-tempo, softly swung music, we soon sunk into our chairs, cocktail in hand and exhaled as we gazed across Green Park in the sunshine.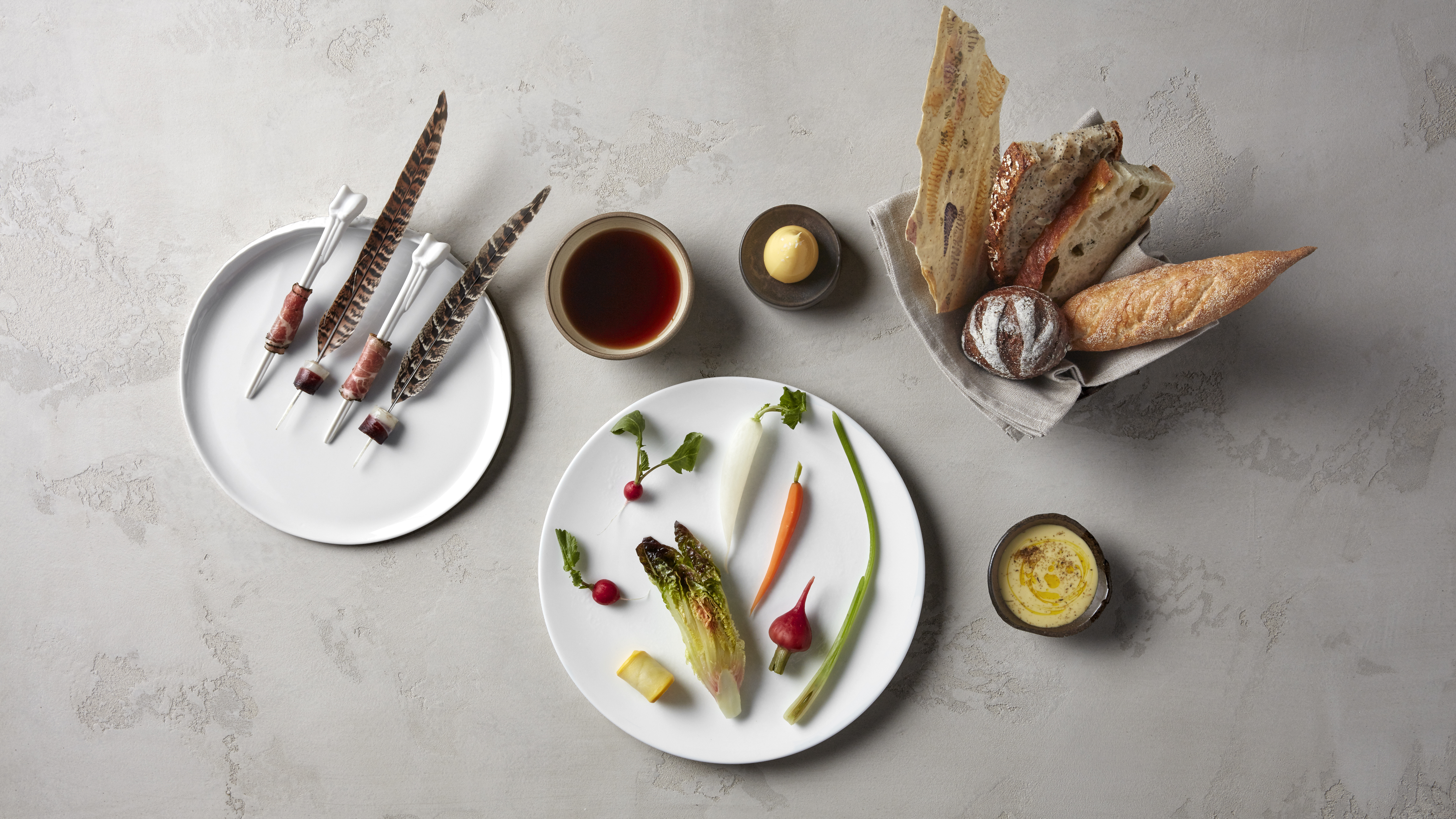 Kicking off in true feasting fashion, the tasting menu began with a selection of crudités: seasonal vegetables in multiple iterations – pickled beetroot, vivid orange carrots, simple untouched baby gem leaves and crunchy radishes lay around the platter as if they were pretending to be a rainbow, and almost too pretty to eat (almost); a delicate elderflower & cucumber broth cleansed the palate; a wondrous home-baked bread basket comprised (among others) a soft, warm rye, a homemade sea salt butter and a tangy, salty, sweet, utterly beautiful dressing which begged you to dip anything you could find. Alongside was served a rather interesting – somewhat divisive – twist on a charcuterie: Meat & Bones did exactly what you'd expect from Dabbous: goose twirled around a real feather and pork wrapped onto a pristine white bone, championing the flavours above all else.
Extending the simplicity, the first of the starters soon arrived at the table – an avocado with fantastic basil jus was given texture by a scattering of crunchy pistachios to become a millennial's dream, whilst a dish of tender, juicy salmon was lovingly accompanied by a moreish Exmouth caviar and paired perfectly with a dry Greek white wine.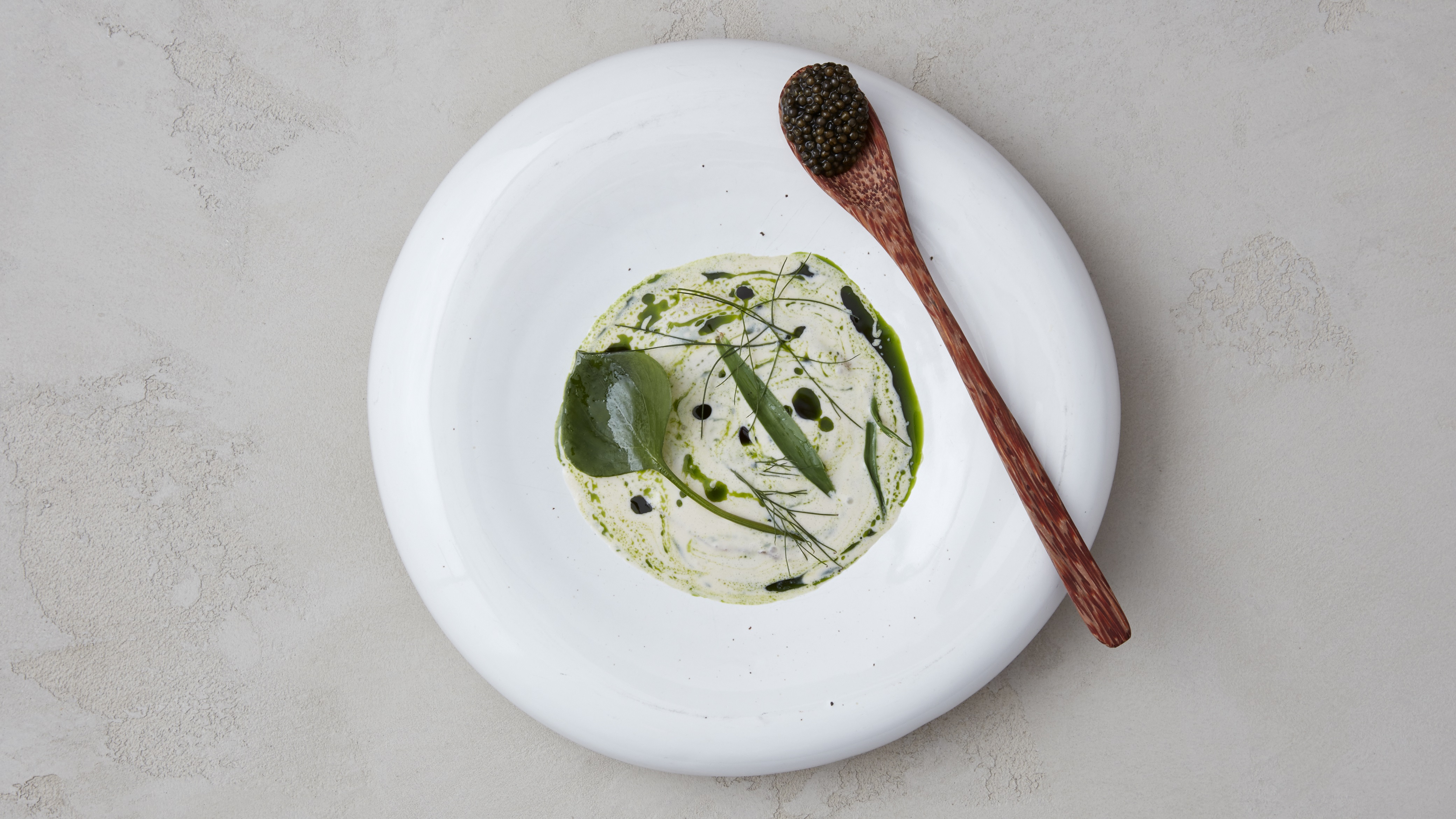 After the Nest Egg had made its contrasting, impactful appearance paired with an equally smokey Rhône Valley white, four more spectacular fish courses enjoyed their moment in the limelight, the first two of which came as a duo of Cornish fish, a near raw iteration sat delicately on a plate which, when lifted, gave way to an eruption of the delicious scents and flavours within the squid ribbons, saffron roe and bouillabaisse which mixed like a wholesome, fishy pasta in the bowl below, exquisitely accompanied by a sour punchy white.
Although the fish courses thus far had been spectacular, the next two were to be phenomenal: a delicious confit slither of red mullet was served with pickled grapes and just enough dill to stand out from the saffron and bread sauce, and a melt-in-mouth lightly steamed turbot excelled against a herbaceous nasturtium broth which was simply wonderful, especially so when paired with most fruity Riesling.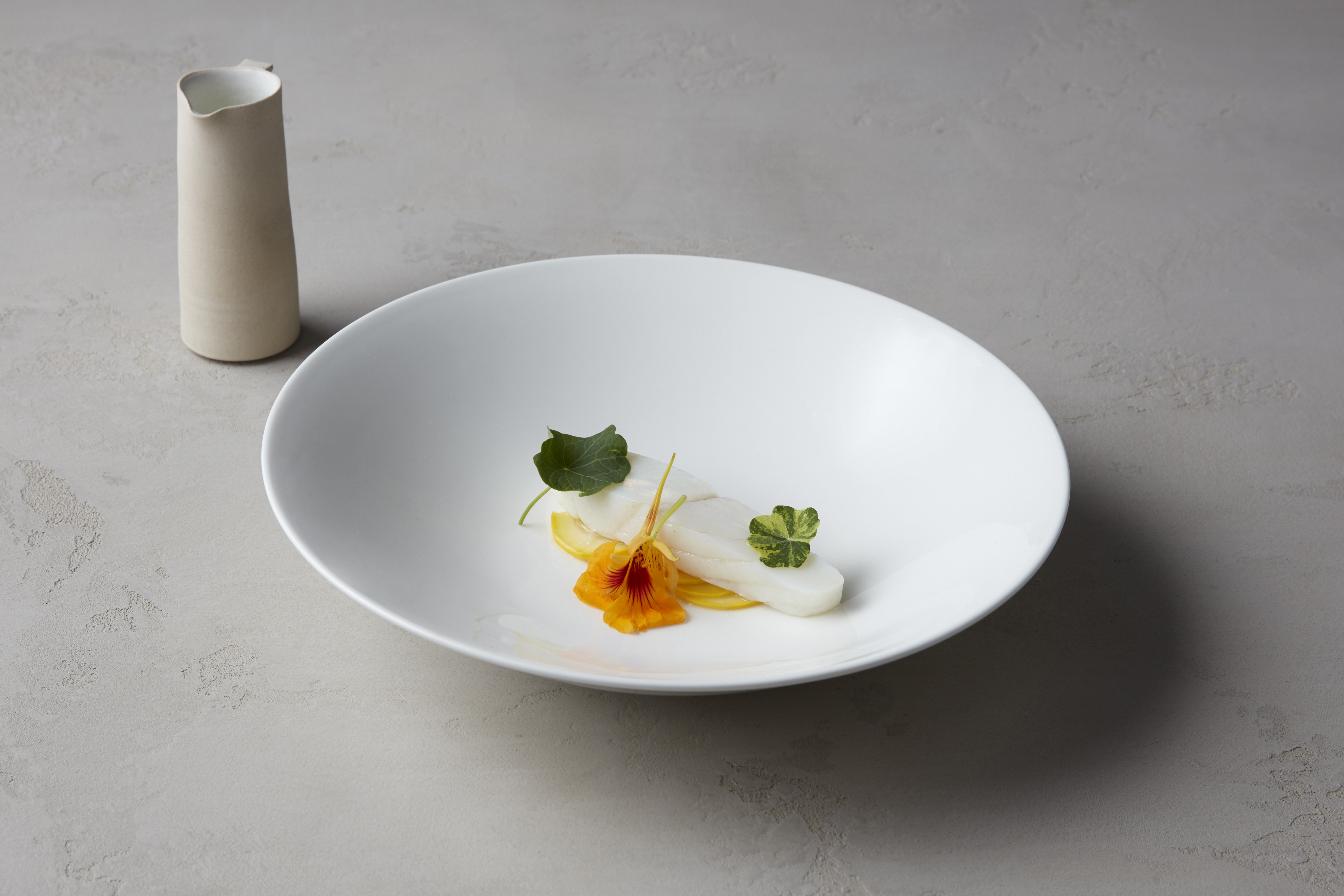 Of course, you should always save the best until last and, at Hide, the best is out of this world… Two beautiful cuts of meat soon graced the table: an extraordinary roast dry-aged duck breast and some insanely tasty confit duck buns were served with a warming vegetable broth of Asian leaves, celery, wasabi, radish, carrot and marigold alongside a light Californian red, whilst on the other side of the table my extremely lucky guest enjoyed a bright pink, organic barbecued Welsh lamb with thick mouthwatering fat, charred flavourful asparagus and a pesto-like herb and pine nut praline, making each morsel last as long as physically possible.
It is dishes like these that make Hide such a talked-about, must-visit dining destination. Its service is unparalleled, its wine lists – including the indulgent Hedonism collection – are unreal, and the attention to detail is mindblowing. Take the pre-dessert palette cleanser, for example: two beautiful flowers are suspended in a large block of ice, only to be used once, on top of which sits a light sheeps milk ice cream through which apple and sorrel have been filtered. All of that effort for one serving and yet not a single second of it goes to waste.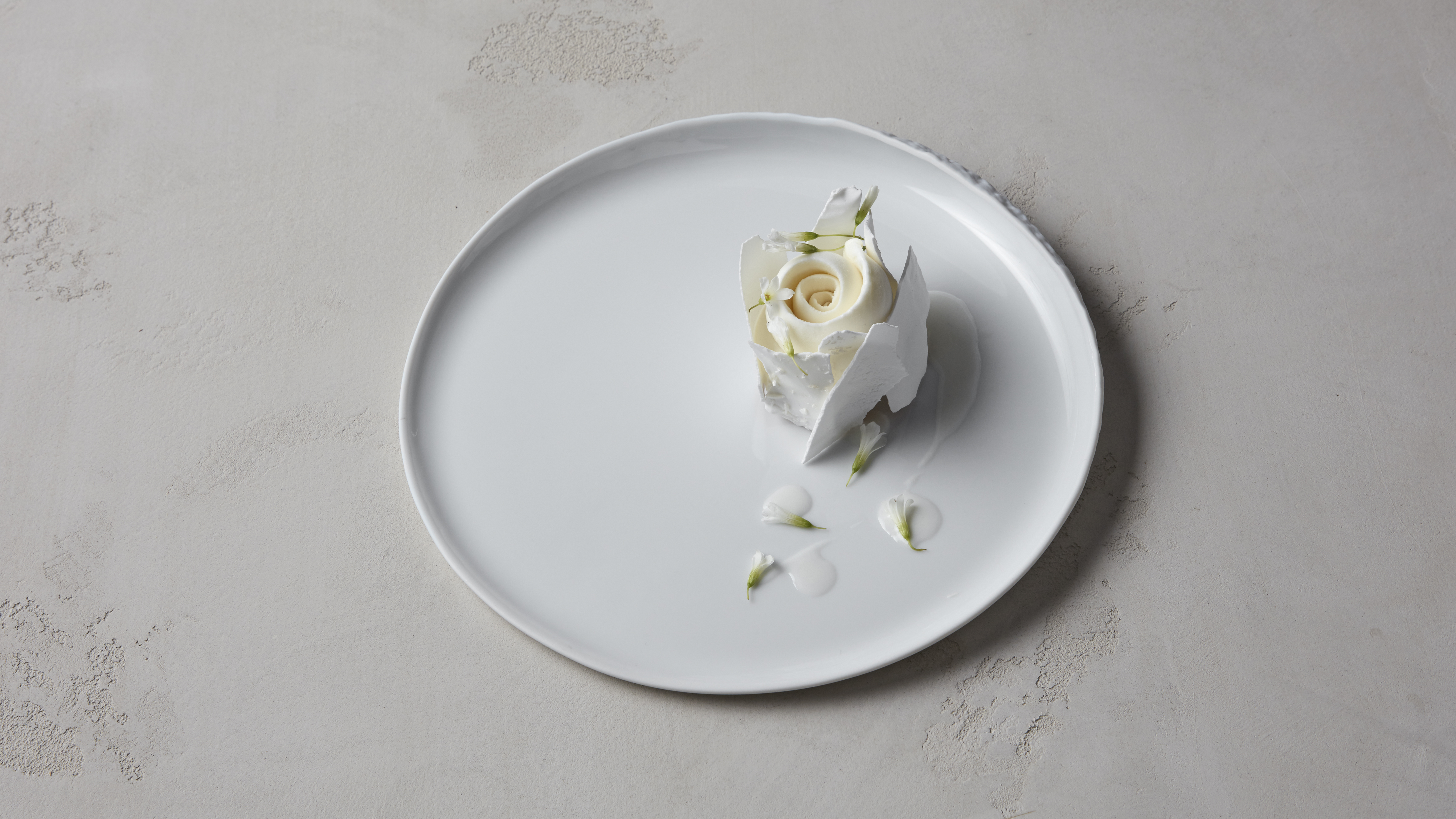 The intricate desserts tell much the same story, for 'Coconut', delicate shards are arranged around an ice-cream of the same name creating a light dessert which paired nicely with a Swedish Apple Cider wine, not unlike its Canadian ice wine counterpart, but far more delicious according the Swedish Head Sommelier. On the other side of the table, Hide's Jasmine & Wild Peaflower Religieuse arrived paired with a lightly effervescent cold-brew jasmine tea: the perfect end to a perfect evening.
Hide is one of London's most awe-inspiring new restaurants and it is truly a place that everyone should experience at least once. Its warm surroundings, its attention to detail, its unbelievable level of service and, of course, its beautifully barbecued lamb – make Ollie Dabbous' newest venture one of my all-time favourites. I can't wait to go back, and I urge you to get down to Piccadilly as soon as you possibly can. Hide is simply wonderful.
Hide by Ollie Dabbous
85 Piccadilly, Mayfair, London, W1J 7NB
Photography
Joakim Blockstrom