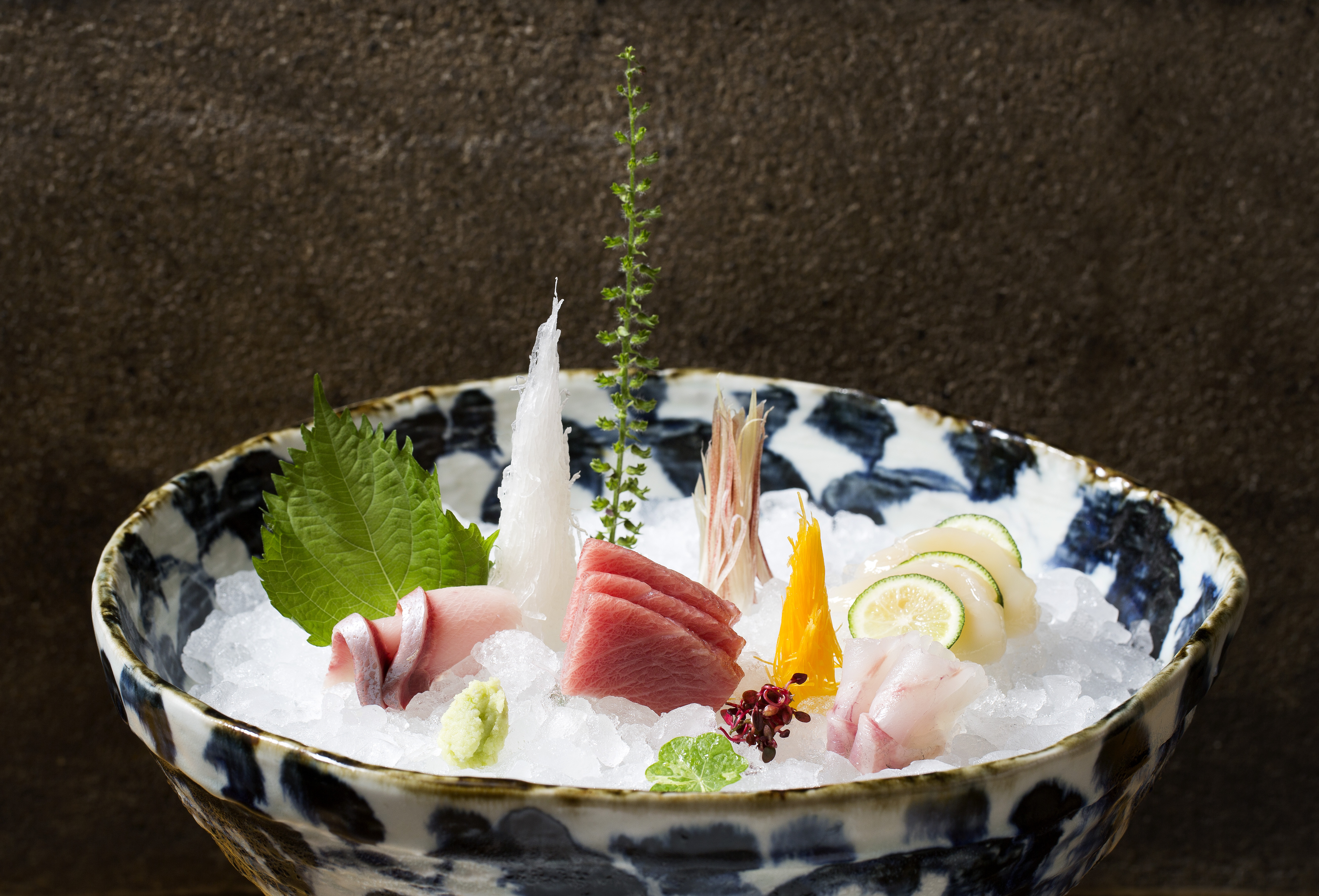 Ever since thoroughly enjoying our experience at Zuma's Datca Peninsula outpost at Mytha Hotel Anthology's D Maris Bay, I've been desperate to try the original. Thankfully, my prayers were recently answered.
Co-founded in 2002 by friends Rainer Becker and Arjun Waney, Zuma now boasts 11 venues globally, with the latest opening in Las Vegas last year, all of which provide a sophisticated twist on the traditional Izakaya style of informal eating and drinking: 'respecting the traditions of the past whilst delivering an authentic flavour of the East'.
The concept has become immensely popular with foodies young and old, with many lucky children dining on tasting menus with the families during our visit. To this day, Zuma Knightsbridge remains one of the most difficult places to secure a reservation. Matte black Lamborghinis & Rolls Royce Phantoms battle for prime parking spots outside, and regulars dine at the bar & robata counter each and every lunchtime.
In true Izakaya style, our evening commenced and continued with cocktails, champagne and sake from Zuma's extensive drinks list, including signature cocktails, Japanese beers and wines, and over 50 varieties of sake – most notably a brand new rosé sake developed in-house to keep up with the demand for wines of a pinker complexion. Starting with savoury I opted for a beautifully balanced Carrot & Cumin Margarita with earthy, palate-lifting notes, chilled by a large block of ice. Soon after, the Signature Tasting Menu commenced…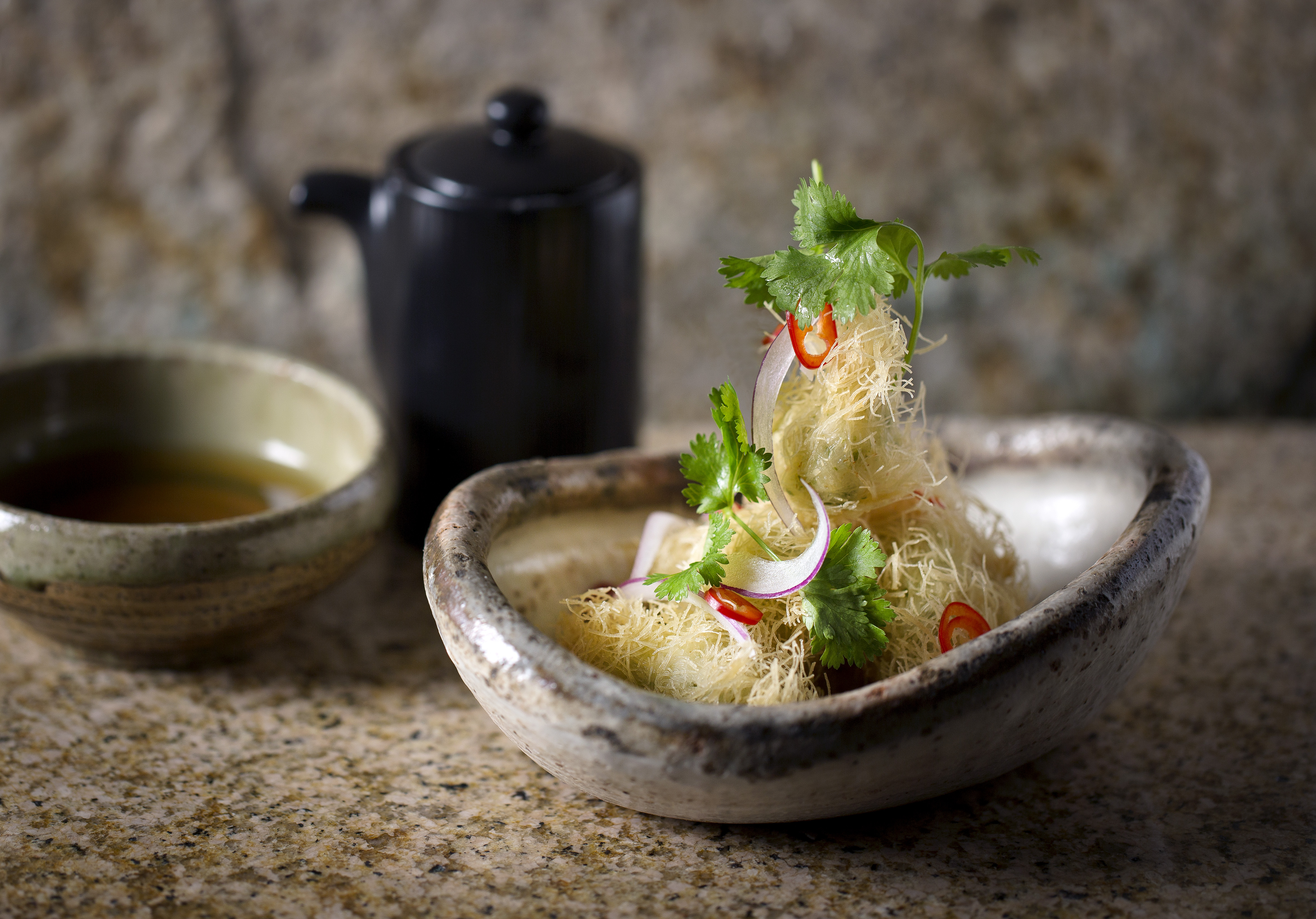 A generous bowl of salted edamame was first to arrive, joined by the ika no kari kari age (or crispy fried squid with fresh green chilli and lime to you and I) to provide a warm, spicy start to the evening – clearly a taste of what was to come. More spice came in the form of a green chilli relish, accompanying sliced yellowtail with pickled garlic and ponzu, a citrus-based sauce with watery consistency used as a dipping sauce in this instance.
The flavours we experienced that evening were unparalleled – the freshest of chillis and citruses; warm intense soy and wasabi, nut-heavy sauces and, of course, the finest cuts of raw meats and fish. The next two dishes were no exception. Lightly seared beef was dipped in a soy, ginger, lime and coriander, whilst an exquisite tartare of tuna was presented on ice alongside a crispy puffed rice cracker on which to scoop it all up; two rather delicate and moreish dishes.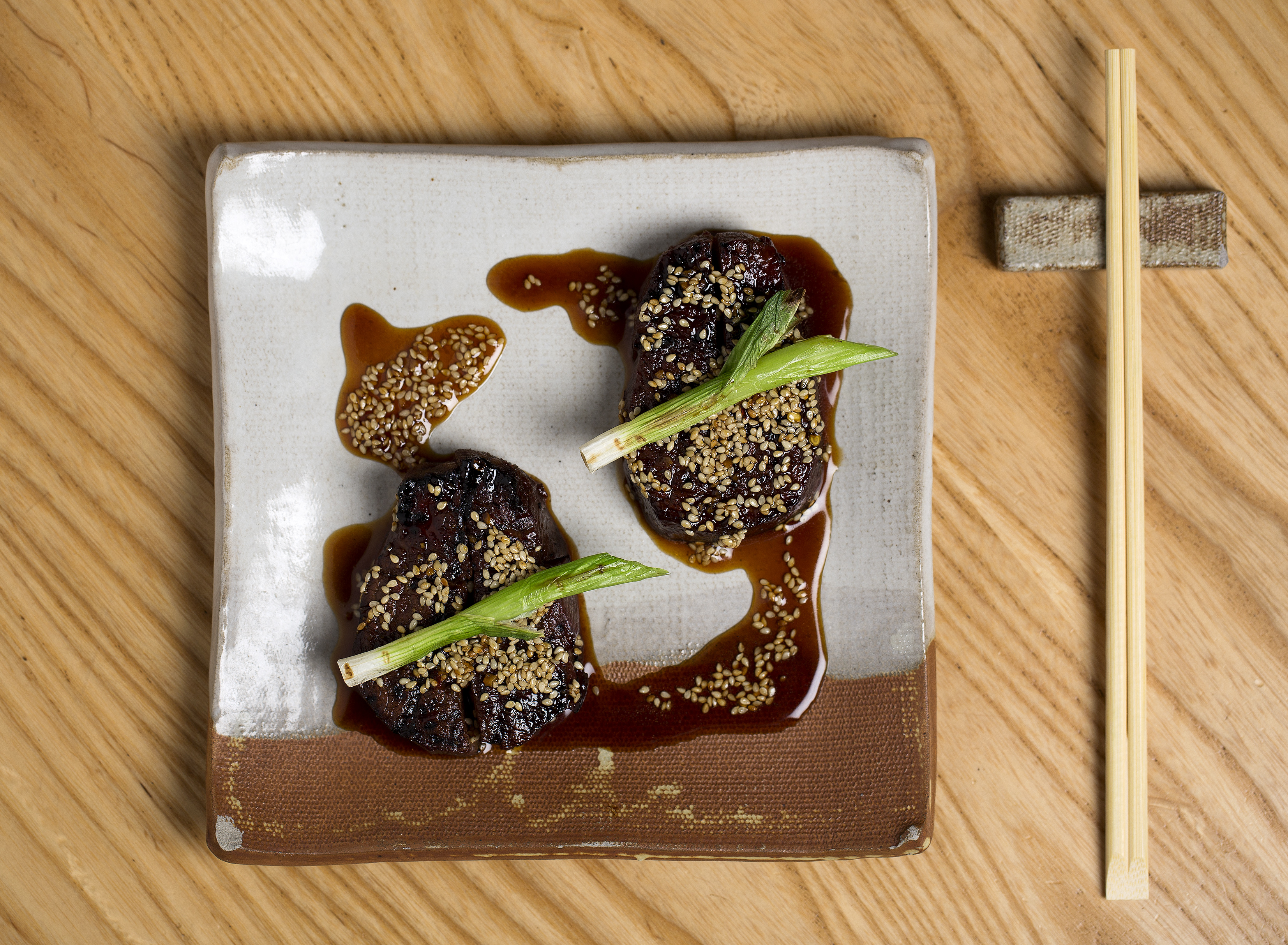 Among the cooked dishes, the flavours entered a whole new level: whole fried soft shell crab was crisp and tender in all the best ways – dunked into a fantastic wasabi mayo it definitely had us wishing for more, a stupendously simple steamed spinach with satay-like sesame sauce was mindblowing and the spicy beef tenderloin with sesame, red chilli and sweet soy was utterly fantastic.
Of course, one couldn't possibly dine in Zuma's expansive restaurant without indulging in the fine nigiri sushi and premium sashimi selection, served atop ice to keep everything perfectly chilled – all in all, a luxurious bowl of fishy goodness that paired perfectly with our white wine, as did the other courses throughout the meal. Alongside this, we also enjoyed some classic sushi rolls: spicy yellowtail with sansho pepper, avocado and fiery points of wasabi mayo.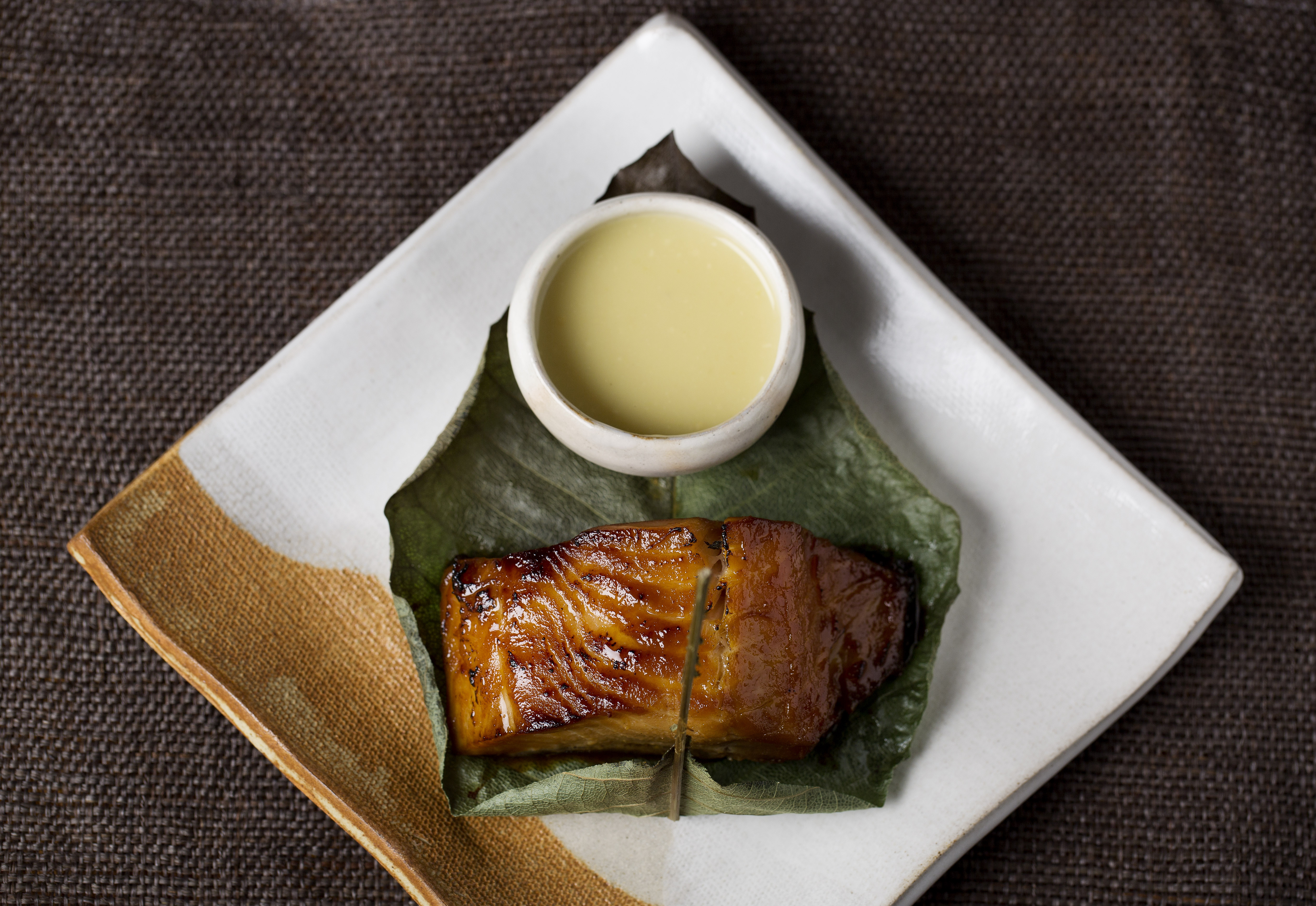 The star of the evening, however, was the extraordinary Miso-Glazed Black Cod, so succulent, tender and moreish. As the hoba leaf in which it was wrapped was opened, releasing sensation flavours and aromas, memories of those perfect moments on D Maris Bay's Zuma terrace rushed back, and the dish was just as perfect as I remembered – beautiful meaty fish, slightly sweetened by moreish miso. And if that wasn't enough we were also served a special treat, in addition to the already spectacular twelve courses. A big, meaty jumbo prawn was served with chilli and garlic alongside al dente asparagus with nutty wafu sauce and, of course, more sesame, rounding off a wonderful evening of exquisite fish, meats and wines.
Alongside dessert, I enjoyed a flavourful and punchy Japanese Old Fashioned, in which whiskey was combined with sugar, bitters and sweet plum sake, stirred down and chilled by a large ice block and Zuma-branded orange peel, onto which the logo had been burnt. It perfectly complements an outrageous chocolate fondant which exploded after being pierced, and a certain citric freshness was exuded by the mouthwatering tropical coconut mousse and granita.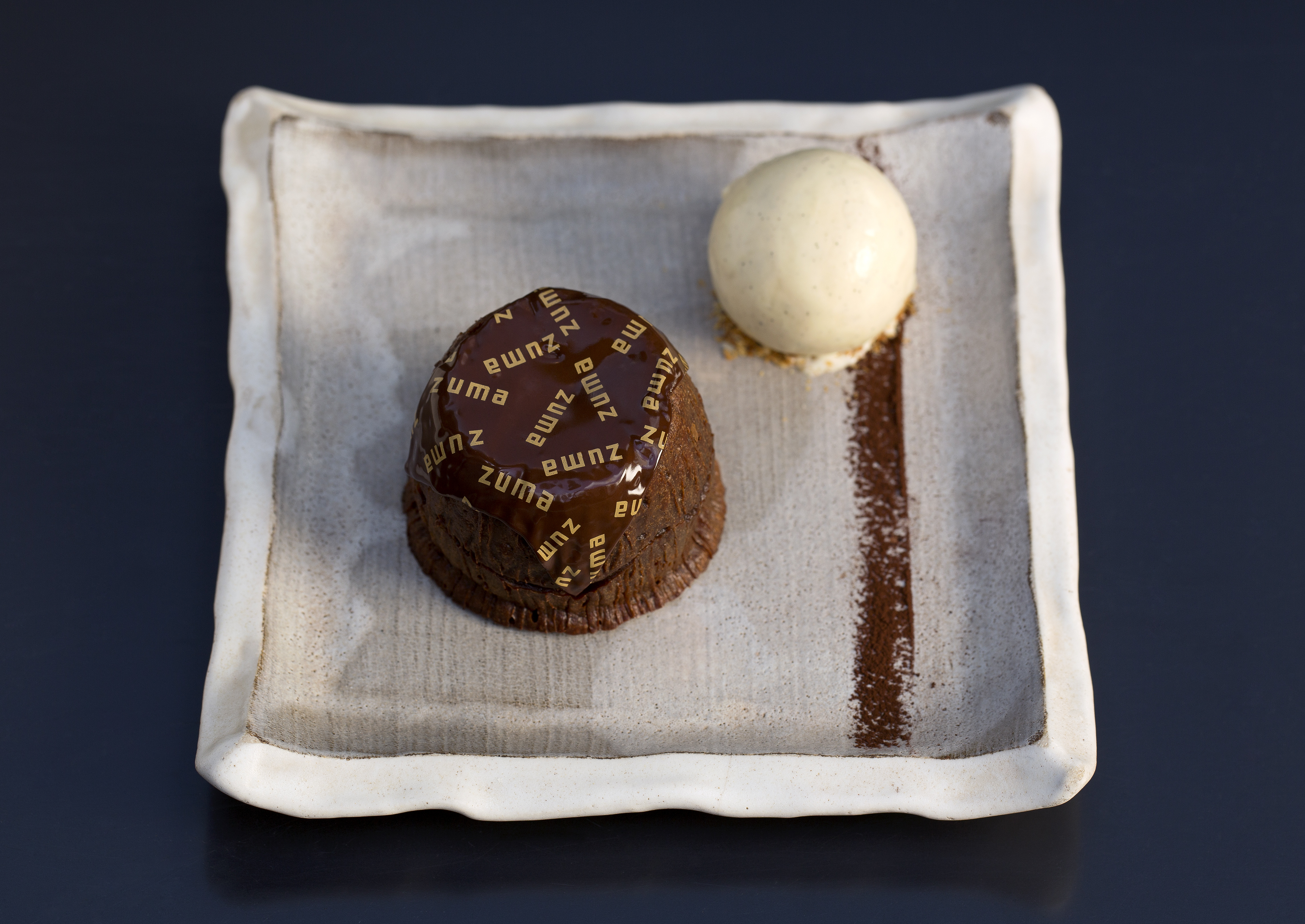 Of course, you don't necessarily have to opt for the tasting menu (though we'd obviously advise that you do). Elsewhere, a newly introduced izakaya bar menu brings some of the finest dishes to the even more informal bar area.
Consisting of twelve delectable vegetarian, fish and meat dishes, all designed to perfectly complement Zuma's drinks list, the chefs have worked carefully to craft an interesting selection of moreish skewers and small plates, including succulent chicken with baby leek skewers and spicy beef with soy, garlic, ginger and ancho chillies skewers. Others include grilled red Mazara prawns with ume boshi and bonito flakes as well as the aforementioned crispy squid with green chilli and salt. For those looking for an interesting izakaya-style vegetarian alternative, try the shiitake mushroom and shiso tempura with truffle ponzu.
Simply put, for those looking for an evening of luxury, decadence and pure indulgence, there is no better choice that Zuma's original, flagship restaurant. It is the perfect combination of incredible food, all-night relaxation and service as flawless as the perfectly executed food, and will certainly provide a night to remember – and boast about – for years to come.
Zuma is everything you'd expect, and much much more.
ZUMA
5 Raphael Street, Knightsbridge, London, SW7 1DL
020 7584 1010