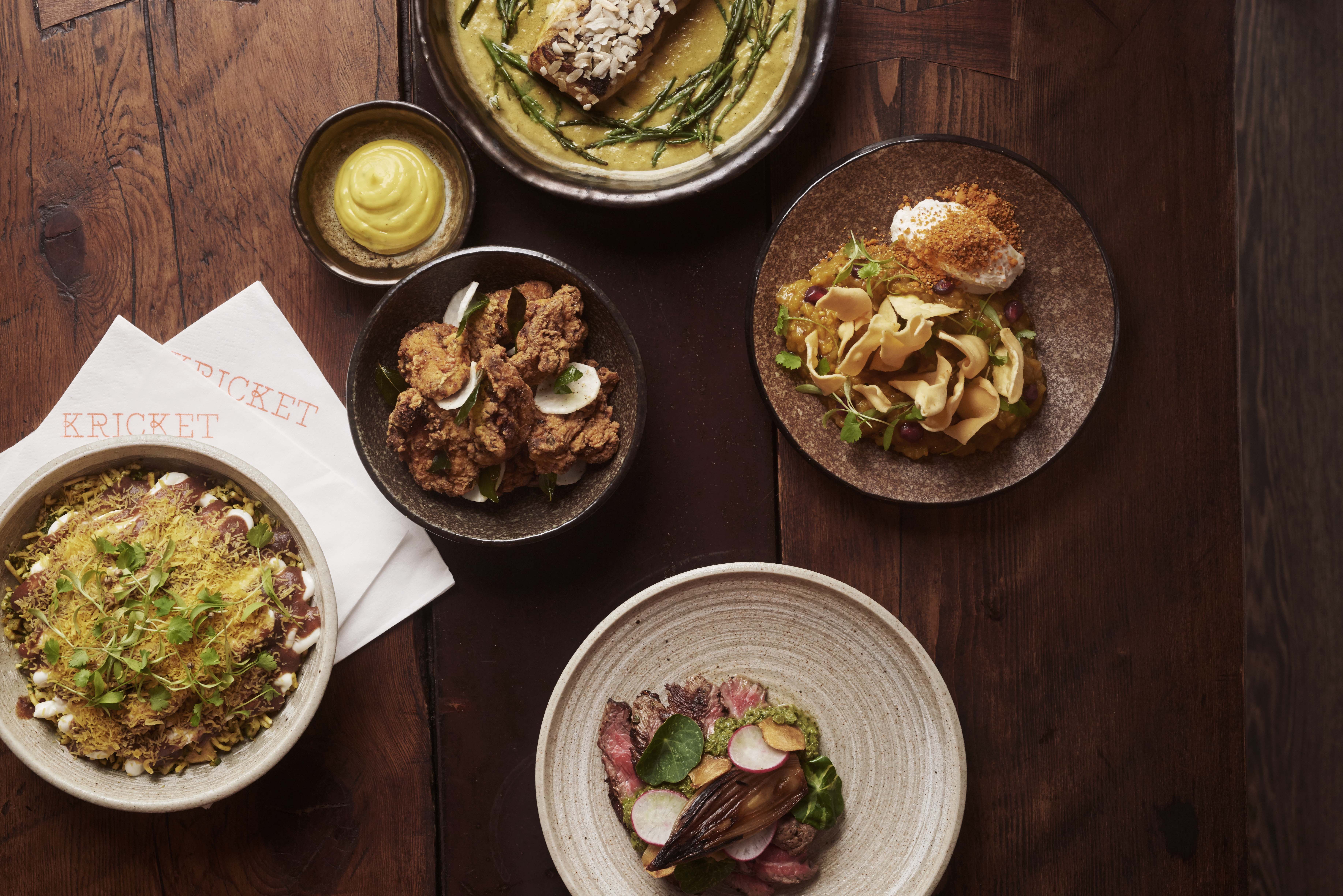 I'll be honest, it takes a lot to get me out of the East of London and even more to get me over to Brixton especially when it's so cold you need a minimum of five layers to reach a regular body temperature. So after a fair bit of research, numerous recommendations and a passion for Indian cuisine I finally mustered up the courage to make the journey (with The vegetarian of course).
Unfamiliar with the Boxpark pop-up that is just a short walk from the station, (there is a slight sense that you could be in Camden here) we wondered round trying to find exactly where they'd hidden this Indian style tapas restaurant that we'd trecked south to see. There are no signs or perhaps we just missed them! I'd saved up a fair bit of space prior to eating here, skipping lunch so was bordering on hangry by the time we got there and finally found it. On arriving the hunger pains were soon forgotten, food was in sight as was the compact open style 6ft by 6ft kitchen which sits at the end of three long tables, which allow just enough room for the waitors the serve you from each side, there's no denying this place is compact, you're in a narrow shipping container! The smell of fried spices really gets the senses going and paves the way for what's about to be served.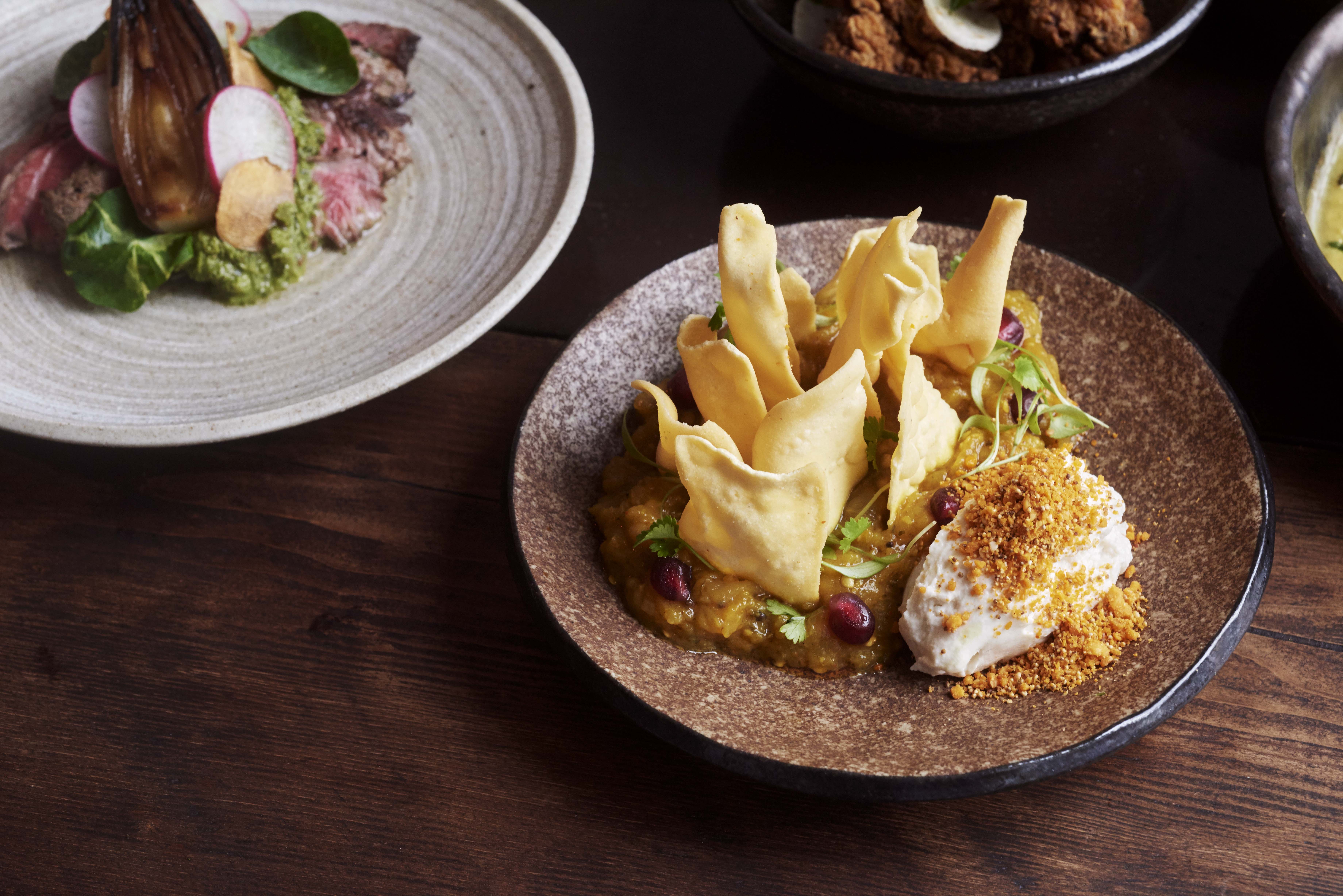 The menu made things a little tricky as they recommended between 3-5 sharing plates per couple depending on how hungry you were and being as everything sounded super delicious I was once again faced with my worst enemy, indecision. This was soon alleviated with a little extra guidance from the co –owner who helped reaffirm my initial menu options (not forgetting I needed to accommodate The Vegetarian too). So here's how it played out…three vegetarian options versus two meat options, pretty fair I thought, although a little me heavy being as I would need to try all the dishes so to could come to a fair conclusion across both the vegetarian and non vegetarian plates being served.
The veggie options we went for consisted of Smoked Aubergine, labneh, peanut crumble & papdi, which had to be the most strikingly smokey dish I'd eaten in a long while, it actually took me back to my days as a smoker, all of six years previous. Texture wise, this was the perfect combination of soft smooth dip with, crisp dippers (papdi) and peanut and pomegranate crunch. We obviously couldn't bypass the Samphire Pakoras that came coated with date and tamarid chutney, served with a side of garlic chilli mayo. This is heaven for anyone, vegetarian or not. In fact The Vegetarian claims these could almost pass for actual fish in terms of taste, but given that he's a cool thirteen years into his vegetarian life I just put this down to his idea of what fish tastes likes as opposed to what it actually tastes like…for me they were just little salty fingers coated in a light barely there batter (nothing could be more enticing). Next and for his 'main' event was the special of the day, Beets and Goats Curd Salad, delicious but lacking in Indian influence, The Vegetarian can take spice (he's currently feeding a daily Siracha addiction) so was keen to induldge in more of the Indian flavours that were so prevalent on entering the restaurant. That said I could have definitely got stuck in and left him with nothing at this stage but lucky for him my fork was interrupted by the generous portion of Keralan fried Chicken, served with curry leaf mayonnaise plus another extremely enticing bowl consisting of Goat Leg Raan with heritage carrots. One fried in bold spices and one slow cooked and deliciously moist and stew like, two super flavoursome and really pleasing dishes, ones definitely worth returning for. Knowing I was going solo on these dishes gave me the prompt to slow down and really enjoy them, this has to be the main benefit when eating out with The Vegetarian. I'm uncertain what the upshots for him are!
What was great is that there wasn't the option to fill up on carbs or get distracted by the plainer dishes, each bowl that arrived was bold, individual and flavoursome. The lack of carbohydrates did mean that we didn't have to roll ourselves out of there and could actually stay awake long enough to discuss the meal which is not always a luxury we get to indulge in.
I can't finish up here without mentioning the dessert, by this time there were people queuing so we opted for one to share, not wanting to take up too much time in our spot and not sure we could of managed more but the dessert (there's only one option) is not to be missed. Gulab Jamum; Light but sticky doughnut style dumplings with clotted cream ice cream and carom seed crumble, however they concocted this they were undoubtedly onto a winner, the lady two seats down from me was ready to dive in ahead of her first round of plates arriving, I could only reaffirm that her instincts were serving her well here.
This place absolutely has a certain charm and buzz about it, the menu has been well thought out and proudly perfected, I'm also told they have a new menu coming in the next month or so which is just the excuse I needed to return. This compact restaurant could certainly do with expanding and when (hopefully) it does I want to be there…fingers crossed it will be somewhere central or east!
Follow Anna Barnett on Twitter: @AnnaBarnettCook
Follow Anna Barnett on Instagram:  @AnnaBarnettCooks
Kricket
49 Brixton Station Rd, London SW9 8PQ