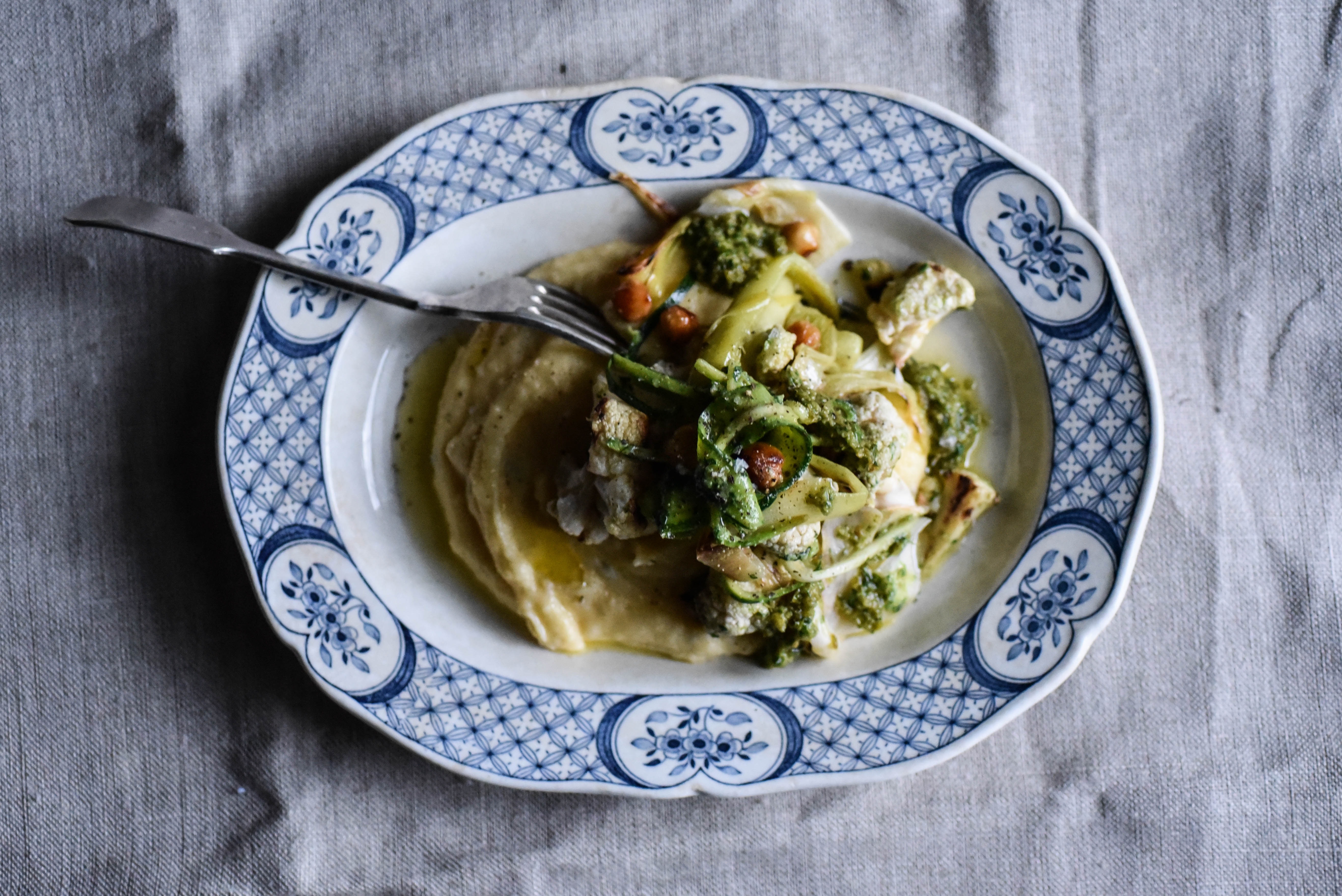 This recipe is a total favourite for The Vegetarian in my life. The Polenta really makes you rethink why you'd ever bother to peel and boil potatoes for mash. This is way creamier and far more indulgent. The contrast between the charred crisp cauliflower, the soft flavoursome leeks and the garlic pesto all served on top of a serious mound of creamy heaven is an all round winning combination. Perfect for a dinner party and easy to prepare well in advance.
Preparation Time 10 minutes
Cooking Time 10 – 15 minutes
Serves 4
Ingredients:
1 Leek – Cut in half and blanched then sliced lengthways
2 Courgettes – Sliced into ribbons using a peeler
½ Cauliflower – Cut onto bite sized florets
2 Handfuls of hazelnuts
Zest of ½ lemon
Garlic Pesto:
2 Cloves of garlic or handful of wild garlic leaves
20g Parmesan – Finely grated
1 Tbsp pine nuts
Sprinkle of salt flakes
Small bunch of parsley (around 2 tbsp once chopped)
Polenta:
200g Polenta
800ml Cold water
150ml Single cream
40g Parmesan – Finely grated
2 Large tbsp of butter
Generous sprinkle of sea salt flakes
Several turns of freshly ground black pepper
Small handful of fresh oregano – Finely chopped
Method: 
Begin by blanching the leek. Cut it in half and place in a pan of boiling salted water for 3-4 minutes then remove and allow to dry out. There's no need to plunge the leek into iced water for this recipe.
Place your griddle pan over a high heat for 2-3 minutes or until it starts to smoke. Half the leek again lengthways and lightly coat both the leek and chopped cauliflower in a drizzle of oil, season with salt and black pepper before placing onto the smoking hot griddle. Allow to char for 2-3 minutes before turning and doing the same to the other side. You can add in the hazelnuts at this stage as well, lightly toasting them until golden.
Next prepare the garlic pesto, either by muddling all ingredients with a pestle and mortar and or by blitzing in a blender.
Pull the charred leeks apart and place in a bowl with the courgette ribbons and cauliflower and lightly coat in pesto.
For the polenta add your water to a large saucepan then once it's almost boiling reduce the heat and slowly pour in the polenta. If you do this very gradually you'll avoid any lumps forming. NOTE – Ensure that you're stirring the whole time when pouring the polenta in, this again will ensure you don't get lumps. Cook for around 7-10 minutes until the grainy texture of the polenta has gone, you can check this by rubbing a little between your fingers. Next add in the butter and cream (still stirring) along with the Parmesan. Have a taste at this stage and add in the seasoning according to taste. I find you need a fair bit of seasoning with polenta despite there being a tonne of cheese in here.
Finish by serving up the polenta onto a large platter. Add on the charred pesto vegetables, some extra generous dollops of the garlic pesto and sprinkle over the toasted hazelnuts and a little lemon zest plus an extra drizzle of extra virgin olive oil, a sprinkle of salt flakes and black pepper and finally serve.
Follow Anna Barnett on Twitter: @AnnaBarnettCook
Follow Anna Barnett on Instagram:  @AnnaBarnettCooks
Anna has worked in events and celebrity booking for MTV and Channel 4, has spent many years as part of the team at British fashion label House of Holland – but she's still primarily known to her friends as 'The Feeder'.
Her lifelong obsession with cooking led to a weekly blog, 'The Reluctant Vegetarian', which she spent two years writing for UK newspaper The Independent.
She now contributes a monthly recipe spot on Miss Vogue, while running www.AnnaBarnettcooks.com and has just been appointed as one of Grazias resident cooks for the magazine. She regularly turns her house in Hackney into a pop-up restaurant and has been featured extensively in the glossies, nationals and online.
Her debut cookery book 'Eat the Week' launched last summer.