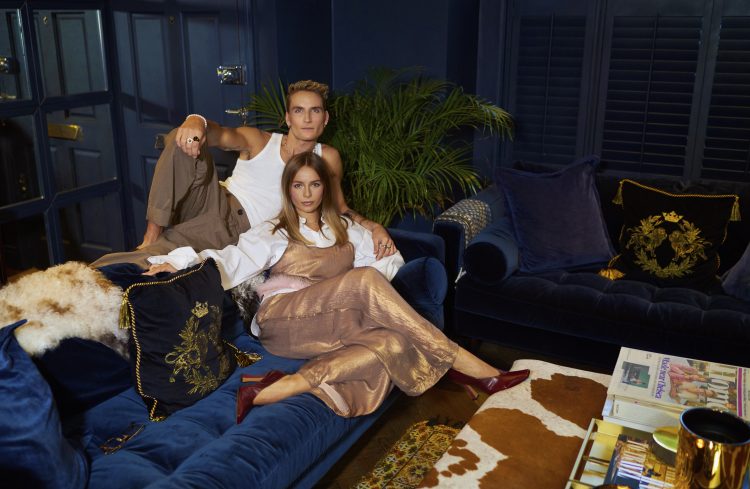 They're arguably one of Instagram's most-watched couples, from their evenings putting the final touches on Casa Proudlock's cinema room to 'pigging out' on holiday in a luxury tropical location, Emma Louise Connolly and Oliver Proudlock are the couple of the moment. A Scottish model meets a London artist, we spoke to the pair about love, careers and what keeps them grounded while in the spotlight.
Imagine life pre-Casa Proudlock, when Emma Lou is serving up delicious mushroom and cheese toasties at a Little Chef in Glasgow, while Oli is fashioning Gucci dupe mules to sell to his classmates and soon, their parents — this world is a universe apart from where the pair are now, sitting in their beautiful living room enjoying a glass of red in front of the fire. However, these small moments led to big careers and the two are just as grounded as they were back then when they received their very first pay check.
As the pair pose for their shots, throwing their heads back in laughter and giggling into one another's ears, it's clear they were destined to meet. Oliver grew up in London with his Swedish mother who he said ran a crazily creative household. A photographer, model and knitwear designing, Mumma Proudlock gifted her artistic flair to son Oli, who went on to Central St Martins to study an art foundations before completing a four year course in Fine Art at Newcastle University. Emma grew up in picturesque Dunblane with her family, where she later left to study Fashion Design in Glasgow. For both, London offered the opportunity for creative freedom and collaboration, an inviting city where the fashion industry thrives, providing a space for both Emma and Oli to bounce off other creatives and build their empire.
It was in June 2011 when Oliver returned from Newcastle to take advantage of the creative circles in London, founding his menswear brand, Serge DiNimes. However, it would be a few years until Emma Lou would join him in the vibrant capital.
Oliver revealed, "With Serge DiNimes, I was learning as I went along. My background is in fine art but I always had an interest in fashion – I didn't have a plan for the brand but just rolled with the punches and everything fell into place."
While Oliver was working on Serge DiNimes, Emma was modelling for several brands north of the border. Luckily, Oliver had some work projects in Scotland and so ventured north for a week about 8 or 9 years ago.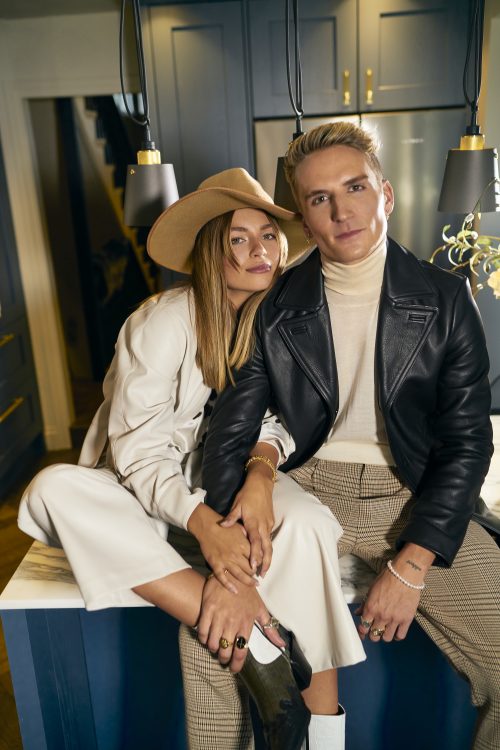 He recalled giddily, "I'd spent the entire week going from one Scottish city to the next, so when I finally stopped off in Glasgow to visit my buddies they'd recommended I visit Kelvingrove Art Gallery."
He continued, "I was still producing art at the time so I figured I'd go along to see if I could get some inspiration. On the ground floor there was a huge catwalk set up, so I decided to hang around to see what was going down. Next thing I knew, this incredible girl cruises down the catwalk and we lock eyes."
Rushing home to his friends, Oliver described to his friends what the girl who wowed him looked like and luckily they knew it was Emma Louise Connolly.
Heart pounding for Emma Lou for weeks after, Oliver returned to Scotland for a job in Edinburgh.
He said, "I was standing at the baggage reclaim waiting for my bag when I looked up and there, on a billboard advertising a jewellery company, was the beautiful Emma Lou. I knew then that I had to reach out."
As Oliver recalled this, Emma's face lit up with her famous smile. Three years passed since Oliver added Emma on Facebook and the two spoke regularly, glancing at each other across the room at events in London, as if in a Jane Austen novel. During the 2014 Commonwealth Games in Glasgow, Oliver suggested that the two get the train from Glasgow to London together following their work commitments.
He said, "I stood there thinking that she wasn't coming as the 3 minute warning echoed through the station. Next thing I see Emma sprinting down the platform laden with bags, laughing hysterically. I knew then that this girl was the one!"
Following their train journey, Oliver finally asked Emma on a date and they went to Bob Bob Ricard, "and the rest is history!" Emma exclaimed.
With a whirlwind start and an incredible adventure of love since, Emma and Oliver's relationship takes priority over all else, despite their busy work schedules.
Emma said lovingly, "Our relationship is the number one priority for us, so it will always come before work but in the most effortless way."
Posing perfectly for their shot, the two are natural partners.
Oliver grinned cheekily at Emma, then said, "There are many people who are so in love but living different lives and doing different things due to work. But wouldn't it be so great if they could experience all of that together? So I never take this for granted and am so grateful that we have this privilege."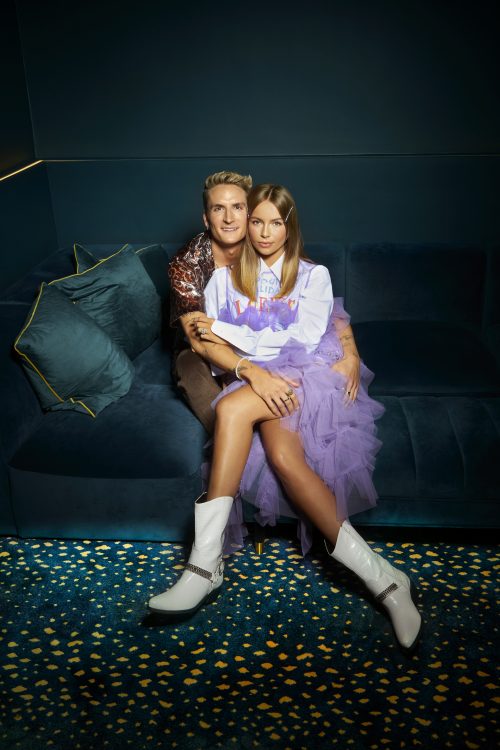 When the pair aren't building their empire, they're relaxing at home together in their pyjamas with a glass of red wine in hand.
Emma laughed knowingly, then added, "There's a saying that I love, 'There's loads of people to do something with but it's very hard to find someone to do nothing with'. We can literally sit and do nothing together and be so content just being us."
Sitting in what has got to be the most beautiful home in Chelsea, Emma tells the behind-the-scenes story of From Crib to Casa.
Emma laughed, then confessed, "I won't lie, it was 25 out of 10 stressful renovating our Casa, it was definitely more full on than we expected. I was being over optimistic about the whole thing, thinking it would be finished within 3 months."
Oliver added, "Looking back and seeing how far we've come with the house makes us appreciate it so much more and makes the whole experience that much more memorable."
While Casa Proudlock took under a year to complete, Oliver has been working on Serge DiNimes for almost a decade, recently transitioning it into a men's jewellery brand, finding a niche in a swift moving market.
You'll be sure to spot Emma Lou on a billboard or two, she has been the face of global YSL campaigns and is the legs of Calzedonia.
She explained, "One of my favourite projects is working with Calzedonia, they've given me a lot of control and allow for my personality to shine through in all shoots."
If you've seen the latest Calzedonia campaign in which Emma, dressed as brightly as the disco ball she's holding, prances around a dressing room, you'll know exactly the type of infectiously bubbly personality she has.
The fashion industry is fast-paced and relentless, as Emma knows all too well.
She confessed, "For years and years I was told no. Opportunities that I really wanted passed me by and I became sad and unmotivated. But my mum would say to me, what's now my favourite Scottish saying, 'What's for ye, won't go by ye', I truly believe that now."
Oliver added proudly, "If something is meant for you then it won't pass you. Everything happens for a reason, like me visiting Kelvingrove or having to return to Edinburgh for work and seeing that billboard of Emma."
With constant pressures, moments in the spotlight and their faces plastered all over the media, it's heartwarming to see the couple just be totally normal within their own home. It's easy to forget that the pair are young and striving for self-employed success within a saturated industry. However, with all the pressure comes great privilege, something that Oli and Emma never allow to rule their moral compass.
Emma said, "If either of us ran away with the success we'd pull each other right back down to earth – we both had a similar upbringing and we didn't have everything handed to us."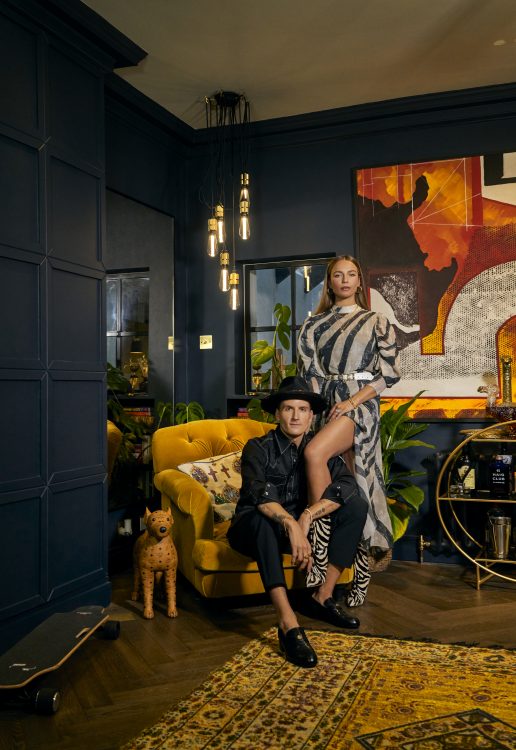 Oliver nodded in agreement, then said, "With all of these life pressures, sometimes you get hyped up and carried away, but it's important to take that moment in the moment, be calm, take it all in and be appreciative."
With a schedule more packed than the Queen's, Emma and Oliver can go days without seeing one another. Holding together a relationship under such a high-pressure environment can't be easy.
Emma looked at Oliver lovingly, then said, "Sometimes we'll be running around super anxious and stressed and then we just burst out laughing because really, the most important thing is what we have between the two of us."
Attributing their strength in work and relationships to "Emma's smile" and "Oli's heart", the two are a shining example of how making your relationship a team game can see you through to champion success.
@emmalouiseconnolly
@proudlock