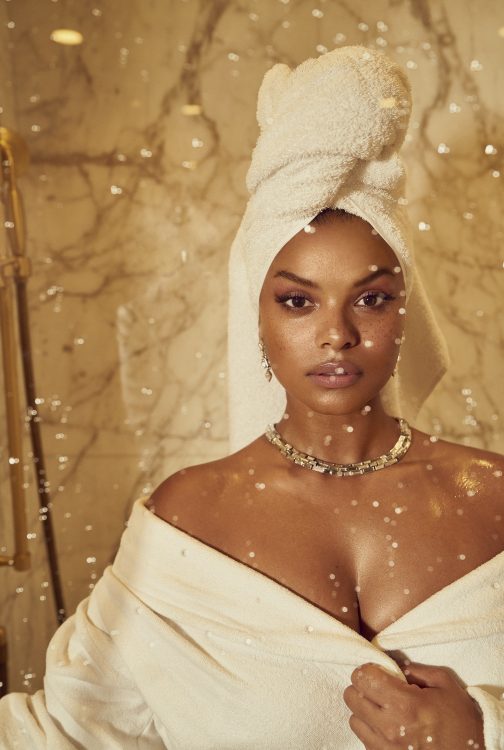 More than just a model, Leslie Sidora is a movement. "A nice Tom Ford glasses campaign would be something I would love to shoot in the next few years," she proclaimed as we jokingly rejoiced over the phone in the realisation that we both believe in the Law of Attraction.
"Pretty Little Thing would be a nice first collaboration to have because I started with them, I also want to represent more during fashion week as well." There is no doubt in my mind that she won't achieve this. Leslie Sidora has grown from self-made Instagrammer to the face of major clothing brands and campaigns.
Between packing her suitcase for her next campaign in LA, she stops to properly talk about her fast-paced lifestyle in modelling. The French influencer rose to fame when she was scouted by her current modelling agency on Instagram.
A look of shock illuminated her face, she recalled, "I didn't even approach them, they approached me. My friend believed in me more than I believed in myself."
Leslie, who splits her time between New York and London has found her groove in the social media landscape. With a busy schedule taking her across the world, finding the time to chat with her on the phone was the best way to get a glimpse into her hectic life.
Jumping straight in to talk about her opinions on diversity in the modelling industry, Leslie believes she is lucky to be surrounded by such a positive community of people like her.
Although she agrees that there is still a long way to go with accepting more types of people and including a better range of diversity she said, "There are some communities that are definitely more open than they used to be, but there is still a lot to do."
Speaking candidly about her career, she explained, "It first started when I came to New York, I just started taking pictures with one of my friends and it was a bit of a game at first. We'll give it a try and see if it works. I didn't really believe in it but maybe after a few weeks, my agency in Los Angeles found me. They signed me right away, I actually didn't even meet with them."
She continued, "I was taking Instagram pictures with my friends, who believed I would be successful. I got scouted through Instagram and I went back to London and got my first job at ASOS, that was two years ago now."
In less than two years, Leslie has increased her social following by 2450%. She said, "When I got scouted I had 10,000 followers. I started really low, just taking pictures and slowly starting to take it seriously to produce content. I then kept on building and posting. That's what worked the best."
Leslie was determined to stay true to her style and that has been the secret to her success. She revealed, "I always had an idea of what I wanted, but at that time I wasn't able to express it as much as I can now. I definitely have my own preferences, obviously."
She added, "When I started posting for some brands like Fashion Nova, I picked outfits and items that I liked, more than just doing it because I think this is going to work on Instagram. I just kept on doing me, more than just doing it for the people. It's what I liked and it worked."
Leslie's magic even caught the eye of Rihanna, who hired her to walk in the iconic Savage x Fenty show.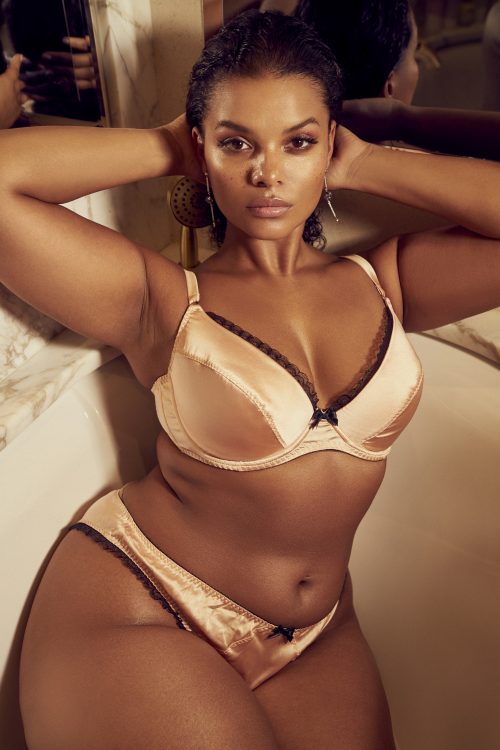 She said proudly, "I think it was one of the first jobs I booked when I got my work visa for the US, it was pretty big. I did the first campaign and they liked it. I didn't really have any expectations to be honest with you because there was a lot of other girls shooting at the same time, so I really didn't know what was going to come out."
She added, "I didn't know what pictures were going to be picked for social media. It was a good surprise when they used me for the ads in the campaign and that the pictures were doing well."
Little did Leslie know that the surprises were far from over. She would be requested to go to a casting that would propel her career to stratospheric proportions.
She laughed, then said, "I had no idea I was going to be cast for the show. When I went to the casting, I didn't even know it was for Savage x Fenty. They just asked me to go and dance, so I went and danced my ass off."
She exclaimed excitedly, "It was my first fashion week and Rihanna's Savage x Fenty was the first show that I've walked. Now I am going to have to do something better and I'm not quite sure how to do that. What better way to kick off fashion week than with Savage Fenty."
She confessed, "I would like to see more representation as far as social media is concerned. I see it, especially in the US and I guess the UK is the same, but I feel like I know I don't get jobs because I am on the smaller size of plus-size. But the average woman is a US 12-14 and I am a 12-14 and I don't think I see much of that as I wish I could. So I am trying my hardest to be like 'Hey, we matter too.'"
There have been many perks to Leslie's blossoming modelling career, one being the gratification from uplifting others just like her.
She recalled, "I get messages from girls that follow me on Instagram, thanking me for the inspiration. I don't overthink it, I never intentionally thought 'Oh my God I really want to inspire people'. Recently a girl sent me a picture of her wearing this dress. She told me 'I saw you wearing this dress on Pretty Little Thing and it just gave me the confidence I needed' and when I heard that I just thought, wow, it is always incredible to receive that kind of feedback."
As Leslie packs her case, ready to fly to L.A the next morning for a huge shoot with Pretty Little Thing, she stated humbly, "I am really proud. I am not going to say that I started it, but I was involved when brands like Pretty Little Thing were very new to plus-size. We built each other up, because when I first started with them it was one of my first modelling jobs, so it is interesting to see where we are going now."
She added, "We did a Hailey Baldwin collaboration that did really well, I am really proud and lucky to be able to work with brands that are so inclusive. They are an amazing company to work for."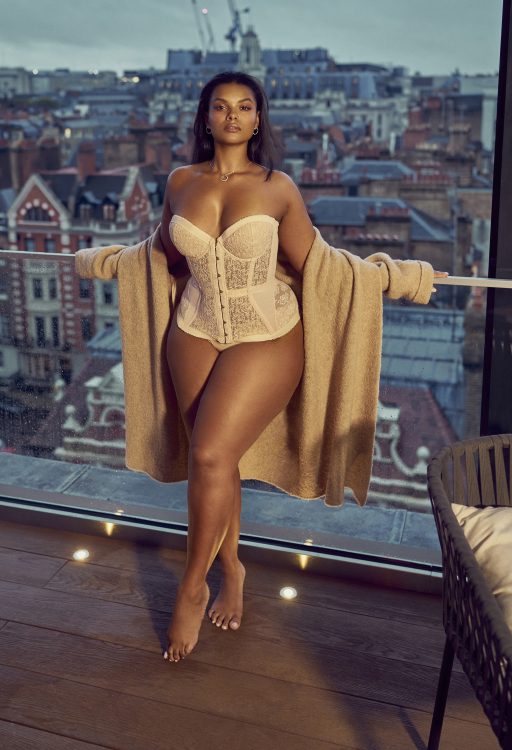 Leslie admitted that it is important to maintain a private life away from social media. Although she loves posting about her modelling endeavours, she is fiercely protective of her private life.
She confessed, "My private moments are just that and I don't post anything. I don't really struggle with finding the balance between my life and my Instagram, because I know I have to post for certain brands and I know the amount of posts I have to do in a month."
She added, "So actually it is very easy for me to come off Instagram. I take time off for myself between those posts because I don't think that everything needs to be documented."
Instagram's recent controversial move to remove number counts on Instagram likes has been a hot topic on the internet.
Leslie chimed in, she said, "Sometimes if there isn't a lot of likes, it doesn't mean people don't like it. Maybe they didn't see it because the algorithm is changing and it is so hard to keep up. Personally for my own private use, I don't mind."
She continued, "The minute you start following all these rules, you stop creating content for yourself. You're appealing to expectations and I really don't think that is the good side of Instagram. If I'm here to help and inspire people, I won't post a certain picture just to get my 30,000 likes, I would be lying to people and lying to myself too."
Leslie is a true go-getter, whether it is through motivational speaking or modelling she is setting the industry alight on her own terms.
@lesliesidora