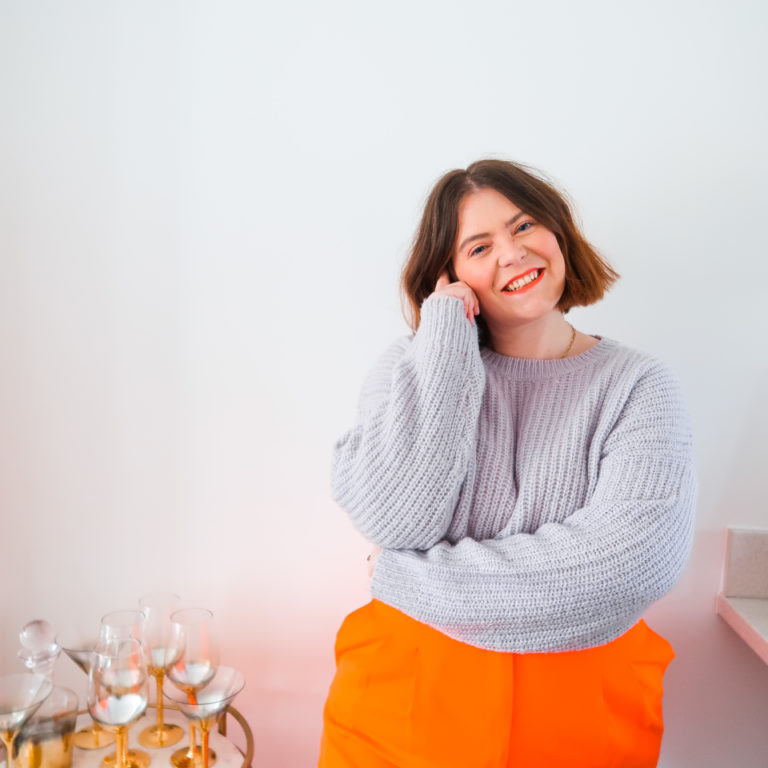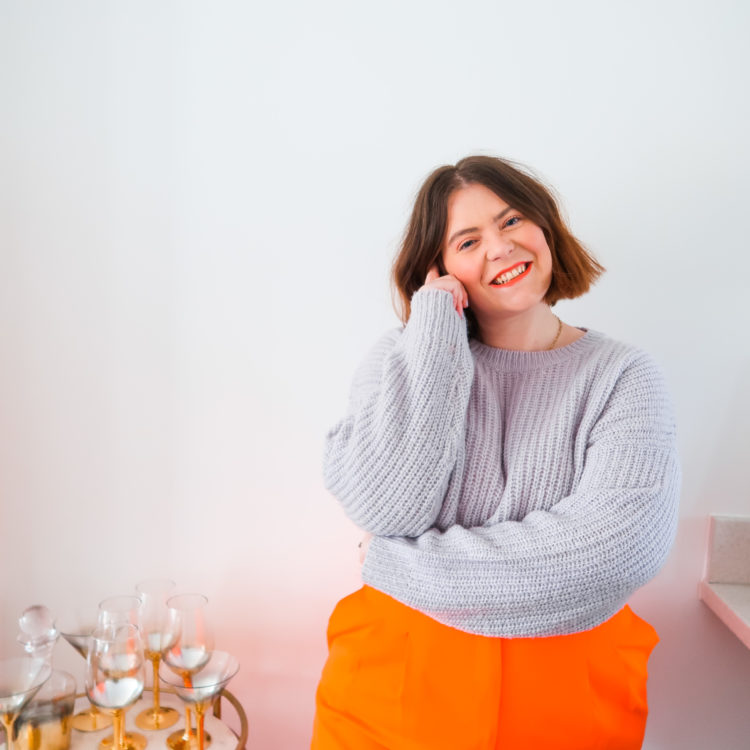 It was an idea spawned on the night bus. It was 2015 and finding herself single and sofa surfing after her then partner's infidelity, twenty-something Vix needed a change of direction. An overworked and under-appreciated primary school teacher by day, she longed to leave the classroom behind and channel her energy into a new creative outlet and community.
A believer in making your own luck, Vix found a new flat in London, and in the six-week school summer holiday that followed, Miss Jones became 'Vix Meldrew'. For 'One Foot in the Grave' fans, the inspiration behind this nickname, bestowed by her best mate, was Victor Meldrew and his oft grouchy but affable persona.
Inspired by bloggers she loved including Lily Melrose and Caroline Hirons, singleton Vix began writing about NYC, her favourite jeans and night bus adventures under her new pseudonym. But, after suffering the devastating loss of her mum to cancer, she refocused to write about mental health – with a side of dating mishaps.
Vix recalls, "I dated a guy, who by our fourth meeting, had discovered my blog. He spent our next date quoting it back to me. Thank you, no. Next."
Her big break came when she live tweeted herself flirting and sending a note to #TrainGuy which went semi viral.
New found notoriety led to #VixSwipes, a weekly Twitter feature where she'd swipe on Tinder, sharing the awful profiles and messages she saw. A guest slot on Scott Mills' Radio 1 show and inclusion in two BBC documentaries about dating followed, plus a brand partnership with Match.com.
American philosopher Thoreau once said: "Success usually comes to those who are too busy to be looking for it", and Vix certainly was. Teaching 70 hours a week, she also blogged and posted relentlessly to build her audience. Cue posts littered with inappropriate humour, the odd swear word and a ton of obscure 90s and early 00s references. Multi-tasking, she wrote blogs and scheduled Tweets on her daily commute.
As each month passed, Vix's followers and readers surged. New lucrative brand collaborations, awards and media opportunities helped her move closer to her goal of becoming a full-time content creator. Candidly documenting her personal life, Vix's fans identified with the honest insight into her love life and mental health journey. After two- and a-bit years, she left the classroom behind.
Meeting now-husband Ben in 2017, Vix's home life underwent a positive evolution; her mental health improving dramatically. But once more, it meant pivoting her brand, and moving away from tales of dating mishaps. Smiling, she shares, "there was this one time early on in our relationship where Ben thought a piece was about him. It wasn't, but it led to an awkward conversation."
Her blog's reach and influence skyrocketing, Vix realised that she needn't completely leave behind her passion for teaching. Cue phase two of her 'empire building' business plan: Creating an e-newsletter. "Conceived as a virtual vehicle to share weekly tips and insights with the UK's blogging community, within three months 'Exciting Emails' had 3,000 regular readers and so I began working towards my next goal: offering coaching, content creation courses and launching my own podcast."
By November 2018, the 'Exciting Emails Podcast' was #1 on iTunes' business and marketing charts, and Vix'd spent the year coaching 50+ creators on building their personal brands. She tells me, "I wanted my teaching to reach a wider network, so I gave 'Exciting Emails' a makeover."
Meet 'Grow & Glow'. A personal branding membership for creators and creatives who want to harness the power of their online platforms through content marketing to build sustainable and successful businesses of their own. A community of like-minded colleagues who believe in support, empowerment, skills acquisition and leaving an online legacy, it provides the resources, training and support to help every individual behind a personal brand GROW their online presence and GLOW for their audience or customers.
A runaway success, it launched to 100 members in under 58 minutes. "We've since partnered with Pinterest and Shopstyle to provide expert trainings for our members. 15 months on, I'm incredibly proud that 'Grow & Glow' has 600+ members in 16 countries including the UK, Canada and Australia. I spend my days working alongside a team of four inspirational women."
As we continue chatting, Vix tells me about her life in rural Kent, Cockapoo puppy Ruby and future plans.
What's next for 'Grow & Glow'? Vix's eyes light up: "We'll be focusing on attracting a more diverse portfolio of global creators and creatives and developing an online education empire with courses, trainings and events relating to every aspect of building a sustainable personal brand."
"I've worked tirelessly for five years to establish my business. Looking ahead, I'm keen to grow the team further and create new streams of passive income so I can devote greater focus to family life and my own continued personal development."
Warm, friendly and savvy, spend 10 minutes with Vix and you'll know that you're in the presence of a trailblazer.
Before we say our goodbyes, Vix shares three tips for improving your social media presence:
Find your 'niche'. The online world can feel super saturated so it's incredibly important to build your brand around your area of expertise or passion. Whilst you may feel like this limits the audience you can reach – it actually does the absolute opposite!
Get inside your ideal audience or customer's head. What problems of theirs can you solve through your content? They come to you as a resource – how can you be valuable to them? Create content that answers their problems and you'll gain a legion of loyal followers.
Be authentic. Authenticity is a word that's bandied around often, but when it comes to building a personal brand, it's paramount. Connect with your core values – what makes you, you. And share that throughout your message, content and offering.