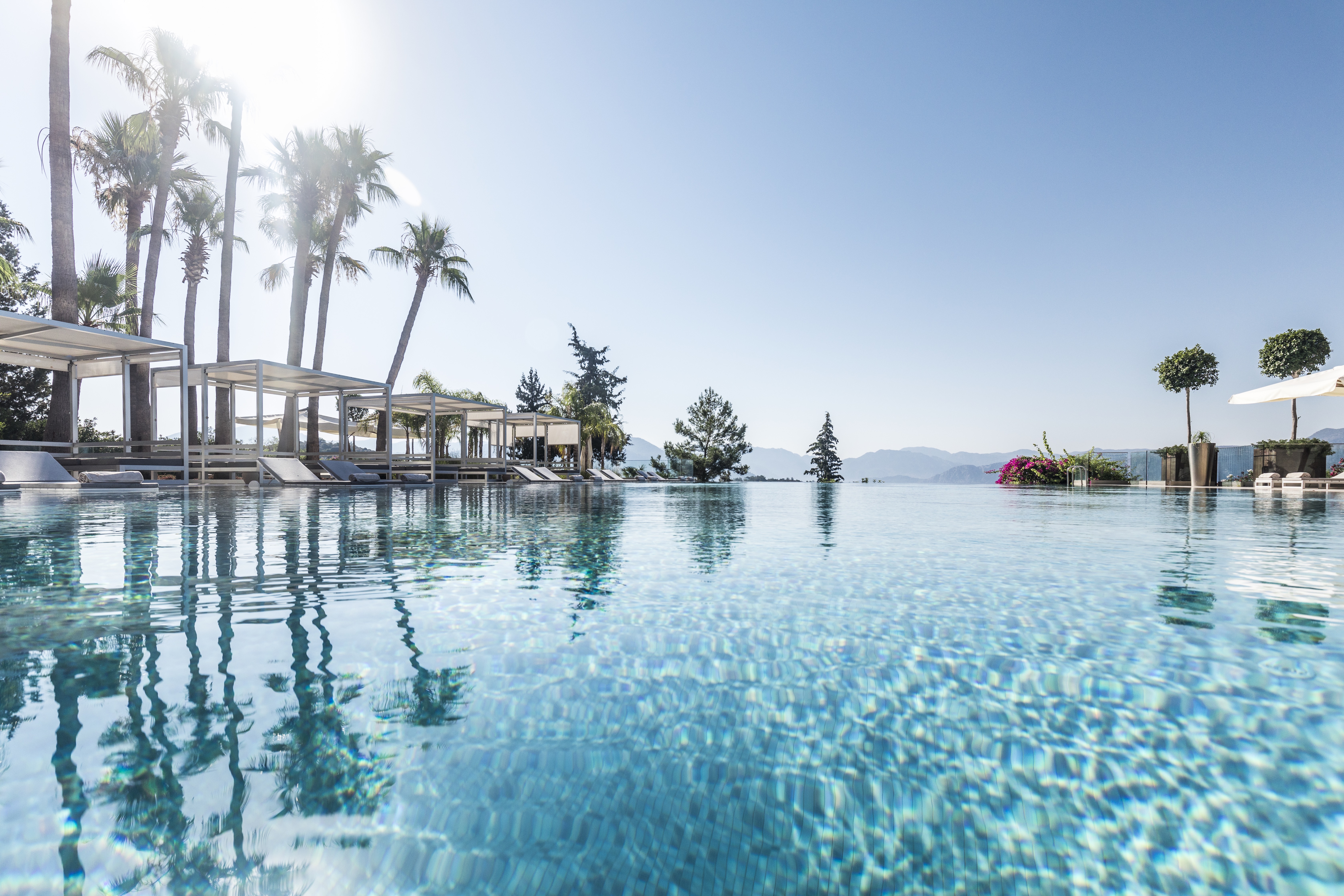 Extraordinary English writer J.R.R Tolkien once wrote: "Not all those who wander are lost". As we drove through unspoilt Turkish hills, this proclamation could not have been more fitting. Travelling in decadent comfort, in an ice white turbocharged Audi, I felt utterly at ease as I sank into brown leather seats gazing upwards to explore the twinkling night sky above through a vast panoramic roof. I love to wander. To discover new places is one of the greatest passions that one can enjoy. Nothing, however, prepared me for the sheer beauty and magnificence of D Maris Bay.
A short hour and a half drive from Dalaman airport – or a far faster flight in the hotel's private helicopter should you find yourself feeling flush – D Maris Bay is accessed via a smooth five-kilometre stretch of winding private road leading one of the most tranquil sanctuaries that southern Turkey has to offer. Nestled in the hills of the Datça Peninsula, D Maris Bay promises a peaceful oasis where the Aegean and Mediterranean seas converge, in a landscape that boasts volcanic mountain ranges, verdant lush pine forests and countless small islands. Not to mention its very own five private beaches…
Pulling up to the impressive façade, we were met by Oksana, a lovely young Turkish girl from the guest relations team, affectionately referred to as one of the Angels of D Maris Bay, there to tend to your every want and desire. We happily started with a brief tour of the expansive hotel, its exterior lit romantically by bright moonlight. Oksana told me of the 196 rooms including one duplex Presidential Suite and a villa which offers an exquisite private sanctuary, before expressing her genuine love for the place: "I can't wait for you to try the restaurants", she told me, laughing. "We even have a beautiful gym and pool for when you eat too much". Looking out over the bay, engulfed in mysterious darkness, I couldn't be more excited to see what sunrise would unveil.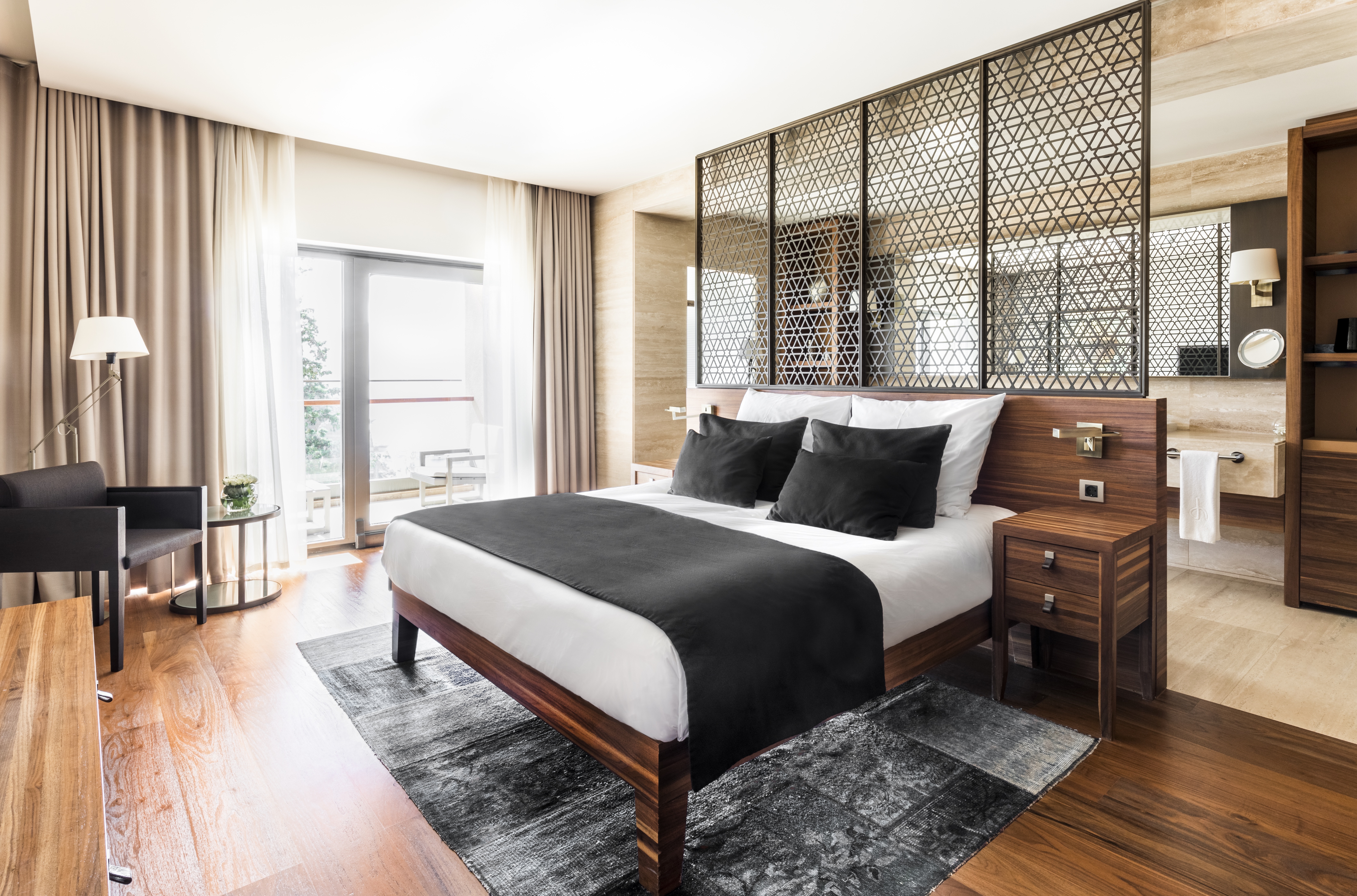 Stepping into my deluxe sea view room, a space that appeared as opulent as it was spacious and as inviting as it was spectacular, a king size bed sat in its centre, protruding from an ornate partition. Behind this, beautiful stone surfaces houses to two large basins below an expansive mirror. To its left, an opaque door opened to show an impressive raindrop shower and wet room whilst at the other end of the partitioned bathroom walkway the most epic bathtub proudly provided the pièce de résistance, with electric blinds which, come morning, quietly opened to boast breathtaking panoramic views across the bay.
D Maris Bay is unlike any hotel you will ever experience. Its luxury marbled interiors are adorned with interesting Anatolian artworks, whilst a vast array of architecture, design, travel and philosophy books fill the shelves. The food is out of this world and truly has something for everyone.
Zuma, with its base in Knightsbridge, offers high end Japanese and sushi dining with highlights such as the mouthwatering Miso-Glazed Black Cod with Lemon & Wasabi Mayo and extravagant, delicate bites of premium sushi served alongside twists on classic cocktails like the Osaka, an Aperol Spritz infused with pineapple and pine nut. Situated on the terrace, Zuma is the only one of D Maris' four restaurants that isn't beachfront, but instead offers spectacular views over the infinity pool and the beaches below it. Expect loud electronic beats, delicious fresh sushi and robata and an intense soy scent that temptingly wafts across the restaurant. For a late night treat, opt for the large central table and sip cocktails into the early hours as a private fire pit roars in its centre.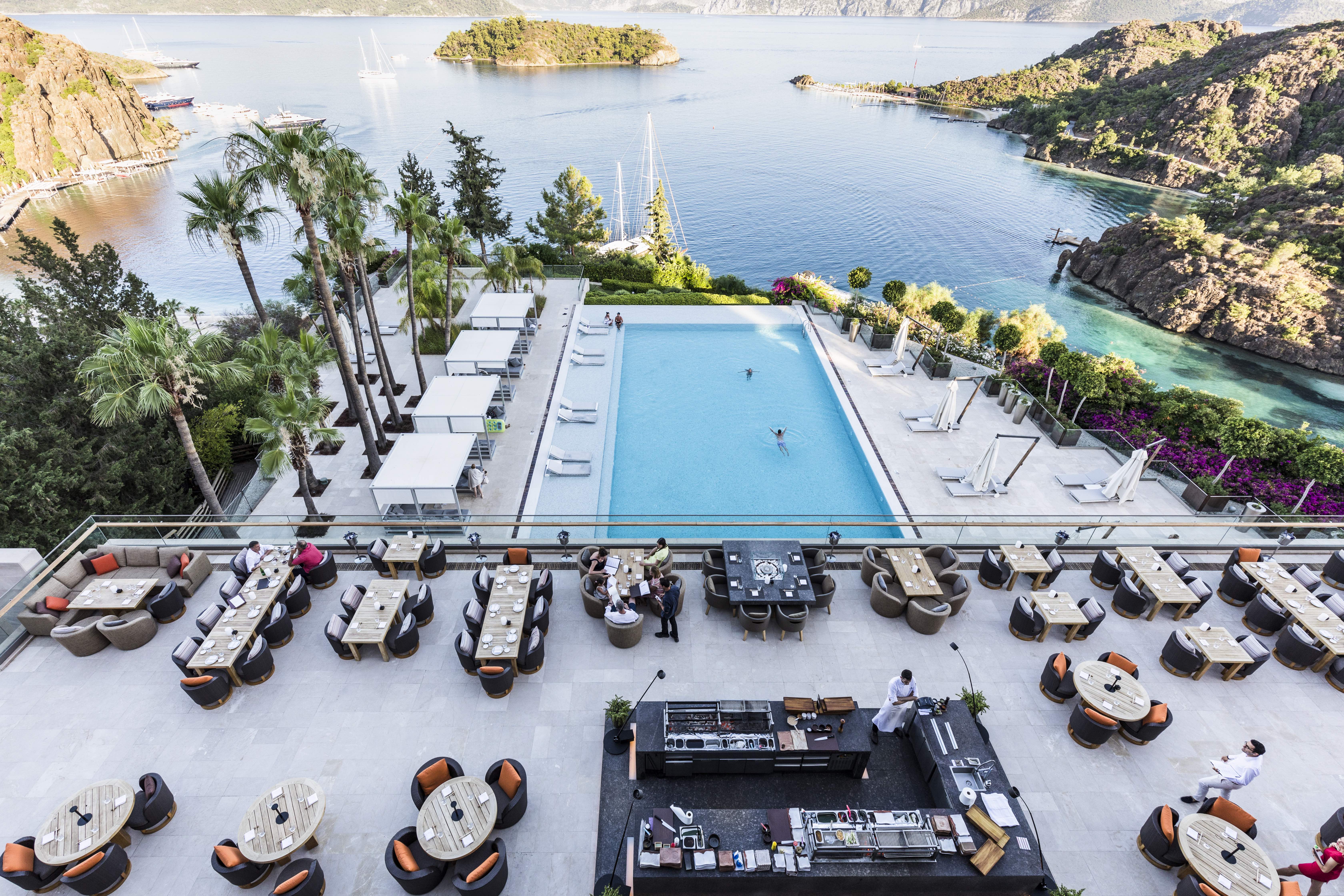 Heading down to the beach via either a wooden funicular or a 196 step descent, you can choose from four more dining options. For lunch, there's nothing better that Rüya, serving traditional Anatolian dishes and Turkish mezes: enjoy salads of smokey burnt watermelon, sheep's cheese, pine nuts and the freshest rainbow of tomatoes, before indulging in a salty whole grilled sea bream, washing this all down with fruit-led punchy cocktails. Afterwards, walk a mere 20 steps to a sun lounger and sip margaritas on the seafront, relaxed by the bossanova beats and the sound of waves breaking against the ice white sand, specially imported from Egypt for its pristine colour. Every now and again, Rüya's staff will walk down the beach with fresh shots of juice, too. I had a frozen melon shot and it might have been the most flavourful juice I've ever tasted.
Of course, if you'd rather save Turkish mezze for another afternoon, you could walk over to the jetty and have a sea taxi whisk you over the neighbouring beach. It is here that you may enjoy the newly opened (and fantastically designed) La Guerite. With sister restaurants in Cannes and St Barts, you'd expect this to be pretty damn amazing, and you really wouldn't be wrong. Beautiful handmade roofs provide much needed shade as you look out over the azure waters, enjoying seafood and Aegean specialities including some of the freshest calamari you'll ever sample and succulent octopus so good you'll want to eat it over and over again. Elsewhere, enjoy the typical Greek taverna, Manos: also a fantastic place to enjoy dinner, with loud traditional music, elated dancing and an awful lot of plate smashing…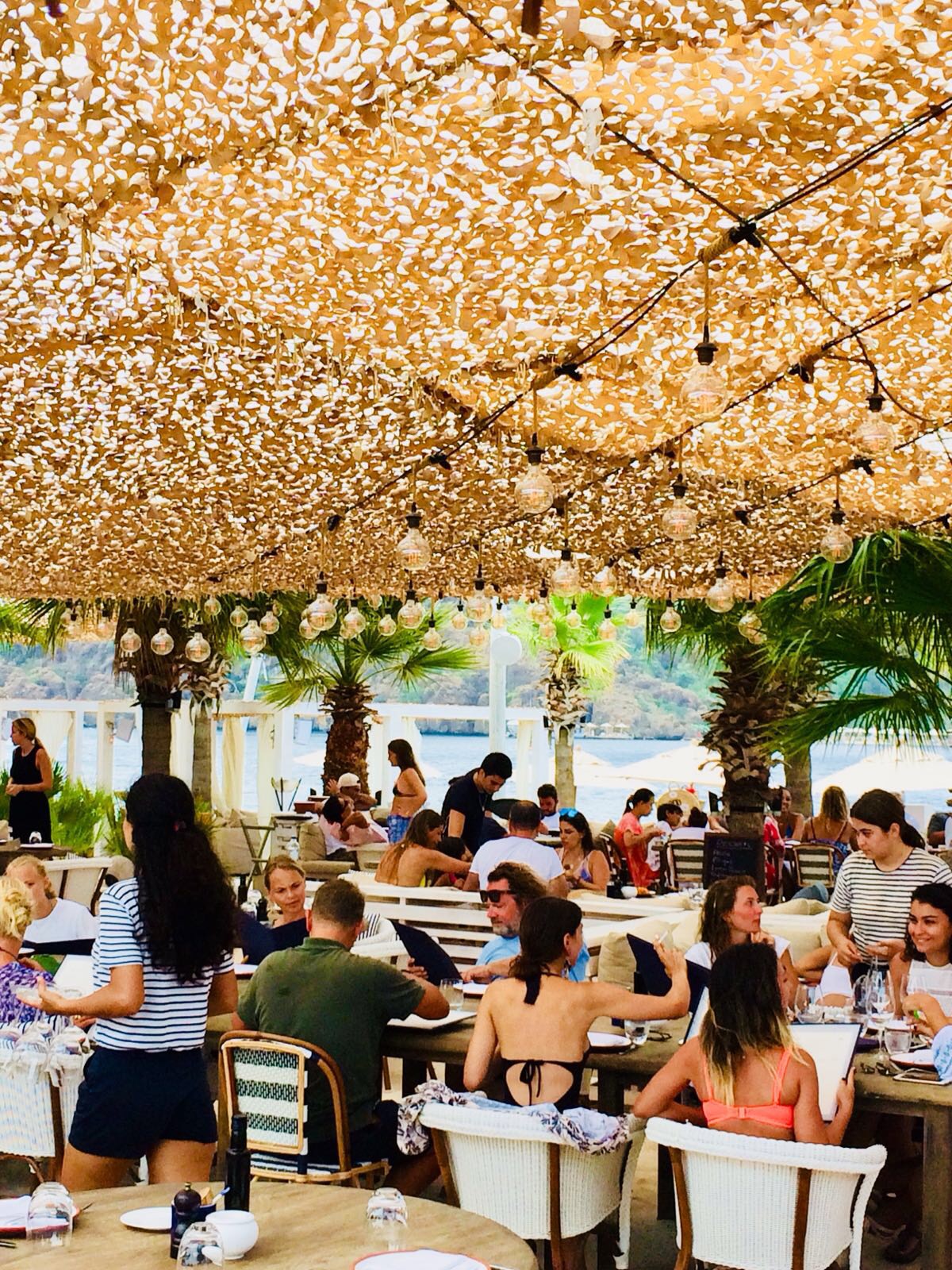 Last, but certainly not least, we have Nüsret and its adjoining shish lounge. Part of the ever popular Turkish steak house chain owned by Instagram sensation Nüsret 'Salt Bae' Gökce – yes, the actual real-life Salt Bae has a restaurant here – it is here that you can indulge in expertly prepared steaks and other such meaty perfections. The waiters will even sprinkle salt from on high and blowtorch 'meat sushi' table-side to give the ultimate Instagrammable experience. And it didn't taste half bad, either! Opt for a bottle of red from Cappadocia for the full Turkish experience. Stunning.
So D Maris Bay has the pristine beaches, beautiful balanced cocktails, fantastic wine lists, five unreal restaurants and some of the most breathtaking suites imaginable. But, renovating the property in 2012, this somehow wasn't enough.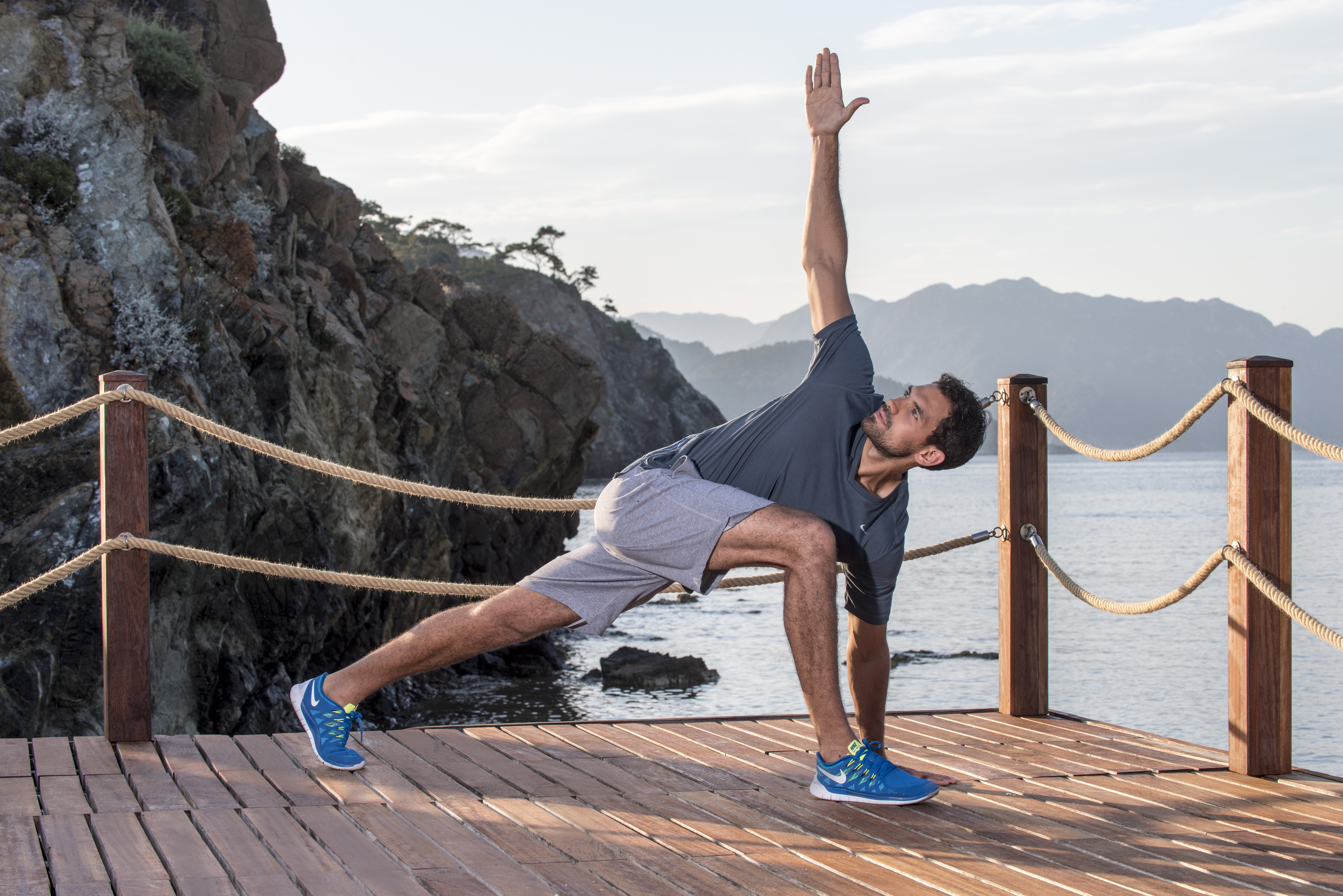 Among the other extensive facilities, one can enjoy an afternoon spent paddle-boarding, sea-kayaking or be taught to use a Catamaran, or even how to water-ski or wakeboard. Through its licensed centres, you can even leave D Maris with a sailing or scuba diving licence. For those who've overindulged in the food (you will) the hotel also has a wellness centre with modern Technogym equipment, an open-air yoga studio and, my personal favourite, Bodyism workshops run by James Duigan, personal trainer to the stars and the founder of the company with outposts in Turkey, the Maldives and London. Offering an intense HIIT circuit tailored to your needs, Jamie will change the way you think about exercises, helping you to lose fat & gain muscle through squats, body weights, push ups, planks & ropes. Building nutrition plans for whilst you're at D Maris, may people come just for Bodyism. With Jamie's expertise, you can eat all the amazing food you want and still leave 5 kilos lighter. I felt great afterwards, completely awakened and refreshed, and in a perfect mood to experience D Maris' incredible, huge spa with its ten treatment rooms, a massive steam room and a sauna with a floor-to-ceiling window that looks over the tree-lined coastal path.
Everything about this place oozes luxury. Onsite boutiques such as Quadrant sell a selection of high-end watches, with Hublot, Brietling and IWC often purchased by guests. Going for the slight less pricey option, I visited a boutique a few doors down to buy a pair of specially commission Orlebar Brown trunks which were printed with my new favourite view in the world: D Maris Bay.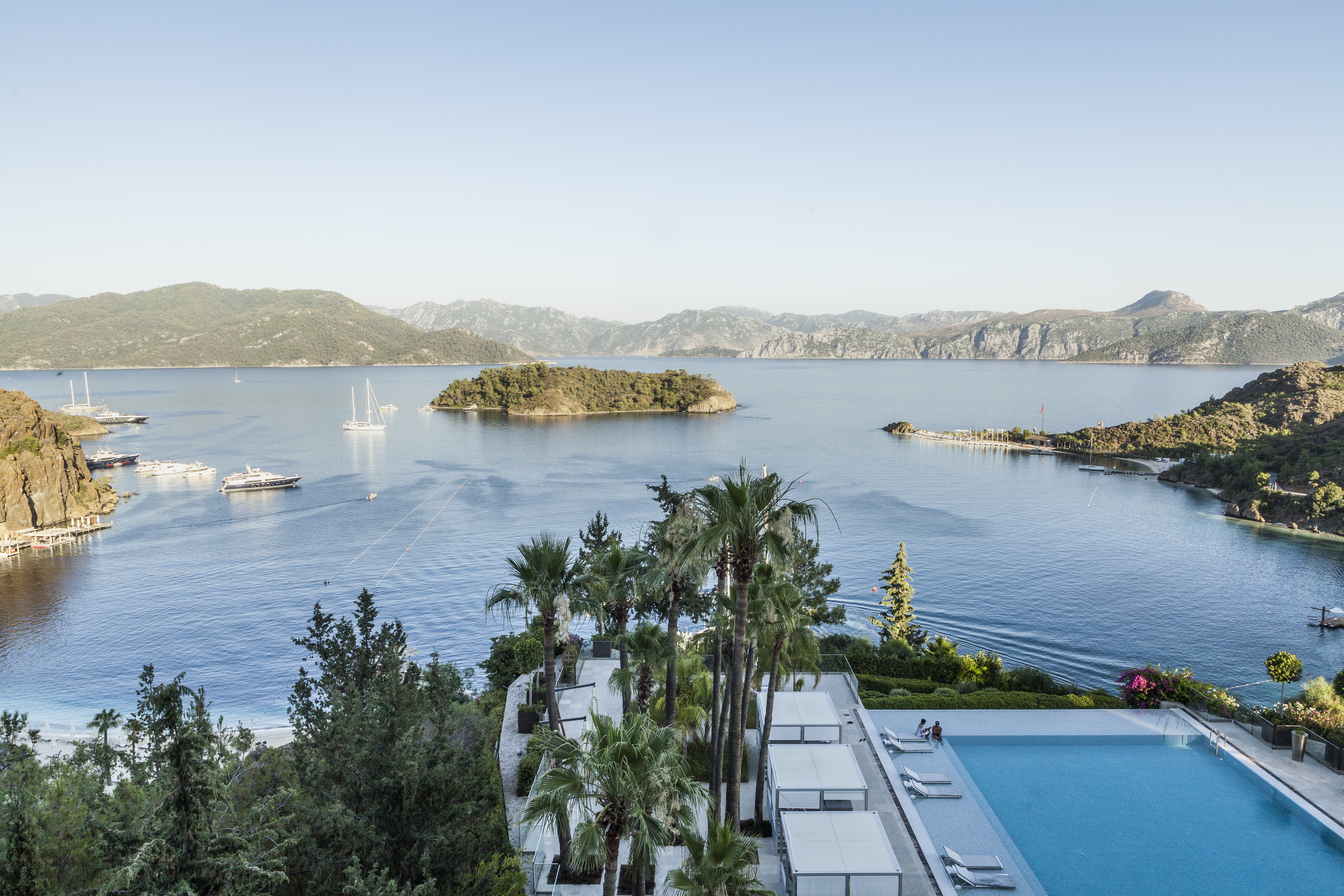 Back down at the beach, the luxury continues. Guests may rent the hotel's very own yacht for a minimum of four hours during which the Captain and crew can take you around to visit nearby islands and undiscovered paradises. During peak season, superyachts line the coast, and D Maris are currently in talks to arrange DJ residencies that will attract a younger, trendier crowd. Think Black Coffee and Solomun… as if I needed another excuse to come back!
The final night was a bittersweet one; I really was not ready leave my newly discovered paradise, but as we settled into Rüya for an almost-private party, I felt so lucky to have experienced the last three days. We finished in true luxurious Turkish style, eating sickly-sweet baklava (brought from Eastern Turkey as that's where it is made at its best) from Villeroy & Boch fine china dessert plates.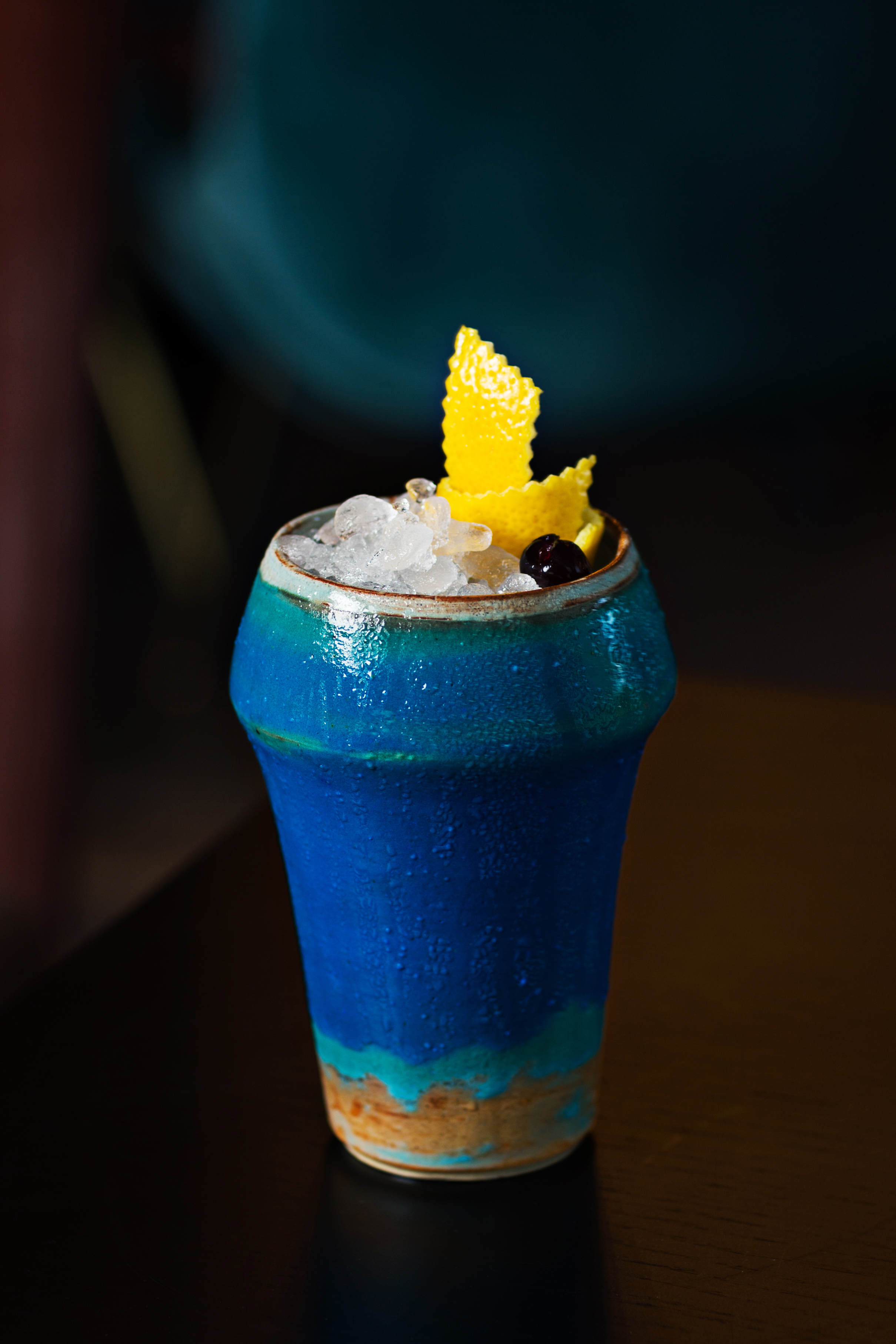 We drank Negroni's with Rüya-branded orange peels frozen into large ice spheres, lightly sparkling Hugo's and expertly shaken Margaritas, dancing as a young Turkish techno maestro mixed until the early hours creating a soundtrack of absolute perfection.
A true gem in the Mytha Anthology's crown, D Maris Bay has altered my perception of lots of things: gastronomy; relaxation; luxury; privacy; happiness. So much so that the latter has gained a new meaning:
Happiness (noun) – a series of #MythaMoments.
D Maris Bay
https://www.mythahotels.com/en/
Hisarönü Mevki, Datça Yolu 35. Km, 48380 Marmaris/Muğla, Turkey.
00 90 252 441 2000