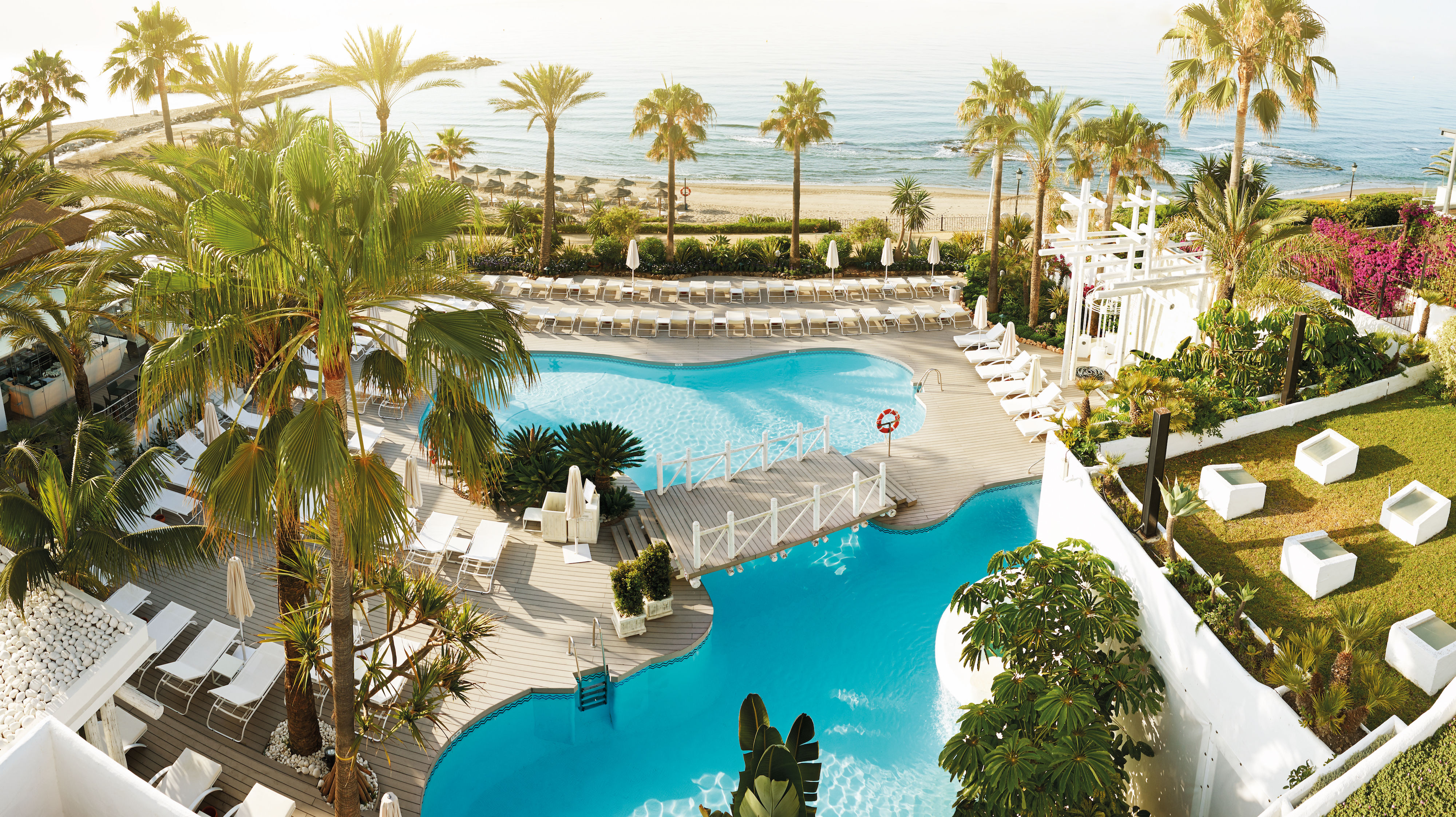 Located right by the beach, protected by the Sierra Blanca mountains between Marbella and Puerto Banús, Puente Romano is an amalgamation of absolute luxury, wellness and tranquility. It is a place where crystalline waters meet gloriously golden sands, here is our carefully curated itinerary of a day spent on the Yogic Detox programme at Puente Romano.
7am – Wake up at Puente Romano
The resort is reminiscent of an authentic intimate Andalusian village, made up of low-rise buildings with whitewashed facades decorated with traditional blue and white tiles and vines of vibrant pink flowers intertwined on the walls. Puente Romano is a place of extraordinary natural beauty, the paths are flanked with subtropical plants and banana, bamboo and orange trees.
There are 266 rooms and suites in 27 three-storey villas, we recommend the opulent Deluxe Two Bedroom Suite.  The 1076 ft² suite features two two vast bedrooms, each with its own spacious en-suite. The master bedroom has a king-sized bed dressed in crisp white sheets and the second bedroom has two twin beds which can easily be merged into a spacious king-sized bed for a couple. Both bedrooms boast a 55 inch flat screen TV and a Nexus tablet. The ensuite are vast Egyptian marble affairs, both feature double vanity sinks with illuminated mirrors but the master bathroom features a deep soaking bathtub whilst the second bathroom features a spacious rainfall shower.
There is a vast separate living room with a work desk, full dining table for four, Illy coffee machine, comfortable sofa and armchairs. However, the highlight of the suite is the intimate terrace that overlooks the luscious exotic green gardens and cool blue waters of the swimming pool below.
8am – Breakfast at Rachel's
Rachel's is situated on the edge of the swimming pool, making it ideal for a long relaxing breakfast in the sunshine. Surrounded by flowers and the soundtrack of birds singing in the trees, there is no better way to start the day. Rachel's menu has a focus on nutritious and delicious food, such as; protein shakes, vitalising juices and healthy bowls.
To start, try a Turkish Delight Protein Shake, made with fresh banana, strawberries, almond milk, coconut water, 2 teaspoons of nourishing protein and 2 teaspoons of Elle Macpherson's Super Elixir. Follow this with a bowl of 'Good Vibes, made with banana, honey, soya milk and peanut butter. If you're still hungry, try one of Rachel's Super Breakfasts, we loved the Puente Romano Marina Breakfast, with fresh smoked salmon, creamy scrambled eggs, avocado slices, grilled halloumi cheese and salad. Finish the perfect breakfast with a sweet treat, either a fresh fruit salad or one of Rachel's signature coconut, banoffee or lemon and chia seed cakes. This is food for the mind, body and soul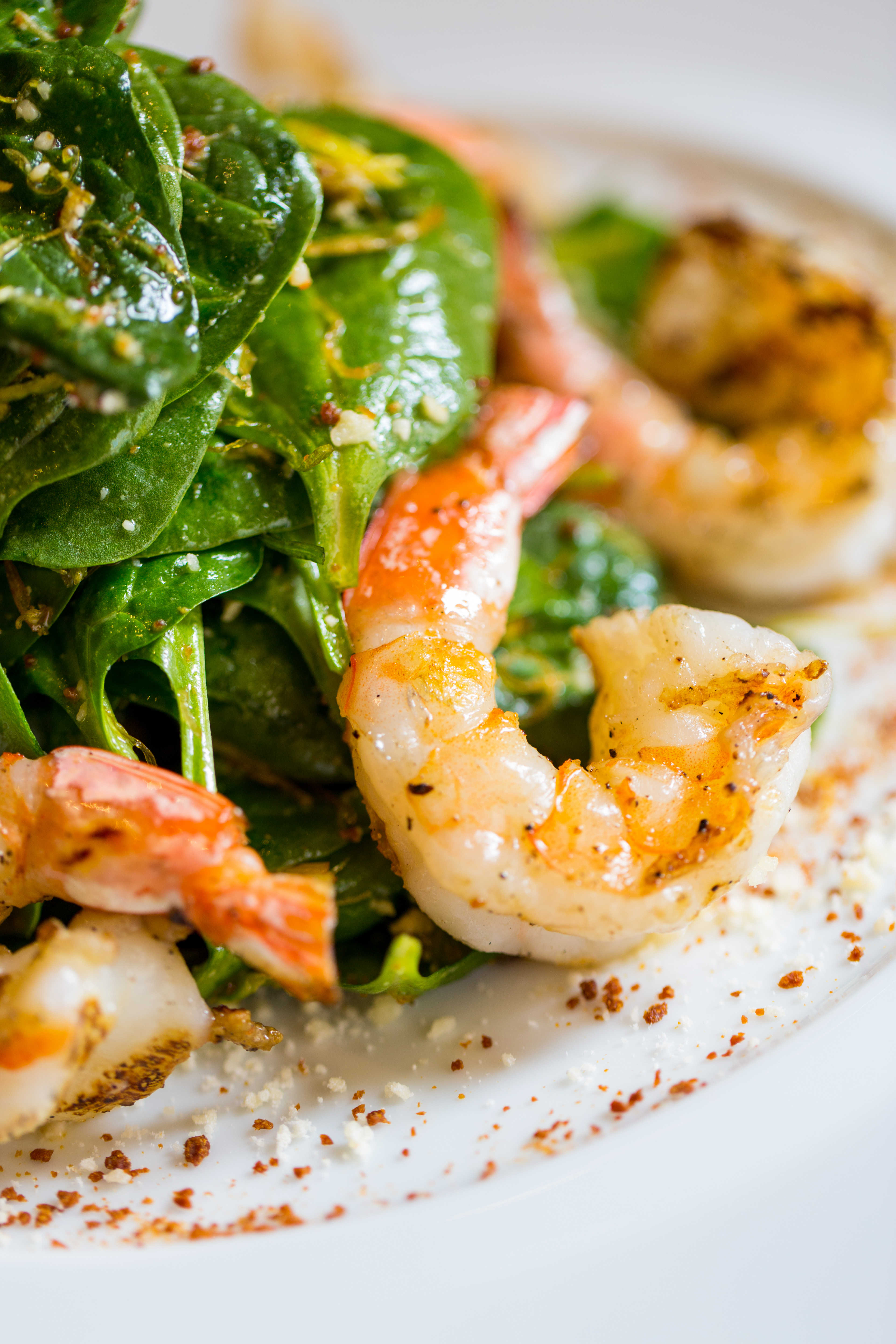 9am – Yoga Consultation and Session
The Yoga Detox programme begins with a Yoga consultation at the beautiful Six Senses Spa. The spa is stunning, bathed in natural light and offering views of the pool and the ocean for as far as the eye can see. There is a focus on natural healing, which transcends to the design, with traditional Andalusian architecture, local stone and oak timber floors and the natural ingredients used in their massages and wellness rituals, such as; extra olive oil, sea salt and mountain herbs all from Southern Spain.
The yoga consultation lasts around 30 minutes, yoga extraordinaire Paula Martín González gives a detailed explanation of what you can expect from the programme and discusses your current lifestyle in order to tailor the programme. You could not ask for a better teacher, Paula is kind, knowledgeable and patient. Her warm demeanour immediately puts you at ease and whether you are an expert or a beginner, Paula will curate the perfect programme for you.
After the consultation, Paula takes you through a soothing 60 minute personalised session based on the knowledge she has gathered. Once you have completed the session, Paula recommends taking a relaxing dip in the hydrotherapy pool, exploring the herbal steam room, cold plunge pool and the heat and ice experience showers.
12pm – Lunch at the Sea Grill
Sea Grill is on the seafront, overlooking the palm-fringed promenade and the golden sands and ocean beyond. There is nowhere better to enjoy an alfresco lunch, accompanied by the smell of salt from the waves crashing against the sand. Situated on Mediterranean Sea, Sea Grill has access to some of the most exotic and delicious fresh fish and seafood in the world, these are displayed in glass cabinets around the restaurant.
To start, try the Passion Fruit Martini made with Cointreau, passion fruit and vanilla or the Strawberry Lavender Caipiroska, an aromatic blend of vodka, strawberry, lime juice and lavender. To start, we recommend the juicy Tiger Prawn Cocktail and the meaty Lobster and King Crab salad.
For mains, try tender Seabass or Gilthead Bream with creamed spinach and basmati rice dotted with pine nuts. To finish, the Blondie's and deep-fried banana doughnuts with chocolate and caramel sauce are a dream. 2pm- Chakra Healing and Reikji
Return to the Six Senses Spa for a gentle 45-minute Chakra Healing and Reikji session with Paula. She introduces guided meditation and breathing exercises so that you leave feeling calm, relaxed and rejuvenated. We live in a hectic and demanding world, it is a rare treat to be able to take time out to reconnect with yourself and find inner peace.
5pm- Nordic Walk
As the sun begins to set, meet Puente Romano's  highly-qualified personal trainer for an hour-long Nordic Walk by the beach. Nordic walking is a full body version of walking, the activity is performed with specially designed walking poles that resemble ski poles. Nordic walking is low impact so it is kind to knees, back and joins, it also works out the entire body, including; arms, shoulders, core, legs, hips, heart and lungs. It also improves posture, increases stamina and burns 46% more calories than normal walking.
6pm- Intestinal Cleanse and Detox Massage
The ultimate goal for the Yogic Detox programme is to detoxify the body and mind in a controlled, relaxed and safe way. The intestinal cleanse is a key part of the programme, drinking warm salt water to detoxify the body, it focuses on abdominal poses to gain strength. This is followed by a 50 minute detox massage to energise, remove toxins, improve skin tone and elasticity.
8pm- Dinner at Nobu
You can be in any city, in any country in the world, Nobu will always be the hottest table in town. Globally renowned for their innovative dishes, merging classical Japanese cuisine with Peruvian flavours, this is completely unique dining experience.
Dine alfresco, overlooking the la plaza where trees decorated in blazing fairy lights illuminate the space and a live band play infectious Spanish guitar music. To start, opt for the Bluefin Toro Tartar with Caviar and the Lobster Wasabi Nobu Style Sashimi Tacos. For the main course, try the succulent Black Cod with Miso and Pan Seared Scallops with Spicy Garlic, accompanied by steamed rice and broccoli. For dessert, the creamy honeycomb cheesecake is the perfect end to an extraordinary day.
Bulevar Principe Alfonso von Hohenlohe, s/n, 29602 Marbella, Málaga, Spain
+34 952 82 09 00