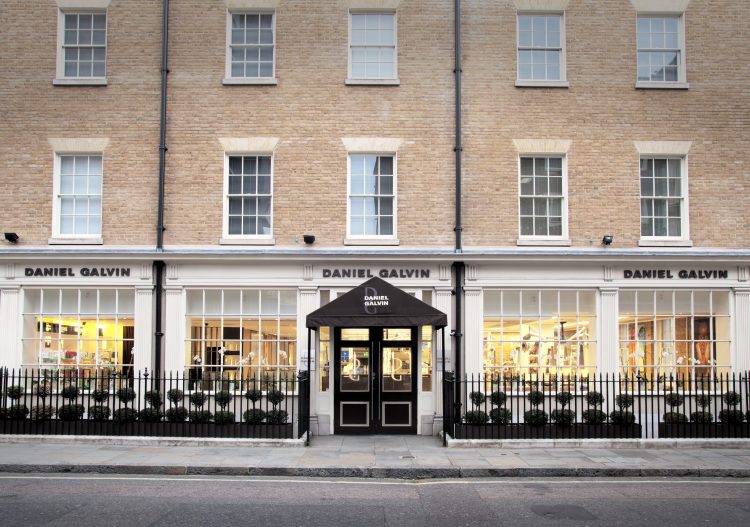 There are only a handful of hairdressers in the world that can be described as iconic. Daniel Galvin, OBE, is one of them.

British-born Daniel Galvin's impressive portfolio now includes his flagship salon in Marylebone and another in Kensington; a partner salon on the mezzanine of The Corinthia Hotel; and a full-time residency on the third floor of Selfridges – the only hair salon in the premier department store.

Galvin, who comes from a long line of hairdressers in his family, began his career in the swinging 60s. After creating Twiggy's iconic pale blonde look using a technique called 'brickwork', Galvin has since played a hugely significant role in modern hairdressing techniques and in turn made a massive impact on the art of colouring hair and modern hairdressing as we know it today. Having won a host of awards over the years, Galvin was awarded the highest of accolades in 2006 – an OBE for his services to, and innovations in, the hair industry.

The Daniel Galvin business is now run with the help of Galvin's children Louise and James and includes a line of signature professional hair products, as well as the luxury salons. A team of highly-trained stylists and colourists, who are all trained in-house regardless of their experience, continue to uphold the brand's status as one of the most prestigious and trusted hair salons in the world.

To my delight, I was invited along to the 9000-square-foot flagship salon on George Street to experience a taste of the magic for myself.

Outside, the building's facade features gorgeous sash windows, with pristine hedges and grand double doors under a chic, black canopy. Inside the salon is sleek, with classic yet contemporary interiors. There's a buzz about the place as I step inside.

I was in the safe hands of stylist Remy, who after a short consultation, whisked me away to the backwash for a hair wash and treatment. After a double-shampoo, a Detox Treatment was then applied to my lacklustre hair, which had been suffering from the cold weather this winter. Remy explained that the treatment is made up of Vitamin C and will rid my hair of toxins, dirt and product build up. It sounds ideal.

Back in the chair, Remy began working on my locks. She decided not to take much off the ends and add some layers for a fuller look. When she finished cutting, my hair instantly felt lighter, even while it was wet.

As we chatted, Remy revealed her favourite tip: a cheap and quick fix for hair that needs some TLC is to mix a few drops of hair oil into your conditioner. Leave the homemade mask on for a couple of minutes and rinse. The results? Shiny, frizz-free hair.

After a smooth yet voluminous blow dry, Remy added some loose waves to my new locks using a straightening iron. The Detox Treatment had brought my dark hair to life, with an enhanced colour and really healthy look. Although it looks fuller, my hair feels much lighter. Just 45 minutes after entering the salon, it was already time to leave but I hope to return to this little slice of hair heaven soon.
Daniel Galvin Marylebone
58-60 George Street, London, W1U 7ET
0207 486 9661