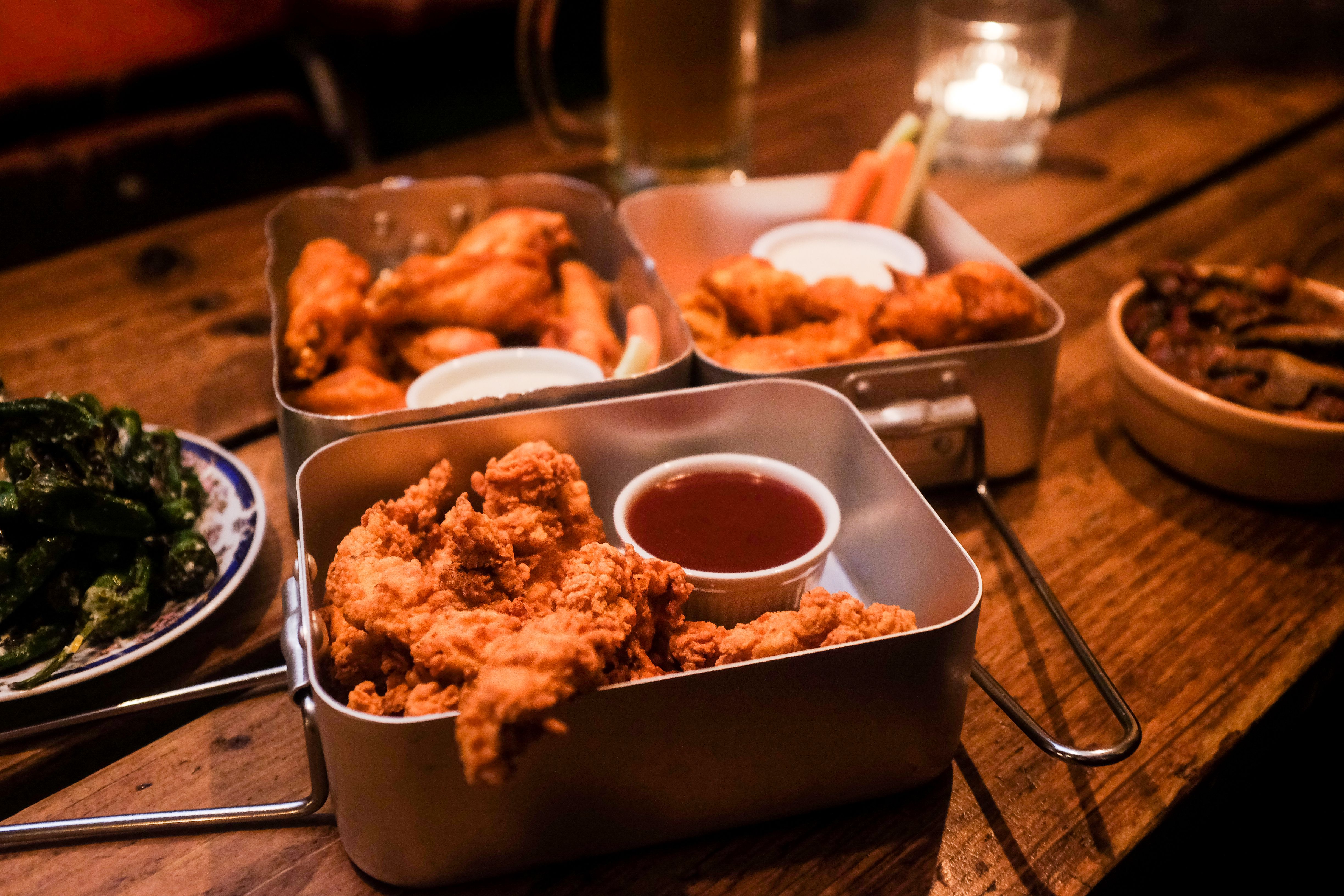 On a quiet residential road, tucked back from the hustle and bustle of Earls Court Road, stands a small, inconspicuous door in the wall of 310. A frosted glass panel reads 'The Detective Agency'. There is no sign of a restaurant – only a telephone number etched into the door and a single light bulb in a small window to the side.
My guest and I knocked. No sign of life. Perhaps we had got the wrong place? But no, after a minute or so a gentleman in 1920s attire greeted us. He wore a shirt, waistcoat and flat cap, and spoke with a New York accent: "Are you here about a case?"
We followed him inside, through a red, velvet curtain and down a staircase into a dimly lit office. We took a seat opposite our sleuth. The office walls are adorned with casework: maps, photos, evidence, and suspects. In the corner stands a filing cabinet, overflowing with yellowing papers. A typewriter sits on the desk; we had been transported back in time.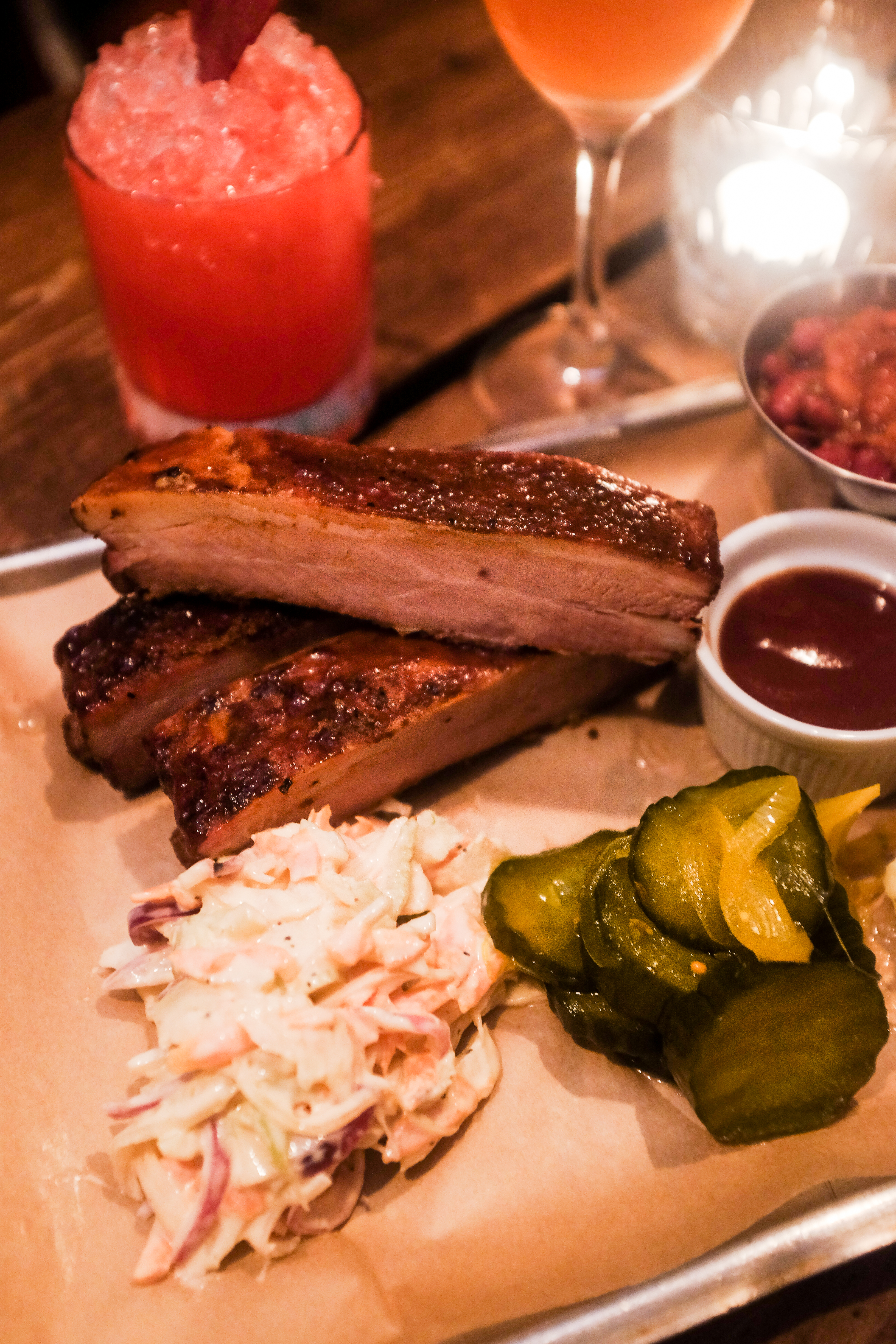 We were asked to state our case: our beloved cat Lyra had gone missing and we suspected murder. The detective assured us that he would investigate and invited us to enjoy a beverage while we waited. He stood and walked to a bookcase, which swung open to reveal a hidden speakeasy.
The dining room is intimate and dimly lit with retro filament bulbs and flickering tea lights. There was an excitable buzz with chatter and swing music, and vintage décor throughout. We were shown to our table and handed a brown envelope each. Inside was the menu, but it read more like a case file.
The cocktails are inspired by famous Prohibition bootleggers and moonshiners. I chose 'Rabbit's Foot', a pink, foamy concoction of Dead Rabbit Irish Whiskey, Campari and egg white with a sharp kick of raspberry and lemon, and served with a stick of candyfloss. Also on offer is 'Radiator Moonshine', a pale larger served through an old, cast iron radiator that hangs on the bar wall.
To start, my guest and I opted for a couple of bar snacks; 'Mac n' Cheese' with pulled pork marinated in a smoky BBQ sauce, which arrived in a mess tin, followed by 'Buffalo Chicken Wings' with a blue cheese dip. This was without doubt the star dish of the evening; a bite through crispy skin revealed succulent chicken that fell off the bone. The marinade hit all the right spots, slightly sweet with just the right amount of spice, and it was incredibly moreish.
Next we dined on 'Texas Smoked Sausages' and 'St Louis Cut Pork Spare Ribs'. Served on vintage china plates, the meat was full of flavour having been smoked over oak for hours in an in-house smoker fondly referred to as 'The Flapper'. Each dish is accompanied by classic America sides of tangy pickles, creamy 'slaw, hot sauce, buttermilk mash and delicious 'Root Beer BBQ Beans' with tender chunks of spicy pork and brisket.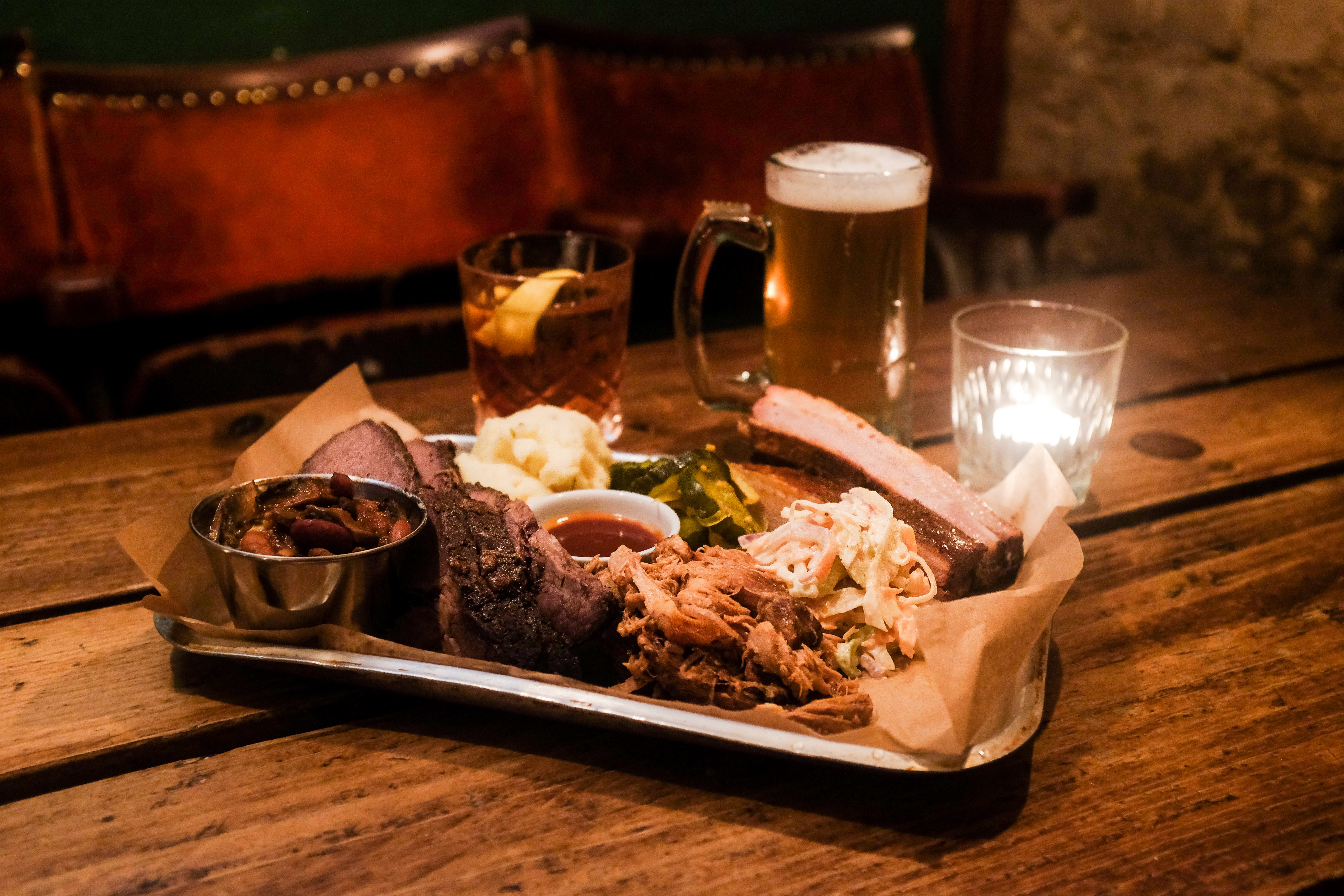 Neither my guest nor I had room for dessert but could not resist the offering of classic 'Deep-Fried Apple Pie' served with vanilla ice cream. The pie arrived steaming hot, with a chunky apple sauce encased in a flaky, buttery pastry.
Scott Fitzgerald's Gatsby once said, "Can't repeat the past? Why of course you can!", and the Detective Agency is proof of that. The imaginative cocktails and authentic ambience, a celebration of the roaring twenties, make it one of London's most charming secret speakeasies – if you can find it that is.
Evans & Peel Detective Agency
310c Earls Ct Rd, Earls Court, London SW5 9BA